Close your eyes and picture in your mind an undersized guard, one who used to terrorize opposing defenses in college during his career which spanned the latter part of the 1990's. He was one of the top scorers in program history and did his damage on the big stage in a major conference. He has risen to some of the highest heights in his professional league. You're thinking
Allen Iverson
maybe? No, this player was one of those gems that stick it out for four years at the collegiate level. This pint sized assassin did his damage in the ACC where he used to hang big games on the likes of Duke and UNC, on his way to leading the conference in scoring as a senior.
Open your eyes now; standing in front of you is
Terrell McIntyre
.
Chances are unless you grew up a Clemson fan in the late-90's you may not remember McIntyre. The 5-9 guard is still second all-time on the Tigers scoring list and is third in assists. As a senior, in addition to posting 18 ppg and 5.3 apg, McIntyre lead his squad all the way to the NIT Championship game where they lost by a single point to Cal. It was a resume that seemed destined to have NBA stamped on it when the 1999 NBA Draft rolled around, despite the very small frame that McIntyre possessed.
"At that time I wasn't even thinking that I wouldn't get drafted," says McIntyre. "I was thinking second round for sure in the draft, but I signed a one year deal in Europe thinking I would never have to actually resort to that."
In McIntyre's own words, plan B quickly became plan A when he didn't hear his name called at the podium on draft night. So with a cloud of disappointment hanging over him the former Clemson Tiger took his game overseas to suit up for BCM Gravelines of the French Pro A League during the 1999-00 season. It was a year that started off poorly, as McIntyre missed the first three months of the season due to an injury sustained during practice. Upon his return in December, he proved to be a smart signing for the club, averaging 19 points and better than 5 assists in his 14 games.
The following year was again a short one for McIntyre. This time he was playing for Braunschweig Metabox, a small club located in Braunschweig, Germany. The season was once again a short one for McIntyre, although the cause this time was the team filing for bankruptcy only 15 games into the season, with the point guard once again posting strong numbers.
By this point McIntyre had had enough of European basketball for the time being, and rather than leaving Germany to sign with yet another club, he decided to return to the US and try his luck at a new minor league system that had been developed for the NBA known as the NBA Development League.
It proved to be a good decision as he signed with the Fayetteville Patriots and played well enough in his first season with the club to land in the NBA Summer League and eventually sign a contract with the New Orleans Hornets. The franchise would eventually release McIntyre before the season began, but he was grateful to have had the opportunity to play with the best.
"That was a great experience, it let me know that I could play at that level, it was just a matter of getting the opportunity," says McIntyre. "It's one thing to say, ok you get a chance, but to really get a look is another thing. For the time I was there, I think I left a good impression on the coaching staff at New Orleans, which is all you can really do. I didn't have a guaranteed contract so I understood the business side of it all, so I just wanted to show Coach Silas and the other guys on the team that I could play."
After another solid season with Fayetteville in 2003 didn't result in an NBA contract for McIntyre, he decided to return to Europe and continue his career in Italy. Over the next three seasons he played with three different club teams in Italy, getting his first chance to play in the Italian First Division during the 2005-06 season with Reggio Emilia. It was during this time that McIntyre began to reevaluate his career path in basketball and started to embrace the idea of developing as a player on the European circuit.
"I always wanted to play at the top level," he says. "Once it didn't work out in New Orleans and I knew I was coming to Europe, my goals and my focus changed. My goals were focused to get to a Euroleague title and to become one of the best players in Europe. That was my goal, and not the NBA. Once I was able to get that focused in, things started to turn around for me."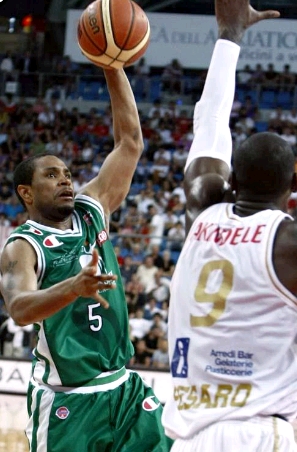 While life on the court was filled with two-a-day practices and the preaching of fundamentally sound basketball, normal habits for McIntyre, the off court adjustments weren't always easy to deal with. In addition to a new language and new culture, there was the early difficulty of living across an ocean from his friends and family. Still, McIntyre was driven by his love of the game to solider on despite the difficulties of being in another country, yet another decision that would pay dividends.
McIntyre joined his current team, Montepaschi Siena in 2006, and began the year as a backup for former Boston Celtic and Seattle SuperSonic
Joseph Forte
. Quickly, the coaching staff could see that McIntyre was a star and moved him into the starting rotation where he made an immediate impact.
While there have never been any questions about his ability to score, the biggest adjustments that McIntyre has made to his game have come on the defensive end and in his ability to run a team. These adjustments have lifted him to the ranks of some of the best players in Europe, and he has the accolades to prove it.
Since the 2007 season began Siena has won three Italian Championships, two Italian SuperCups and appeared in the Euroleague Final Four. For his part, McIntyre has taken home an Italian League MVP, Italian SuperCup MVP, and Italian League Finals MVP and has twice been named to the All-Euroleague First Team. Most recently he helped Siena cap off a 38-1 season by sweeping Armani Jeans Milano for a third straight Italian Championship. In the past three years, his team has amassed a record of 118-9 (93% winning percentage) in the Italian League with McIntyre at the helm.
So now ten years after he was passed on by the NBA,
Terrell McIntyre
has worked his way to the top. Gone are the days of second guessing his decision to play in Europe and the loneliness of living overseas has been filled by the family that he has started himself in Italy. At 31 years of age McIntyre has achieved almost everything he ever set out to do on a basketball court, but the NBA still looms as his white whale. Rumors abound that teams like the Spurs, Cavs and Trailblazers are seriously looking at signing him this summer. At this point in his career does he still think about making that elusive jump?
"Absolutely, if the right situation presented itself, it is definitely still something that I want to do or take advantage of. As an American player that is always the goal, you always want to be in the best league with the best players; you always want to be in the NBA. Now I think I have a better shot than ever because I've proven myself in Europe as one of the best players over here. You never what is going to happen."
So far, that doesn't seem to have been that bad of a mindset.