Aubrey Coleman
doesn't subscribe to most basketball standards.
Whether it be his relatively short playing career to date, or the manner in which he led an under-appreciated and overlooked Houston team to its first NCAA Tournament berth since 1992, the nation's leading scorer has taken beating the odds to an art form. Of course, if all you did was check a box score, you'd never know it.
"People don't see the work I've put in," Coleman said. "All that they really see is that I can score."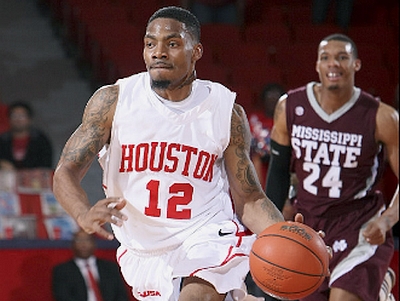 It's hard to fault most casual observers for not looking past the 25-point per game scoring average that Coleman tortured opposing Conference-USA teams with this season – after all, he fits the bill of so many scoring machines who have come before him. The senior scored nearly one-third of his team's points on more than thirty percent of the Cougars field goal attempts, all while operating outside of the national spotlight.
But to really know the 6-foot-3 Houston native is to know an individual who is anything but the stereotypical scoring machine - he's simply a person who knows what it takes to get himself noticed.
Growing up, Coleman wasn't taken with the idea of playing organized basketball like so many of his peers. He didn't play a 30-game high school schedule, didn't lace up for an elite level AAU team in the spring and certainly didn't bounce around the country attending prestigious summer showcase events.
The blossoming talent was content to stay within the confines of the local streetball scene where he earned a reputation for being able to score at will against would be defenders. Upon receiving encouragement from friends to try his hand at playing within an organized system though, Coleman opted to tryout for his high school team as a senior.
Some things just don't fit.
Despite a wealth of talent, Coleman didn't understand the nuances of playing organized basketball. He wasn't tuned to the idea of running an offense and was charge prone due to the lack of such calls on the streets. The senior's coach often kept the guard on a shot leash, meaning plenty of his time was spent on the bench where colleges didn't get the opportunity to see him play.
So it was that Coleman did something that has become a habitual practice in his career – he took matters into his own hands. With no interest coming from four-year schools, he began attending open tryouts hoping to garner the attention of a junior college and earn a scholarship.
Enter Southwest Mississippi Community College.
"I was working out for some school and killing one of their guards and I got the offer from Southwest, I was going out of state because nobody thought I was any good," he said. "I told the coaches there, I don't know anything about basketball, but I'll work."
Long summers in the gym helped to forge Coleman into more than just a slasher and prolific, but a player capable of hurting teams in a variety of ways. He parlayed that into a scholarship to Houston after two years at Southwest Mississippi, preferring to be as close to home as possible to be near his ailing mother.
The move proved to be a perfect fit. As a junior, Coleman averaged more than 19 points, teaming with
Rob McKiver
to form a deadly scoring duo, but as a senior and suddenly the top option on offense, adjustments were going to be necessary.
"My first year people were sagging off me because they knew I was a driver," he said. "So [Houston head coach Tom Penders] told me, there's going to come a point and time where you need to develop that three-pointer jumper in order to keep them honest, so that's what I spent the whole summer working on. I worked at pulling up off the dribble, shooting from the outside and just getting comfortable with that."
"That needed the most work, because I knew I could get to the basket, but this made it harder to guard me. Defenders had to play up on me and that makes it that much easier to get them off the dribble."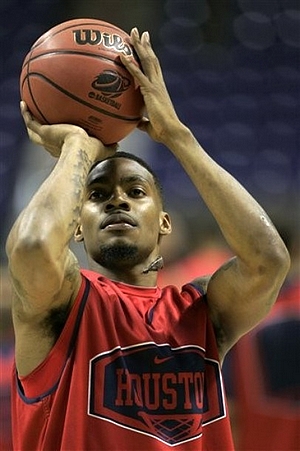 The result was an eleven percent increase in Coleman's perimeter shooting percentage, and while at just under 32-percent he isn't a consistent threat to hurt teams with his range, it did allow him to raise his scoring average by six points on an additional four shots per game. While the prodigious scoring numbers were enough to earn him attention, the senior knew that without team success his numbers would be endlessly scrutinized.
"I remember reading some site that said I was leading the nation in scoring but if my team didn't get to the NCAA Tournament, it wasn't going to help me," he said. "I didn't want to be labeled as a guy who just shoots the ball, but doesn't win. Once we qualified for the NCAA Tournament, people started showing me more respect."
And with good reason. While the Cougars weren't able to overcome the Maryland Terrapins in the first round, Coleman made his mark by netting a game-high 26 points and hauling in a team-best eight rebounds in the loss. It was simply another case of the scorer rising to the occasion and making his mark when it was needed most.
He found himself under a microscope once again this week, competing in the Portsmouth Invitational Tournament in front of NBA scouts and GM's, hoping to make a good enough impression to earn an invitation to the NBA Combine and individual workouts.
Working in the NBA hopeful's corner is a man familiar players like Coleman, his agent Michael Whitaker. In each of the last two seasons Whitaker has taken a mid-major level talent and helped land him a pick on draft night. In 2008 it was current San Antonio Spur
George Hill
, and last season it was another C-USA scoring machine in
Jermaine Taylor
, now with the Houston Rockets.
"That's the reason I signed with Mike," he said. "When I look at Jermaine, he's a little taller, but he's from a mid-major conference, but didn't go to the tournament, that's what really opened my eyes about Mike. Jermaine and
George Hill
didn't go to the tournament, so I knew I had to go with a guy who could get me drafted without making the tournament, but then we surprised the world by getting there anyway. I think that really helped. He let me know that he was going to work hard for me, just like he did for Jermaine. I played against him last season and I was thinking, if I can give him 30 and he's doing well, it lets me know I can play against guys in the League."
Now, Coleman is on the cusp of getting the chance to do that on a nightly basis. Regardless of where he lands though, the player who didn't know a thing about basketball except how to play hard, isn't going to suddenly change the approach that has taken him this far.
"When I first started out I made my mark because I was a hustle guy who never stopped running and that caught the coach's eye," he said. "It shows that if you put your mind to it you can do it. I'm not where I want to be yet, I want to rise higher and higher and show people that I'm one of the best players in the nation, not just because of my scoring either."