After a heavy Tobacco Road bias, our portfolio of ACC teams diversifies a bit as we take a look at the second batch of prospects in this extremely talented conference. Wake Forest's
James Johnson
, Maryland's Grevis Vasquez, Clemson's
K.C. Rivers
, Boston College's
Tyrese Rice
and North Carolina's
Wayne Ellington
get us to the halfway point mark of the top NBA draft prospects in the ACC.
-Top Prospects in the ACC: Part One
-Top Prospects in the Pac-10: Part One, Part Two, Part Three
-Top NBA Draft Prospects in the SEC: Part One, Part Two, Part Three
-Top NBA Draft Prospects in the Big 10: Part One, Part Two
-Top NBA Draft Prospects in the Big 12: Part One, Part Two, Part Three
#6 James Johnson, 6'8, SF/PF, Sophomore, Wake Forest
Joseph Treutlein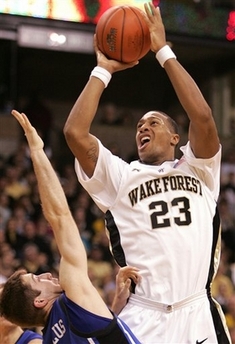 Flying under the radar amidst his very strong freshman class,
James Johnson
had a very good first season for Wake Forest, scoring nearly 15 points per game, pulling in 8 rebounds per game, and showing a nice assortment of skills to build upon. The 6'8 combo forward won't blow you away with explosiveness, vertically or with his first step, but he's a good athlete regardless, excelling with his mobility, fluidity, and coordination.
Attacking the basket, Johnson excels most catching and attacking from the wing, as his ball-handling usually won't overwhelm defenders away in space. He's a very rangy player, making long strides with the ball, and showing the ability to cover large amounts of ground when he goes to his spin move, which he excels with. He'll occasionally mix in a crossover, but for the most part he relies on his long strides in combination with his excellent balance and coordination, allowing him to step in directions many other players cannot. Despite his physical tools, he runs into some problems at times, not always showing the greatest awareness or timing, leading to situations where he'll look awkward, not getting past his man in the lane, and forcing up a tough shot. These situations also lead to turnovers on occasion, as he commits 2.6 per game.
At the basket, Johnson shows nice ability to adjust with his length and size, and he's comfortable switching hands with the ball, capable of finishing with either. His touch around the rim is pretty good, but he forces shots at times. He relies on a floater in the lane fairly frequently, though his success rate with it is not consistent. Without the ball, Johnson does a good job of finding his way to the rim to get open, doing so both in the halfcourt and transition, doing nice work catching and finishing there.
One area Johnson certainly has room for improvement in is his jump shot, which he's shown flashes of success with so far. He's got the basic foundation of good shooting form, but he has some problems with inconsistencies, and definitely could use some work. A lot of his shots just look very awkward at times, where he'll do things like push the ball forward, not bend his knees, or fade away, leading to some bad misses. He really has only shown success spotting up, not looking very good off the dribble, while his success as a spot-up shooter is still wildly inconsistent, in part due to poor decision-making.
Defensively, Johnson mostly guards power forwards, despite playing like a small forward on offense. When tested laterally, he hasn't looked great, not showing the best foot speed or fundamental form, often giving up space to compensate. Losing some weight could help him here, to get him at a more ideal weight to play on the wing.
Johnson has shown a lot of nice flashes already this early in his career, and appears to have a lot of potential if he puts in the work and improves on his decision-making. Barring a strong leap in multiple areas of his game this season, Johnson will likely be best served staying in school for another season, but declaring this season certainly isn't out of the picture, especially if he can make some noticeable strides. While combo-forwards have achieved a lot more success lately in the NBA, Johnson's potential defensive matchup problems could concern scouts, but the first round isn't out of the picture if he can show more progress in his game.
#7 Greivis Vasquez, 6'5, Point Guard, Junior, Maryland
Rodger Bohn
Vasquez enters the 08-09 season as the focal point of the Terrapin offense, looking to build off of a very productive sophomore season. Ranking amongst the top 10 returning point guards in points, rebounds, and assists, it's easy to see the versatility that this talented guard brings to the table, and why he is such an intriguing prospect.

Standing 6'5, Greivis has outstanding size for a point guard prospect. Height aside, though, he doesn't offer a ton as far as his physical attributes are concerned—as he's not a player that is going to blow you away with his first step, pressure you with a freakish wingspan, or put the clamps on with his lateral quickness. However, Vasquez has the makings of a prospect who can surely rise above what is usually expected from the prototype athlete thanks to his uncanny instincts and all-around feel for the game.

Vasquez utilizes every bit of his 6'5 frame on the offensive end, making him a problematic player for opposing guards to match up with. He consistently has his head up, allowing him to pass over smaller guards at will. The vision that he shows in distributing the ball extends beyond making the simple pass, as he makes incredibly difficult passes in transition and once he breaks the defense down with both his left and right hands. Simply put, we are looking at a player who is amongst the upper echelon of creativity and vision that the collegiate game has to offer right now.

Scoring the ball, the former Montrose Christian star can be quite prolific as well. He is a threat to punish opposing defenses from beyond the arc thanks to his solid shooting touch and range, although frequently this comes with mixed results. Making him even more difficult to guard is his ability to slash to the rim and finish with either hand, eluding defenders with his slithery moves to get to the cup. Greivis also does a nice job running the pick and roll and is even capable of posting from time to time, giving you a glimpse of the total package he offers offensively.

On the down side, shot selection and decision making are issues that have plagued Vasquez in the past. An incredibly confident player, he feels that he can literally make any play he wants to when he's out on the hardwood. This explains why he led all prospects in our database in turnovers last season at 4.4 per game, and shot a lowly 30.9% from 3-point range. These numbers don't necessarily reflect Vasquez' skills, but more so the lack of discipline and decision making criteria that make him such an unpredictable player from game to game and possession to possession.

Defensively, the best thing that Vasquez offers is his ability to rebound the ball for a point guard. Using his superior height, he was able to corral nearly 6 rebounds per game last season. The Venezuela native also does a nice job of getting in the passing lanes, using his nice anticipation skills to get his fair share of steals and deflections. Like on the offensive end, he lacks discipline as a defender and often finds himself out of place on this end of the floor. Improved fundamentals in terms of man to man defense would certainly help his performance on this end for this junior campaign.

Maryland's success this season is going to rest largely on the shoulders of Vasquez, with him being the catalyst of the Terrapin offense. How he matures as a player will ultimately determine Maryland's success, as well his where he stands as a draft prospect. There were rumblings last season of Vasquez potentially testing the waters, but after the disastrous way the season ended for both him and his team, he ultimately decided to return. With a steadier and more efficient season underneath his belt, Vasquez is a player who we certainly could be talking about as a first round prospect when it's all said and done.
#8 K.C. Rivers, 6-5, Senior, Shooting Guard, Clemson
Jonathan Givony
Largely flying underneath the radar as far as the national media is concerned,
K.C. Rivers
looks like as good a candidate as any to elevate his standing with a breakout senior season, as the leader of a very solid Clemson squad that should make noise in this year's ACC.
Breaking down his game and production, Rivers might not initially jump off the page at you with an incredible amount of upside or explosiveness, but once you dig deeper, you realize that he's a very versatile and valuable contributor. Smart, unselfish, active, aggressive, mistake-free and extremely solid as both a defender and perimeter shooter—Rivers looks to have all the makings of a future excellent NBA role player down the road.
Despite his slightly unorthodox shooting mechanics—typical of left-handed players actually, Rivers is a prolific 3-point shooter—46% of his attempts from the field come from beyond the arc, of which he knocks down a very solid 40%. With his feet set and a moment to calibrate his shot Rivers is absolutely deadly, while his accuracy drops off notably when forced to rush or shoot off the dribble. As previously noted in our initial scouting report, Rivers' technique could still use some polishing, but there is a lot to like already about the touch he displays and obviously the production he delivers.
As a slasher is where Rivers is considerably weaker at the moment. Very much capable of putting the ball down for one or two dribbles in a straight line, thanks to his strength and solid first step, Rivers has a hard time changing directions with the ball and utilizing advanced ball-handling moves, particularly with his right hand. He lacks some creativity to his game and does not get to the basket at a very good rate, as evidenced by the pedestrian amount of free throw attempts he garners.
When he does get to the rim, he strongly prefers to finish with his left hand, but usually is more likely to pull-up off the dribble than he is to go all the way to the rack. To his credit, Rivers recognizes his limitations and will rarely force the issue, as you can tell by the extremely low number of turnovers he averaged last season.
Where Rivers might stand out the most at the moment is on the defensive end—not a surprise considering the team he plays for. He seems to take a great deal of pride here, showing excellent strength and a tremendous wingspan to help him get the job done. He's very intense and fundamentally sound and seems to do a good job of reading the scouting report and internalizing it, getting in the passing lanes at a great rate and putting a great deal of effort into contesting his opponents' shots.
He's also a fantastic rebounder on top of that, showing excellent timing and toughness helping his team out on the glass on both ends of the floor, but particularly offensively. He may lack just a degree of size and lateral quickness to be considered a lock-down defender at the college level, but he has a lot of nice qualities to compensate for that.
For some odd reason Rivers only shoots 68% from the free throw line, which is something he'll definitely want to work on. His efficiency in general could still stand to improve—the lack of shot attempts he gets around the rim hurts his percentages, despite his solid perimeter shooting ability.
It will be interesting to see what kind of season Rivers has this year—his team was much more successful in his junior campaign than they were as a sophomore, but his numbers remained fairly stagnant, even though his role seemed to increase. Beyond the numbers, it will be important for Rivers to show that he can help his team win games, as he's not going to be able to rely on his physical attributes or potential alone to get him drafted. He's someone scouts are going to monitor closely regardless.
#9 Tyrese Rice, 6-0, Senior, PG/SG, Boston College
Joey Whelan
In the four years since he left his hometown of Chesterfield, Virginia,
Tyrese Rice
has grown from an unheralded prospect, to one of the most feared scorers in the ACC. As his offensive game has developed and become more advanced, his scoring numbers have increased drastically in each of the last two seasons. What made last season so impressive for Rice was the fact that he averaged over 20 points per game on a team where he was really the only viable scoring option. Teams would key in on the combo-guard, and he would still come away with impressive displays on an almost nightly basis.
Rice's frame is certainly a knock against him; at 6'0" and 190 pounds, he is built solidly, but is short even for the point guard position at the next level. What he lacks in size and length though, he certainly possesses in speed and explosiveness. Rice has a tremendous first step and a great deal of creativity when he gets into the lane. He shows good leaping ability, but it is usually overlooked because he is so much shorter than the defenders he faces. He can elevate with most players, but is already giving up so much as it is, he often has to take difficult shots.
The majority of Rice's game is built around his shooting prowess from the outside. He has an excellent stroke and is deadly from the outside when he is able to get his feet set. While his 35.8% shooting from beyond the arc may not jump off the page, this number doesn't really reflect how good of a shooter Rice is. According to Synergy Sports Technology, when he spots up and shoots without putting the ball on the floor, Rice shoots over 50% from the field; when he is forced to shoot coming off of screens or off the dribble, his percentages drop considerably. He has continued to develop his ability to shoot on the move, though, incorporating a very good looking left handed floater that he can get off in the lane from almost any angle when he is on.
Over the years Rice has continued to become more and more of a dribble-drive threat. His handles are excellent and while he does prefer to go to his natural left side, he is equally adept at breaking down defenders with either hand. As previously mentioned he has a great first step, but he makes it even more difficult to defend because of his ability to change speeds very well. At this point in his career, Rice has little trouble getting into the lane when he wants to and it appears that he would be able to do this successfully in the NBA as well. What he needs to improve on now is his decision making in the lane. Rice takes a lot of tough shots, and while he is able to connect on a fair number of these in college, he would be hard pressed to hit as many as he does now against NBA-caliber defenders.
Defensively, Rice needs to become a more complete player. He has great lateral quickness and equally quick hands which allowed him to average 1.6 steals per game as a junior. Mentally, he doesn't always appear to be there though. Often times he will over commit as a help defender and lose track of his man; he also has a tendency to bite on fakes. Perhaps most concerning at this point is the somewhat lackadaisical approach he takes on occasion to closing out on perimeter shooters. He certainly has the physical ability to be a stronger defender than he is, he just needs to improve his focus.
At this point, the thing hurting Rice the most is that fact that he needs to be the number one and two scoring options for Boston College. Yes, big scoring performances like the 46 points he posted on North Carolina last year will get him attention, but he certainly isn't going to be a top option should he reach the NBA. What Rice needs to be able to do is further develop and showcase his point guard skill set. He did dole out 5 assists per game last year, but he struggled with turnovers and shot selection at points.
Does Rice have the talent and potential to become a viable option as a back-up point guard? Yes, but there are always going to be questions regarding his size and whether or not he can be a floor general, not a scoring machine. With the team that Boston College is returning this season, Rice may yet again have to shoot a lot in order to keep the Eagles in games (he attempted 15.4 field goals last season), so it is likely we won't really get to see him as a point guard until events like Portsmouth or Orlando. For the time being though, another big year shooting the basketball can only help Rice's stock.
#10 Wayne Ellington, 6'5, Shooting Guard, Junior, North Carolina
Kyle Nelson
Even following an ugly loss to eventual national champs Kansas, UNC shooting guard
Wayne Ellington
entered last year's draft as a borderline first rounder. He was invited to the Orlando Pre-Draft camp, only to learn that he was very far from being ready for the next level, and decided to return to Chapel Hill for his junior season after seeing his draft stock take a significant hit.
UNC returns almost all of its talent from last season's Final Four team and, draft conversation aside, Ellington is going to have a tremendous role and with much national exposure. If he can improve upon his averages of 16.6 ppg (46.7% FG, 40% 3FG, 82.6% FT), 4.5 rpg, 2.0 apg (1.7 TOpg), and 1.1 spg, next season will likely be his final college season.
Ellington measured 6'4.75 in shoes and weighed 194 pounds at the Pre-Draft camp. Despite the fact that he showcased a 34-inch vertical leap, he did not test out particularly well in agility and sprint drills. This data supports our previous assertion that Ellington is a good, not great, athlete, with room to improve physically. His frame is quite slight and because he doesn't possess outstanding size or a particularly impressive wingspan for an NBA shooting guard, he should work to get stronger in order to compensate. Though he is not overly explosive around the basket, Ellington is, as we have said before, a fluid athlete, and impressive in the open floor in transition.
Ellington's most significant improvement last season was on the offensive end. During his freshman season, he had a reputation for shaky shot selection. Last year, however, he reduced the number of bad shots he took, instead picking up a variety of tricks, particularly in his midrange game, in order to find open looks. Pull-up jumpers are the most visible additions to his offensive arsenal, as he showed the ability on multiple occasions, against all types of competition, to stop on a dime and get his shot off.
His ball handling could still use some work and he certainly needs to work on this aspect of his game, but his improvements as a scorer have been impressive and, should they continue to improve, could help propel his stock back to where it once was next year. His bread and butter, however, is still his jump-shooting. While his three point shooting percentage fell during the second half of the season from when we last wrote about him, he still finished the year strong shooting 40% from the field, good for 23rd among NCAA shooting guards. His shooting stroke is still very good and his shot has a high arc that makes it difficult to block, despite the fact that he is slightly undersized.
One area in which he should continue to improve on the offensive end is in his slashing game. He showed a nice first step last season, and he attacked the basket with more assertiveness, but he should look to take the ball to the basket harder and more often. While his slight frame makes it difficult for him to absorb contact around the basket, he shows very nice touch around the basket and the intelligence and versatility to score in different ways. Working on developing his left hand may also be a factor here, as he drives right almost 20% more of the time than he drives left, according to Synergy Sports Technology.
Defensively, it's the same old story for Ellington. While he certainly has the physical profile to be a solid defender at this level, he continued to underperform last year. The issue seems to be focus, as he frequently gets lost through screens and on switches. Even when he's face guarding his man, he runs into trouble allowing too much distance between and often lets his man get a shot off in his face. His lateral quickness and athletic ability are simply too good for him to be such a mediocre defender at this level and he shows a lot of flashes. This area in particular could be the deciding factor in terms of his draft position next year.
Ellington improved last season, but its up to him to continue to work on his consistency and focus. He already possesses one of the best offensive arsenals in the ACC, and considering how well he embraced his role last year, there is no reason to think that he will continue to improve both in terms of his offensive game and on the draft board. The Tar Heels are expected to contend for the National Championship yet again, and with the cameras rolling,
Wayne Ellington
is going to have every opportunity in the world to prove himself as an NBA player.