In advance of the rapidly approaching college basketball season, we're once again breaking down the top individual prospects in college basketball, going conference by conference. Freshman have been excluded from these previews, as we'd like to wait and see what they have to offer on the NCAA circuit before we come to any long-term conclusions. We continue with Big 12, with seniors
Kevin Rogers
,
Curtis Jerrells
and
Connor Atchley
look to go on a positive note and possibly get drafted, while guards
Sherron Collins
and
LaceDarius Dunn
showed enough sparks of potential to be deemed worthy of keeping tabs on.
Top NBA Draft Prospects in the Big 12 (Part One: #1-5)
#6 Kevin Rogers, 6-9, Junior, Power Forward, Baylor
Jonathan Givony
After an excellent sophomore season that put him firmly on the NBA draft radar screen,
Kevin Rogers
may have taken a step sideways in his junior season, not really capitalizing on the added attention that came his way. Baylor as a team was much better than the previous year, but Rogers' numbers appeared to stagnate a bit in a slightly smaller role—as his scoring rate fell off slightly and his field goal percentage dropped, but his rebounding improved and he managed to cut down on his fouls and turnovers significantly. All in all, he didn't have a bad season, but you just couldn't help feeling that he could have offered a bit more. Luckily for him, as well as Baylor, he is back for his senior year and will be scrutinized very heavily as one of the top big men prospects the Big 12 has to offer.
Rogers is always going to be fighting an uphill battle as far as earning respect as a serious NBA draft prospect is concerned. Standing somewhere around 6-9, he's not particularly big for a power forward, and he doesn't bring any one incredible skill to the table that truly sets him apart from the pack when looking at players at his position in the NBA.
That's not to say that he doesn't have anything to offer, though. For one, Rogers is a very good athlete, quick off his feet, even explosive, showing nice quickness, and capable of making all kinds of plays around the rim because of that. Offensively, Rogers is used primarily as a back to the basket post option at Baylor, which isn't his biggest strength, as he has just average footwork and lacks the size and girth to make much headway posting up inside against other centers, which often forces him to settle for difficult shots. He does do a good job running the floor in transition and cutting to the basket in half-court sets, particularly on pick and roll plays, where he shows good hands and the ability to maneuver his way inside and finish plays effectively thanks to his athleticism and strong overall offensive instincts.
Facing the basket is where Rogers could still stand to improve significantly. Left-handed, he isn't skilled enough to consistently take his man off the dribble from the high-post and make his way to the basket—often instead just preferring to pull-up off the dribble wildly from mid-range due to his average ball-handling skills. His jumper shows potential, but is still too streaky to be counted on regularly-- he hit just 14 of 37 jump-shot attempts (38%) logged in 20 games, according to Synergy Sports Technology. He does have solid form and touch, though, particularly from 15 to 17 feet, so it's not of the question that he becomes more comfortable with his jumper in time, which he'll surely need to in order to take his game to the next level, both literally and figuratively.
Defensively, Rogers isn't quite as effective as you might hope considering that he will surely have to be a role-player at the next level. His intensity and awareness leave something to be desired on this end of the floor, particularly on the perimeter and defending pick and roll plays, while his lack of size and strength limits his potential as a post-defender inside when matched up against more physically imposing big men. At the collegiate level he is often athletic enough to regardless be able to make plays, but in the NBA things won't be quite as easy. The fact that he's a very good rebounder statistically will definitely be a feather in his cap as far as scouts are concerned.
All in all, Rogers has some nice tools to work with, and is clearly not a finished product at this point in time. To make himself stand out as a draft prospect in his senior year, though, he will need to show that he has a bread and butter that teams can count on if they decide to take a chance on him. Right now he looks like someone that will probably need to play in Portsmouth and likely the NBA pre-draft camp, but a big season playing for a very good Baylor squad could help his draft stock substantially.
#7 Curtis Jerrells, 6-1, Senior, Point Guard, Baylor
Jonathan Givony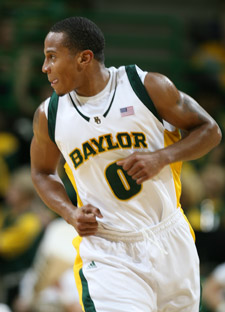 One of many intriguing storylines we can anticipate developing in the wide-open Big 12 conference is the emergence of Baylor point guard
Curtis Jerrells
into the national spotlight. Jerrells is the second leading returning scorer in the conference and tops in assists, and is clearly the engine that makes Baylor's fast-paced offense go. This is a team that likes to run, and Jerrells doesn't need to be told twice to push the ball up the floor quickly.
Looking at the last time we broke down Jerrells' game, we see that his numbers remained largely the same between his sophomore and junior seasons. His scoring was up slightly, his field goal percentage down a notch, his assists remained the same, but he managed to cut down significantly on his turnovers, which is an important development. Jerrells is a feast or famine type 'lead guard', he's very ball-dominant, and clearly looks first and foremost to create for himself, before looking to create for others. Part of that is a product of the helter skelter nature in which Baylor plays, and part of that is his own mentality.
Jerrells is a bit undersized for an NBA point guard, but he makes up for that with his excellent quickness, which includes a very nice first step and solid ball-handling skills with either hand. He looks very comfortable running the pick and roll, which is a big staple of Baylor's half-court offense. He's a tough player who likes to take the ball strong to the rim and will finish through contact and draw a good amount of fouls. At times he looks spectacular with the moves he makes, like lightning in a bottle, and at times he looks completely out of control, over-penetrating and taking ill-advised shots early in the shot-clock.
Jerrells relies heavily on his 3-point shot as a source of offensive production—43% of his field goal attempts came from beyond the arc, even though he shot just 33% from that range. More than any other player we can recall possibly in recent memory, nearly every shot he takes comes off the dribble—125/145 attempts according to Synergy Sports Technology's quantified report. He gets great elevation on this shot, but is very streaky due to the degree of difficulty involved in shooting in this manner, as well as due to the fact that his release point is inconsistent—often shooting the ball on the way down. When attempting to shoot a stand-still jumper (on a kickout for example), Jerrells' poor mechanics get truly exposed, as he brings the ball around the world from right to left with an awkward hitch, and thus takes a long time to get his shot off. Shooting off the dribble he is able to make this hitch much less pronounced, which is probably why he is so much more comfortable getting shots off in that fashion. There are serious question marks about how his shot will extend to NBA range, and whether he'll be able to get it off at his size.
Defensively, he is not only undersized, but he's also not all that intense on this side of the floor either, which puts him at a significant disadvantage when being viewed as a potential backup NBA point guard considering his shortcomings in other areas. He gambles a lot and seems to give up on plays too easily, and like a lot of offensive minded young players, it really doesn't seem like playing defense has ever been a huge priority for him.
Regardless of his very obvious deficiencies, players like Jerrells are definitely capable of making the NBA, as he is very good at creating his own shot, and is a very instinctive scorer in general. He can also make some plays for others, especially on the drive and dish, and there is still room for him to improve on his defense, playmaking and shooting mechanics, which he'll surely need to. He's likely going to have to prove himself in settings like the NBA pre-draft camp first, though, unless Baylor has a really spectacular season, which is not out of the question considering their talent level.
#8 Connor Atchley, 6'10, PF/C, Senior, Texas
Rodger Bohn
The departure of
Kevin Durant
to the NBA opened up plenty of scoring opportunities in Texas' frontcourt, and it seems like
Connor Atchley
(as well as
Damion James
) ended up being the biggest benefactor, more than doubling his scoring output from his sophomore to junior seasons. The big man might not have as much long term upside as some of the other players on this list due to the fact that he will be 24 before the 2009 NBA draft rolls around, but still has considerable room for improvement before being labeled a finished product.
Atchley has legit size for an NBA big man, looking every bit of 6'10 (perhaps even taller) and a solid 230 pounds with plenty of room to grow. He is blessed with long arms and a great motor, exerting good effort every time he steps on the hardwood. Athletically, Atchley is a slightly above average leaper and runs the floor well, although his conditioning could use some improvement with him looking quite winded at times late in the game.
As far as intangibles are concerned, there isn't much more you could ask for. Atchley is a great student and did not have one single scholarship offer before Rick Barnes and co. offered him a full ride in the spring of 2003, and willingly redshirted his freshman campaign in 04-05. Making huge strides over the last few years both physically and skills wise, it is clear that the Houston native is a tireless worker who wants to get better every day.
Atchley does the bulk of his damage on the offensive end as a jump shooter, scoring via both spot up jumpers or working the pick and pop to perfection. He shoots a bit of a set shot, but has shown the ability to consistently stroke it beyond the collegiate three point line against players his own size or bigger. Connor's jump-shooting (both mid-range and beyond the arc, although strictly with his feet set) accounted for more than half of his total offense, and he shot a sizzling 41.3% from the land of three. For his efforts he ranked 6th in the country amongst all draft prospects in points per possession. He did not garner an incredible amount of possessions, but was extremely efficient in the ones he used, as evidenced by the 54% he shot from the field, despite being essentially a jump-shooter and garbage man.
Adding in the ability to face-up on the perimeter and take his man off the dribble in a straight line would probably help Atchley become slightly more versatile. He would attempt this shot on rare occasion, usually to release a running hook that he attempts to be practicing, but his ball-handling skills and first step aren't strong enough to make the dribble-drive a consistent part of his offense just yet.
Down low, Atchley has shown a developing right handed jump hook with no counter move whatsoever. Never using his left hand at all severely limits his productivity in the pivot, and it still appears he's quite raw when given one on one situations on the blocks. The big man's nice hands and soft touch allow him to catch and finish efficiently down low, which is an asset considering how well he moves off the ball, (particularly in pick and roll situations) and he has proven to be a decent passer when pressured with the ball in his hands. Atchley isn't what you would call an incredibly explosive big man, but he found a way to finish on an excellent 70.49% of his attempts around the basket according to Synergy Sports Technology's quantified report, often with a two-handed dunk. How much of that had to do with the quality of the point guard that was next to him is something we'll find out this upcoming season.
Arguably the top selling point on Atchley as a prospect is his ability on the defensive end. He is a very good shot blocker who is also able to alter a ton of shots, while staying out of foul trouble for the most part. Positionally speaking, he held his own ground against stronger post players such as
Michael Beasley
and
Blake Griffin
last season and showed good lateral quickness when those foes faced him up. On the downside, Connor tends to bite for ball fakes a little too much and isn't quite the rebounder you'd like to see out of a big man prospect, averaging a little over 5 rebounds per game last season, and only 7.6 per-40--quite a poor mark.
Atchley's ability to shoot the ball from the perimeter at his size and potential on the defensive end are two NBA skills that will keep him firmly supplanted in the minds of NBA scouts, as he has all the makings of an excellent role player, minus the rebounding ability. His production and development throughout his final season at UT will determine whether he is able to be drafted in June or if he will be battling his way through training camp as an undrafted free agent.
#9 Sherron Collins, 5-11, Junior, Point Guard, Kansas
Joey Whelan
Sherron Collins
may be the top returning scorer from last season's national championship team, but he has plenty of work ahead of him. While the Chicago native has shown loads of potential, his work ethic has been called into question as of late. Collins arrived on campus this fall out of shape and according to head basketball coach Bill Self (
via CNN/SI
), "a month behind where [he] thought he would be." For a player already fighting an uphill battle due to the fact that he is 5'11" and lacking a typical point guard's skill set, the junior now has to further prove that he can be a hard worker on and off the court.
As far as his development is concerned, Collins hasn't seen any major strides in his game since we last wrote him up this time last year. His turnover numbers actually increased slightly, while his shooting efficiency dropped from his freshman campaign. He is still a perimeter shooting threat when he can catch and shoot, but struggles when he has to put the ball on the floor, showing a more inconsistent release point. Collins relies too much on his athleticism, which while excellent, doesn't always save him around the basket, where he often gets blocked due to his lack of size. He needs to do a better job of recognizing what the defense is giving him, rather than trying to force the issue around the rim, even though he does finish at a relatively good clip there.
Ultimately, Collins needs to develop his point guard skills, particularly his decision making abilities. In his first two seasons of college basketball he didn't have much of an opportunity to do that playing behind and alongside
Mario Chalmers
and
Russell Robinson
. With these players gone, the onus now falls on Collins. This is a huge opportunity for him to show that he is more than simply a great athlete with potential. Even more than most players due to the circumstances he was in, what Collins shows in his final two seasons of college basketball will likely have a much larger bearing on where or if he gets drafted than his first two, so it's probably best to be patient at this point. He has gotten off to a poor start, but with the season still a couple of months away, there is time for Collins to right the ship.
LaceDarius Dunn, 6'4, Shooting Guard, Sophomore, Baylor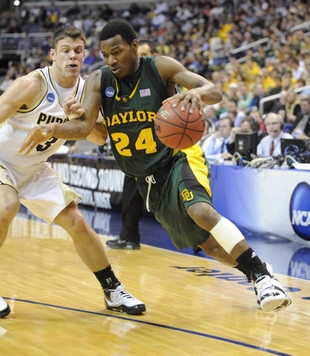 Joseph Treutlein
LaceDarius Dunn had a promising freshman season for the Baylor Bears, being their second leading scorer at 13.6 points per game while only playing 22 minutes per. In addition, he did it on high efficiency, shooting 45% from the field, 42% from three, and 84% from the line, good for a 62% TS%, which would rank him higher than most players on our projected mock for 2009.

Standing 6'4 with a pretty strong frame, Dunn is undersized for a shooting guard, and appears to have just average length to compensate. Athletically, he isn't great with explosiveness or quickness at either end, and doesn't get very high around the basket. His tools are certainly good enough to do damage at this level, but he's a below average athlete by NBA standards. He compensates for these things by being a highly skilled, crafty, and high motor player.

Offensively, it's hard to talk about Dunn without starting with his jump shot. Over 60% of his shots last season came from behind the three-point arc, where he frequently made opponents pay. His shot is not quite orthodox, boasting a fairly deliberate shooting motion where he brings the ball in front of his face before releasing it, while not getting much lift off the ground. He has excellent touch, though, and is also very good at adjusting to what the defense is giving him, being able to quicken his release when necessary, fade away to create space, or lean in to draw contact. He sometimes over-relies on his versatile shooting abilities, though, leading to awkward shot attempts and bad misses. Dunn is definitely at his best spotting up, but is also very good coming off screens or pulling up off the dribble, being a constant threat to the defense.

Aside from his jump shot, Dunn doesn't have many other standout offensive abilities yet, though he's comfortable with the ball in space and in transition, and will drive to the basket if you give him the chance to with his left hand. The right-handed shooter is surprisingly weak with his right hand dribble, though, and will almost never go to the basket in that direction. At the rim, while he seems to have good creativity with the ball, he often doesn't have the vertical explosiveness to go over opposing players, and thus relies on floaters and runners, which he hits fairly regularly. This is definitely something he should continue to work on, though, as it needs to be a very consistent weapon in his arsenal.

Defensively, Dunn is pesky and has very good fundamentals, while showing good reflexes and a tendency not to bite for pump fakes. He doesn't have the best lateral quickness, though, so he can be beat by quicker players. He also struggles with screens, as do most college freshman. Off the ball he is attentive and does a good job staying focused on the ball and his man, leading to some smart weakside steals.

After coming on strong towards the end of his freshman season with a 38-point game against Texas Tech (on just 16 shot attempts), Dunn should be looking at an increased role as a sophomore, where he should get more touches and chances to show a more versatile offensive game. Improving his handle and mid-range game should be among his priorities, while becoming more of a combo-guard could also help at his size. Averaging under one assist per game last season, he's yet to show many flashes of that.