We continue to evaluate the top NBA prospects in the ACC, moving on to part five, players ranked 5-9:
Jerami Grant
,
Olivier Hanlan
,
Dez Wells
,
Rodney Hood
and
Joe Harris
.
Incoming freshmen have been excluded from these previews, as we'd like to wait and see what they have to offer on the NCAA level before we come to any long-term conclusions.
-
Top NBA Prospects in the ACC, Part One
(#1) James McAdoo
-
Top NBA Prospects in the ACC, Part Two
(#2) T.J. Warren
-
Top NBA Prospects in the ACC, Part Three
(#3) Rasheed Sulaimon
-
Top NBA Prospects in the ACC, Part Four
(#4) P.J. Hairston
#5, Jerami Grant, 6'7, Sophomore, Small Forward, Syracuse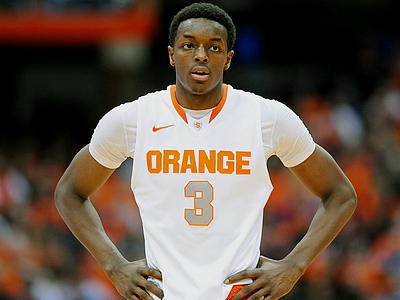 Matt Williams
Coming off a freshman season where he was one of the first players off the bench for a Syracuse team whose season ended with a trip to the Final Four, Jerami Grant had an eventful summer. A member of the USA U18 National Team that won a gold medal at the 2012 FIBA Americas Championship a year ago, he was poised to once again suit up for his country after being one of twenty-six players invited to the USA U19 National Team Training Camp held at the US Olympic Training Center in Colorado Spring during the beginning of June.
One of the 12 players surviving the final round of cuts to make Billy Donovan's gold medal-winning World Championship squad, Grant's defensive versatility and athleticism earned him a ticket to Prague, and while he made the trip, he never had a chance to compete. Diagnosed with mononucleosis after the team had already landed in the Czech Republic, he was unable to reap the fruits of his labor earlier in the summer.
Dropping some fifteen pounds
as the illness kept him inactive for the better part of the summer, Grant returned to campus looking to regain his strength and get into game shape as the Orange prepared for their late-August exhibition schedule.
Putting back on much of the weight he lost prior to finishing as Syracuse's leading scorer and rebounder over four games against Canadian University teams, Grant ended what was a trying summer on a high note. Having lost three of his top four scorers from last season, Jim Boeheim will look to the rising sophomore to continue building on that momentum as the program looks to solidify its rotation and define its identity early on before heading into its first ACC campaign.
Standing 6'9 with an improving frame that has outstanding long-term potential, and possessing exceptional athletic ability, Grant is a terrific physical specimen who played a small role as a freshman in a short Syracuse rotation that relied heavily on its returning players offensively. Averaging a modest 3.9 points and 3 rebounds over 14.3 minutes per-game, the DeMatha (MD) product mostly blended in as a freshman, playing with a good motor and proving capable of finishing around the rim with his length and athleticism, despite struggling to deal with contact for stretches.
Skill-wise, Grant proved to be a fairly limited player last season, showing little in the way of ball-handling ability or scoring touch. Knocking down 6 of his 21 jump shots (28.6%) last season, the former consensus top-50 recruit did the vast majority of his damage right at the rim, seldom being counted on to make a play on the offensive end aside from a six game stint where he had some nice moments in extensive playing time filling in for an injured James Southerland. Despite the occasional glimpse of things to come, Grant still has a world of room to grow as a scoring threat, and his ability to find a consistent means to contribute efficiently on the offensive end will help dictate just how good of a player he can be long-term.
Where Grant does his best work and possesses the most potential at this point is on the defensive end. Bringing length and agility to the back line of Syracuse's zone, Grant proved in Colorado Springs that he can guard from the two through the four position effectively in man-to-man situations. As he continues to add weight to his frame, he could emerge as one of the more promising forward prospects in the college game from a defensive perspective, even if that is unfortunately masked at times by the system he plays in.
Still in a very early stage of development, Grant is only beginning to come out of his shell as a prospect, and looks to have huge room for growth long-term. The opportunity for him to assume a leadership role, make an impact more consistently with his athleticism and effort, and continue to add to his game will certainly be there this season. If he makes rapid progress, he could make himself a legitimate candidate for the 2014 draft and is certainly a player worth monitoring.
#6, Olivier Hanlan, 6-4, Sophomore, PG/SG, Boston College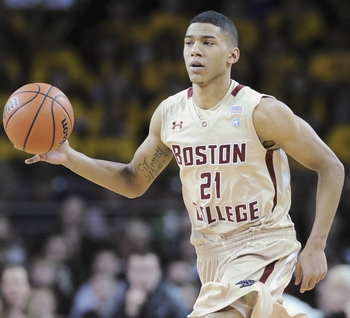 Jonathan Givony
A fixture on Canada's youth basketball teams as a teenager, Olivier Hanlan entered college a year later than most of his class, after spending two years at New Hampton Prep School in New Hampshire. He started his college career on a very strong note, winning ACC Freshman of the Year honors after emerging as one of the top scorers in the conference at 15.5 points per game, and continued that momentum at the Nike and LeBron James Skills Academies this summer.
Hanlan has good size for a guard at 6-3 ½ in shoes to go along with a solid frame and athleticism for his position. He's an aggressive offensive player capable of scoring in a variety of ways, be it spotting up from behind the 3-point line or off the dribble inside the arc.
Seeing time at both guard positions for Boston College, Hanlan serves as his team's primary shot-creator in the half-court, even if he isn't always tasked with bringing the ball up the floor. He sees a significant amount of his offense operating in the pick and roll, where his solid ball-handling skills, strong first step and ability to change speeds complement his excellent pull-up jumper.
Hanlan is a very dangerous outside shooter, converting 39% of his 3-point attempts as a freshman. His size allows him to be paired alongside another ball-handler in the backcourt, as he can space the court effectively with his ability to make shots with his feet set, knocking down 41% of his catch and shoot jumpers last season. He's equally dangerous off the dribble, converting 39% of his pull-ups, many of which come in the mid-range area, where he is capable of creating sharp separation from his defender in the blink of an eye and with picture perfect mechanics.
More than just an outside shooter, Hanlan also gets to the free throw line at a solid rate, 6.1 times per-40, and converted 75% of his attempts once there. He's not a bad finisher if left to his own devices, but could still stand to improve on his off-hand, as he noticeably prefers completing plays with his right.
NBA scouts may wonder what Hanlan's best position at the next level might be, as he posted by far
the lowest assist rate
of any of the returning collegiate players classified as point guards in our top-100 rankings. His assist to turnover ratio is just a hair over 1/1, and his -2 pure point rating ranks second to last among that group of elite guards, ahead of only Russ Smith.
Digging deeper into the data, we find that Hanlan doesn't really have too much of an issue with turnovers, as he actually only coughs the ball up on 15% of his used possessions, which is a very solid rate. His bigger issue is that he rarely creates offense for his teammates, as he generates an assist on just 16% of his possessions. Part of this is due to his role and the amount of scoring responsibility his team needs him to shoulder, but a lot of this has to do with Hanlan's mentality as well, as he doesn't really look to create much for others. He has a tendency to overdribble at times and can display questionable shot-selection, so it will be interesting to see if his court vision improves with added experience this season.
Another area NBA scouts will want to see growth in is on the defensive end. Boston College ranked as the second worst defense in the ACC last season according to KenPom, and from what we can see on film, Hanlan played no small role in that. Very upright in his stance, and quick to relax when the ball isn't directly in front of him, Hanlan's fundamentals are fairly poor on this end of the floor, and his relatively short wingspan (6-5) for his height doesn't do him any favors. He gets beat off the dribble frequently and is not physical fighting his way through screens, often looking out of position off the ball and not representing much of a threat in the passing lanes.
Hanlan, like the rest of Boston College's roster, will have to show much better intensity defensively this season to improve on their 7-11 record in ACC play, which will go a long way in helping them make the NCAA Tournament for the first time since 2009. Returning virtually their entire core from last season, there is quite a bit of excitement brewing among fans for what this team could accomplish with what looks to be a pretty talented roster.
Two games at Madison Square Garden in November (versus UConn and either Indiana or Washington as part of the 2k Sports Classic), and another interesting contest at the Barclays Center (versus VCU as part of the Brooklyn Hoops Winter Festival) should provide quite a bit of early exposure to NBA personnel and the national media.
Considering Hanlan is a year older than most of his class, turning 21 in February, a productive and winning season for Boston College could very well help put him on the radar screen of the 2014 NBA Draft.
#7, Dez Wells, 6'5", Junior, Small Forward, Maryland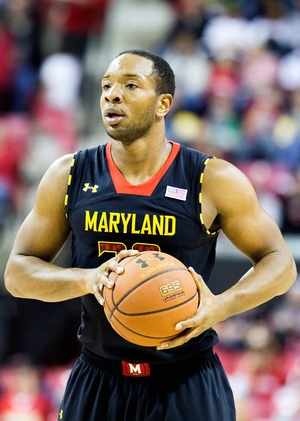 Derek Bodner
After making an immediate impact on a deep Xavier team during his freshman season, Dez Wells' Xavier career came to an abrupt end when he was expelled for an alleged sexual assault. Even though an Ohio Grand Jury later rejected criminal charges against Wells, with the county prosecutor having some strong words for Xavier's lack of due process, Xavier upheld Wells' expulsion. Wells recently
filed a lawsuit
against the school in seeking to overturn the expulsion and clear his name publicly from the damaging allegations, as well as receive an apology from Xavier's president.
After landing at Maryland, Wells would submit an appeal to the NCAA to regain eligibility without having to sit out the year, an appeal he would eventually win just days before Maryland's home season against Kentucky. Whether it was the off the court turmoil, expectations, an adjustment to fitting in with his new teammates, or a combination of all, Wells would struggle with consistency during the first half of his sophomore season. His play improved considerably towards the end, averaging 17 points per game with excellent efficiency (53.7% field goal percentage, 42.8% three point percentage, 4 free throw attempts per game) over his last 11 games as he became Maryland's top offensive option.
Wells' offensive game is built around his great combination of strength and athleticism, showing a solid first step, excellent elevation and body control as well as the strength and willingness to absorb and finish through contract. With the move off of Xavier's deep offensive team, Wells saw this manifest itself more in dribble drives than during his freshman year, where he slows good potential as a slasher. While his ball handling could use some further refinement, particularly with his off hand, he has a nice, low dribble and does a good job of changing speeds and direction, and is able to get into the lane powerfully off of his own dribble with regularity.
In the open court is where Wells truly shines, as he got out in transition at a very prolific rate last year (around four times per game), and was able to score in a very effective way once there—converting over 70% of his field goal attempts in these situations, one of the top rates in the country.
One area Wells could stand to improve greatly is to become more comfortable finishing with his off hand. According to Synergy Sports Technology, Wells' efficiency driving left in isolation situations (0.55 points per possession) was drastically lower than when he went right (0.783). For the most part, Wells is able to get all the way to the rim when driving in either direction, but he lacks touch and confidence when attempting to finish with his off hand, frequently forcing the action with his dominant hand even when the opportunity may not be there.
Overall, Wells largely regressed as a shooter during his second season, at least from a numbers perspective. His three point percentage fell from 37.7% his freshman season to 33.3% during his sophomore season, while his overall efficiency on jump shots fell from 0.961 points per possession to 0.931. A couple of factors were at play here, from a change in shot distribution – he shot more off the dribble, and less uncontested catch and shoot attempts than he was afforded during his freshman season at Xavier – as well as simply struggling to find his shot earlier in the season.
As the season wore on he appeared to be in a much better rhythm and had much more confidence on his jump shot, particularly off the dribble. His form also looked to be slightly improved than where it was, and when he squares himself up, gets in position before the pass, and is decisive in his decision making, it looks like this could be a larger part of his game going forward.
While not a point guard, Wells began initiating Maryland's offense more down the stretch, to somewhat mixed results. Wells shows a willingness to use his dribble penetration to help others, and does a fairly good job of finding set shooters off his drives into the lane, generating 4.0 assists per 40 minutes pace adjusted, a very good number for a wing prospect. With this increase in ball-handling came a sharp increase in turnovers as well, with his 3.9 turnovers per 40 minutes pace adjusted being the second highest mark among shooting guards in our top 100 prospect rankings. Wells can at times become a little bit out of control on his forays to the hoop, and can also become indecisive at times in his decision making.
On the defensive end, Wells stands a shade under 6'5", and will likely be at a height disadvantage at the next level regardless of what wing position he plays. He has good lateral mobility when he's engaged, but he can become too upright at times and caught both on misdirection moves as well as losing his man off the ball. He does do a goob job of using his size and physicality to his advantage, taking his man out of his comfort zone and forcing him into tough, off balance attempts.
Dez Wells' strength and athleticism presents an intriguing package as a wing slasher, particularly as he becomes more comfortable setting up his own teammates and getting them looks off the attention he receives on his dribble penetration. With the departure of Alex Len to the NBA, Wells will have an even bigger role in creating scoring opportunities for his teammates. Wells bounced back well after an extremely difficult start to his sophomore season, and it will be interesting to watch whether his improvement towards the end of the season is sustainable.
If it is, and if he can continue to improve from the perimeter and improve his decision making, Wells could certainly rise up draft boards. A year older than his class after prepping for a year at Hargrave Military Academy, a strong season could push him towards entering in 2014 rather than waiting to finish his degree at College Park.
#8, Rodney Hood, 6-8, RS Sophomore, Small Forward, Duke