Matt Williams
A player we've written about in our Big Ten preseason coverage each of the last two years, Maryland senior
Dez Wells
saw his college career come to a close at the hands of West Virginia in the 3rd round of the NCAA Tournament. Turning the ball over 8 times in the game, what was otherwise a terrific season for the 23 year old guard ended on a sour note. Looking at his entire body of work, Wells proved once again that he's one of the top shooting guard prospects in the senior class, earning All-Conference 1st Team honors while leading Maryland to an impressive 28-win debut season in the Big Ten.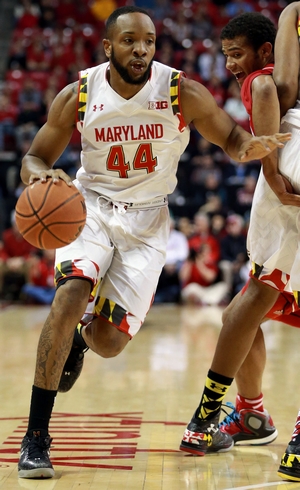 Standing 6'4 with a 6'9 wingspan, Wells has average size for a shooting guard. What sets him apart physically from the average prospect is his tremendous 225-pound frame. A strong athlete with solid burst, the Raleigh native is built like a football player, an attribute he looked to use to his advantage in one-on-one situations and in the open floor on a regular basis this season.
Playing point guard for stretches of his college career out of necessity, Wells played a role more aligned with his natural position as a senior thanks to the emergence of freshman guard
Melo Trimble
. Around a third of his possessions came in isolation situations on the perimeter and in the post according to Synergy Sports Technology, with another significant percentage coming in transition and spot up situations. Able to focus more heavily on scoring than creating movement within Maryland's offense running the pick and roll as he had been asked to regularly in his first two seasons in College Park, Wells still flashed solid vision at times, but wasn't forced to do it all as he had been at times in the past.
Presenting a matchup problem for many of the smaller, less physically mature guards he ran into through the season, Wells looked to be a bully on the offensive end regularly as a senior. His strength, quickness, and leaping ability made him a threat to overpower his way to the rim off the dribble, shoot over opposing post defenders, draw fouls at an above average rate, and generate decent looks from the midrange at will. Using an array of step through moves, turnaround jump shots, and floaters to score inside, Wells took some pressure off of Trimble and created many quality looks for teammates by collapsing the defense, but also forced the issue at times, shooting only 31% in isolation situations and 36% in the post, while turning the ball over more frequently than any other shooting guard in our top-100 at 4.3 give-aways per-40 minutes pace adjusted. Shooting a more efficient 42% and 53% in those same situations a year ago, it is safe to assume Wells is capable of more, even if he still has plenty of room to tighten up his ball-handling ability and midrange game.
One potential factor in Wells's inconsistency scoring in one-on-one situations relative to last season could be the broken right wright he suffered that caused him to miss most of the month of the December. Despite injuring his shooting hand and its potential negative impact on his one-on-one efficiency, Wells still shot an impressive 81% from the foul line, right on par with the 82% he shot a year ago, and a terrific three-point percentage on limited attempts (1.8 per game).
An average set shooter over the first three years of his college career, Wells's 3-point percentage surged from 30% last season to 51% this season. He attempted only 49 three pointers this season and doesn't always finish his follow through or get consistent elevation, but his progress was nonetheless promising. His ability to grow into a reliable shooter in a spot-up heavy role will be key to his success at the next level, as he won't be able to exploit his physical tools as easily one-on-one and in turn will inevitably spend more time operating off the ball.
Defensively, Wells has the tools to hold his own at the next level. His strength and quickness make him a capable individual defender, and though he could be a bit more aggressive fighting over screens and do a better job not staring down the ball, he was consistently solid on this end of the floor. Though he's a touch undersized, he still managed to rank 2nd among shooting guards in our top-100 pulling down an impressive 7 rebounds per-40 minutes pace adjusted. Maryland's defense wasn't particularly aggressive last season, ranking among the least foul prone and turnover producing teams in the country, and Wells played a bit upright and wasn't quite as disruptive as one might hope on the whole. It will be interesting to see how physical Wells is on this end of the floor as he makes the transition to the next level.
A talented shooting guard who has scored an impressive 1710 points in his collegiate career, Wells doesn't have a true specialty that stands out among his peers, but his physical tools and ability to do a bit of everything will get him plenty of workouts during the draft process. If he can shoot the ball well enough and use his physical tools to make players on both ends of the floor, he's certainly capable of earning a spot in the second round come draft night. Regardless of where Wells ends up, it will be interesting to see what kind of role he's asked to play as a rookie given the unique ones he played throughout his college career.