Beginning our coverage of the top returning NBA prospects residing in the ACC, we profile the conference's most highly regarded prospect,
James McAdoo
.
Freshmen have been excluded from these previews, as we'd like to wait and see what they have to offer on the NCAA circuit before we come to any long-term conclusions.
-
Top 20 NBA Prospects in the Big Ten
#1, James McAdoo, 6'9, Sophomore, Power Forward, North Carolina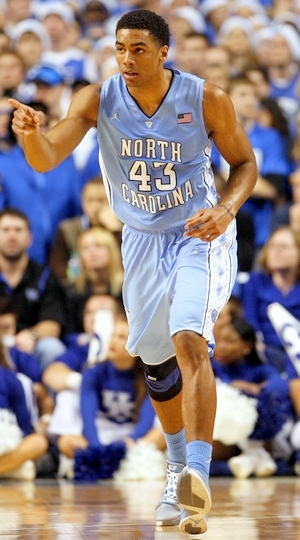 Matt Williams
Stuck in the shadows of NBA first-round picks
Harrison Barnes
,
John Henson
, and
Tyler Zeller
in North Carolina's front court rotation,
James McAdoo
averaged just 15.6 minutes per-game last season. Other than the three games he started in mid-March after
John Henson
suffered a wrist injury, the former McDonald's All-American was not asked to do much more than play hard, crash the glass, post up occasionally, and make the most of his opportunities in the paint as a freshman.
With both Zeller and Henson now playing in the NBA, North Carolina will look to McAdoo, the team's only returning post player to have averaged over 5 minutes per-game last season, to emerge as a star.
Parts of last season were certainly a struggle for the Virginia Beach native, but if McAdoo's progress late in the year is any indication, he is going to have a breakout season and substantiate much of the draft buzz surrounding his decision to stay in school last spring.
Measured at 6'9 in shoes with a 7'1 wingspan a little over a year ago at the Amar'e Stoudemire Skills Academy, McAdoo has a near-prototypical frame for an NBA power forward, despite being slightly undersized. He has steadily added weight to his frame since emerging as an elite recruit, and certainly looks the part of a top prospect at his position, even if he has room to improve his frame down the road. Athletically, McAdoo's is an incredibly smooth, fluid player, running the floor extremely well for a big man, showing very good quickness defensively, and proving to be significantly more explosive at the basket than he appears at first glance.
It was McAdoo's ability to make the most of his athleticism and find a comfort level with his role and the speed of the college game that limited him early last season. Looking lost on both ends of the floor for stretches, especially against ACC competition, McAdoo shot just 36.5% from the field in conference play. Amid infrequent moments of brilliance, McAdoo struggled to convert his one-on-one opportunities on the block, appeared rushed a bit too often, made some questionable passes in traffic, and simply didn't look comfortable shooting from the midrange.
McAdoo's difficulties weren't entirely surprising –there's certainly something to be said for adjusting to being a role-player off the bench at the highest level of college hoops- but his inefficiency and decision-making were something of a shock. One of the most fundamentally sound big men to come out of the high school ranks in recent years, we've marveled on more than one occasion at his extraordinary feel for the game, relaxed demeanor, and ability to make plays facing the basket.
It wasn't until March that McAdoo seemed to really get a handle on where he fit in on the star-studded UNC roster and how he could make a consistent impact.
The biggest changes for McAdoo came on the offensive end, where he scored an excellent 1.039 points per-possession in the month of March, a big jump from the 0.796 he had scored to that point. Appearing more active within the Tar Heels' half-court offense, McAdoo did a much better job being patient when he got the ball on the block, aggressively attacking the offensive glass, and finding open space playing off of
Tyler Zeller
. Finishing a number of highlight reel tip-dunks and dropping in a few turnaround jumpers in the post late in the year, McAdoo stepped up when his team needed him most with
John Henson
and
Kendall Marshall
out of action, and offered intriguing glimpses of what's to come.
In returning to school, McAdoo has put himself in position to build on his play late in the year and solidify his place among the top prospects in this draft. He'll need to continue doing all the positive things he did late in the year, and show improvement as a face-up threat, one-on-one scorer, and jump shooter to accomplish that.
Making 8 of the 32 jump shots he attempted last season (25%) and 20 of the 64 shots he attempted in the post (31.3%) as a freshman, the onus will be on McAdoo to show that he can be the dynamic threat on the block and consistent set shooter facing the rim he had the making of coming out of Norfolk Christian High School. Playing alongside experienced guards like
Dexter Strickland
and
Leslie McDonald
should help McAdoo's cause, but he will be asked to create his own shot and score from a variety of spots on the floor to help Roy Williams make up for the immense amount of talent he lost last spring.
Defensively, McAdoo had some excellent moments during his freshman year. Showing uncanny anticipation, the 19-year old forward was at his best playing the passing lanes when his man stepped out onto the perimeter, finishing the year averaging 2 steals per-40 minutes pace-adjusted, many of which he took coast-to-coast for a dunk on the other end.
Always competing, McAdoo did a good job cleaning the glass and defending face-up four men, showing good lateral quickness away from the rim, but working himself out of position at times, both in the midrange and in the post. It will be interesting to see how McAdoo fares defending the post this season, as he could see some minutes defending the center position in smaller lineups depending on how North Carolina integrates incoming freshmen
Joel James
and
Brice Johnson
. McAdoo defended back-to-the-basket scorers with mixed results last season, struggling against stronger forwards, but getting better as the year went on.
While it can be difficult to project the trajectory of underclassmen who are about to undergo major role changes at high-profile programs like North Carolina, McAdoo's situation seems like a safe bet considering he could have been a lottery pick had he declared for the 2012 draft, even if his freshman year was rather non-descript on paper. His play late in the season, advanced feel for the game, and absolutely unwavering demeanor on the floor will give him every opportunity to make the most of what is expected to be a breakout year.
Coming Tomorrow: Video scouting reports on C.J. Leslie and Mason Plumlee