Dexter Strickland
Recent Tweets
All Tweets
DraftExpress: Kelly Olynyk Ray McCallum Arsalan Kazemi Alex Oriakhi Dexter Strickland & Kentavious Caldwell-Pope all signed with Wasserman Media Group
2013-05-08 18:11:15
DraftExpress: Top NBA Draft Prospects in the ACC, Part 6: Dexter Strickland, Ryan Kelly, Reggie Johnson, Daniel Miller, Durand Scott http://t.co/jF57Zgba
2012-09-24 10:03:18
DraftExpress: Brown wasn't being defended by the likes of Dexter Strickland & Reggie Bullock before tonight, though. Different animal playing vs those two
2011-12-21 07:30:58
DraftExpress: RT @dgoneil1: RT @bylinerp: #UNC knee update No. 2: Dexter Strickland - http://t.co/GLuxF5yH
2011-11-02 02:14:11
DraftExpress: Speed is everything in today's NBA & Strickland is one of the fastest players in the NCAA RT @jpisor21: Dexter Strickland over Durand Scott?
2011-09-20 08:37:38
Top 25s - Full List
Team: Los Angeles
Physicals
Positions
Rankings
Salary
Misc
H: 6' 3"
W: 177 lbs
Bday: 10/01/1990
(25 Years Old)

Current: PG/SG
NBA: PG/SG
Possible: PG/SG

RSCI: 22

Agent: Makhtar Ndiaye

High School: St. Patrick
Hometown: Elizabeth, NJ

Predraft Measurements
| Year | Source | Height w/o Shoes | Height w/shoes | Weight | Wingspan | Standing Reach | Body Fat | No Step Vert | Max Vert |
| --- | --- | --- | --- | --- | --- | --- | --- | --- | --- |
| 2013 | Portsmouth | 6' 2.5" | NA | 177 | 6' 8.5" | 8' 3.5" | NA | NA | NA |



Basic Per Game Statistics

- Comprehensive Stats - Statistical Top 25s
| Year | League | Name | GP | Min | Pts | FG | FGA | FG% | 2Pt | 2PtA | 2P% | 3Pt | 3PtA | 3P% | FTM | FTA | FT% | Off | Def | TOT | Asts | Stls | Blks | TOs | PFs |
| --- | --- | --- | --- | --- | --- | --- | --- | --- | --- | --- | --- | --- | --- | --- | --- | --- | --- | --- | --- | --- | --- | --- | --- | --- | --- |
| 2014/15 | DLEAGUE | Dexter Strickland | 10 | 14.1 | 6.5 | 2.6 | 5.2 | 50.0 | 2.6 | 4.9 | 53.1 | 0.0 | 0.3 | 0.0 | 1.3 | 1.9 | 68.4 | 1.0 | 1.1 | 2.1 | 1.8 | 0.9 | 0.0 | 0.7 | 1.6 |

Player Page&nbsp&nbsp| Player Stats | Mock Draft History | Related Articles&nbsp&nbsp| Add to My Draft Express&nbsp
&nbsp
Top NBA Draft Prospects in the ACC, Part Two (#6-10)
September 19, 2011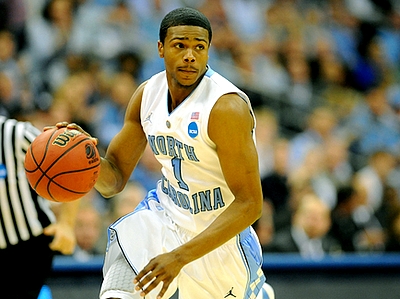 Icon SMI



Matt Kamalsky

After seeing solid playing time as a freshman, Dexter Strickland stepped into a starting role for a dramatically improved Tar Heels squad last season as a sophomore. Now a junior, The St. Patrick product faces a unique challenge in taking the next step as a prospect, as he finds himself on arguably the deepest, most talented roster in the nation.

Finishing fourth on the team in scoring and third in assists, Strickland did show some improvement as a sophomore and was a catalyst for a number of key North Carolina runs throughout the season. As we've noted in the past, the guard's speed and first step are NBA-level tools that make him a game-breaker on a deep Tar Heel roster. Though he wasn't a featured option and won't be one this season, he put things together on a number of occasions, showing marginally improved decision-making and settling for fewer jump shots.

Despite the flashes he showed and the incremental improvements he made, Strickland has not yet taken the large step forward in terms of skill development that he needed to in order to solidify himself as a draft prospect. He remains a non-factor away from the basket in half-court sets, knocking down just 26.1% of his jump shots according to Synergy Sports Technology. Considering that he showed little in the way of true point guard ability, Strickland's lack of efficiency scoring from the outside, sometimes erratic drives to the basket, and lack of size for the shooting guard position at the NBA level are legitimate concerns at this point.

With those things being said, Strickland did show some nice things on the defensive end last season. Often guarding the opposition's most talented scoring guard, Strickland's speed makes him a pest in the passing lanes and allows him to deny penetration fairly effectively one-on-one. Though he struggles to some degree to fight through screens and certainly would be well served to add some muscle to his frame to help him on the next level, he had some terrific defensive possessions when he was dialed in.

Leslie McDonald, Strickland's main competition for minutes at the two, went down with a knee injury this summer, meaning Strickland should see substantial playing time once again this season. Despite the talented group around him, and the return of Reggie Bullock, if Strickland can show progress as a jump shooter, even if it is in a small role, he'll boost his perception considerably among scouts. Many prospects we look at lack a definable NBA skill, so Strickland's phenomenal quickness adds an intriguing dimension potential. This will be a key year for Strickland, as he needs to start developing the skills that he may have a golden opportunity to showcase on a possibly less crowded Tar Heel roster as a senior.

[Read Full Article]

---
Top NBA Draft Prospects in the ACC, Part Three (#11-15)
October 22, 2010
Matt Kamalsky

A highly touted prep player, Dexter Strickland had a decent freshman season, showing some of the unique talents that made him a tremendous high school player, but making the mistakes one would expect from a young guard as well. He struggled to play efficient basketball at times, but made it clear that he can already make an impact with his tremendous speed in the open floor. Strickland has a lot of improving to do, and faces stiff competition for minutes in UNC's young, but talented backcourt. His ability to improve in practice and take that adversity as a challenge will play a big role in his performance this season and his perception as a NBA prospect.

Despite struggling with his decision-making and not scoring with ideal efficiency, Strickland showed the ability to spark the fast break and push the ball up the floor in a hurry. Showing the same excellent speed and quickness we saw from him on the high school level, he was able to change the pace of the game with his aggressiveness, for better or worse. Lacking great size for a shooting guard, but flashing potential as a passer and great athletic tools, Strickland will need to refine his floor-game, improve his decision-making, and develop his outside shooting to become a more complete guard and define his position at the next level.

Stuck in-between the one and the two, Strickland is primarily a shoot-first player at this point, though his ability to get into gap and draw additional defensive attention allows him to make an occasional play for his teammates. Unfortunately, for every solid pass Strickland throws, he makes a few questionable decisions. Frequently driving into the teeth of the defense and often looking a bit out of control playing at the frenetic pace at which he likes to operate at, Strickland needs to find a balance between the speed he plays at and his decision-making. He didn't get to run the pick-and-roll much last season, and it will be interesting to see where he fits this coming season with an outstanding pure point-guard in Kendall Marshall coming into the fold this coming season.

Whether Strickland winds up playing on or off the ball, he's going to make his mark in transition. The key for him moving forward will be improving his skill set to become more versatile and effective when the game slows down. Last season he struggled to convert jump shots and finishing opportunities in half court settings, shooting just 31% from the field in half court situations as opposed to 63% in transition according to Synergy Sports Technology. An excellent leaper, Strickland still needs to add some strength and could definitely stand to be a bit less fancy when he attempts to score at the basket.

In the same regard, Strickland will need to hone his jump shooting ability to improve his efficiency. Prone to taking some questionable shots early in the shot clock, he looks uncomfortable knocking down catch and shoot jumpers from the perimeter. He tends to short-arming his release, even when he has space, and takes some tough shots with a hand in his face. His ability to become a capable shooter will open up his floor game considerably. He showed that he could get the rim in isolation situations when he put his mind to it, but could be a force if defenders had to respect his range.

Defensively, Strickland already has the tools to be a highly effective stopper. His outstanding speed allows him to effectively defend the point guard position as well as shorter shooting guards, but he still needs to add weight and improve his focus to ease his transition to the next level. Prone to over--committing in help side and looking a bit lost at times, Strickland's quickness allows him to make an impact in the passing lanes, and with added weight and more experience he could become a tremendous defensively prospect.

Even if Strickland improves his frame, at the end of the day, his ability to define his position at the next level with have more to do with his draft stock than anything else. Just a sophomore, Strickland has plenty of time to improve and tons of tools to work with. Though he may need to change his mentality offensively, which is a difficult thing for any young guard to do, Strickland will be a player to keep an eye on as he tries to earn minutes on a talented UNC roster.

[Read Full Article]

---
adidas Nations Experience: 2009 High School Prospects
August 19, 2008
With some of the teamís more highly regarded players sitting out later on in the week, we had a pretty good opportunity to get a long look at North Carolina commit Dexter Strickland (#15 Scout, #15 Rivals, #10 ESPN). Listed as a point guard by Rivals.com, but as a shooting guard by Scout and ESPN, he played quite a few minutes at both positions, which allowed us to evaluate his progression at both positions.

Strickland has decent size at 6-3, but is really most notable for his athleticism, possessing excellent quickness getting up and down the floor, and the explosiveness needed to finish most plays strong at the rim with an emphatic dunk. Heís got the footwork needed to get to the basket fairly easily to get his team high-percentage opportunities, and great body control in the lane, often contorting himself in mid-air to avoid defenders, and. He can go left or right and doesnít shy away from taking the ball strong to the cup, but is very elegant with his finishes and shows nice extension getting his shot off. In short, Strickland can create his own shot very well at this level.

In addition to his virtues as a slasher, Strickland also has great potential as a shooter, showing a good-looking stroke from beyond the arc, as well as the ability to pull-up off the dribble from mid-range as well. He wasnít extremely consistent throughout the camp, but there is obviously a lot to work with here if heís willing to put the time in.

One of the issues with Strickland is that he really isnít a point guard at the moment, as he has a shoot-first mentality and looks way too out of control to be relied upon as a teamís full-time ball-handler. He turns the ball over at a pretty high rate, and isnít a great decision maker by any stretch. His ball-handling skills can still be improved, and he showed poor awareness in regards to clock management situations and very average court vision creating shots for his teammates.

Defensively, Strickland didnít really stand out in this setting, but wasnít a liability either. He looks like a competitive player and shouldnít have a problem playing the type of defense Roy Williams expects at North Carolina. As an NBA prospect, though, he is definitely undersized for a shooting guard and thus may need to spend a few years in college working on his playmaking skills, unless he really takes his game to the next level and becomes an absolute lethal scorer.

[Read Full Article]

---
Nike Super 6 High School Invitational at Madison Square Garden
January 15, 2008
One of the nationís top juniors put on a very strong overall performance, despite not making much noise scoring the basketball. Strickland, one of many talented players on a loaded St. Patís team, spent most of the afternoon deferring to teammates in the Celtics win over St. Raymondís. The future Tar Heel spent the majority of the game playing at the small forward spot due to St. Patís playing a backcourt made up of three players all capable of running the point guard position.

Strickland showed a lot of ability as a slasher, which leads us to believe he could line up at the off-guard spot a fair amount in college depending on who is on the floor. He exhibited excellent ball-handling skills, dribbling himself out of several double teams during the course of the game. Strickland proved to be a handful to contain thanks to his ability to mix a great first step in with a nice hesitation move that freed him up to attack the basket. He has nice length for a guard and is an explosive player, which allows him to finish with consistency around the basket, even in traffic. In situations where bigger players took away a direct line to the hoop, Strickland showed nice touch on a running floater he was able to deliver from the baseline.

In a game where he wasnít lighting up the scoreboard, Strickland definitely exhibited a pass first mentality. He is equally as dangerous as a playmaker in both the transition and half court games thanks to his athleticism and excellent basketball IQ. On the break he has a knack for drawing defenders by waiting until the last possible second to deliver a pass to an open teammate. In the half court set he is so good at breaking down defenders off the dribble, that he forces other players to commit to him, leaving open looks for teammates.

The one major question mark left after this game with Strickland is his perimeter shooting. He passed up on plenty of open looks from the outside, and while he is a very team oriented player, these are shots he will need to at least attempt from time to time in order to keep the defense honest. He attempted a couple of mid-range shots off the dribble, and while they didnít fall, he shows nice form on his shot.

Defensively, Strickland really gets after it in every aspect. He is a terrific on ball defender, possessing great lateral quickness and coupled with his long wingspan for a guard, he is tough to beat off the dribble consistently. He closes well on perimeter shooters, and his leaping ability makes him tougher to shooter over that many other guards his size. What impressed us the most about Strickland was how hard he hit the glass for a guard. Only 6í3Ē, he was still able to haul in 8 rebounds thanks to his tenacious effort in the paint.

All-in-all, even though he didnít completely dominate the game, it is easy to see why Strickland is one of the top rated backcourt players in his class. He is a great athlete who really seems to understand the game, and can help his team in a lot of ways. Even in this game where he didnít do anything spectacular, Strickland still nearly wound up with a triple-double, showing us just how deceptively good of a player he is.

[Read Full Article]

---
adidas Nations Basketball Experience: 2009 High School Prospects
August 15, 2007
Another very highly touted recruit (#16 on Rivals.com, #10 on Scout) was 6-3 combo guard Dexter Strickland. It was very easy to see where his hype is coming from right as we saw him, as heís absolutely jet-quick and is able to create his own shot at will against almost anyone. Strickland gets into the lane with ease thanks to his phenomenal first step and wide array of hesitation moves, and also finishes well around the rim as well. While scoring seems to be his forte at the moment, Strickland is more than just a gunner, as he also did a pretty good job creating for others too. He showed especially good decision making skills in transition, finding the open man with a nifty bounce pass, and distributing the ball unselfishly off the drive and dish. When asked to slow down and run the offense in the half-court, Strickland showed some solid patience executing sets, even if being a pure playmaker isnít his natural instinct. From what we saw, though, there is plenty of room for optimism in terms of anticipating him developing into a real full-time point guard over his last two years in high school. We need to see more, but we liked everything we saw about Dexter Strickland early on and fully expect to continue to hear his name over the next few years. He seems to have quite a future ahead of him.

[Read Full Article]

---
Spalding HoopHall Classic Player Report
January 18, 2007
Strickland is another promising younger player who showed a few things to be encouraged about. A sophomore, Strickland wasnít very aggressive offensively and probably should have been more assertive with his game as his teammate Corey Fisher was limited by fouls. But Strickland played solid defense that kept him in the game, playing more minutes than anyone else on his team. His clutch steal and four crucial free throws down the stretch were complemented by a dagger 3 point shot that put Fairfax away for good.

[Read Full Article]

---