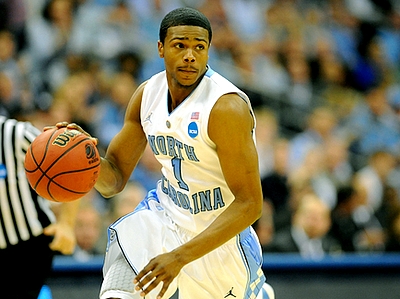 Matt Williams
After seeing solid playing time as a freshman,
Dexter Strickland
stepped into a starting role for a dramatically improved Tar Heels squad last season as a sophomore. Now a junior, The St. Patrick product faces a unique challenge in taking the next step as a prospect, as he finds himself on arguably the deepest, most talented roster in the nation.
Finishing fourth on the team in scoring and third in assists, Strickland did show some improvement as a sophomore and was a catalyst for a number of key North Carolina runs throughout the season. As we've noted in the past, the guard's speed and first step are NBA-level tools that make him a game-breaker on a deep Tar Heel roster. Though he wasn't a featured option and won't be one this season, he put things together on a number of occasions, showing marginally improved decision-making and settling for fewer jump shots.
Despite the flashes he showed and the incremental improvements he made, Strickland has not yet taken the large step forward in terms of skill development that he needed to in order to solidify himself as a draft prospect. He remains a non-factor away from the basket in half-court sets, knocking down just 26.1% of his jump shots according to Synergy Sports Technology. Considering that he showed little in the way of true point guard ability, Strickland's lack of efficiency scoring from the outside, sometimes erratic drives to the basket, and lack of size for the shooting guard position at the NBA level are legitimate concerns at this point.
With those things being said, Strickland did show some nice things on the defensive end last season. Often guarding the opposition's most talented scoring guard, Strickland's speed makes him a pest in the passing lanes and allows him to deny penetration fairly effectively one-on-one. Though he struggles to some degree to fight through screens and certainly would be well served to add some muscle to his frame to help him on the next level, he had some terrific defensive possessions when he was dialed in.
Leslie McDonald
, Strickland's main competition for minutes at the two, went down with a knee injury this summer, meaning Strickland should see substantial playing time once again this season. Despite the talented group around him, and the return of
Reggie Bullock
, if Strickland can show progress as a jump shooter, even if it is in a small role, he'll boost his perception considerably among scouts. Many prospects we look at lack a definable NBA skill, so Strickland's phenomenal quickness adds an intriguing dimension potential. This will be a key year for Strickland, as he needs to start developing the skills that he may have a golden opportunity to showcase on a possibly less crowded Tar Heel roster as a senior.