#1: Darrell Arthur, 6-9, Sophomore, Power Forward, Kansas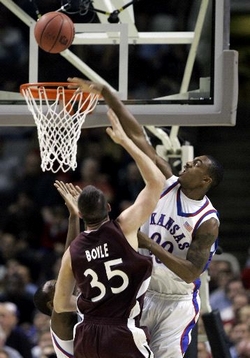 Joseph Treutlein
Darrell Arthur is one of the most promising returning collegians this year, and his excellent physical tools are a big reason why. Standing 6'9, Arthur already has a strong build for a power forward, with very good length and elite athleticism to boot, while still having room to add more strength to his frame. Arthur averaged just 19 minutes per game last season on Kansas' deep frontline of upperclassmen, but he is poised to step into a larger role this year. Arthur did make good use of his minutes last season, though, putting up many strong performances and showing flashes of his outstanding potential.

Most of Arthur's game comes from the painted area, where he has the groundwork of a very strong post game, though he still has a lot of work to do. He heavily relies on a turnaround fadeaway jumper from the 5-10 foot range, which he converts fairly well, but it's not effective and consistent enough to be an elite, go-to move. Arthur uses a right-handed hook shot from the post as well, though it's fairly sloppy at this stage, usually rushed, without consistent form, and therefore isn't always converted. Arthur has also shown flashes of other post moves such as drop-steps and up-and-unders, but he isn't very instinctive with them yet, something he should work on.

Possibly the most impressive part of Arthur's game is how good of a finisher he is within five feet of the basket, as he shows excellent awareness in this area, to go along with very good touch and the strength and explosiveness to finish over the opposition while taking contact. His length also helps him maneuvering when underneath the hoop, getting off good shots where many others cannot. Arthur needs to take advantage of this great strength of his by relying less on post moves going away from the basket (i.e. turnaround jumpers and hook shots), and more on moves going towards the basket (i.e. drop-steps, up-fakes, step-throughs, etc).

Arthur also has a formidable mid-range game, possessing a good spot-up jump shot from inside 15 feet, especially when uncontested. His accuracy suffers and he loses consistency when contested or when he drifts farther onto the perimeter, but his shot has fairly good form with a high release point, so it should only improve with repetition. Arthur hasn't really shown any dribble-drive game yet, but with his athleticism, it's definitely something he can add, using the threat of his shot to help get a step on his defender. Similarly, Arthur should also work on his ball-handling, at least getting to the point where he can make a few right-handed dribbles to the basket.

On the defensive end, Arthur spends most of his time defending the post, where he doesn't mind being backed down, often relying on his length and athleticism to block or contest shots, as most opponents at this level are unable to put up shots going over him. This works for the time being, but he'll probably need to add some more lower body strength and work on holding position on the block in the future. Arthur is also vulnerable to quick moves going around him in the post, not having developed great instincts defending advanced post moves yet.

On the perimeter, Arthur shows a very good understanding of the pick-and-roll to go along with a solid understanding of perimeter defense for a big man, allowing him to help out there often. His lateral quickness is also great for his size, and he shows good effort getting out to contest shots. Arthur also shows good court awareness, and that coupled with his athleticism and length make him a shot-blocking threat from the weakside. In terms of rebounding the ball, Arthur can track down long balls with his athleticism or battle for rebounds near the basket with his strength. He boxes out fairly well and has a good sense of timing, but could improve, as he has the potential to be a dominant rebounder.

Arthur is already a very good player, but the sky's the limit on his potential. As outlined above, there are many areas he could stand to improve, and if he does make some good strides with his game this year and maintain a good work ethic, he should be a lottery pick in the draft, should he decide to declare. Arthur has elite athleticism for a power forward, and has the potential to be a potent inside-out offensive player at the next level, to go along with a formidable inside-out defender, though there's still a lot of work to be done.
#2: D.J. Augustin, 5-11, Point Guard, Sophomore, Texas
Mike Schmidt
Though much of the focus in Austin last season was aimed at
Kevin Durant
, point guard
D.J. Augustin
forced scouts to take notice of his game, particularly in the second half of the season. Passing up an opportunity at the first round, the guard from Louisiana opted to return to the Longhorns for a sophomore campaign where he will be placed in the spotlight with Durant now in the NBA.
The explosive playmaker lacks the ideal height for a lead guard in the NBA, but does possess a very solid frame and top tier quickness. On offense, he usually plays a step ahead of the defense thanks to a quick first step and excellent ball-handling skills. Augustin combines the ability to finish very impressively over taller defenders, with the vision to find the highest percentage basket when passing on the drive. In the half court last season, he received a number of high picks and isolation looks because of his ability to exploit the defense so effectively off the dribble. He already shows an excellent understanding of running the pick and roll, which will please NBA head coaches that watch him on film.
Augustin also possesses a very effective perimeter shot, with a good number of his looks coming off the dribble. Last season, he was the only point guard in the country to shoot above 40% from the three point line and have a 2 to 1 assist to turnover ratio, an impressive feat for a freshman on a team filled with underclassman. His shooting percentage looks more impressive when you factor in the degree of difficulty on some of the shots he attempted. Augustin lacks the ideal elevation you'd like to see from a small guard, though he is helped by a quick release and a very consistent stroke.
The transition game was another standout area for Augustin last season. After a shot attempt, he always places himself in the right spot for the outlet pass, and his aforementioned physical attributes make him a nightmare to stop on a fast break. Augustin picks up on his teammates' tendencies in the up-tempo game, and a number of his assists come as a result.
Earlier in his freshman year, Augustin received some criticism on his tendency to dominate the ball at times, but his control of the offense improved drastically over the course of the year. The sophomore guard plays a very controlled game, making the most of his team's possessions. In terms of NBA upside, size will always be a question raised about Augustin. His build should help in this area, but many of today's bigger NBA point guards enjoy posting up sub-six foot guards. Shot selection must be another area of focus for Augustin this season. With more of a feature role, NBA teams will want to see not fall into the pattern of playing for numbers rather than putting his team in the best position to win.
The pressure will be on Augustin to lead Texas back to the NCAA tournament this season. He will play with plenty of talent around him, but many of his teammates will lack experience, and it will be his first time in college playing without the
Kevin Durant
lifeline. With another efficient season in Austin, the first round seems like a very real possibility for Augustin in the 2008 draft, with the potential to move into the lottery by exceeding expectations.
#3: Bill Walker, 6-6, Small Forward, Redshirt Freshman, Kansas State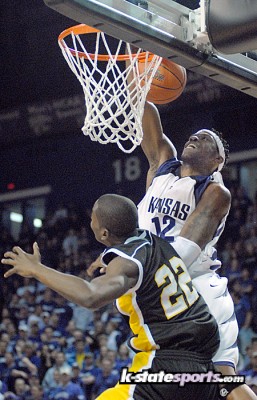 Rodger Bohn
Deemed ineligible to play high school basketball in Ohio last year, Walker decided to take accelerated courses so that he would be able to play college basketball by the end of the winter semester. He signed on to play at Kansas State, largely due to the relationship that he had with then coach Bob Huggins. In the next year, an unfortunate knee injury and Huggins' departure to West Virginia would both occur, leaving Walker in a situation he could have never possibly envisioned being in.
In the mere six games that the West Virginia native played as a freshman for KSU, he posted averages of nearly 10 points and 4 rebounds per game, while shooting 40% from the field. This is a far cry from the immediate impact that many basketball analysts felt Bill would have on college basketball. He never seemed to find a rhythm due to the fact that he competed in less than 10 practices, and had his season ended prematurely with a torn ACL (his second of his career) against Texas A&M on January 6th.
DraftExpress was able to get a sneak peak of Walker this summer at the Reebok EuroCamp in Treviso, where he looked to be a mere shadow of his former self. He appeared to be at least 20 pounds overweight, and without the jaw dropping athleticism that made him such an intriguing prospect. It should be noted that this was only four months after his ACL injury, so he was nowhere near fully recovered and still had plenty of rehabilitation to do before the games really count.
Walker's ability to regain his old form athletically will prove crucial as to what type of player that he eventually becomes, given that his game was so dependent upon his explosive first stop and jaw dropping leaping ability. In the few games that he played for the Wildcats last season, he showed off the same breath taking body control that he did as a prep phenom, but wasn't quite as explosive as he was when on the high school ranks.
O.J. Mayo
's old running mate showed improved consistency from midrange (both off the dribble and spotting up), but did not connect on one single three pointer. It could be said that very little could be taken from the games that we saw last season because of the time that it takes for many players to adapt to the college game, but it did give us a glimpse of what Bill had to offer.
Luckily, DraftExpress has been hot on the trail of
Bill Walker
for nearly three years. He was originally a member of the high school graduating class of 2007, but his loss of eligibility in Ohio made him eventually become a 2006 prospect. On the AAU circuit, Walker showed why he was such a highly regarded prospect, both as an immediate contributor and the superstar he could become down the road.
The athletic gifts that Bill displayed at this time were by far his greatest asset. His body was a chiseled 225 pounds back then, and evenly distributed to both his upper and lower body. The powerful legs that he owned shot him up through the air, dunking absolutely everything within 6 feet of the basket. He would also show off an impressive first step and emerging (but inconsistent) jumpshot. Walker's jumper is a bit shaky at times, primarily due to the inconsistent release point that he has. While he explodes well off the ground on his jumper, he would often shoot the ball quite flat, instead of putting some arc on his shot. Once corrected, the results were drastic. In a high school game against one of the top teams in Kentucky, for example, "Sky Walker" finished with 50 points and 25 rebounds, including six made 3 point shots.
In terms of creating offense off of the dribble, Walker is more than adept for a small forward. He uses his large hands to control the ball well when putting it on the floor, and also does an excellent job adjusting his body when airborne. Although the .7 assist per game average he posted may not reflect it, he actually looked to be an above average passer at the prep ranks.
Switching ends of the floor, effort is the sole determinant of how good of a defender Walker eventually becomes. At times, he looks like a lockdown defender, using his size and strength to put the clamps on opposing offensive players. Then at other times he exerts little effort, doesn't fight through screens, and relies solely on his athleticism. Defense will not be an area of concern for Bill however given his solid fundamentals and physical gifts, as long as he exerts solid effort.
The million dollar question is going to be whether Bill is able to regain his old form or not. If he is able to get back to where he was pre-injury, he will immediately be amongst the top three or four wing prospects that the 2008 draft has to offer. However, if Walker remains the shell of himself that we saw this summer, he becomes a much more marginal prospect. Given the outstanding work ethic that Walker has shown over the years, it seems likely that he regains his old form, although nothing is a certainty when it comes to knee injuries. Either way, he will team with fellow freshman
Michael Beasley
to form the best forward duo that the Big 12 has to offer, and the one that the most NBA scouts will be flocking to see.
#4: Brandon Rush, 6-7, Junior, Small Forward, Kansas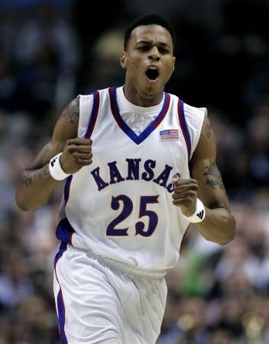 Joey Whelan
If not for a torn ACL, we would probably be talking about
Brandon Rush
getting set for his rookie season in the NBA. Instead, the talk these days in Lawrence centers around when the star junior will be ready to step back on the court. Rush's numbers last season were nearly identical to those from his freshman campaign, although he saw his shooting percentage from the floor and beyond the arc drop. Despite this though, there is still plenty to expect from Rush this season.
Measuring out at just a hair under 6'7" at the NBA pre-draft camp two years ago, Rush has good size for a swingman. He also has a tremendous wingspan, which helps him on both ends of the floor. The most devastating part of Rush's game though is his athleticism. He has a nice first step and very good leaping ability, allowing him to finish extremely well around the basket. Rush would benefit greatly, especially on the defensive end, if he got stronger and added some weight. At just 210 pounds he is a very long, thin player and often gets bodied up by bigger and stronger perimeter players.
Offense, Rush is first and foremost an excellent shooter. He has a very quick release on his shot and is deadly from beyond the arc. In his two seasons at Kansas, Rush has shot 44.6% from three point range. He is a great catch and shoot player but is also capable of making shots off the dribble—even though his percentages drop in the process. Rush's quickness allows him to beat defenders off the dribble as well, but he doesn't have the ball-handling skills (particularly with his left hand) to consistently create his own shot. Taking advantage of unbalanced defenses, mostly in a straight line to the basket, Rush likes to go to the one handed running lay up when he can get it off. He has a very soft touch, making this an effective shot for him. He is very dangerous once he gets into the paint because of his tremendous body control. Rush not only can elevate over defenders, but has the ability to shoot around and under them when necessary.
In transition, Rush is an asset. He has great open floor speed, and has a real knack for knowing when to leak out on the break when his team comes down with the defensive rebound. Rush's explosiveness and ability to change speeds on a dime make him so tough to cover because he is just as likely to go to the basket for a dunk as he is to stop and knock down the mid-range jumper. Rush does need to work on his decision making skills a little bit in transition. A lot of his turnovers come from the fact that he often won't give up the basketball when he makes up his mind that he is going to score—as he does not have the ball-handling skills to get too fancy avoiding defenders.
Defensively, Rush has made some huge strides over the last two seasons. He is a gifted athlete, so there is great potential for him to be a disruptive force with his length and speed. He is tough to shoot over on the perimeter and does a fairly good job closing out on shooters, but could do a better job fighting through screens. His effort level has improved dramatically under coach Bill Self, to the point that he is considered one of the best defenders in the Big 12 currently, and probably did a better job against
Kevin Durant
last year than anyone all else. He also led Kansas in rebounding last season, averaging just under six per game.
This could be the season that we finally see Rush make the jump from great player to All-American. The ability is there, now he needs a little consistency and more assertiveness; Rush went through a bit of a dry spell scoring wise towards the end of last season. He has the tendency to get passive at times, often going preferring to just settle into the flow of the offense rather than making his asserting himself on the game. Kansas is loaded with talent, but Rush should still be the focal point of the offensive attack this year—even if at times he needs to be reminded of that. Athletically he is up there with just about any player in the country, so if his recovery from knee surgery goes well, and he begins to diversify his game a bit more, we could hear Rush's name called fairly early come draft day.
#5: Sherron Collins, 5-11, Sophomore, PG/SG, Kansas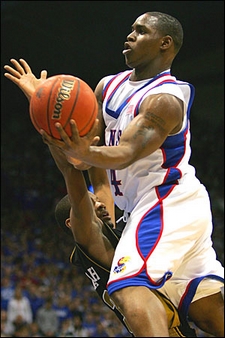 Kyle Nelson
On a stacked Kansas roster, freshman
Sherron Collins
not only carved a nook for himself, he became a key contributor on one of the elite NCAA teams. He finished the year earning All-Big 12 Honorable Mention accolades as well as being voted to the All-Big 12 Rookie Team. However, even after an impressive freshman campaign, Collins still has a lot to prove this season.
For one, he is a guard without a position at this point. Collins's height makes him all but a lock for the point guard position at the NBA level. However, with the glut of point guards on the Kansas roster, he played a lot of last season off the ball. Therefore, a lot of Collins's point guard ability is unknown.
Athletically, there are not many guards at the NCAA level that can stay in front of him. Collins has a very good handle and his speed with the ball in his hands is very promising. He is a good passer as well, but he's clearly thinking shoot-first for the most part at this point in his career. Sometimes he will over-dribble into traps in the paint, leave his feet, and is forced to make an ill-advised pass to the perimeter. Other times he ignores the pass altogether and gets his shot blocked. It seems as though he is so intent on finishing, he does not think about what to do with the ball if the opportunity is not present. While his role last year was to be an offensive spark plug more than a point guard (think
Kyle Lowry
with a jump-shot), it would be good if he sharpened up his overall decision making abilities. However, for a freshman with his speed and ability, he certainly was not as some of his peers. While on tape he looks like he might be turnover prone, in reality he averages 1.9 in about 20 minutes/game and only 3.0 per 40 minutes; both statistics rank towards the bottom amongst point guard draft prospects.
Collins is an incredibly fast player with superb quickness and agility, which allows him to penetrate the lane at will. Getting to the rim is another story. Collins gets to the hoop fairly easily with good body control and overall intelligence, but he frequently is on the receiving end of an emphatic block because he stubbornly drives into waiting post defenders. This is actually where most of his problems come from on the offensive end. However, with maturity and experience will come an understanding of how to score the ball despite his lack of size. For instance, by the end of the season, he started to use a very effective floater to score in the lane. He also follows his shots and rebounds the ball well for a guy his size.
As a shooter, he is very versatile for an undersized point guard. He has three-point range on his jumpshot and excels in both "catch and shoot" and "create and shoot" situations. He flourishes as a mid-range shooter as well being able to create space for himself and then displaying the athleticism and body control to shoot over taller defenders. His shooting mechanics could certainly use some work, though. Coming off of the dribble he pulls up well, but does not have a consistent release point and sometimes displays a hitch in his motion. However, his set shot looks very nice and if he works on his form, he has the potential to be a very good shooter. Last season, he shot 47.8% from the field on 7 attempts per game, and from beyond the arc, he shot 40.5 percent on 3 attempts a game. His overall scoring instincts are very refined at this point, but his curious inability to get to the foul line is a bit surprising considering his explosiveness.
Perhaps the most impressive aspect to Collins's game is the energy and aggression he brings to the floor. Reminiscent of ex-Villanova guard
Kyle Lowry
, Collins is relentless when he is on the floor pushing the ball at lightning pace and then scrapping on defense. . That being said, he is also a good defender. With his strong build, speed, and athleticism, he is a strong defensive presence and uses his quick hands to strip the ball from opposing point guards. He also stays with his man well and plays screens competently for a freshman, at least attempting to fight through them most of the time. The only problem is that in the NBA, he is going to be severely undersized for the point guard position and does not have the length to really make up for that. Bigger guards are going to be able to post him up as well as use their height advantage to see the floor over him.
All in all, Collins' first season of college basketball didn't give us a great indication of just how good of an NBA prospect he is yet. There was a lot of talent around him, he came off the bench, and he wasn't in very good shape to start off the year—struggling with weight problems. Collins will probably have to wait another season or two to really start considering declaring for the draft, as he'll need to show the ability to effectively run a team if he's going to be projected as a point guard at the next level.