Kyle Lowry
Recent Tweets
All Tweets
DraftExpress: Guys are going hard out here. Dahntay Jones and even Mo Speights taking charges. Kyle Lowry distributing well. Al Harrington again creating.
2011-08-30 04:01:35
DraftExpress: Also in attendance at @impactbball J.J. Hickson, Kyle Lowry, Jared Dudley, Al Harrington, Chuck Hayes, Marreese Speights, Dahntay Jones more
2011-08-30 03:16:41
DraftExpress: Thanks to Irene, I'm at @impactbball in Vegas for the next two days. Watching Rudy Gay, Jared Dudley, Kyle Lowry, James Anderson & many more
2011-08-29 02:32:11
DraftExpress: RT @tomhaberstroh: Is Kemba Walker undersized? Chris Paul, Darren Collison, Jameer Nelson, Kyle Lowry, and Ty Lawson all shorter, NBA st ...
2011-06-22 09:40:42
In come Quincy Douby, Kyle Lowry and Al Thornton for Speights, Harris, Wright....
2010-08-30 15:50:03
Top 25s - Full List
Team: Raptors
Physicals
Positions
Rankings
Salary
Misc
H: 6' 1"
W: 175 lbs
Bday: 03/25/1986
(29 Years Old)

Current: PG
NBA: PG
Possible: PG

RSCI: 31

Agent: Andy Miller
Current Salary:$12,000,000

High School: Cardinal Dougherty
Hometown: Philadelphia, PA
Drafted: Pick 24 in 2006 by Grizzlies




Basic Per Game Statistics

- Comprehensive Stats - Statistical Top 25s
| Year | League | Name | GP | Min | Pts | FG | FGA | FG% | 2Pt | 2PtA | 2P% | 3Pt | 3PtA | 3P% | FTM | FTA | FT% | Off | Def | TOT | Asts | Stls | Blks | TOs | PFs |
| --- | --- | --- | --- | --- | --- | --- | --- | --- | --- | --- | --- | --- | --- | --- | --- | --- | --- | --- | --- | --- | --- | --- | --- | --- | --- |
| 2015/16 | NBA | Kyle Lowry | 18 | 35.3 | 20.7 | 6.3 | 15.0 | 41.9 | 3.4 | 8.1 | 41.8 | 2.9 | 6.9 | 41.9 | 5.3 | 6.0 | 88.0 | 0.8 | 4.1 | 4.9 | 6.1 | 2.6 | 0.6 | 3.2 | 3.3 |

Player Page&nbsp&nbsp| Player Stats | Related Articles&nbsp&nbsp| Add to My Draft Express&nbsp
&nbsp
NBA Scouting Reports: Filling in the Blanks- the Point Guards
October 9, 2009
Overview: A short, but exceptionally athletic point guard who creates all kinds of problems with his excellent speed and quickness. Built and moves like an NFL running back. Extremely quick to take the corner off the dribble. Capable of playing above the rim, which is quite an accomplishment for a player his height. Very good at drawing defenders with his driving ability. Can cause all sorts of problems for his matchup by using his physical tools defensively. Not the most efficient perimeter scorer, which has limited him early in his NBA career. Has become a more efficient player on the whole since entering the League. Spent only two seasons at Villanova, one of which was shortened by an ACL injury. Physical tools and toughness made him a first round pick. Brings some things to the table as a back-up, but still has a ways to go as an all-around player.

Offense: A capable offensive point guard who is held back by some notable weaknesses. Gets about half of his touches as a primary ball handler in pick and roll and transition situations. Sees another quarter in spot up or one-on-one situations. Speed and quickness make him seem like an attractive player to handle the ball in many situations, he doesn't complement his ability to create for others with a consistent jump shot. Has adequate form on his jumper, though he'll fadeaway a bit when contested, doesn't get consistent elevation, and doesn't appear to have the best touch from three point range. Not a consistent threat from three point range. Doesn't prove too efficient when he pulls up either due to his lack of size and elevation. Quickness compensates for that somewhat, as he is often able to get into the teeth of the defense or all the way to the rim. Extremely quick initial burst and low center of gravity allow him to turn the corner against most defenders. Gets to the rim at a good rate, and goes to the line with excellent frequency for a point guard. Not the best finisher since he often has to get creative to compensate for his lack of height. Capable of finishing acrobatically, and looks more comfortable when he can shake his man and create a seam than when he has a full head of steam heading to the rim. Could improve his finishing opportunities by forcing defenders to respect his floater or outside shot. Has blossomed as a playmaker. Has moments of absolute brilliance in both half-court and transition settings. Displays excellent vision, and though he will at times attempt some jumpers that may not be the most efficient option, he gets his teammates involved at a high rate. Ability to draw additional defenders is a huge plus, though most of his turnovers come when he turns the corner and finds himself trapped. Isn't big enough to dish the ball out of traffic when he can't create a seam. Could cut down on his turnovers by developing a more effective pull up jumper so that he doesn't have to look to penetrate into traffic. Not a terribly flashy ball handler, proving able to get to where he wants to go with the ball with his physical tools alone. Forces opposing defenders to stay on their toes, and is a consistent jumper away from presenting a dynamic matchup problem for many backup point guards.

Defense: A staunch defensive point guard who is limited by his size, but makes up for that with pure grit and determination. Displays very good lateral explosiveness, gets down in a decent stance, and uses his strength relatively well on the pick and roll. Displays excellent recovery speed, but is susceptible to players who change direction quickly off the bounce, taller players that can hit midrange shots, and effective screens. Lack of size hurts him when defending virtually all catch and shoot situations. Leaping ability helps him a bit, but doesn't completely compensate for his weaknesses. Could stand to improve his fundamentals, as he gets caught out of position by overcommitting when he decides to help off his man. Makes an impact when he's focused on pressuring the ball. Comes up with quite a few steals for a player his height. Very quick to the ball when he sees a chance to get a steal. Quality rebounder for his size as well. Always looking for a chance to take possession of the ball and push. Has a tendency to reach in once he's beat. Not a great defender due to his limitations, but offers some obvious value off the bench thanks to his speed and toughness.

[Read Full Article]

---
Private Workout: Cedric Simmons, Thabo Sefolosha, Lowry, O'Bryant
June 7, 2006

With no competitive or full-court drills, this wasn't the ideal setting to learn a lot about Kyle Lowry. Nonetheless, there were a few interesting bits and pieces to see, mostly focusing around his shooting form.

Long considered one of his major weaknesses, Lowry's shooting form was on full display today. Technically, not a lot has changed since we last saw him at Villanova. He gets very little elevation and appears to be most comfortable shooting almost flat-footed when he gets the chance. His release is also too low, with the ball leaving his hands at approximately eye-level. Nonetheless, Lowry was able to hit a variety of outside shots at a decent clip. He even got better as he moved outside, hitting 27 of 47 from NBA 3-point range – a respectable 57%.

While Lowry was able to keep up with Sefalosha in terms of shooting percentage, his overall mechanics and concentration level weren't on par with the much more polished European. Given the fact that he is already well undersized for an NBA point guard, the low and not particularly speedy release is particularly worrisome. On one hand, Lowry's explosiveness off the dribble will earn him a bit of shooting space in most situations. On the other, it is hard to see a point guard as short as Lowry keeping defenses honest with his current form.

In other observations, the typical Lowry stereotypes held true. In the few situations where he was able to show off his athleticism, it was on full display. He was a blur in the ball-handling drills, and he repeatedly threw down powerful dunks with ease. This was particularly impressive considering that his listed height of 6'1 appears to be somewhat generous.

In the end, the decision to draft or pass on Kyle Lowry is unlikely to be made after observing him in this type of setting. 5 on 5 competitive settings is where point guards like Lowry always have and always will make their name.

[Read Full Article]

---
IMG Academy Private Workout: O'Bryant, Lowry, Nicholson, etc
May 18, 2006

Lowry looked a little bit bored to begin with during the drills, knocking down most of his mid-range jumpers and some of his college threes--still picking things up along the way considering that this was only his 2nd day at IMG so far, but managing to leave a favorable impression mostly due to how he looked in the one on one portion of the workout.

Physically, he is definitely on the small side, but looked much more natural finally without the undershirt he usually sported under his Villanova jersey. He's built not unlike many NFL tailbacks are, extremely strong and explosive, shifty in his movements, and patient and instinctive with where he wants to get out on the court.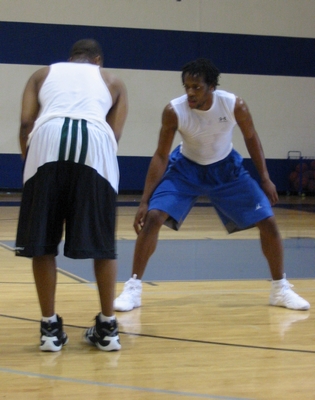 Jonathan Givony, DraftExpress.com



He didn't have the same polish that a lot of players who have been doing these same drills for a month or more already possess, and is regardless a bit lacking on the offensive end in terms of his perimeter shooting ability, but in the one on one was when his competitiveness really came out.

His strength was evident in the way that he would take contact either on the perimeter or at the basket and brush it off as if nothing had happened and continue to go to work. He took the ball to the hoop strong time after time and finished well, even when being bumped off his spot initially.

When creating his own shot he was smart and patient with the moves he wanted to make, leading his defender on into thinking he has him before exploding right past him with his quickness or a crafty hesitation move. His ball-handling skills looked superb even without the things he'll be learning here in the next month or so, as he's a street-smart instinctive New York City type point guard who just knows how to get the job done. He couldn't get his shot to fall for him consistently from behind the arc, but looked good stepping back from mid-range off the dribble and elevating for a smooth looking jump-shot.

Defensively in these drills, Lowry was an absolute menace. He got in his man's grill on every single possession and just would not let anyone go by him. He's a pest in the truest sense, bodying up his man constantly, using his terrific hands to wreak havoc, and even blocking shots on the perimeter or in the paint when someone had the nerve to challenge him.

After the workout was over he decided to put on a little show by putting his leaping ability on display. He pulled off a number of extremely impressive dunks, bouncing the ball high off the ground and then going up to get it before slamming it home with a windmill. Lowry told us later on that he still hasn't decided what he's going to do in terms of staying in or pulling out of the draft. He's likely to participate strictly in the physical-only partition of the Orlando pre-draft camp should he get invited, and then decide afterwards what his next move is after feedback from NBA teams starts coming in.

[Read Full Article]

---
Kyle Lowry NBA Draft Scouting Report
April 30, 2006


Strengths


Kyle Lowry's game is all about explosiveness. Certain point guards have that electric ability to do something special every time they put the ball on the floor, and Lowry belongs in that category. Thick-bodied and physical, Lowry embodies that tough Villanova mentality we saw all season long, and is probably the most athletically imposing point guard in the 2006 draft.

Simply put, Lowry is a blur on the court. His pure speed makes him a threat to create a fast break basket in the blink of an eye, and he generally makes good decisions in the open court. He pushes the ball relentlessly at every opportunity, seeming to pick up steam when other players begin to tire.

His first step sticks out even at the NBA level, as very few point guards anywhere are as dangerous as Lowry off the dribble. It doesn't take much of an opening for Lowry to get to the basket, even with defenders usually daring him to beat them with his jumper. He will cross defenders over, slash to the basket, or pull up for the occasional midrange jumper in traffic. Lowry's strength is a major advantage here, as he has no problem powering through a bit of body contact on the way to the basket.

Lowry's explosiveness is even more evident on the defensive end, where is capable of changing a game at the drop of a hat with his brutal on-the-ball pressure defense. Villanova's vaunted 4-guard lineup was known for its suffocating fullcourt defense, and while Randy Foye and Allan Ray might have been the big-time scorers, Lowry was the catalyst on the defensive end. An opposing point guard's worst nightmare, Lowry never stops pressuring the basketball. He has lightning quick hands and feet, and that thick frame perfect for getting physical with already overmatched lead guards.

Lowry seems to relish playing the aggressor on the defensive end, and shows great anticipation skills any time an opponent starts to get lazy passing the ball. He led the Big East in steals as a sophomore, and given Lowry's ability to handle the ball and get down the court, many of those steals resulted in two points before the opposition even had a chance to react.

As a point guard, Lowry has received plenty of help in his two seasons at Villanova, but took over as Jay Wright's primary floor general as a sophomore. Flawless as a dribbler, Lowry has excellent court vision and does a good job of moving the ball within the offense. Very rarely does he make a pass that isn't productive in some way. He improved his Ast/TO ratio substantially this season, finishing at a respectable 1.7-to-1. When things are clicking for him, there are times when Lowry can take over as a fullcourt ballhandler, breaking presses by himself, making lightning quick decisions and creating for his teammates effortlessly.

Lowry uses his physical nature to his advantage around the basket. He rebounds very well for a smaller point guard (4.3 per game), and his ability to get off the floor quickly allows him to find success on the glass against much taller players. If one only saw his game-winning offensive rebound put back against Notre Dame this past season, they would never guess that Lowry is a 6'0 PG.

Finally, special mention must be given to the way that Lowry plays the game. He had a bit of a hothead reputation coming out of high school, but Lowry has managed to filter out most of the negatives while keeping every bit of his fiery, aggressive on-court persona. He plays with unrivaled physicality and passion, and displays a relentlessness that many college-level guards really can't prepare for. Every coach wants to have a KyleLowry-style guard in his backcourt.




Weaknesses


While Lowry generally passes the look test as an NBA point guard prospect, questions still remain about his ability to control a game full-time. Lowry played a complementary role (at least offensively) to Randy Foye and Allen Ray in Jay Wright's backcourt rotation, and while many have claimed that their presence was the only thing keeping Lowry from exploding into full-fledged stardom, they also unquestionably made things easier for him.

How would Lowry have handled being a marked man next fall, with defenses now focused in on him instead of Foye and Ray? Would he be able to keep up the defensive intensity and stamina with his increased offensive role? Most believe that Lowry has the tools to play in the NBA, but he could prove it once and for all by returning to Villanova and leading the Wildcats back to the NCAA Touranment in that "go-to" role.

Beyond this, Lowry's biggest question mark at this point may be a suspect perimeter jumper. While his percentages look good, Lowry rarely attempted to score from the outside at Villanova. Part of this was due to the presence of three outstanding shooters in the Villanova lineup in Ray, Foye, and Nardi, but defenders didn't feel compelled to guard Lowry's jump shot most of the time, and Lowry rarely made them pay for it. His form has improved substantially from his freshman season, but Lowry still must that he can keep defenses honest on a consistent basis.

There is a fine line between aggression and forcing the issue, and with Lowry's mentality, he tends to toe it quite often. There are moments on both ends of the floor where Lowry will get a bit overeager, forcing a pass that really isn't there, forcing the action off the dribble when nothing is there, or picking up silly perimeter touch fouls on the defensive end. These issues don't appear to be crippling in the case of Lowry, but decision making issues have cropped up from time to time. As Lowry matures as a floor general, he will have to learn how to reign in his own attacking nature a bit better.

There are also size issues with Lowry. While he supposedly grew an inch between his freshman and sophomore seasons and is now listed at a respectable 6'1, he doesn't appear to be quite that tall. Lowry's lack of size really hurts him right now, as he isn't an outside threat and defenders are free to sag off and focus on altering his finishes at the rim. Proving himself as a jump shooter changes everything, but if Lowry measures in under 6'0, his stock could take a bit of a hit.

Lowry tore his ACL headed into his freshman season at Villanova, but made a near-miraculous midseason return, ending up as the catalyst for the Wildcats' sweet 16 run. NBA teams will certainly do their homework on the injury, though Lowry's quick recovery would seem to indicate that there isn't much to be concerned about.

A certain buzz had developed around Lowry throughout the season, to the point where another big NCAA Tournament performance may have pushed his stock into the lottery. Unfortunately, just the opposite happened. Lowry shot the ball poorly, forced the issue offensively, and didn't come through in clutch situations. Essentially, we are talking about the major question marks scouts have about his game coming to the forefront in the most important moments of the season. While Lowry's NCAA Tournament performance doesn't come close to erasing an outstanding sophomore season, it would be a very disappointing way for Lowry to end his college career, and Lowry may have to re-prove himself a bit in competitive situations.




Competition


Lowry returned quickly from an ACL tear before his freshman season, sparking Villanova to a nice run in the NCAA Tournament. Lowry scored 15 points in the second round win against Florida, and followed that up with a huge 18 point performance in a near-upset of North Carolina in the Sweet 16. On the season, Lowry averaged 7.5 pts, 3.2 reb, 2.0 ast and 1.3 stl in 23.5 mpg, shooting 42.1% from the floor, 63.5% from the line, and 22.7% from beyond the arc.

As a sophomore, Lowry emerged as Villanova's primary ballhandler and defensive catalyst. While flashes of scoring prowess were seen, his main role on the offensive end was to complement prolific seniors Randy Foye and Allan Ray. A subpar NCAA Tournament performance put a damper on what was a very impressive overall season. He averaged 11 pts, 4.3 reb, 3.7 ast, 2.1 to, and 2.3 stl in 29.3 minutes, while shooting 46.6% from the floor, 78.6% from the line, and 44.4% from beyond the arc.



Outlook


Kyle Lowry will have a very difficult choice to make on whether or not to stay in the 2006 NBA Draft. This draft is definitely light on point guards, and Lowry has a very good chance to get into the late first round, if not higher. He was one of the top defensive players in the nation this past season, and Villanova didn't truly emerge as a national power until Lowry began contributing. At the same time, Lowry has a lot to prove. His role within the Villanova system was a complementary one, and he has never been relied upon to shoulder the load for his team. Combined, his lack of size and shaky outside shot are big issues. Lowry has a lot to gain by heading back to Villanova for his junior season, but the lure of a spot in the first round may be too much for him to pass up.



Comments


This profile has yet to be completed.



Facts


This profile has yet to be completed.



[Read Full Article]

---
NCAA Tournament: NBA Draft Stock Watch (Elite Eight, Sunday Games)
March 26, 2006
Lowry had a very poor showing in Villanova's tournament exit, playing in foul trouble for much of the game and eventually fouling out. On the offensive end, Lowry was constantly driving into the lane and hoisting up bricks, shooting an abysmal 1-for-9 on the night. Even when he did throw up a decent attempt, it had no chance of going in with Joakim Noah and Al Horford patrolling the paint, though Lowry never got the hint. Lowry made a few nice kick-outs off his penetrations, but also had a few plays where he went towards the basket with his head down, not even looking for the open man on the perimeter.

Defensively, Lowry played some strong, aggressive defense at times, but also had bursts of over-aggressive defense, which led to the foul trouble. He also played the passing lanes well, exhibiting his great anticipation by making two steals that led to fast break opportunities.

Lowry will undoubtedly be returning to Villanova next season, which should be a great situation for his development. In the current Villanova offense, the ball-handling duties are shared by four guards, but next season, teammates Randy Foye and Allan Ray will likely no longer be on the team, putting more of the duties in Lowry's hands. This should be crucial to his development as a point guard. As of right now, Lowry doesn't possess many point guard skills beyond the drive-and-kick, but he will need to develop these things to become a real prospect. He also needs to improve his decision-making. It will be interesting to see how he responds to the task next season.

[Read Full Article]

---