LaceDarius Dunn
Recent Tweets
All Tweets
DraftExpress: Portsmouth tells me Marshon Brooks has withdrawn, and has been replaced by LaceDarius Dunn. Updated Rosters: http://bit.ly/g8TRsl
2011-04-03 01:43:04
DraftExpress: This is DX's Kyle Nelson. You should follow him. RT @KNelsonDX: My take on prospects Gilbert Brown & LaceDarius Dunn: http://bit.ly/fKOsX3
2011-03-08 10:21:04
DraftExpress: Editing our final scouting report on Bob Knight's favorite NBA prospect: LaceDarius Dunn. What a terrible year this guy is having...
2011-03-03 12:50:24
DraftExpress: DX Trending Prospects: Updated reports on William Buford, Gilbert Brown, JaMychal Green, Will Barton, LaceDarius Dunn http://bit.ly/eGIeXV
2011-03-03 01:21:06
DraftExpress: Very good game from Perry Jones today. Unfortunate that LaceDarius Dunn refuses to hand over the spotlight and continually ignores him.
2011-02-05 03:57:23
Top 25s - Full List
Team: Sakarya
Physicals
Positions
Rankings
Salary
Misc
H: 6' 4"
W: 188 lbs
Bday: 09/05/1987
(28 Years Old)

Current: SG
NBA: SG
Possible: SG

RSCI: 38

Agent: Errol Bennett II

High School: Excelsior Christian
Hometown: Monroe, LA

Predraft Measurements
| Year | Source | Height w/o Shoes | Height w/shoes | Weight | Wingspan | Standing Reach | Body Fat | No Step Vert | Max Vert |
| --- | --- | --- | --- | --- | --- | --- | --- | --- | --- |
| 2011 | NBA Draft Combine | 6' 3" | 6' 4" | 188 | 6' 6.25" | 8' 5" | 5.5 | 26.5 | 31.0 |
| 2010 | Paul Pierce Camp | NA | 6' 4.5" | 200 | 6' 6" | NA | NA | NA | NA |



Basic Per Game Statistics

- Comprehensive Stats - Statistical Top 25s

Player Page&nbsp&nbsp| Player Stats | Mock Draft History | Related Articles&nbsp&nbsp| Add to My Draft Express&nbsp
&nbsp
Trending Prospects (3/3/2011)
March 3, 2011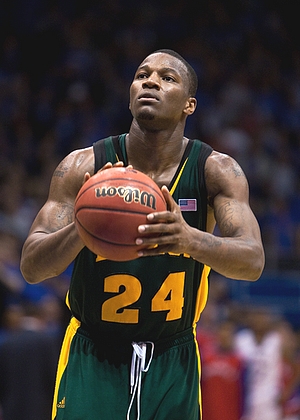 Icon SMI



Kyle Nelson

Baylor senior LaceDarius Dunn will likely be named the top scorer in Big 12 history by the conclusion of the season. Dunn's role for the 18-11 Bears (7-8 Big 12), however, has scouts questioning the means in which he garners his production.

Dunn is undersized for an NBA shooting guard, standing at just 6'4 with just average length and athleticism. It is not likely that Dunn will transition to the point guard position anytime soon, so his mediocre physical profile will remain less than ideal at the next level.

While Dunn is not the most impressive prospect from a physical perspective, he is one of the most potent scoring guards in the nation.

He is still most effective at this stage as a jump shooter, where over 75% of his attempts originate. Struggling at times with shot-selection and increased defensive attention, Dunn's 3-point percentages have dropped off to 37% from beyond the arc on an astounding nine attempts per game, making him the most prolific perimeter shooter in our database, although far from the most accurate.

He displays a quick release, but as has been the case in the past, his motion loses consistency and effectiveness under pressure and against good defenders, due to the flat-footed nature of his mechanics. Scouts will be watching his shot selection down the stretch to see if he can improve in this capacity while rebounding from an exceptionally cold stretch as of late, having made just 8 of his 46 attempts over the past five games.

Elsewhere on offense, Dunn can score if allowed to operate as he pleases, showing decent ability to put the ball in the basket, but rarely in an efficient manner. While he is getting to the line a career high 6.1 times per 40 minutes pace adjusted, he still does not consistently attack the basket, preferring rather to pull up into a jump shot. His below average first step and lack of advanced ball handling skills do him few favors, and will likely make it even more difficult for him to create high-percentage looks for himself at the next level.

The manner in which Dunn conducts himself on the floor can be disconcerting at times as well, as if often seems like he's more concerned with his own stats than trying to help his team win games. Though he is averaging a career high 2.7 assists per 40 minutes pace adjusted, he's also shooting a career low 40% from the field, and is one of the most turnover-prone players in our database to the tune of 4.1 turnovers per 40 minutes[/url]. His mediocre ball handling hurts, but so too does his propensity to over dribble and his tunnel vision while attacking the basket.

Dunn's lack of lateral quickness, size, and length continue to hinder him on the defensive end, where he remains largely ineffective. He projects as a below average defender at the NBA level, which hurts his case even more when looking at the season he's having offensively.

Dunn's individual per-game stats have been impressive on occasion, but as Baylor's disappointing season winds to a close, scouts appear to have cooled on him significantly. There is no doubt that he is a talented collegiate scorer, but the question remains whether or not he can score while playing winning basketball.

As an undersized shooting guard without great athleticism or defensive fundamentals, who turns 24 later this year, Dunn will have to prove to scouts during the workout process that he is capable of occupying a Jodie Meeks-esque niche in the NBA.

[Read Full Article]

---
Top NBA Draft Prospects in the Big 12, Part Two (#6-10)
September 15, 2010
Joseph Treutlein

Coming off a very strong junior season where he averaged nearly 20 points per game for the highly successful Baylor Bears, LaceDarius Dunn has steadily improved his production his three years in college and has firmly established himself as one of the most dangerous shooter/scorers in the country. With last season's teammates Tweety Carter and Ekpe Udoh both moving on, even more responsibilities will fall on Dunn's shoulders as a senior, and how he responds to that change will be critical to his stock.

Dunn's offensive game is highly centered around his jump shot, as by the fact that he took 242 jumpers in the half-court this past season compared to just 79 shots around the basket. Despite taking a very high percentage of his shots either creating in isolation or catching and shooting off screens, Dunn scores with excellent efficiency on his jumpers, to the tune of 1.13 points per shot this past season, and converting 42% of his 3-point attempts.

Dunn has an extremely quick trigger on his shot and is capable of getting it off even when contested, as he does a very good job using subtle moves to get separation. His release speed is actually somewhat helped by the severe lack of elevation he gets on his shot, which doesn't affect his ability to get off good looks at this level, but could be more problematic in the pros given his being undersized for a two guard. Dunn also does an excellent job of staying on balance and getting his legs beneath him for his shots, getting a lot of quality looks out of isolation situations and converting difficult shots at a very high rate.

On the downside, however, Dunn is prone to stretches of forcing the issue with his jumper, and his mechanics break down from time to time with him settling for off-balanced, contested shots and pulling up early in the shot clock unnecessarily. His raw ability often allows him to get away with this at the college level, but this is something that would need to be scaled back in the NBA.

In terms of attacking the basket, Dunn is mostly a mixed bag. Frequently getting the ball high on the wing well behind the three-point line, Dunn usually has a ways to go to get to the rim, while his first step and advanced ball-handling skills are just average at best. He slashes almost exclusively left (nearly 85% of the time), which is something NBA advanced scouts will pick up on very quickly and could make him somewhat one-dimensional.

On the positive side, once he does penetrate to the lane, he shows an excellent combination of touch, body control, and a penchant for absorbing contact around the basket, which allow him to score well in the lane. Dunn's athleticism is something we undersold a bit in our last write-up of him two years ago, as he possesses below-average quickness and explosiveness for an NBA two guard, though it's something he's still working on consistently utilizing in his game.

Off the ball, Dunn does a very good job moving to open space on the floor and coming around screens for jumpers, while the Bears also semi-regularly run backdoor alley-oops for him, which he shows good reactive leaping ability on. In transition, Dunn is dangerous once he gets a full head of steam, as he changes directions very well with the ball and shows nice creativity finishing around the rim. That said, he too often relies on his jumper in this area of his game, not taking advantage of his ability in open space frequently enough.

While Dunn tripled his assists per game average this season to 1.9, he still is a below average playmaker for a shooting guard and any transition to point guard or even combo guard in the future appears extremely unlikely. The one area he should focus on improving with his passing is operating out of pick-and-rolls, as he doesn't show much willingness to look for others in these situations currently, but is something he'll likely be asked to do in the NBA, while bringing the threat of the pass to the table should also open up his own offense some.

Defensively, Dunn shows just average lateral quickness for a shooting guard, and doesn't always appear to put a great effort in either, showing somewhat of a laid-back demeanor on this end of the floor. He is very upright in his stance and is prone to being beat by quicker players in isolation at times, while bigger players are capable of shooting over him. Dunn continues to struggle defending the pick-and-roll at times, not being very aggressive fighting through screens. Considering his below average physical attributes, this is something he'll have to work much harder on if he's to establish himself as a solid first round prospect.

Looking forward, Dunn should be firmly in draft discussions this year if he keeps on the pace he's set in his first three college seasons, as he's an extremely dynamic scorer with terrific instincts for putting the ball in the net. Despite his extremely unorthodox style of play, and underwhelming physical tools, undersized shooting guards have proven over the past few years they can find niches at the NBA level, particularly if they can make shots from beyond the arc at a high rate.

Continuing to improve his ball-handling and passing abilities should be among his priorities, and how he adjusts to life without Tweety Carter running the Baylor offense should be interesting to watch, as it could put even more shot creation burden on him, which will make it tough for him to find a good balance, as projecting to the NBA he would be expected to score much more in the flow of a team's offense.

The fact that he'll be 24 by the time his NBA rookie season kicks off will likely work against him in the draft process as well, as his upside is surely be deemed to be fairly limited considering his other limitations.

[Read Full Article]

---
Top NBA Draft Prospects in the Big 12 (Part Two: #6-10)
September 4, 2008
LaceDarius Dunn had a promising freshman season for the Baylor Bears, being their second leading scorer at 13.6 points per game while only playing 22 minutes per. In addition, he did it on high efficiency, shooting 45% from the field, 42% from three, and 84% from the line, good for a 62% TS%, which would rank him higher than most players on our projected mock for 2009.

Standing 6í4 with a pretty strong frame, Dunn is undersized for a shooting guard, and appears to have just average length to compensate. Athletically, he isnít great with explosiveness or quickness at either end, and doesnít get very high around the basket. His tools are certainly good enough to do damage at this level, but heís a below average athlete by NBA standards. He compensates for these things by being a highly skilled, crafty, and high motor player.

Offensively, itís hard to talk about Dunn without starting with his jump shot. Over 60% of his shots last season came from behind the three-point arc, where he frequently made opponents pay. His shot is not quite orthodox, boasting a fairly deliberate shooting motion where he brings the ball in front of his face before releasing it, while not getting much lift off the ground. He has excellent touch, though, and is also very good at adjusting to what the defense is giving him, being able to quicken his release when necessary, fade away to create space, or lean in to draw contact. He sometimes over-relies on his versatile shooting abilities, though, leading to awkward shot attempts and bad misses. Dunn is definitely at his best spotting up, but is also very good coming off screens or pulling up off the dribble, being a constant threat to the defense.

Aside from his jump shot, Dunn doesnít have many other standout offensive abilities yet, though heís comfortable with the ball in space and in transition, and will drive to the basket if you give him the chance to with his left hand. The right-handed shooter is surprisingly weak with his right hand dribble, though, and will almost never go to the basket in that direction. At the rim, while he seems to have good creativity with the ball, he often doesnít have the vertical explosiveness to go over opposing players, and thus relies on floaters and runners, which he hits fairly regularly. This is definitely something he should continue to work on, though, as it needs to be a very consistent weapon in his arsenal.

Defensively, Dunn is pesky and has very good fundamentals, while showing good reflexes and a tendency not to bite for pump fakes. He doesnít have the best lateral quickness, though, so he can be beat by quicker players. He also struggles with screens, as do most college freshman. Off the ball he is attentive and does a good job staying focused on the ball and his man, leading to some smart weakside steals.

After coming on strong towards the end of his freshman season with a 38-point game against Texas Tech (on just 16 shot attempts), Dunn should be looking at an increased role as a sophomore, where he should get more touches and chances to show a more versatile offensive game. Improving his handle and mid-range game should be among his priorities, while becoming more of a combo-guard could also help at his size. Averaging under one assist per game last season, heís yet to show many flashes of that.

[Read Full Article]

---