We continue to evaluate the top NBA prospects in the Big XII with players ranked 2 to 5: including
Myck Kabongo
,
Jeff Withey
, and
Pierre Jackson
.
-Top 20 NBA Prospects in the Big Ten-Top 20 NBA Prospects in the ACC
-Top NBA Prospects in the Big XII #1
(#1) LeBryan Nash
#2, Myck Kabongo, 6'2", Sophomore, PG, Texas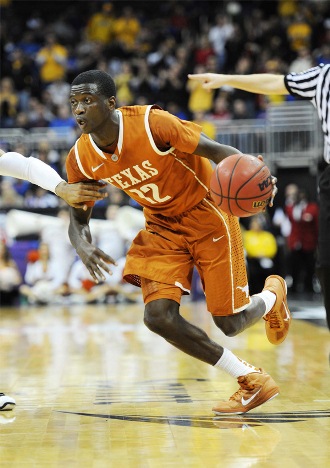 Derek Bodner
Coming into the season as the second rated point guard in the 2011 high school class according to the RSCI board,
Myck Kabongo
had big expectations placed on his slender shoulders. While Kabongo did not have a standout freshman year, especially in terms of his own scoring output, he showed the skills, leadership, and maturity that made him such a highly rated prospect as well as some of the weaknesses he'll need to improve upon in order to reach his full potential.
Kabongo is first and foremost a pass first point guard. He has very good natural point guard instincts, displays a consistently high basketball IQ, and is extremely unselfish. Combine that with his excellent court vision and these are extremely promising qualities for a point guard prospect to have, particularly one at such a young age. Kabongo was
7th in the DraftExpress database in assists per field goal attempt
, and his 6.7 assists per 40 minutes pace adjusted was
the top mark
among freshman in our top 100 database.
Kabongo isn't quite as advanced when looking for his own shot, as his 12.4 points per 40 minutes pace adjusted, a number which is in the
bottom 10 of our top 100 database
, will a attest to. He shows some potential as a catch and shoot threat, as he appears more consistent in his form when he's able to step into the shot. Shooting off the dribble, however, is something he is not yet comfortable with. He doesn't get very much elevation on his jump shot and he struggles to maintain his balance when pulling up off the dribble. This is something that affects the rest of his offensive game, as defenders are able to sag off of him substantially when defending him off of pick and roll and isolation situations, limiting his ability to get into the lane.
Despite that, Kabongo does show some ability off the dribble, as he has good quickness and an array of hesitation moves that he uses to successfully get by his man and into the paint. Once he gets into the paint, though, he struggles to finish at the rim. Kabongo isn't all that explosive of a leaper and his lack of strength can hinder him when trying to finish through contact. On the positive side, he's very good at drawing contact, helping offset his inefficiency finishing plays. Kabongo was
third in our database
at 0.77 free throws attempted per field goal attempted.
Kabongo's main value in the paint is as a passer, where he is equally adept at finding big men cutting to the hoop as he is at finding spot-up shooters when defenders sag off of them. Kabongo's timing is excellent, finding the exact time when the defensive rotations are at their weakest and finding the open man. As good as he is as a passer it behooves him to develop his ability to shoot off the dribble, as forcing defenders to pick him up 20 feet from the hoop will open up a plethora of driving and passing lanes, making him all that much more effective as a passer in these sets.
One area where Kabongo can improve, both in transition and in the half-court, is in limiting his turnovers. His 3.9 turnovers per 40 minutes pace adjusted were
the 5th highest
among our top 100 prospects. While he has good control of the ball on the whole, he has a tendency to get a little bit loose with his dribble in traffic, and is prone to having the ball stripped on his drives to the hoop.
On the defensive side of the ball, Kabongo does a good job of picking his man up far from the hoop, preventing opposing point guards from getting into their sets early and doing a good job of forcing deflections with his long arms. This can sometimes be counterproductive, though, as he can at times find himself in foul trouble by picking up fouls far from the hoop, and also sometimes put his teammates in bad situations by gambling a bit too much on the perimeter. He also struggles at time fighting through pick and rolls due to his size, and needs to do a better job of recognizing the screen early. Overall, he moves his feet well laterally, and that combined with his length and high effort level gives him a pretty good base to develop as a defender down the line.
On the surface,
Myck Kabongo
's freshman season may have been a disappointment to some due to his lofty expectations. That being said, he displayed the skill sets that made him such a highly regarded prospect. With the departure of the undrafted J'Covan Brown, the young Texas Longhorns will need Kabongo to shoulder a much larger offensive role. While this may not be Kabongo's natural offensive role, if he can succeed in developing his own offensive arsenal, particularly shooting off the dribble, it may make him a more effective setup man down the line as well.
#3, Jeff Withey, 6-11, Center, Senior, Kansas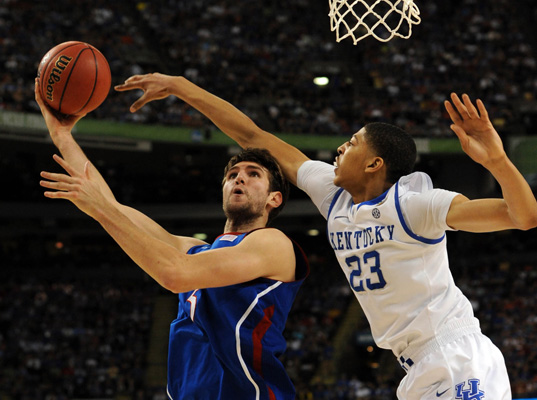 Joe Treutlein
After two unimpressive seasons to start his college career at Kansas,
Jeff Withey
finally burst onto the scene as a junior, ranking second in our database in blocks per 40 minutes pace adjusted, trailing only 2012 NBA Draft #1 pick
Anthony Davis
.
From a physical standpoint, Withey has made some nice strides since the last time we profiled him, filling out his frame some and adding notable lower body strength. Withey has benefitted from a lot of time in Kansas' weight room and working with a Kansas coaching staff that has a well-deserved reputation for developing big men.
On the offensive end, Withey does most of his damage finishing on simple cuts and open looks around the basket, where he does an excellent job utilizing his size and length to finish easily at the basket. He does a good job elevating when he takes one or two steps to build momentum, and doesn't really need to get up very high to throw down a dunk given his standing reach, though he has more trouble getting off the ground from static positions.
Withey actually shows some struggles finishing when he has a man closely defending him and he isn't able to build momentum, not having the raw explosive power to elevate and finish through contact consistently. He makes up for this with a solid touch in his finesse game, showing the ability to score on lay-ups and hook shots around the rim, but he's still developing the feel to know which situations to rely on finesse and which on power.
Withey's post game isn't as far along as his ability to finish on cuts around the rim, as he's still developing his arsenal of moves and footwork. He's gotten better at using his size and strength to back down his man in the past year, being much more confident and capable establishing himself in the paint. On the other hand, despite good coordination, Withey isn't the most fluid player around, and he can be a bit slow in some of his post moves, not easily getting separation and struggling when the defense collapses on him. He shows solid ability with his hook shots and going forward would probably be best served focusing on simple moves he can get off quickly that take advantage of his massive size.
The rest of Withey's offensive game isn't worth much mention, as he unsurprisingly has little in the area of perimeter skills. He's probably never going to be (and shouldn't be) one to put it on the floor in face-up situations, though he does show some potential with his mid-range jumper. Withey shot a very impressive 79.5% from the free-throw line on a significant 4.0 attempts per game, though it's yet to translate to live action, as he hit just 2 of his 16 jump shot opportunities on the season according to Synergy Sports Technology. This is definitely something to watch out for this season, and adding this wrinkle of versatility could certainly improve his stock.
The defensive end is where Withey really makes his impact at the collegiate level, where he's a very effective shot blocker in both man and help defense. Off the ball, Withey does an excellent job positioning himself, rotating, and being aware of everything on the floor, showing good timing and decision-making going for shot block attempts. He's also done an excellent job cutting down on his propensity for fouls, dropping from 6.4 to 3.9 personal fouls per 40 minutes pace adjusted last year.
In man-to-man defense, Withey's post defense is extremely impressive, as he does a great job utilizing his size and length to his advantage in matchups. Despite not having the greatest lateral quickness, Withey is rarely beaten laterally by his man, as he does a terrific job using his wide stance and long arms to keep his man at bay. His timing blocking shots in individual defense is superb, and he uses every inch of his very long reach to contest shots.
Withey actually does surprisingly well when he's put on the perimeter defensively, again using his length very well to defend his man while still giving himself enough space to adjust if a drive to the basket ensues. He does a good job using his length and timing to block and contest shots from behind when he does get beat. Withey's pick-and-roll defense is less promising, however, as his lack of great change of direction ability obviously is exploited more there, and that may always be something he doesn't excel with.
Looking forward, Withey made exceptional strides with his game as a junior and brings an interesting set of tools to the table for a big man. He has some pretty clearly defined strengths and weaknesses on both ends of the floor, though is obviously still developing and is just scratching the surface of his potential in some areas. His lack of great athleticism will always leave him somewhat limited in some areas, but he's still growing into his body and probably could still benefit some from additional lower body strength. Withey could help his stock most this year by becoming a better finisher from standstill positions around the basket, developing a simple, go-to post move to take advantage of his size, and translating his free-throw shooting prowess to a serviceable mid-range jumper, all of which are well within his reach to do.
#5, Pierre Jackson, 5-10, Senior, Point Guard, Baylor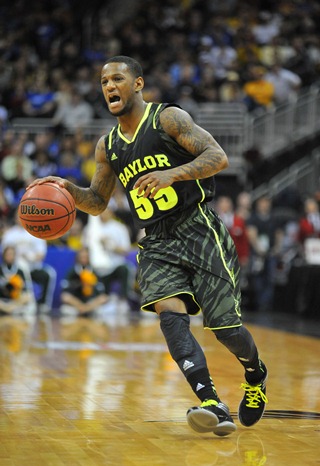 Jonathan Givony
An unheralded prospect coming out of high school, receiving recruiting interest from the likes of Long Beach State and San Diego State,
Pierre Jackson
was forced to spend his first two years of eligibility at the junior college level at Southern Idaho, after failing to qualify academically for Division I initially.
Two NJCAA championships and one NJCAA player of the year award later, Jackson was considered the #1 JUCO player in America, which paved his way to Scott Drew's Baylor squad in Waco.
Jackson came off the bench up until midway through the season, but for all intents and purposes he was Baylor's most important player virtually as soon as he stepped on campus, leading the team in minutes played on the season. He used more possessions than anyone else on the squad by a fairly wide margin, ranking second in the Big 12 in assists per-40, and sixth in 3-point percentage.
Severely undersized for a NBA point guard prospect at 5-10, Jackson makes up for what he lacks in height with outstanding athleticism. He has highlight reel caliber quickness and explosiveness, to go along with impressive ball-handling ability.
The majority of Jackson's offense comes on the pick and roll, where his excellent first step and ability to change speeds and directions quickly makes him difficult for opposing defenses to stay in front of. He can find the open man as the play develops, pull-up on a dime from the mid-range, or utilize a quick crossover to take the ball strong to the basket and finish above the rim with authority.
Jackson does a good job of finding open teammates in a variety of ways, be it making the extra pass in transition, improvising on the drive and dish or on lob plays within the set-offense. He anticipates teammates getting open and can make highly creative passes, showing solid court vision and unselfishness.
Jackson is an outstanding perimeter shooter with both his feet set and off the dribble, showing excellent mechanics, a quick release, deep range, and the ability to elevate and create separation sharply from his defender. He made 40% of his catch and shoot jumpers last season and an extremely impressive 41% of his pull-ups, sometimes from well beyond the college line.
While displaying a diverse skill-set and an overall impressive talent-level, Jackson still has plenty of work to do as a playmaker if he's to successfully transition his game from college to the NBA level. For starters, he ranked as the most turnover prone point guard amongst our top-100 prospects, coughing the ball up on a very high 27% of his used possessions last year.
Jackson isn't a solid and steady enough floor general at this stage, as he can be very up and down from game to game and sometimes possession to possession, looking extremely wild and suffering some serious mental lapses at times. He needs to improve his ability to control the rhythm of the game, as he can get very careless with the ball and try to force the issue badly at inopportune moments, being loose and unpredictable with the ball and attempting to make the spectacular play over the effective one when the scoreboard should dictate otherwise.
His shot-selection in particular can leave something to be desired, as for example, it's not entirely rare to see him bring the ball up the floor and jack up a contested 3-pointer early in the shot-clock before any of his teammates even touch the ball.
His lack of height doesn't leave him a huge margin of error in many cases with his decision making, as he just doesn't have the height to navigate his way through traffic against bigger defenders when he over-penetrates and runs into brick walls. Generally speaking, Jackson isn't a great finisher in traffic around the basket despite his ability to make highlight reel caliber plays, something that could become even more of an issue against taller and longer defenders in the NBA.
Like Baylor as a whole, Jackson was much better on the offensive end than he was on defense last season. With his quick feet and excellent hands, he has the ability to put pressure on the ball and will come up with a good number of steals every game, but he isn't terribly consistent in this area yet. His lack of size and length clearly affects him, making it difficult to contest the shots of bigger guards, but he also doesn't show great fundamentals or effort staying in front of opponents. He allows himself to get screened too easily and doesn't put up enough resistance on the perimeter, something that his team will try to mask at times by playing a good amount of zone.
All in all, Jackson did a very good job in his first season of real high-level organized basketball, coming out of the JUCO ranks. The transition to the division one ranks isn't always the smoothest for JUCO players, and he clearly still has room to continue to improve as he garners more experience running an offense against top competition. Jackson's lack of size will always work against him to a certain extent as far as NBA talent evaluators are concerned, but if he can find a way to iron out the weaknesses in his game, particularly with his decision making, he could certainly carve out a niche in the league.