Myck Kabongo
Recent Tweets
All Tweets
DraftExpress: We had 55\/60 of the overall players drafted. Missed on Jackie Carmichael Myck Kabongo James Southerland Trevor Mbakwe and C.J. Leslie.
2013-06-28 00:11:33
DraftExpress: Still available DeShaun Thomas Jackie Carmichael Myck Kabongo Trevor Mbakwe Bojan Dubljevic C.J. Leslie James Southerland
2013-06-28 00:05:01
DraftExpress: Myck Kabongo DX Scouting Report http://t.co/C2SKV7TPSu (via @KNelsonDX)
2013-06-03 17:45:11
DraftExpress: Myck Kabongo's brother Christian Kabongo from New Mexico St decided to join in on the fun and enter the draft as well http://t.co/6fxcekjKL1
2013-05-01 10:45:37
DraftExpress: RT @ESPNAndyKatz Texas announces Myck Kabongo will declare for the NBA draft.
2013-04-12 10:48:40
Team: Erie
Physicals
Positions
Rankings
Salary
Misc
H: 6' 3"
W: 180 lbs
Bday: 01/12/1992
(23 Years Old)

Current: PG
NBA: PG
Possible: PG

RSCI: 10

Agent: Rich Paul

High School: Findlay Prep
Hometown: Toronto, ON

Predraft Measurements
| Year | Source | Height w/o Shoes | Height w/shoes | Weight | Wingspan | Standing Reach | Body Fat | No Step Vert | Max Vert |
| --- | --- | --- | --- | --- | --- | --- | --- | --- | --- |
| 2013 | NBA Draft Combine | 6' 1.25" | 6' 2.75" | 180 | 6' 6.25" | 8' 2" | 6.0 | 27.5 | 33.5 |
| 2010 | LeBron James Camp | NA | 6' 2" | 170 | 6' 7" | NA | NA | NA | NA |
| 2010 | NBA Top 100 Camp | 6' 2" | NA | 168 | 6' 10" | 8' 0" | NA | NA | NA |
| 2009 | LeBron James Camp | NA | 6' 2" | 160 | 6' 6.5" | NA | NA | NA | NA |



Basic Per Game Statistics

- Comprehensive Stats - Statistical Top 25s
| Year | League | Name | GP | Min | Pts | FG | FGA | FG% | 2Pt | 2PtA | 2P% | 3Pt | 3PtA | 3P% | FTM | FTA | FT% | Off | Def | TOT | Asts | Stls | Blks | TOs | PFs |
| --- | --- | --- | --- | --- | --- | --- | --- | --- | --- | --- | --- | --- | --- | --- | --- | --- | --- | --- | --- | --- | --- | --- | --- | --- | --- |
| 2015/16 | DLEAGUE | Myck Kabongo | 4 | 24.8 | 7.8 | 2.8 | 7.8 | 35.5 | 2.8 | 6.8 | 40.7 | 0.0 | 1.0 | 0.0 | 2.3 | 3.3 | 69.2 | 0.3 | 3.5 | 3.8 | 4.3 | 1.8 | 0.3 | 3.3 | 2.8 |

Player Page&nbsp&nbsp| Player Stats | Mock Draft History | Related Articles&nbsp&nbsp| Add to My Draft Express&nbsp
&nbsp
Trending Prospects: Myck Kabongo
June 3, 2013
Myck Kabongo]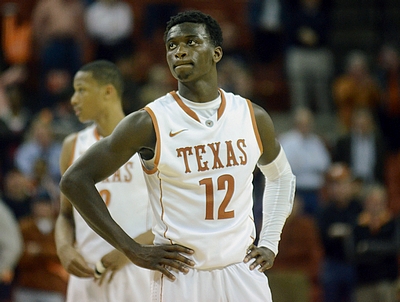 US Presswire



Kyle Nelson

When Myck Kabongo announced that he was entering the 2013 NBA Draft and hiring an agent, many in the basketball world were confused. Despite his elite recruiting ranking, he struggled as a freshman and lost a majority of his sophomore season to a 23 game suspension for receiving impermissible benefits from an agent and providing false statements to NCAA investigators. Even though he had a few solid outings after his return, Texas largely disappointed with Kabongo at the helm, losing five of its last 11 games before ending the season with a loss to Houston in the College Basketball Invitational. Surely, the plunge straight into the heat of the Big 12 conference slate did Kabongo few favors, but his continued inconsistency as the season went on and his average performance at the NBA Combine solidified the notion that the sophomore point guard has a lot of ground to make up before draft night.

At 6'3 with a 6'6.25 wingspan and an 8'2 standing reach, Kabongo possesses good size for an NBA point guard. He has a wiry 180-pound frame, though it is worth noting that he has gained 20-pounds since his junior season in high school and he looks like he can continue to add bulk in time. Extremely quick and agile off the dribble in the half-court and in transition, he lacks ideal explosiveness and body control around the basket, which hampers him as a finisher around the rim.

While Kabongo certainly has an above average physical profile for an NBA point guard, his skill set on the offensive end of the floor raises its share of questions. For one, he is a very high usage player, commanding 23.3% of Texas's overall possessions, but he is not particularly productive, averaging just 15.2 points per 40 minutes pace adjusted and ranking as one of the least prolific scorers in our top-100 rankings. He was not particularly efficient, either, registering just a 45% effective field goal percentage, which ranks him among the five worst prospects in this draft in that category.

That being said, Kabongo played 37.3 minutes per game, (second most among prospects in our top-100) on one of the worst offensive teams in the Big 12 this season, being forced to shoulder a very heavy load in the middle of the season that he clearly wasn't ready for.

It's hard to ignore his two most glaring weaknesses on tape, however, weaknesses that unfortunately are two skills that point guards must have in their arsenals to crack an NBA rotation. For one, he remains a well below-average shooter. According to Synergy, he made only 30% of his jump shots during his sophomore year, down from the 31% he made as a freshman. On film, his mechanics need significant work, as he gets most of his power from his arms rather than from his base. He does not elevate particularly well either, which results in him pushing a high-arcing shot that tends to miss its mark more often than not.

Another weakness lies in his struggles to finish around the basket. Kabongo actually excels at getting to the rim out of the pick-and-roll, where he uses his solid ball handling ability and quick first step to get by his opponent. He also similarly does an excellent job of running the floor in transition and using his quickness and agility to make easy lay-ups. Yet, once at the basket, he isn't able to finish what he creates. He has no left hand and struggles with contact due to his lack of elite strength and explosiveness, which means that he oftentimes is forced to throw up a difficult shot through the trees or gets blocked on his way to the basket. According to Synergy, he made just 41.2% of his shots around the basket, which is one of the worst rates in this draft class.

Additionally and while has improved at finding shots for himself around the basket and on the perimeter, he still lacks a mid-range game and rarely, if ever, uses his size to his advantage against smaller players. There were a few occasions where he pulled up off of the dribble from behind the arc, but he has a long way to go before standing out in the NBA as a shot creator. When combined with his sub-30% perimeter shooting and his below average percentages inside of the arc (46% 2P%), scouts are left with a particularly bleak picture of his ability to score effectively at the next level.

While Kabongo struggles to finish around the basket, he does an outstanding job of getting to the foul line, to the tune of 7.0 free throw attempts per game, which ranks seventh among prospects in our top-100. Additionally, and perhaps a sign of hope in regards to his shooting woes, is the fact that he shot a solid 79.2% from the foul line as a sophomore, up from 68% during his freshman season.

While his offensive skill set leaves much to be desired, he is much improved as a point guard, in ways that may significantly help his prospects on draft night. At first glance, the numbers do not look good, particularly his 3.5 turnovers per 40 minutes pace adjusted, the fact that his assists per 40 minutes pace adjusted dropped from 6.7 to 5.8, 1.65 assist/turnover ratio (down from 1.73 as a freshman), and his 0.80 PPR. He hardly stands out from the middle of the pack by the numbers, but on film his instincts and decision making skills have both improved.

For one, he looked far more comfortable operating out of the pick-and-roll, thanks to his excellent speed and strong ball-handling skills. Additionally, he is a very sound distributor in the half court, particularly while attacking the basket and kicking the ball out to open teammates. Texas's disorganized half-court offense and Kabongo's own mediocre shot selection and finishing woes around the basket have a way of obscuring the fact that he has made some intriguing strides as a sophomore, but there are clearly some things to work with here. As we noted in the past and as was the case during his sophomore season, he simply must improve his jump shooting and mid-range game, which until then will ultimately hinder his development as a point guard in the current NBA style of play.

Kabongo is a much better prospect on the defensive end. For a point guard, he shows solid lateral quickness, which when coupled with his solid height and length, allow him to be a very good individual defender at the collegiate level. Additionally, he is very aggressive on the defensive end of the floor, attacking passing lanes for steals and dialing in on his man in one-on-one situations. He tends to lose his focus while defending the pick-and-roll, however, ducking under screens or occasionally simply giving up on the play. That being said, he usually does a good job of staying involved, even off of the ball, perhaps best exemplified by the fact that he is a very good defensive rebounder for his size, and his 4.5 defensive rebounds per game situate him third among PGs in our top 100

Kabongo's draft prospects are quite murky at the moment despite the significant reputation he came into college with. His Pre-Draft Combine performance did little to silence critics of his shooting ability, and while he played in only 11 games as a sophomore, he was wildly inconsistent as a freshman as well. Without the benefit of an out of conference schedule, particularly the opportunity to prove himself against the likes of Georgetown, Michigan State, and UCLA, scouts are left wondering just how Kabongo will fare against NBA-caliber competition on a nightly basis. He could have used the New Jersey Combine as a place to improve his draft stock showing off his floor general skills in a five on five setting, but curiously decided to turn down that opportunity.

Additionally, his sophomore struggles are compounded by the fact that he will turn 22 during his NBA rookie season, and is a full year older than many in his class.

Yet, what is also clear is that Kabongo, perhaps more than most prospects in this draft, has a higher ceiling relative to his current draft stock, which situates him as one of the more intriguing players in the second round. The recent successes of Texas guards such as Cory Joseph and Avery Bradley, neither of whom excelled at the collegiate level, but have since gone on to earn important minutes on championship contenders, help his case, as well.

With their trajectories in mind, Kabongo's troubles at the collegiate level may not be entirely his fault, especially considering what might be a larger problem of Rick Barnes's seeming inability to develop elite talent in Austin. After all, he waswas a top-10 recruit in the RSCI class of 2011, ahead of projected lottery picks Ben McLemore, Otto Porter, Cody Zeller, Michael Carter-Williams, and Kentavious Caldwell-Pope. That being said, where those players have significantly improved on their weaknesses coming out of high school, Kabongo thus far has not. Whether or not he develops into an NBA player, remains to be seen, but what is clear is that he has a long way to go in addressing his shortcomings before being able to utilize his many strengths at the next level.

[Read Full Article]

---
NBA Combine Interviews: Larkin, Schroeder, Kabongo, Canaan
May 27, 2013
[Read Full Article]

---
Top NBA Draft Prospects in the Big 12, Part Two
September 28, 2012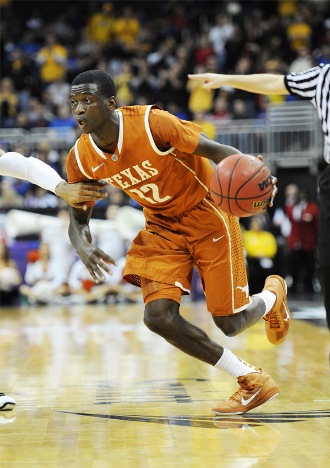 US Presswire



Derek Bodner

Coming into the season as the second rated point guard in the 2011 high school class according to the RSCI board, Myck Kabongo had big expectations placed on his slender shoulders. While Kabongo did not have a standout freshman year, especially in terms of his own scoring output, he showed the skills, leadership, and maturity that made him such a highly rated prospect as well as some of the weaknesses he'll need to improve upon in order to reach his full potential.

Kabongo is first and foremost a pass first point guard. He has very good natural point guard instincts, displays a consistently high basketball IQ, and is extremely unselfish. Combine that with his excellent court vision and these are extremely promising qualities for a point guard prospect to have, particularly one at such a young age. Kabongo was 7th in the DraftExpress database in assists per field goal attempt, and his 6.7 assists per 40 minutes pace adjusted was the top mark among freshman in our top 100 database.

Kabongo isn't quite as advanced when looking for his own shot, as his 12.4 points per 40 minutes pace adjusted, a number which is in the bottom 10 of our top 100 database, will a attest to. He shows some potential as a catch and shoot threat, as he appears more consistent in his form when he's able to step into the shot. Shooting off the dribble, however, is something he is not yet comfortable with. He doesn't get very much elevation on his jump shot and he struggles to maintain his balance when pulling up off the dribble. This is something that affects the rest of his offensive game, as defenders are able to sag off of him substantially when defending him off of pick and roll and isolation situations, limiting his ability to get into the lane.

Despite that, Kabongo does show some ability off the dribble, as he has good quickness and an array of hesitation moves that he uses to successfully get by his man and into the paint. Once he gets into the paint, though, he struggles to finish at the rim. Kabongo isn't all that explosive of a leaper and his lack of strength can hinder him when trying to finish through contact. On the positive side, he's very good at drawing contact, helping offset his inefficiency finishing plays. Kabongo was third in our database at 0.77 free throws attempted per field goal attempted.

Kabongo's main value in the paint is as a passer, where he is equally adept at finding big men cutting to the hoop as he is at finding spot-up shooters when defenders sag off of them. Kabongo's timing is excellent, finding the exact time when the defensive rotations are at their weakest and finding the open man. As good as he is as a passer it behooves him to develop his ability to shoot off the dribble, as forcing defenders to pick him up 20 feet from the hoop will open up a plethora of driving and passing lanes, making him all that much more effective as a passer in these sets.

One area where Kabongo can improve, both in transition and in the half-court, is in limiting his turnovers. His 3.9 turnovers per 40 minutes pace adjusted were the 5th highest among our top 100 prospects. While he has good control of the ball on the whole, he has a tendency to get a little bit loose with his dribble in traffic, and is prone to having the ball stripped on his drives to the hoop.

On the defensive side of the ball, Kabongo does a good job of picking his man up far from the hoop, preventing opposing point guards from getting into their sets early and doing a good job of forcing deflections with his long arms. This can sometimes be counterproductive, though, as he can at times find himself in foul trouble by picking up fouls far from the hoop, and also sometimes put his teammates in bad situations by gambling a bit too much on the perimeter. He also struggles at time fighting through pick and rolls due to his size, and needs to do a better job of recognizing the screen early. Overall, he moves his feet well laterally, and that combined with his length and high effort level gives him a pretty good base to develop as a defender down the line.

On the surface, Myck Kabongo's freshman season may have been a disappointment to some due to his lofty expectations. That being said, he displayed the skill sets that made him such a highly regarded prospect. With the departure of the undrafted J'Covan Brown, the young Texas Longhorns will need Kabongo to shoulder a much larger offensive role. While this may not be Kabongo's natural offensive role, if he can succeed in developing his own offensive arsenal, particularly shooting off the dribble, it may make him a more effective setup man down the line as well.

[Read Full Article]

---
HoopHall Classic Scouting Reports: Elite Prospects (Part One)
January 19, 2011
Joseph Treutlein

A player we've already profiled extensively over the course of his high school career, Myck Kabongo (#11 Scout, #24 Rivals, #10 ESPN) did about what you'd expect him to in his two games this weekend, intelligently managing his team's offense with his pure point guard prowess and leading Findlay to two impressive wins.

Playing a deferential scoring role with the depth of talent on his team, Kabongo has an extremely advanced feel for the game given his age, doing a great job reading what the defense gives him and showing great decision-making with the ball. He has an outstanding knack for finding open guys on the floor in position to score, and can make the full array of passes, be it transition, pick-and-roll, drive-and-kick, or simple passes around the perimeter.

Kabongo excelled most here with his drive-and-kick game, both penetrating all the way to the rim or making quick one-dribble moves toward the basket, doing a good job recognizing when the defense collapsed on him.

As far as Kabongo's own offense goes, he did a good job knocking down the few spot-up threes he took here, still having somewhat of a flat form but usually getting solid results when not pulling up. He didn't show much in terms of creating his own offense off the dribble, be it mid-range game or going to the rim, but has all the quickness to get past his man when he needs to. Definitely more passer than scorer at this stage, how good Kabongo be as a point producer is likely something we won't fully see until his team consistently needs him to do so at the college level.

Defensively, Kabongo also impresses, playing a cerebral, team-oriented style, showing good awareness and focus, constantly moving around off the ball, and being a very well-rounded, effective player.

Looking forward, Kabongo is an NCAA-ready player who should make an instant impact at Texas next season, where his unselfish brand of playmaking should be a welcome addition to a Longhorns team that's had so little consistency at the position the past few years. Continuing to improve his perimeter scoring and filling out his frame should be among his priorities, but his future looks extremely bright.

[Read Full Article]

---
2010 Boost Mobile Elite 24: Quinn Cook Interviews Myck Kabongo
September 18, 2010
[Read Full Article]

---
FIBA Americas U-18 Championships: Top International Prospects
July 1, 2010
The go-to guy on a talented Canadian national team, Myck Kabongo did a nice job showing off his strengths at this tournament.

Kabongo has average size (about 6-1 with a skinny frame that must continue to fill out), but he is an extremely quick and talented point guard. He's excellent in transition, has nice change of speed ability and is a true floor general. He makes the extra pass, shows a high basketball IQ and has strong leadership skills.

Just an average scorer at this stage, Kabongo didn't have enough weapons surrounding him to show off his skills as a pass-first point guard. He showed the ability to find the open man in a variety of ways, though, and is particularly adept at driving and dishing.

In terms of weaknesses, he looks a bit limited finishing around the basket and he struggles with contact at this juncture. He was also more turnover prone than you'd hope, showing a level of inexperience that is to be expected considering his age. He's not a great shooter either, displaying limited touch and struggling to make shots off the dribble in the mid-range area (something he must continue to work on considering his slight frame).

On the plus side, Kabongo is an extremely competitive player who puts out a good effort defensively and shows excellent anticipation skills off the glass and in the passing lanes. His feel for the game is obviously outstanding. His standing as one of the best point guards in the 2011 high school class appears to be well deserved.

[Read Full Article]

---
2010 HoopHall Classic: Top Prospects
January 20, 2010
Jonathan Givony

One of the most highly touted point guards in the 2011 class, Myck Kabongo did a very good job of showing his strengths here in Springfield, while also leading his team to victory.

Kabongo has a good physical profile, standing 6-2, with a nice frame, long arms, and solid athleticism. He's not overwhelmingly quick or explosive at the moment, but is still extremely young and has plenty of time to reach his peak physical potential.

The type of player most college coaches would love to have running their team, Kabongo is clearly a pure pass-first point guard with strong intangibles and a pretty well-rounded all-around game. He likes to operate in transition, but is also pretty solid in the half-court, having a good understanding of how to play the pick and roll and create scoring opportunities, but mostly preferring (at times overly so) to drive and dish to teammates rather than looking to shoot the ball himself. He clearly favors driving to his left, and like all young guards, needs to continue to develop his advanced ball-handling skills.

Kabongo is also a pretty good shooter, showing awkward, flat-footed mechanics, but seeing good results from 3-point range nonetheless. He needs to continue to work on his pull-up jumper, though, particularly from mid-range, where he's not nearly as effective.

Defensively, Kabongo had his hands full with one of the top point guards in high school basketball, Kendall Marshall, but clearly got the better of him in this game. He did not leave him for an instant when the two were on the court at the same time, sticking to him like glue and then putting excellent pressure on the ball when he was finally able to initiate the offense.

Its pretty clear what the recruiting services like so much about Kabongo's game, as it's rare to see a players at this level show the type of unselfishness and pass-first mentality he does, let alone one who is only a junior. In order to emerge as a top prospect down the road he must continue to work on his offensive polish and hopefully develop that extra gear that most great guards have.

[Read Full Article]

---
ESPN RISE National High School Invitational
April 12, 2009
One of the top playmakers in the 2011 class was on display during the course of the weekend. St. Benedict's Myck Kabongo (#14 ESPN) is already showing signs of a bright future as a point guard. Having committed early to Rick Barnes and Texas, Kabongo immediately stands out on the floor due to his excellent quickness. The sophomore has a great first step and coupled with his decent ball-handling skills, he is able to get into the lane fairly easily at this level. He definitely needs to improve on his ability to stay under control, as he picked up a few offensive fouls during the tournament as a result of leaving his feet on kick outs. This is something that will come as he grows and matures as a basketball player though.

Kabongo's jumper isn't terrible, as he shows good form, but he certainly needs to extend his range and improve his consistency before he can be considered a legitimate perimeter threat. There is no question the most appealing aspect of his game right now is his point guard skill set. Kabongo shows great court vision and is a fantastic passer. He was able to drive and kick to teammates for open looks on the wings as well as draw and dish to teammates for easy looks inside. Defensively, he has great lateral quickness and pretty quick hands, but he needs to do a better job of not getting lost on screens.

[Read Full Article]

---