We continue our coverage of the top returning NBA prospects in the non-BCS conferences with scouting reports on players ranked #11-15:
Jackie Carmichael
,
Tarik Black
,
Robert Covington
,
Mike Muscala
and
Deonte Burton
.
Incoming freshmen have been excluded from these previews, as we'd like to wait and see what they have to offer on the NCAA level before we come to any long-term conclusions.
The Top 101 Prospects in the BCS Conferences
-Top 20 NBA Prospects in the Big Ten-Top 20 NBA Prospects in the ACC-Top 11 NBA Prospects in the Big XII-Top 15 NBA Prospects in the Pac-12-Top 20 NBA Prospects in the Big East-Top 15 NBA Prospects in the SEC
-
Top NBA Prospects in the Non-BCS Conferences, Part One
(#1) Tony Mitchell Video Scouting Report
-
Top NBA Prospects in the Non-BCS Conferences, Part Two
(#2) C.J. McCollum
(#3) Jamaal Franklin
(#4) Adonis Thomas
(#5) Mike Moser
-
Top NBA Prospects in the Non-BCS Conferences, Part Three
(#6) Doug McDermott Video Scouting Report
-
Top NBA Prospects in the Non-BCS Conferences, Part Four

(#7) Ray McCallum
(#8) Alec Brown
(#9) Nate Wolters
(#10) Isaiah Canaan
#11, Jackie Carmichael, 6'9, Power Forward, Illinois State, Senior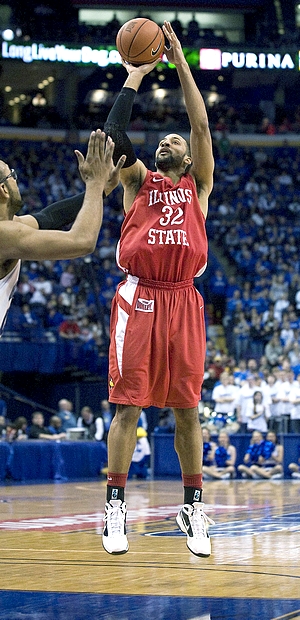 Kyle Nelson
After an solid showing in the NIT last season, Illinois State power forward Jackie Carmichael was offered the opportunity to compete with some of college basketball's top prospects at the LeBron James Skills Academy. He did not disappoint, emerging as one of the camp's top performers and generating buzz from = https://twitter.com/franfraschilla/statuses/222219022035456000]national sportswriters and scouts alike. Now with increased expectations, NBA scouts will be watching to see if he can take the next step in his development and boost his draft stock.
Part of what makes Carmichael such an interesting prospect is his physical profile. He has just average size for a power forward, as he stands somewhere between 6'8 and 6'9, but he compensates with his 7'0 wingspan and an excellent frame. Furthermore, he is an above average athlete who runs the floor hard, is aggressive, and can play above the rim.
In addition to his solid physical profile, he had an impressive junior season to the tune of a career high 19.5 points per 40 minutes pace adjusted while shooting 53.3% from the field. He also possesses a true back-to-the-basket power forward's game, as Synergy reveals that nearly 90% of his shots come around the basket.
Though he plays primarily with his back to the basket, what makes his game intriguing from an NBA perspective is how naturally he scores, showing terrific instincts and feel from the low and mid-post alike. 37% of his offensive possessions come in post-up play types and he shows soft hands, solid footwork, a nifty jump hook with his right hand and a fade away jump shot with very nice touch.
Not just a bruiser who gets his points through sheer force backing down weaker opponents, Carmichael also shows nice finesse facing up opponents and beating them off the dribble with impressive patience and skill, creating high percentage shots for himself and getting to the free throw line at a high rate. The problem is that he struggles to go left and either looks to pass immediately or panics when forced to his weak side. His still developing post instincts are to blame for many of his 3.1 turnovers per 40 minutes pace adjusted, which ranks him in the top half of turnover prone power forwards in our database.
Carmichael also possesses the ability to score out of the pick-and-roll, where he sets good screens and rolls hard to the basket with excellent timing. He is a terrific finisher at the college level due to his soft hands, long arms and solid explosiveness, being capable of taking a hit and still finishing plays, drawing a good amount of fouls in the process. Given the popularity of the pick-and-roll in the NBA, his proficiency in this area will certainly be of interest to scouts.
Another intriguing aspect of his offensive game is his jump shot. While he only made 11 of 38 jump shots and attempted only three shots from beyond the arc, he nevertheless showed the ability to face his man up and quickly get his shot off. He has a high arcing shot that, if he can consistently knock it down, could be a weapon down the road given his average size at the next level. While his range extends out to around the college three-point line, he looked far more comfortable from mid-range where he made 31% of his attempts versus 26% inside of 17-feet. Nevertheless, scouts will be watching to see if he can improve into a more prolific and efficient catch-and-shoot option as a senior.
He is a solid defender at the collegiate level, even though he mainly guards opposing centers. His lateral quickness is only about average for his size, but he does a good job of staying involved in plays even after he gets beaten. He has also maintained his reputation as a solid shot blocker, rejecting two shots per 40 minutes pace adjusted. While he is a factor in the post and on the perimeter, from the weak side and while trailing, he sometimes finds himself out of position in his pursuit of shots.
He is, however, an outstanding rebounder, particularly on the defensive boards where he averages 10.4 defensive rebounds per 40 minutes pace adjusted. This ranks him in a tie with Delaware's Jamelle Hagins as the
second best returning defensive rebounder among all prospects in our database
. His combination of length, strength, energy, athleticism and timing allow him to excel on the boards and, despite some of the question marks that accompany him on offense and defense, translate as an attractive skill when projecting his role at the next level.
Following a solid post season and outstanding summer, expectations are clearly higher for Jackie Carmichael now than they were one year ago. While he struggled against elite competition as a junior, he will be expected to produce against Louisville, in a late-season BracketBusters match up and against in-conference rivals Creighton and Witchita State. He is also older than many in his class, as he turns 23 this January, and if he fails to improve substantially on his weaknesses, then he will have to answer the question of how much room he still has to grow.
Despite these question marks, Illinois State returns most of their 2011-2012 roster and Carmichael will be expected to lead Redbirds into the NCAA Tournament while continuing to showcase his skills in front of scouts on a nightly basis. While opportunities to shine against NBA-caliber talent may be limited due, scouts should still have plenty of opportunities to evaluate him throughout the season, in the post-season and most likely in the Portsmouth Invitational Tournament. No longer flying under the radar, Jackie Carmichael will have every opportunity to put himself into the position of hearing his name called on draft night.
#12 Tarik Black, 6'8, Junior, Power Forward, Memphis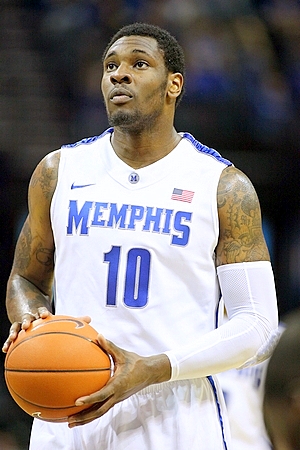 Matt Williams
Earning second team All-Conference USA honors, Tarik Black had a sophomore season right on par with the one he turned in as a freshman. Showing improvement in a few select areas while regressing or stagnating in many others, he did not take the significant step forward many expected him to after his impressive freshman campaign.
A slightly undersized power forward possessing every other athletic tool scouts look for, the Memphis native's impressive physical profile is what makes him such an efficient collegiate scorer, gives him intriguing upside, and makes his inability to consistently impact games so frustrating.
Shooting 75% in finishing situations and 61% in the post according to Synergy Sports Technology, Black's blend of length, strength, and explosiveness give him a clear advantage offensively at the NCAA level. Able to carve out deep position in the paint, overpower defenders when maneuvering to the rim, and finish emphatically around the basket given a split-second to gather himself, Black
posted the second highest field goal percentage
in all of college basketball last season, shooting 68.9%, some 16% better than he shot the year before.
As effective as Black proved to be around the rim en route to his respectable 10.7 point per-game average, he still has plenty of room to grow offensively. He has made just 1 of the 11 jump shots he's attempted at the collegiate level, shot below 60% from the line two-consecutive years, and is yet to show the ability to put the ball on the floor and attack the rim. In order to make himself a more versatile offensive threat, Black would be well served to expand his offensive game and particularly his polish in the post.
Defensively, Black remains a mixed bag. He's capable of making highlight reel plays blocking shots and has the physical tools to capably defend his man at and away from the rim, but he still has some lapses in effort, remains foul prone, and finds himself out of position too frequently. Black's upside on the defensive end is unquestionable, but he'll need to become a more disciplined and consistent presence on the interior to make the most of his tools.
In many ways, the same can be said with regards to Black's biggest weakness, his rebounding ability. Often straying from the paint to pursue the ball defensively, Black is not disciplined or aggressive in his approach on the glass, especially on the defensive end of the floor. His numbers on the offensive glass are solid, if not above average, but his 4.3 defensive rebounds per-40 minutes pace adjusted
was the fourth lowest mark
among power forwards in our database last season.
For a player with Black's physical tools and penchant for physical play on the offensive end, it is fair to expect significantly better from him on the defensive boards. Disappearing for stretches last year, the name of the game for Black this season will be aggressiveness. If he finds more ways to impact the game with his athleticism, he'll surely improve his standing among scouts.
#13 Robert Covington, 6-9, Power Forward, Senior, Tennessee State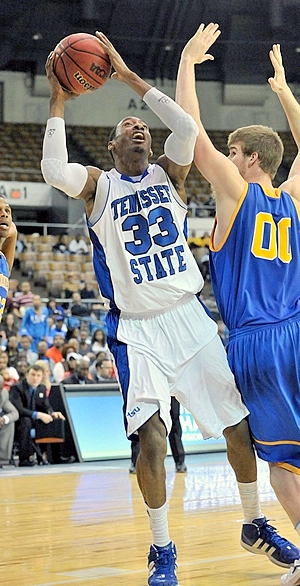 Joe Treutlein
Robert Covington has consistently improved his game in three straight seasons at Tennessee State in the Ohio Valley Conference, seeing his pace-adjusted production and efficiency numbers steadily and notably rise, while he's honed his skills on the court as well.
Standing 6-9 with very good length, albeit with a slight, still undeveloped frame, and average athleticism by NBA standards, Covington has solid physical tools for the power forward position. His strength and bulk are both weaknesses at the moment, but he still has room to improve in this area as he continues to mature physically.
On the offensive end, Covington shows great versatility, being capable of scoring from all areas of the floor. The most impressive and attractive asset in his arsenal however, both at the college level and projecting to the pros, is his outstanding three-point shot.
Possessing very good fundamentals with a high and quick release along with a consistent shooting form and clear-cut NBA range, Covington is a deadly three-point shooter, as evidenced by his 44.8% three-point percentage last year. There's little reason to believe it's a fluke either, as he shot 46.0% as a sophomore and his junior numbers were on a sizeable 4.4 attempts per game (which is more than a third of his 12.2 total FGA per game). His shooting ability also translates to the free-throw line, where he's shot nearly 80% in all three seasons.
The rest of Covington's offensive game is certainly effective against the competition he routinely plays, where his combination of size, length, and athleticism give him an edge against most opponents. He has just a small sample of games against big conference competition, however, and hasn't fared especially well in them to date. In two games against BYU and Minnesota early in this 2012-13 season, for example, Covington combined for 19 points on 6-for-23 shooting with just eight total rebounds, while he fouled out of both games in less than 22 minutes per game.
Against the tougher competition, Covington's game becomes decidedly more one-dimensional, as he just doesn't have the skill, strength and athleticism to consistently contribute outside of his superb outside shot. The area of his game where he fares the best other than his shooting would be finishing on simple plays around the basket, be it offensive rebounds, cuts, or getting out in transition, where he shows good touch and ability to use his tools effectively. Still, he shows problems initiating and finishing through contact even against weak competition, and this is only magnified against players closer to NBA caliber.
The area Covington has the most room to improve offensively, and this is something he does fairly well against his normal competition, is with his face-up game from the perimeter. Showing a very good shot fake and jab-step that take advantage of the respect opponents must pay his jumper, Covington does a good job putting the ball on the floor for straight-line and occasionally slightly more difficult drives to the basket. He's somewhat turnover prone in this area, especially against tougher competition, and is still clearly raw with a lot of room to improve.
His post-up game isn't heavily featured at this stage, and he probably wouldn't be able to do much damage in that regard at the next level given his strength limitations, so it's probably for the best he continues focusing on being the best face-up four he can be. Covington's mid-range game on the other hand, could stand to use some improvement, as when he shies from contact on drives to the rim and settles for floaters and mid-range jumpers, he is nowhere near as effective as when spotting up from outside.
On the defensive end, Covington is still a work in progress, and doesn't benefit at all from playing against the competition he does on a nightly basis in the OVC. His post defense looks good initially, as he opens up with a solid fundamental stance, but he too often just relies on his physical advantages to get by, which shows up when he's matched against tougher competition, where he's prone to being beat laterally and can lose focus on plays. His perimeter defense is actually somewhat further along, as Tennessee State's lineup and the composition of the rosters they have often leaves Covington matched up with small forward types. While he likely wouldn't be guarding that position in the pros, its good practice for defending face-up fours, and he does a solid job moving his feet and using his length to stay in front of his man and contest shots on the perimeter.
Covington does manage to block a decent 1.4 shots per game while showing solid weakside awareness, but it's mostly by virtue of his superior length and probably something he shouldn't rely on as much of a selling point going forward. His rebounding, on the other hand, while respectable, could certainly show some improvement, and this is probably the single area he could most improve to increase his NBA chances. Covington grabbed just 9.9 rebounds per 40 minutes pace adjusted last season, which doesn't rank him especially well among power forwards in our database, and is something he can certainly improve on with increased focus and effort.
Looking forward, Covington is an intriguing player due to his size, length, and terrific shooting stroke, though he's still a pretty raw and developing player overall, particularly physically. A December 8th matchup with Missouri looms as likely his last ever game against noteworthy big conference competition, which will be a key game for him given his struggles in these types of games in the past. Making the NCAA tournament may be difficult considering that Murray State is favored to emerge from the Ohio Valley Conference tournament, but that would provide a significant platform for him to continue to prove himself.
Regardless, he should get plenty of opportunities to find a way into the NBA in the offseason and down the road, particularly in settings such as the Portsmouth Invitational Tournament, as players with his size and skill profile aren't especially common. He'll likely need to add at least one complementary NBA level skill to his arsenal in order to find a long term niche, while maximizing his physical and athletic potential in the weight room will also be key.
#14, Mike Muscala, 6'11", Senior, Center, Bucknell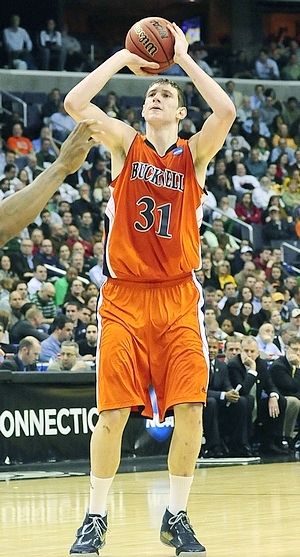 Derek Bodner
Bucknell big man Mike Muscala continues his development as the focal point of the Bison offense, evolving as one of the best inside-outside scoring threats in college basketball.
The 6'11" Muscala increased his per-40 minute pace adjusted scoring average from 21.5 to 23.6 points last year, while increasing his productivity on the glass from 10.5 rebounds per game to 12.2 rebounds, all the while increasing his true shooting percentage from 58% to 60%.
The last time we profiled Muscala we noted his developing post-up game, and he has continued to make significant strides in that department. According to Synergy Sports Technology, Muscala averaged 0.947 points per possession on post-up opportunities, which places him in the 77th percentile and is a significant increase from the 0.843 he averaged his sophomore season.
Having put in considerable work improving his frame, Muscala is equally comfortable going over either his left or right shoulder, something which makes him less predictable in the post and allows him to adapt to where the defensive help is coming from. He has a considerable size and length advantage at this level and does a good job working to establish deep post position aggressively, which once he successfully establishes, smaller defenders have a hard time contesting his shot.
While Muscala isn't overly advanced in the post, with most of his work consisting of a hook shot over either shoulder, he does show solid footwork in the post and is hardly mechanical, with a developing drop step and up and under move at his disposal. He also shows a good feel for where help is coming from and has enough moves in his repertoire to be able to counteract that help.
Helping Muscala's efficiency has been his stellar ability to get to the free throw line. Muscala averaged 9.4 free throw attempts per 40 minutes pace adjusted in 2011-12, which ranked fourth among centers in our database. With Muscala's size advantage and the aggressiveness in which he works to establish post-position, his defender often times doesn't have much choice other than to foul, and Muscala does a good job of not avoiding contact.
That being said, there are some problems when projecting Muscala's post game to the next level. First, he hasn't faced a great deal of quality NBA-caliber size, and he has struggled at times when he has gone up against players who could physically compete with him, for example against Minnesota and Syracuse last season. His strength, both upper and lower body, to this point are underdeveloped, and it's unlikely he will be able to establish the post position he has been able to at Bucknell at the pro level. He also tends to have a relatively low release point for somebody of his length, something that could be problematic for him when he gets matched up with players who are his physical equal.
The good news is that his other major development last year was that he improved his consistency on his jump shot fairly substantially, and showed solid improvement extending his range. Overall, Muscala increased his effectiveness on jump shots from 0.841 points per possession to 0.954 according to Synergy Sports Technology, while increasing his free throw percentage to 85%, which is phenomenal for a big man who gets to the line as frequently as he does.
Muscala is much more comfortable from mid-range than he was previously in his career, which is a great sign if he wants to transition away from being a post-up focal point to more of a floor spacer like he may have to at the next level. While Muscala has a fairly long release with a high arc on his shot, his release point is consistent and he shows good touch on the shot. Continuing to extend that range would likely be beneficial for him moving forward.
The other area where Muscala showed considerable improvement was on the offensive glass, While still not a prolific offensive rebounder, Muscala upped his offensive rebounds per 40 minutes pace adjusted from 2.4 to 3.8, and he does a very good job of converting once he gathers the ball, doing a good job of not bringing the ball down and using his size and length to his advantage.
On the defensive side of the court, Muscala shows a good effort level and uses his length well as a weakside help defender, but has some physical limitations which are quite likely to become a major issue should he get a chance at the next level. While he shows fairly good technique defending the pick and roll, and he is quicker and more coordinated than one might expect on first glance, Muscala is still fairly slow laterally. Perhaps a bigger worry is his lower body strength, and when matched up against the legitimate post scorers he would see at the next level it is hard to envision Muscala holding his position without a considerable increase in lower body strength.
On the plus side, Muscala is one of the youngest seniors in college basketball, not turning 22 until next July, so there's a decent chance that he's still not doing maturing physically and filling his frame out. If he's able to continue to add bulk to his frame over the next few years, without losing significant mobility, he would likely improve his pro prospects significantly.
Muscala has refined his inside-outside offensive game to the point where he is one of the most effective scoring big men in the nation, although whether that inside game can translate itself to the next level is hardly a sure thing at this point. If Muscala can convince NBA decision makers that his frame will not be a hindrance long term, and continue to become more comfortable as a face-up threat, he will enhance his chances of hearing his name called on draft night. In the meantime, a strong season on the team level and a productive showing at the Portsmouth Invitational Tournament, where he'll be able to face up against some of the best senior big men in college basketball, would surely help his cause.
#15, Deonte Burton, 6'1", Junior, Point Guard, Nevada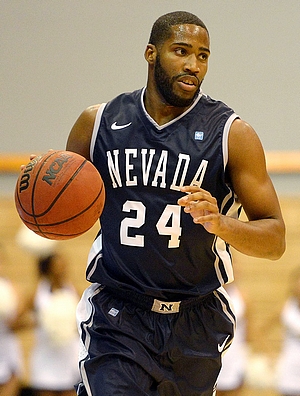 Derek Bodner
Coming off a surprising freshman season, Deonte Burton may not have made a huge statistical leap as a prospect, but he showed enough incremental improvement in his game to build off of his strong freshman campaign.
While Burton has played primarily the point guard position for the Wolf Pack, he is not yet what you would call a true lead guard, not showing great court vision or an overall feel for controlling the tempo of a game. Nevada returned a veteran squad last season, with Olek Czyz and Dario Hunt bringing significant and athleticism to the frontcourt positions, but the team looked disorganized and struggled to win most of their big games, eventually being knocked out in the semifinals of the WAC conference tournament. Now having moved to the Mountain West Conference, Burton will face better competition on a nightly basis but will have to improve even more if he's to help his team reach the NCAA tournament.
Burton's main asset at this point is still his scoring, where he brings a diversified attack from the lead guard position. His most identifiable trait is his ability to shoot off the dribble, which opens up the rest of his game. While Burton has a long release with a lot of extra leg motion, he gets good elevation and does a tremendous job making shots off the dribble and with a hand in his face, with incredible concentration and touch allowing him to make many shots with a high degree of difficulty.
This manifests itself the most off the pick and rolls, where he is able to use the space from the pick to get up a quality look with ease. The attention defenders have to give Burton as a shooter off the pick opens up his dribble drive game. Burton has a good first step, and once he gets into the lane has surprising explosiveness around the rim and a strong upper body. While Burton has only average touch, and doesn't always have the size and strength to finish his drives, he does a very good job of drawing contact in the paint, and his 7.2 free throw attempts per 40 minutes pace adjusted is a top 10 mark in our database for point guard prospects.
Despite being a right handed player, Burton prefers to drive to his left, something which at times appears to catch his defenders by surprise. That being said, he is not yet as comfortable finishing with his left hand as he is with his right, and improving upon this facet of his game could help improve his proficiency in finishing inside and allow him to take advantage of his ability to drive left even more.
Burton has a very prolific in-between game, as he took twice as many pull-up jumpers as spot-ups last season and made 36%of those attempts. With that said, he doesn't always get great balance on his pull-up jumpers and his shot-selection can leave something to be desired at times (to put it mildly perhaps), but he did rank as one of the most efficient isolation threats in college basketball last season, which is very intriguing considering the premium NBA decision makers put on shot-creation ability. As his decision making improves, his shot-making ability in the mid-range area could be honed into a very valuable skill.
As a ball-handler, Burton does a good job of keeping his dribble low and maintains good control of the ball. He has a solid crossover dribble and does a good job of changing speeds, displaying excellent timing and instincts for knowing when to attack his defender when he's at his most unbalanced, and thus doing a very good job of creating space for himself to operate. This helps him get into the lane on a fairly regular basis, and as mentioned allows him to get to the free throw line at a very high rate.
Burton's playmaking skills are still very much a work in progress, as his shot-selection and decision making can be very poor at times and he tends to freeze out his teammates when things aren't going well. Scouts will want to see better leadership from him as a junior.
On the defensive side of the ball, Burton has solid size to defend the point guard position at 6'1" with a very long wingspan at 6'6" and has a strong upper body that looks like it could add a bit more muscle. He gets himself in a fairly good stance and does a fair job of fighting through pick and rolls, but like most of his Nevada team, doesn't show great fundamentals or awareness keeping opponents out of the lane. He tends to lose his focus easily and gets beaten off the dribble by opponents. His size may prevent him from being an impact defender at the next level, but if he works hard at it he should be able to work himself into at least an average defender with better coaching.
With Nevada having lost Olek Czyz and Dario Hunt to graduation, Deonte Burton will see his first major role change at the collegiate level. With Nevada not having Czyz and Hunt to anchor the frontcourt, Nevada will be more reliant on Burton to get good looks for his teammates. While Burton is a solid collegiate scorer, showing development as a point guard would help his draft stock considerably if he is able to take advantage of his new role.