Tarik Black
Recent Tweets
All Tweets
DraftExpress: Top NBA prospects in the Big 12 #s 6-10 Cameron Ridley Georges Niang Perry Ellis Prince Ibeh Tarik Black\n http://t.co/mbXcQrbe1B
2013-09-27 16:36:13
DraftExpress: Check Black's def. reb #s. RT @BPredict If Duke can land Tarik Black that would be huge.Their big need is interior defense and rebounding.
2013-04-24 12:23:29
DraftExpress: Top Non-BCS NBA Prospects #11-#15 - Jackie Carmichael Tarik Black Robert Covington Mike Muscala Deonte Burton http://t.co/NsIInG3W
2012-11-16 14:47:19
DraftExpress: Top NBA Prospects in the Non-BCS Conferences: http://t.co/JdgeU9W0 - Tony Mitchell, Andrew Nicholson, Tarik Black, Tu Holloway, Ray McCallum
2011-11-01 01:36:29
DraftExpress: What about Kazemi? RT @DanWolken: I would bet on either DeAndre Kane, Will Barton or Tarik Black winning CUSA POY at the end.
2011-10-10 11:31:35
Team: Lakers
Physicals
Positions
Rankings
Salary
Misc
H: 6' 8"
W: 253 lbs
Bday: 11/22/1991
(24 Years Old)

Current: PF/C
NBA: PF
Possible: PF

RSCI: 62

Agent: Michael Lelchitski
Current Salary:$507,336

High School: Ridgeway
Hometown: Memphis, TN

Predraft Measurements
| Year | Source | Height w/o Shoes | Height w/shoes | Weight | Wingspan | Standing Reach | Body Fat | No Step Vert | Max Vert |
| --- | --- | --- | --- | --- | --- | --- | --- | --- | --- |
| 2014 | Clippers Workout | 6' 7.5" | 6' 8.5" | 253 | 7' 2.75" | 8' 11" | 10.2 | NA | NA |



Basic Per Game Statistics

- Comprehensive Stats - Statistical Top 25s
| Year | League | Name | GP | Min | Pts | FG | FGA | FG% | 2Pt | 2PtA | 2P% | 3Pt | 3PtA | 3P% | FTM | FTA | FT% | Off | Def | TOT | Asts | Stls | Blks | TOs | PFs |
| --- | --- | --- | --- | --- | --- | --- | --- | --- | --- | --- | --- | --- | --- | --- | --- | --- | --- | --- | --- | --- | --- | --- | --- | --- | --- |
| 2015/16 | NBA | Tarik Black | 8 | 11.4 | 3.8 | 1.5 | 3.0 | 50.0 | 1.5 | 3.0 | 50.0 | 0.0 | 0.0 | &nbsp | 0.8 | 1.5 | 50.0 | 0.9 | 3.5 | 4.4 | 0.1 | 0.1 | 0.3 | 0.6 | 2.6 |

Player Page&nbsp&nbsp| Player Stats | Mock Draft History | Related Articles&nbsp&nbsp| Add to My Draft Express&nbsp
&nbsp
L.A. Clippers Mini-Combine Recap and Analysis
May 22, 2014
Tarik Black, 13 points, 9 rebounds (6 defensive and 3 offensive), 6-for-6 FGs
The Kansas player proved to be one of the best big men prospects in the workout, knocking down all six of his field goal attempts while controlling the backboards. Black finished with at least two emphatic dunks, one for an And 1, and one over Okaro White. Black also showcased a running right handed hook. It was clearly Black's day when he seemingly accidentally banked in a 15-footer from the short corner. The big and physical Black did a great job moving bodies on the defensive glass while defending his position. He doesn't have many perimeter skills offensively considering he's a bit undersized at 6-8, but his rebounding and ability to finish through contact around the basket shined through. After a fairly lackluster senior year, and an injury that prevented him from attending the PIT, Black needed a strong showing here, and he certainly came through, which will likely earn him some more NBA workouts.

[Read Full Article]

---
Top NBA Prospects in the Non-BCS Conferences, Part Five
November 16, 2012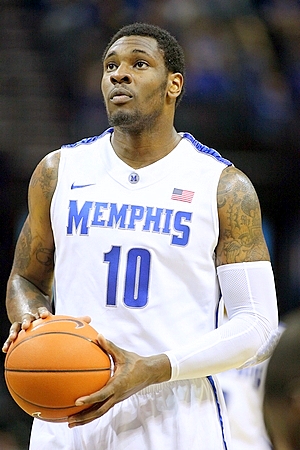 US Presswire



Matt Kamalsky

Earning second team All-Conference USA honors, Tarik Black had a sophomore season right on par with the one he turned in as a freshman. Showing improvement in a few select areas while regressing or stagnating in many others, he did not take the significant step forward many expected him to after his impressive freshman campaign.

A slightly undersized power forward possessing every other athletic tool scouts look for, the Memphis native's impressive physical profile is what makes him such an efficient collegiate scorer, gives him intriguing upside, and makes his inability to consistently impact games so frustrating.

Shooting 75% in finishing situations and 61% in the post according to Synergy Sports Technology, Black's blend of length, strength, and explosiveness give him a clear advantage offensively at the NCAA level. Able to carve out deep position in the paint, overpower defenders when maneuvering to the rim, and finish emphatically around the basket given a split-second to gather himself, Black posted the second highest field goal percentage in all of college basketball last season, shooting 68.9%, some 16% better than he shot the year before.

As effective as Black proved to be around the rim en route to his respectable 10.7 point per-game average, he still has plenty of room to grow offensively. He has made just 1 of the 11 jump shots he's attempted at the collegiate level, shot below 60% from the line two-consecutive years, and is yet to show the ability to put the ball on the floor and attack the rim. In order to make himself a more versatile offensive threat, Black would be well served to expand his offensive game and particularly his polish in the post.

Defensively, Black remains a mixed bag. He's capable of making highlight reel plays blocking shots and has the physical tools to capably defend his man at and away from the rim, but he still has some lapses in effort, remains foul prone, and finds himself out of position too frequently. Black's upside on the defensive end is unquestionable, but he'll need to become a more disciplined and consistent presence on the interior to make the most of his tools.

In many ways, the same can be said with regards to Black's biggest weakness, his rebounding ability. Often straying from the paint to pursue the ball defensively, Black is not disciplined or aggressive in his approach on the glass, especially on the defensive end of the floor. His numbers on the offensive glass are solid, if not above average, but his 4.3 defensive rebounds per-40 minutes pace adjusted was the fourth lowest mark among power forwards in our database last season.

For a player with Black's physical tools and penchant for physical play on the offensive end, it is fair to expect significantly better from him on the defensive boards. Disappearing for stretches last year, the name of the game for Black this season will be aggressiveness. If he finds more ways to impact the game with his athleticism, he'll surely improve his standing among scouts.

[Read Full Article]

---
Top NBA Draft Prospects in the Non-BCS Conferences, Part One (#1-5)
November 1, 2011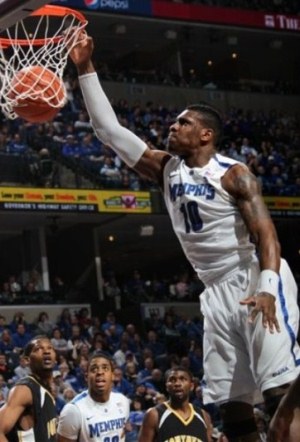 AP Photo



Jonathan Givony

Flying under the radar somewhat despite a productive freshman season exhibiting intriguing flashes of talent, Tarik Black will look to establish himself on the national radar as a sophomore and build his credentials as a NBA draft prospect.

A bit undersized at 6-8, Black sports a NBA ready frame as a 19 year old to go along with very good mobility. He runs the floor well, plays above the rim regularly and is a fluid and agile big man, giving him plenty of room to grow into as a prospect.

Black has the bulk to establish deep post position and did so a pretty regular basis last season, despite not having the personnel needed to get him the ball in a position to score on a consistent basis. He does not possess a wide array of post moves at this stage, but isn't afraid to battle inside the paint and works extremely hard to carve out superior position, where his big, strong hands, improving footwork and propensity for finishing above the rim through contact can often do the rest.

He got to the free throw line at a pretty solid rate last year, even if he only converted 59% of his attempts once there.

In addition to his post presence, Black also crashes the offensive glass pretty well, pulling in a solid 4.6 offensive rebounds per-40 minutes pace adjusted. His agility, combined with his thick frame and quick bounce serves him well in this area, as he's explosive enough to follow teammates' misses with a put-back dunk without having to gather himself.

On the negative side, Black didn't show any type of face-up game as a freshman, being more of an undersized center than a true power forward as his height would indicate. He doesn't show anything in the way of ball-handling skills or a jump-shot, things he'll need to develop down the road if he's to become a more versatile offensive threat.

Defensively, Black shows good tools, but has plenty of room for improvement. On one hand he shows the combination of length, strength and mobility NBA teams covet at the power forward position, as he's agile enough to bend his knees and step out onto the perimeter, doing a pretty nice job hedging screens and staying with smaller players already as a freshman. Combine that with his thick frame and excellent motor and you've got the makings of a solid defender at the power forward position. Additionally he displays good timing as a weak-side shotblocker, posting a solid 2.7 blocks per-40 minutes last year.

On the other hand, Black clearly lacks experience and doesn't show the best awareness, often getting caught out of position and biting on pump fakes. He needs to do a better job using his body and being more physical and aggressive inside the paint, as he frequently gave up deep position inside to opposing post players last season, giving up high percentage looks and getting himself in foul trouble in turn.

Additionally, Black is a surprisingly mediocre defensive rebounder, grabbing more offensive rebounds than defensive, something that is pretty rare. His awareness for boxing out and pursuing loose balls doesn't appear to be the greatest, something he'll definitely need to improve on.

Like many freshmen, Black was very inconsistent from game to game last season, especially in Memphis' biggest games, where he typically struggled. It will be interesting to see how he progresses in that area this year.

All in all, Black is a player scouts will likely be keeping close tabs on this season. Players with his physical tools and intensity level are valued commodities in NBA frontcourts, particularly if he can continue to improve his skill-level and prowess on the defensive glass.

[Read Full Article]

---
Initial High School Player Scouting Reports, Part One
August 14, 2009
Not a big time prospect by any stretch at this point, Tarik Black (#57 Scout, #43 Rivals, #55 ESPN) regardless managed to emerge as one of our favorite players to watch this summer.

Black is an undersized PF/C with a good frame, a nice wingspan and excellent athleticism. He runs the floor extremely hard, gets off the floor with authority, and simply plays harder than everyone else.

Very limited offensively, Black was his team's 5th option for the most part in the games we took in, mostly being relegated to catching and finishing around the basket. He still found ways to be productive, be it running the floor in transition, crashing the offensive glass with tenacity, or making some very basic spin moves in the post. His feel for the game, particularly his ability to pass out of double teams, needs work.

Defensively is where Black is probably at his best at the moment, as we could clearly see from the very strong outing he had against top-rated big man Joshua Smith, where he thoroughly frustrated him with his toughness and peskiness. His length and athleticism allows him to emerge as a very effective shot-blocking threat rotating from the weak-side, and he's agile enough to step out and hedge screens out on the perimeter defending the pick and roll.

Every college team needs at least one Tarik Black in their frontcourt rotation, and thus it's no surprise to see the type of offers he's getting at the moment. After all, long-armed athletic big men with a heartbeat don't exactly grow on trees. If he continues to develop his all-around polish as he fills out and gains more experience over the next few years, we might be able to talk about his pro potential as well.

[Read Full Article]

---