Updated scouting reports on
Jeff Taylor
,
Meyers Leonard
and
JaMychal Green
-Trending Prospects (12/9) - Doug McDermott, Scott Machado, Henry Sims-Trending Prospects (12/22) - Kris Joseph, Draymond Green, Chace Stanback-Trending Prospects (12/23) - Will Barton, LeBryan Nash and Ricardo Ratliffe-Trending Prospects (12/30) - Mike Moser, Kenny Boynton and Jarrod Jones-Trending Prospects (1/6) - Herb Pope, Eric Griffin, Otto Porter, Quincy Acy
-Trending Prospects (1/12) - Arnett Moultrie, Kevin Jones, Robbie Hummel, Elias Harris-Trending Prospects (1/20) - Andrew Nicholson, William Buford, Orlando Johnson, Tyshawn Taylor-Trending Prospects (1/26) - Jordan Taylor, J'Covan Brown, Ashton Gibbs, Jorge Gutierrez-Trending Prospects (2/3) - Tu Holloway, Maalik Wayns, Rodney Williams, John Shurna-Trending Prospects (2/10) - Terrence Ross, B.J. Young, Darius Miller and Isaiah Canaan-Trending Prospects (2/19) - John Jenkins, Hollis Thompson, Kim English, Elijah Johnson
-Trending Prospects (2/27) - Doron Lamb, C.J. Leslie, Darius Johnson-Odom, Bernard James-Trending Prospects (3/1) - John Henson, Festus Ezeli, Mike Scott, Kevin Murphy
-Trending Prospects (3/9) Dion Waiters, Mason Plumlee, Fab Melo, Marcus Denmon, Alex Young-Trending Prospects (3/14) - Bradley Beal, Tony Wroten, Drew Gordon
Jeff Taylor, 6'7, Small Forward, Senior, Vanderbilt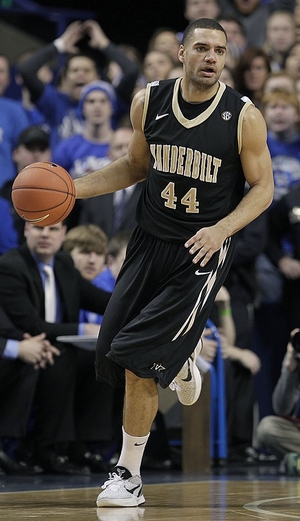 Kyle Nelson
While Jeffery Taylor has seemingly been a prospect since he stepped foot on Vanderbilt's campus as a freshman, the 6'7 swingman struggled throughout his career to prove that he was more than just an elite athlete with a raw skill set. That assessment has certainly changed throughout his senior season, however, as Taylor is playing the best basketball of his career, especially after leading Vanderbilt to its first SEC Tournament championship in over 60 years.
The differences in Taylor's game have been pronounced all season, beginning with his increased role and efficiency. Taylor scored a career high 20.2 points per 40 minutes pace adjusted, while shooting 50% overall from the field.
Most notably, Taylor has turned into an excellent jump shooter, knocking down an outstanding 43.2% of his 5.3 attempts per 40 minutes pace adjusted while ranking as one of the best perimeter shooters amongst small forwards in our database. To put this feat in perspective, he was making 9.1% of 0.5 attempts per 40 minutes pace adjusted just two years ago. His form has improved significantly, far quicker and more fluid than in the past. Furthermore, though he is primarily a spot-up shooter at this stage in his career, his form stays relatively consistent with or without a hand in his face.
In addition to his significant improvement as a shooter, he has made some progress developing his game off of the dribble. The results here have been mixed overall, however, largely consistent with many of our past observations. While Taylor possesses a quick first step and does look more comfortable putting the ball on the floor, his average ball-handling skills limit him primarily to straight line drives at the basket.
His limitations as a shot creator are further magnified by Vanderbilt's lack of shot creators and distributors. More so than most raw 6'7 wings, Taylor is expected to create out of the pick-and-roll and in isolation sets far more than his skill set suggests should be the case, and surely more than he will be asked to the NBA.
Playing with a traditional point guard will allow him to play more to his strengths and his role will likely consist of spotting up around the perimeter, finishing in transition and off of cuts to the basket, and occasionally taking his man off of the dribble. His steady improvement at Vanderbilt has been impressive, however, and by all accounts his work ethic and intangibles are outstanding, so it is not out of the question that he will continue to add elements to his game throughout his career.
NBA scouts will need to evaluate how much his bouts of passivity within games and general inconsistency from week to week will affect him at the next level. While not nearly as pronounced as in the past, Taylor has tends to disappear for long stretches, for example in the SEC Tournament against Ole Miss, where he posted just two points on 1/5 FG despite not being in foul trouble or being particularly well guarded. Taylor's past confidence issues are well documented, so scouts will need to do their due diligence in pre-draft workouts and interviews.
While Taylor's offensive game remains a work in progress, he is still an outstanding defender who should be able to contribute immediately in the NBA on that end of the floor. While his reported 6'6 wingspan is unimpressive to say the least, he has excellent lateral quickness to stay in front of all but the quickest point guards and the strength to guard four positions at the collegiate level. Furthermore, and as we have written before, his fundamentals are superb across the board, giving him the chance to be a real presence on this end of the floor at the next level.
Though he will be 23 years old on draft night, Taylor is one of the few players in this draft who should be ready to contribute immediately. At 6'7 with a solid 226-pound frame, a respectable perimeter jump shot, and lockdown defensive potential; Taylor has solidified his standing as a first round draft pick this season who could rise up draft boards in June if he strings together a solid NCAA Tournament run and strong individual workouts.
Meyers Leonard, 7-0, Center Sophomore, Illinois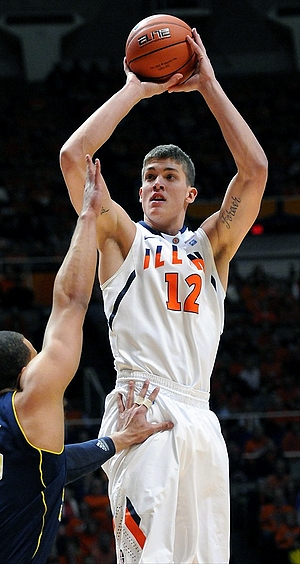 Walker Beeken
Despite an unimpressive freshman season playing very limited minutes,
Meyers Leonard
still entered his sophomore year at Illinois as a potential breakout candidate, thanks to his excellent physical tools and a strong showing over the summer in Latvia at the U-19 World Championships.
While the Illini struggled mightily down the stretch, losing twelve of their final fourteen games and failing to reach the NCAA tournament, Leonard made some very positive strides as a sophomore and established himself as a hot name in NBA draft circles.
As we've mentioned before, Leonard's intrigue starts with his excellent physical profile, as he possesses the ideal traits for a prototypical NBA center. Standing 7-feet tall with a long wingspan and a developing frame that should continue to fill out nicely in time, Leonard moves very fluidly for a player his size, running the floor well and showing solid explosiveness, vertically and laterally.
On the offensive end, over 40% of Leonard's possessions came with his back to the basket, where he showed flashes of potential but also displayed that that he's still a work-in-progress. Not the most naturally self-confident player around, he lacks assertiveness establishing deep position and calling for the ball at times, but adding strength as a sophomore seemed to help, and he looked to be fighting harder and embracing more contact during points in the season, which are positive signs for his development.
Once he catches the ball on the block, Leonard can be a bit mechanical with his moves, and he lacks great footwork, but his size and length enable him to just go over the top of most defenders at the college level. His go-to move at this stage is a jump hook turning to his left shoulder, which he executes well, but he'll need to continue adding polish to his post game to establish himself as more of a scoring threat, specifically developing more comfort with weak hand and adding counter moves.
In today's ball-screen heavy NBA, Leonard should see more time as screener in these sets, where he has the potential to be effective, as his excellent mobility, size, and length make him an ideal target rolling to the basket, where he also has to ability to get up well above the rim to catch and finish lob passes. Illinois' lack of playmaking at the guard positions and generally unimaginative offense hampered his ability to show more in this area this season, but his potential as a finisher in the paint is very evident.
He should also be a threat to pick-and pop as well, thanks to his ability to knock down open mid-range jump shots with his feet set. He only attempted about one jumper per game this season, and he doesn't have the smoothest release, but he should continue to improve with repetition, and the 73% he shot from the free throw line bodes well for him going forward.
As we've mentioned before, Leonard's physical tools make him a rare and very intriguing prospect defensively, especially as his frame continues to fill out. He did a better job denying deep post position this season and generally displayed a good effort level, which combined with his size and length, makes him an effective one-on-one defender on the interior, as players have trouble scoring over the top of him.
His excellent agility for a player his size should also help him defending pick-and-roll sets, giving him the ability to hedge and recover quickly. A big key for him defensively will likely the mental side of things and how well he can focus and bring consistent energy on each possession and pick up on team defensive concepts.
Leonard blocked a solid 2.4 shots per-40 minutes this season, displaying his upside as a rim-protector and help defender at the NBA level. He also improved his rebounding numbers substantially from his freshman season, up to 10.3 per-40, but this is an area where he should be making even more of an impact, as his size and athleticism suggest that he could be much more of a force on the glass.
With the buzz surrounding him as a prospect, the uncertainty regarding the Illini's head coaching position following the recent firing of Bruce Weber, and the health problems
his mother has dealt with
for the last few years, Leonard may decide that this may be a good time for him to enter this summer's NBA draft. While he's still nowhere near a finished product and may have some question marks regarding his consistency, mental toughness and overall approach to the game, 7-footers with his mobility and agility are extremely hard to find and always highly coveted.
While it's still unknown if he'll declare for this summer's draft, at this stage, he's a player that teams may have a wide range of opinions on, especially with the depth of big men likely to be in this draft. Should he enter, his final draft position could very well be determined by how he fares throughout the pre-draft process in workouts, interviews, and background checks, where decision-makers will get to see how he stacks up with some of the draft's other top big man prospects and evaluate his likelihood of reaching his full potential long term.
JaMychal Green, 6'8", Senior, Power Forward, Alabama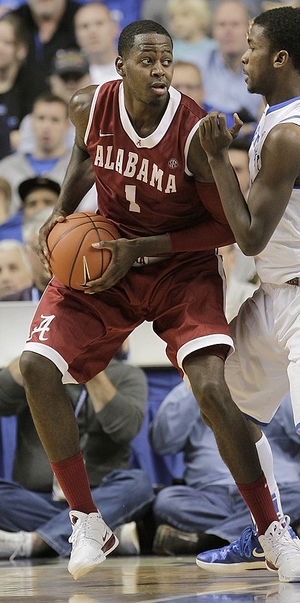 Derek Bodner
Coming off a junior season that showed modest improvement, but still enough holes in his game to question his viability as a prospect, senior big man
JaMychal Green
has struggled to answer questions about his growth on and off the court.
Green has seen his productivity drop his senior year, with his scoring down from 22.6 points per 40 minutes pace adjusted down to 20.2. His rebounding (10.7 rebounds per 40 minutes pace adjusted, from 11.0), steals (1.0, from 2.1) and blocks (2.1, from 3.0) have seen similar drops from his junior season, where he posted his best numbers of his collegiate career in all the aforementioned categories.
More concerning than his drop in productivity has been a failure to drastically change his offensive skill set and overall polish. Green is still largely the same offensive player we've profiled in years past, getting the majority of his points around the basket in the form of cuts to the basket, offensive rebounds, and post-ups.
Green is an effective, albeit limited, post scorer at the collegiate level. He does a good job of asserting himself in the post, fighting for position early in the shot clock despite not being the strongest in terms of lower body strength. He has a high release point on his hook shot that he's able to get off over taller defenders and has solid touch with his right hand. He hasn't yet developed much in the way of advanced counter moves, and he hasn't yet developed a reliable move over his right shoulder, both problems that have plagued him throughout his time at Alabama and could make him predictable at the next level.
Green has some positive traits that make him an effective off the ball player. He has good hands, solid length and can get off the ground quickly. He also has solid body control and feel around the rim, although he can sometimes struggle to finish with his off hand. He also does a good job finishing off the offensive glass. His overall offensive rebounds have dropped, from 4.5 offensive rebounds per 40 minutes pace adjusted to 3.6, but he does a good job converting these when he gets a chance, often times gaining control of the ball and going up for either an emphatic dunk or tip before coming down with the ball.
As a jump shooter is where Green has taken the biggest step back. After shooting 55% on unguarded catch and shoot jump shots last year that number has come back down to 39.1% this year. That being said, despite the drop in efficiency his overall form does not appear any worse off, in fact his consistency with his balance and timing of his release appear to be slightly improved, if anything. Considering the overall low sample sizes of unguarded catch and shoot jumpers between last year and this year, how reliable of a skill set this is for him going forward is a key in determining his draft day stock.
Green looks uncomfortable creating off the dribble, not showing the ability to do much more than dribble in a straight line. He appears to be working on a spin moves that he tries with occasion, although he is still largely unsuccessful in creating space with this maneuver, as it's slow, deliberate and somewhat predictable.
Green does show some promise as a passer, both with his back to the basket and facing up from the high post. How much this will translate to the next level when he becomes much less of a focal point offensively is unsure, but he displays solid court vision and a willingness to swing the ball to the open teammate.
Defensively, Green is somewhat of a mixed bag. At the collegiate level he has turned himself into a good defender, being a key member on one of the better defenses in the country. He does a good job using his length when defending the post and rotates well to provide weakside help defense.
That being said, he has some physical limitations that make it difficult to project him as a plus defender at the next level. He lacks some lower body strength, which could present some difficulties when defending the post against bigger competition. He also doesn't move all that well laterally, something that will be tougher to cover-up in the pick and roll heavy NBA landscape as he can struggle both in hedging the screens on pick and rolls and in rotating back.
Perhaps the most concerning part of his senior season was his four game suspension in February for conduct detrimental to the team. The suspension came days after Crimson coach Anthony Grant suspended second leading scorer
Tony Mitchell
for the remainder of the season. Neither Green nor Grant would expand on exactly what transpired, but this was the third suspension during his time at Alabama and could represent a significant concern for decision makers going forward.
Having shown consistent incremental improvements during his first three years at Alabama,
JaMychal Green
's senior season was a step backwards in every regard. With an expected change of role at the next level, Green needed to come out and prove his improvement as a jump shooter was something he could carry over and that he could do the little things on the court to contribute. Instead, his combination of struggles on and off the court further clouds his status as a prospect.
At this stage, barring a miraculous NCAA tournament run, Green would likely be best off trying to get back in the good graces of NBA decision makers by going out and having an outstanding showing on and off the court at the Portsmouth Invitational Tournament. Strong, transparent interviews with teams about his repeated suspensions could help quite a bit as well. Some NBA teams may have already written Green off as they aren't looking to add distractions to their team from a player already considered just a marginal prospect, which will make the way he handles himself from now until June that much more important.