JaMychal Green
Recent Tweets
All Tweets
DraftExpress: Undrafted: Kevin Jones, Drew Gordon, JaMychal Green, J'Covan Brown, Tu Holloway, William Buford, Nihad Djedovic, Casper Ware, Henry Sims
2012-06-28 11:03:29
DraftExpress: Top-5 talents available: Kevin Jones, Drew Gordon, Jamychal Green, J'Covan Brown, Tu Holloway. Alas, only one (at most) will get picked.
2012-06-28 10:58:03
DraftExpress: DX All-Portsmouth Invitational Tournament Team: Kevin Murphy, Kyle O'Quinn, JaMychal Green, Henry Sims and Kim English http://t.co/L5IzcXhD
2012-04-16 02:02:14
DraftExpress: JaMychal Green having a strong PIT debut. Finding ways to use his athleticism to make plays around the basket, showing a mid-range jumper.
2012-04-12 10:13:30
DraftExpress: Doug McDermott/Creighton vs JaMychal Green/Alabama another good one. If McDermott can get his vs an elite defense, it helps his cause a ton.
2012-03-11 07:27:38
Top 25s - Full List
Team: Grizzlies
Physicals
Positions
Rankings
Salary
Misc
H: 6' 9"
W: 217 lbs
Bday: 06/21/1990
(25 Years Old)

Current: PF/C
NBA: PF
Possible: PF

RSCI: 18

Agent: Michael Hodges

High School: St. Jude
Hometown: Montgomery, AL
Best Case: Brandon Bass
Worst Case: Brent Wright

Predraft Measurements
| Year | Source | Height w/o Shoes | Height w/shoes | Weight | Wingspan | Standing Reach | Body Fat | No Step Vert | Max Vert |
| --- | --- | --- | --- | --- | --- | --- | --- | --- | --- |
| 2012 | NBA Draft Combine | 6' 8" | 6' 9" | 217 | 7' 2.25" | 8' 10.5" | 9.8 | 29.5 | 32.5 |
| 2012 | Portsmouth | 6' 7.5" | NA | 217 | 7' 2.5" | NA | NA | 30.8 | NA |
| 2010 | LeBron James Camp | NA | 6' 9" | 220 | 7' 1" | NA | NA | NA | NA |
| 2010 | Amare Stoudemire Camp | NA | 6' 9" | 220 | 7' 1" | NA | NA | NA | NA |



Basic Per Game Statistics

- Comprehensive Stats - Statistical Top 25s
| Year | League | Name | GP | Min | Pts | FG | FGA | FG% | 2Pt | 2PtA | 2P% | 3Pt | 3PtA | 3P% | FTM | FTA | FT% | Off | Def | TOT | Asts | Stls | Blks | TOs | PFs |
| --- | --- | --- | --- | --- | --- | --- | --- | --- | --- | --- | --- | --- | --- | --- | --- | --- | --- | --- | --- | --- | --- | --- | --- | --- | --- |
| 2015/16 | NBA | JaMychal Green | 18 | 18.4 | 6.8 | 2.5 | 5.4 | 46.4 | 2.2 | 4.8 | 45.3 | 0.3 | 0.6 | 54.5 | 1.4 | 1.7 | 83.9 | 1.4 | 3.5 | 4.9 | 0.6 | 0.6 | 0.4 | 1.4 | 2.8 |

Player Page&nbsp&nbsp| Player Stats | Mock Draft History | Related Articles&nbsp&nbsp| Add to My Draft Express&nbsp
&nbsp
DX All-Portsmouth Invitational Tournament Team
April 16, 2012
The PIT's second leading scorer, despite shooting 64% from the field, JaMychal Green had a terrific showing in a number of facets of the game as he led his team to a third place finish. Making his presence felt as a finisher around the basket, Green dunked anything and everything at the rim, showcasing his terrific mobility and explosiveness while posting 29 points in 29 minutes in his team's first game.

Always lauded for his athleticism, Green showed good intensity crashing the glass –a promising sign considering the questions some scouts have about his average rebounding production this season. In his team's final game, Green knocked down no less than 3 catch and shoot jumpers in the pick-and-pop game, showing the ability to step away from the rim and score, adding another unique wrinkle to what he showed this week. Green was one of the most effective players at this year's PIT, and certainly kept the attention of the talent evaluators in attendance. Scouts will do their due diligence in researching Green's in-season suspension, but his play here was definitely a bright spot among big men, and very well could be exactly what he needed to get himself back into the good graces of the NBA.

[Read Full Article]

---
2012 Portsmouth Invitational Tournament Measurements Released
April 13, 2012
JaMychal Green will need to add some bulk to his lanky 217 pound frame, but his 7-2 ½ wingspan is pretty solid considering he's 6-7 ½ without shoes.

[Read Full Article]

---
Trending Prospects (3/15/2012)
March 15, 2012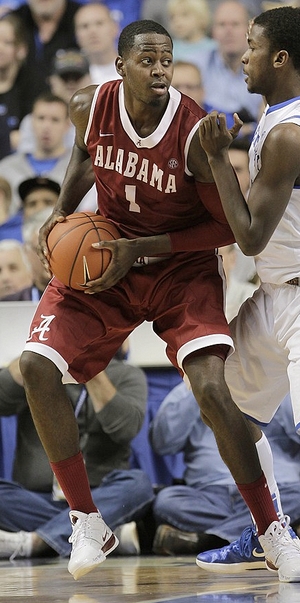 Icon SMI



Derek Bodner

Coming off a junior season that showed modest improvement, but still enough holes in his game to question his viability as a prospect, senior big man JaMychal Green has struggled to answer questions about his growth on and off the court.

Green has seen his productivity drop his senior year, with his scoring down from 22.6 points per 40 minutes pace adjusted down to 20.2. His rebounding (10.7 rebounds per 40 minutes pace adjusted, from 11.0), steals (1.0, from 2.1) and blocks (2.1, from 3.0) have seen similar drops from his junior season, where he posted his best numbers of his collegiate career in all the aforementioned categories.

More concerning than his drop in productivity has been a failure to drastically change his offensive skill set and overall polish. Green is still largely the same offensive player we've profiled in years past, getting the majority of his points around the basket in the form of cuts to the basket, offensive rebounds, and post-ups.

Green is an effective, albeit limited, post scorer at the collegiate level. He does a good job of asserting himself in the post, fighting for position early in the shot clock despite not being the strongest in terms of lower body strength. He has a high release point on his hook shot that he's able to get off over taller defenders and has solid touch with his right hand. He hasn't yet developed much in the way of advanced counter moves, and he hasn't yet developed a reliable move over his right shoulder, both problems that have plagued him throughout his time at Alabama and could make him predictable at the next level.

Green has some positive traits that make him an effective off the ball player. He has good hands, solid length and can get off the ground quickly. He also has solid body control and feel around the rim, although he can sometimes struggle to finish with his off hand. He also does a good job finishing off the offensive glass. His overall offensive rebounds have dropped, from 4.5 offensive rebounds per 40 minutes pace adjusted to 3.6, but he does a good job converting these when he gets a chance, often times gaining control of the ball and going up for either an emphatic dunk or tip before coming down with the ball.

As a jump shooter is where Green has taken the biggest step back. After shooting 55% on unguarded catch and shoot jump shots last year that number has come back down to 39.1% this year. That being said, despite the drop in efficiency his overall form does not appear any worse off, in fact his consistency with his balance and timing of his release appear to be slightly improved, if anything. Considering the overall low sample sizes of unguarded catch and shoot jumpers between last year and this year, how reliable of a skill set this is for him going forward is a key in determining his draft day stock.

Green looks uncomfortable creating off the dribble, not showing the ability to do much more than dribble in a straight line. He appears to be working on a spin moves that he tries with occasion, although he is still largely unsuccessful in creating space with this maneuver, as it's slow, deliberate and somewhat predictable.

Green does show some promise as a passer, both with his back to the basket and facing up from the high post. How much this will translate to the next level when he becomes much less of a focal point offensively is unsure, but he displays solid court vision and a willingness to swing the ball to the open teammate.

Defensively, Green is somewhat of a mixed bag. At the collegiate level he has turned himself into a good defender, being a key member on one of the better defenses in the country. He does a good job using his length when defending the post and rotates well to provide weakside help defense.

That being said, he has some physical limitations that make it difficult to project him as a plus defender at the next level. He lacks some lower body strength, which could present some difficulties when defending the post against bigger competition. He also doesn't move all that well laterally, something that will be tougher to cover-up in the pick and roll heavy NBA landscape as he can struggle both in hedging the screens on pick and rolls and in rotating back.

Perhaps the most concerning part of his senior season was his four game suspension in February for conduct detrimental to the team. The suspension came days after Crimson coach Anthony Grant suspended second leading scorer Tony Mitchell for the remainder of the season. Neither Green nor Grant would expand on exactly what transpired, but this was the third suspension during his time at Alabama and could represent a significant concern for decision makers going forward.

Having shown consistent incremental improvements during his first three years at Alabama, JaMychal Green's senior season was a step backwards in every regard. With an expected change of role at the next level, Green needed to come out and prove his improvement as a jump shooter was something he could carry over and that he could do the little things on the court to contribute. Instead, his combination of struggles on and off the court further clouds his status as a prospect.

At this stage, barring a miraculous NCAA tournament run, Green would likely be best off trying to get back in the good graces of NBA decision makers by going out and having an outstanding showing on and off the court at the Portsmouth Invitational Tournament. Strong, transparent interviews with teams about his repeated suspensions could help quite a bit as well. Some NBA teams may have already written Green off as they aren't looking to add distractions to their team from a player already considered just a marginal prospect, which will make the way he handles himself from now until June that much more important.

[Read Full Article]

---
Trending Prospects (3/3/2011)
March 3, 2011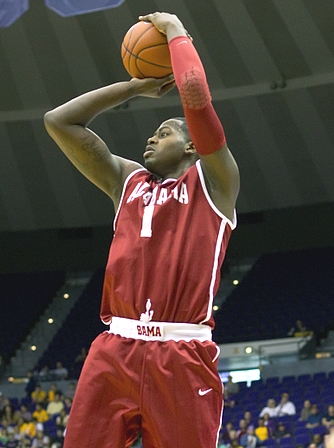 Icon SMI



Joseph Treutlein

Steadily improving his production his three seasons in college, JaMychal Green has established himself as a very good college player, now the leading scorer on the best team in the SEC West. Scoring in double figures in all but one of his games played this season, Green has been very consistent in what he does well, but will it be enough for the NBA level?

Profiling his offensive game, Green is still mostly the same player we've analyzed the past two years, a gritty inside player skill set that is still coming along in polish. Standing 6'8 with a good but not great athletic profile, Green does most of his damage within five feet of the basket, where he fights consistently for inside position and has no problem throwing his body around and finishing through contact.

Looking at his post-up game, Green is extremely reliant on a right-handed hook shot, a shot he has a high release point on due to his excellent length and can finish somewhat reliably out to 8-10 feet. His touch is pretty good overall, but he struggles with accuracy when rushed, and isn't the most instinctive player, lacking much in the line of counter moves.

Finishing off the ball, Green does an excellent job at the college level, excelling greatly when left open or when matched against smaller frontlines, having no problem elevating and finishing with power when he has the time to gain his momentum. Things get a little more complicated when he is in tight spaces and/or up against NBA caliber athletes, however, as his lower body strength is still underdeveloped and he needs time to gather himself to fully explode. This could be very problematic for his skill set projecting to the next level, and maximizing his physical tools needs to be of the utmost priority.

The biggest thing Green lacks at the moment is a reliable perimeter game, somewhat strange given his solid free-throw shooting, as he's hitting for 73% from the line on a very solid 6.0 attempts per game. Green actually looks very comfortable when he has the time to get off his shot, but struggles heavily when contested, where his mechanics break down and he gets very sloppy with his release. According to Synergy, Green is hitting for just 0.42 points per shot on guarded jumpers compared to 1.00 points per shot on unguarded jumpers, which clearly illustrates the problem. Working with a shooting coach to develop a higher comfort level in those guarded situations will be critical for Green, and it's something well within his capabilities to do.

On the defensive end, Green is somewhat of a mixed bag, on one hand being a very good college defender overall, but showing some warning signs when projecting to the next level. In the post, Green does an excellent job using his length to contest shots, showing great timing blocking shots in both man and help side situations. Green is prone to being beat in a variety of ways, however, being backed down by stronger opponents and beaten laterally by quicker opponents, making it very questionable how he'll be able to match up against NBA power forwards. His length and activity level are definitely in his favor on this end, though, as evidenced by the numbers of blocks and steals he grabs per game.

For a player with Green's physical profile and somewhat limited offensive skill set, his just average performance on the glass is also concerning, with him pulling in a respectable but not exceptional 10.7 rebounds per 40 minutes pace adjusted.

To succeed at the next level, Green will likely need to shore up his abilities on defense, the glass, and with his mid-range jumper, three things often relied upon by role playing bigs. As a good but not great athlete standing 6'8 without an outstanding offensive skill set to rely on, Green will likely need to make his living doing all the little things, which he already does adequately well but will need to do better. Just a 20-year-old junior who's subtly improved in his three seasons, he still has time to grow as a player and will have plenty of chances to show his merits.

[Read Full Article]

---
Top NBA Draft Prospects in the SEC, Part One (#1-5)
September 27, 2010
Matt Kamalsky

When we checked in on JaMychal Green at the beginning of last season we noted that his sophomore campaign would be integral to his draft hopes. While Green put up better numbers in his second year in Tuscaloosa, he wasn't as efficient around the rim, saw his per-40 statistics remain largely static, was suspended briefly for academic reason, and didn't show the progress that would have made his decision to return to school at all shocking. With Mikhail Torrance graduating, Green will inevitably have another statistically productive season, but will still have a lot to prove as Alabama continues their struggle to solidify a spot in the top-half of the SEC.

The development of Green's skill-set this season is critical to his draft stock since he has a good, but not great physical profile from a NBA perspective. He's quick off his feet, which coupled with his very good wingspan, made him an elite high school player and has allowed him to produce at a solid level around the rim and as a shot blocker on the college level.

Green doesn't have great height or overall strength, but he does have a knack for making plays through contact. That lack of strength is most apparent when he looks to elevate in a crowd, as he simply doesn't get off his feet well when he doesn't have space to gather himself, even if he's still able to establish position on the block fairly well and fight the ball up onto the rim. Green would be well served to continue working on his physical tools, as he could still add quite a bit of muscle to his frame, but even if he is able to add some strength, his short-term success will be tied to his polish on the offensive end.

Unlike Green's freshman season when he benefitted from Alonzo Gee's ability to draw the attention of weakside defenders and Ron Steele's knack for hitting the open man, he and Torrance were the focal points of Alabama's offense last year. Though Torrance had an excellent year distributing the ball, the added defensive attention Green was given limited his success around the basket. According to Synergy Sports Technology, he shot just 46.5% at the rim as a sophomore, a considerable drop from the 65.1% mark he posted in finishing situations as a freshman.

Around the basket, Green displays solid touch, but he's prone to having his shot blocked by less athletic defenders since he operates at a methodical pace. Seldom appearing explosive when beating his man to the rim or pulling down an offensive rebound, Green does a nice job getting himself involved offensively by following plays to the rim where his big wingspan and quick leaping ability make him a solid offensive rebounder, even if he struggled to replicate his success as a freshman in his second year with the Crimson Tide.

Though Green struggled at times around the basket, he actually fared pretty well in post-up situations, which accounted for about a third of his total offense. The awkward looking jump hook we identified in our last report has become his de-facto go-to-move, making up in substance what it lacks in style. Green's post repertoire isn't pretty, and he still has a tendency to try to fight his way through crowds and seldom exploits opportunities to catch and finish, but it got the job done last season to the tune of a very respectable 47% mark from the block. He lacks natural rhythm, doesn't look comfortable when putting the ball on the floor, and often seems indecisive on the block, but on the possessions where he put things together, the results were usually positive. Whether he'll be able to translate that success to the NBA level with his current lack of strength is a major question mark, though.

While Green is able to make things work in the post, he struggles mightily when he steps away from the rim. Knocking down just 26.1% of the jump shots he attempted last season, Green showed that the solid shooting numbers he posted as a freshman were an aberration. Much like his post moves, Green's jumper lacks rhythm, which became apparent this season as he seemed to shoot the ball on the way down as often as he shot it at the apex of his jump. Green would be well served to shore up his scoring ability from 15-feet, as a reliable catch and shoot jumper would be very beneficial for his draft stock.

On the defensive end, Green's physical tools prove very useful on the college level. Despite showing a lack of discipline when his man uses a fake, Green's long arms and innate timing allow him to be an effective shot-blocker and afford him some success on the glass. He does a great job fighting for position on the block, even if he's not the strongest player and is prone to reaching in on the catch. His tendency to commit some bad fouls keeps him off the floor at times and he doesn't have tremendous lateral speed, but for the most part, his issues defensively are correctable.

While Green didn't take the big step forward as a sophomore that his freshman season seemed to indicate he would, he still has two years to continue growing as a player and a prospect. As it stands, the developments that will afford him more success in the NCAA are the same that would make him a better NBA prospect. As we've seen time and time again, it takes some players more time to blossom than others, and Green has the tools to become a legitimate NBA prospect and carry Alabama to additional wins if he puts everything together, which makes him a player we'll be keeping an eye on moving forward.

[Read Full Article]

---
Top NBA Draft Prospects in the SEC (Part One: #1-5)
September 18, 2009
Kyle Nelson

Though Alabama went through a difficult transition last year and experienced a painful rebuilding season, JaMychal Green's performance is reason enough to think that next season will be better. The freshman big man showed a versatile skill set, with plenty of potential to improve in the future. Next season is integral to Green's draft hopes, as he must show scouts that he is more consistent on both ends of the floor, and able to lead a young Alabama team back to respectability.

Standing somewhere between 6'8 and 6'9, Green has decent, though certainly not ideal, size for an NBA power forward. He could stand to slim down and continue to get stronger, but he has a very solid frame, which, along with his athleticism, gives him a huge advantage at the collegiate level while not being quite as skilled as some of his peers. He plays above the rim at the collegiate level and has nice quickness in the post as well as in the open floor.

Green is still quite raw on the offensive end, though he shows the potential to develop into an effective post scorer. For one, he has a very soft touch around the basket, which oftentimes goes unnoticed because of his poor footwork and ball handling abilities. He does not really have a go-to move in the post. When he catches the ball on the block, he usually resorts to an awkward looking jump hook. It seems as though post-scoring instincts are just not there yet, as he often looks somewhat confused about what to do next when he catches the ball in the post. Similarly, he has to learn how to catch the ball and go straight up to the basket, instead of bringing the ball down first, which allows defenses to get set around him.

Another problem is that he does not look for his teammates on the perimeter and sometimes tries to get through two and three defenders, which oftentimes results in a turnover, a foul, or both. He commited nearly three turnovers for every assist he garnered last year, which is not a good rate at all. Confidence is the key for Green, but so too is becoming more assertive and aggressive in the paint while making and committing to good decisions with the ball in his hands. Improving in this area is essential if he wants to not only emerge as a dominant scorer in the SEC, but also find a niche in the NBA.

Green does two things very well on offense, however. He was a surprisingly adept spot-up shooter, with range extending to just inside of the collegiate three-point line. While his shooting motion is a bit compressed and still very deliberate, he shoots with a very high arc and an extremely soft touch. According to Synergy Sports Technology's quantified report, Green made 72% of his uncontested spot-up jump shots, an outstanding percentage for a big man, even if clearly the sample size leaves something to be desired. When contested, however, his percentages fell to 28%, which makes sense considering how much his form deteriorated with a hand in his face. While he does not have much of a mid-range game to speak of, Green did show some flashes of developing a passable face-up game, occasionally utilizing a pump fake on the perimeter and taking his man off of the dribble to the basket. His poor ball handling ability, however, stunts him tremendously in this area. Consistency is the key, and scouts will be watching to see if Green can incorporate these flashes into his offensive repertoire.

Green also attacks the offensive boards very well. He finished last season as the fifth best offensive rebounder per 40 minutes pace adjusted of all collegiate prospects in our database, averaging 5.2 offensive rebounds per game. After grabbing the rebound, Green usually found a way to put the ball into the basket, either in the form of an emphatic dunk or a layup. He has great hands, which combined with his athleticism, wingspan, and strength, really help him on the boards. He is a very good positional rebounder at this stage, but if he boxed his man out more often, he could develop into an even better rebounding presence at the collegiate level.

On the defensive end, Green shows a lot of potential to develop into a solid presence in the near future. While his ability to move his feet on the perimeter leaves much to be desired, he moves very quickly in the post and does a good job of staying with his man and on the ball in one-on-one situations. He has good timing in the post, as well, which allows him to be a good shot blocker at the collegiate level, though he finds himself out of position sometimes as a result. Maintaining his focus next year is essential and he must prove to scouts that he can defend at the next level.

JaMychal Green has the opportunity to develop into a legitimate NBA prospect next season if he can improve considerably upon his freshman campaign. His combination of athleticism, rebounding ability, and shooting touch are all skills that are coveted at the next level. The problem (for now) is that he has not put it all together yet and is nowhere close to being as consistent as he must be if he wants to play at the next level. Alabama enters next season firmly planted under the radar with a new coach and a young roster. He looks to be a couple years away from the NBA, but if Green can emerge as a legitimate star in the SEC, then scouts will surely take better notice.

[Read Full Article]

---
Top Prospects at the Amare Stoudemire Invitational Classic (Part II)
January 7, 2008
Future Alabama commit and potential McDonald's All-American JaMychal Green (#17 Scout.com, #25 Rivals) would have had a legit case to be considered the MVP of this tournament, had his team only managed to win more games. Regardless, he looked extremely impressive, as he's a true man amongst boys at the high school level.

Standing somewhere around 6-8, with an SEC-ready frame starting from the first day he'll step on foot in Tuscaloosa, JaMychal Green is nothing short a physical specimen. He's a good athlete who is very explosive around the rim and finishes superbly through contact, often with a powerful dunk. He's got good hands and is tough as nails, bodying players up and doing a pretty solid job establishing position in the post--making him an outstanding target to lob the ball to inside. His feel for the game is somewhat average at this point, but he can regardless find the open man out of the post, showing an outstanding demeanor for a player his age and never getting rattled even when opposing players try to get in his face and instigate. Green was a man on the offensive glass, ripping rebounds away on a consistent basis and coming up with a number of huge put-back dunks. His length, timing and strength also made him a solid shot-blocking threat here, although he seemed to try a lot harder on the offensive end than he did on defense, failing to get back on a couple of possessions.

Although he's known mostly as an old school back to the basket pivot, Green surprised at times by stepping outside and knocking down a couple of 3-pointers. This might not be a super consistent weapon for him at this point, but it sure looked intriguing. Regardless, his overall skill-level is nothing to write home about at this point. His ball-handling is poor, and his footwork in the post could clearly use work. He doesn't seem to have a real go-to move, and proved to be effectively neutralized with a solid zone defense.

Green looks like a perfect understudy to bring in next to Richard Hendrix, provided the super-productive big man will decide to stick around for a year longer. If he doesn't, Alabama will need Green to play similarly to the way he did here in Florida—that is in dominant fashion. He still has a lot of work to do on his all-around game as most teenagers do, but the early signs look very promising from what we could tell, and he seems to be a great fit for the style of play we find in the SEC.

[Read Full Article]

---