Cory Jefferson barely contributed in his first three years at Baylor, but has been one of the most productive players in the Big 12 this season. What kind of NBA prospect is he?
-Trending Prospects: Anthony Marshall
-Trending Prospects: Carrick Felix
-Trending Prospects: Solomon Hill
-Trending Prospects: Spencer Dinwiddie, Seth Curry, Rodney Williams
-Trending Prospects: Kelly Olynyk, Laurence Bowers, Elias Harris, Juvonte Reddic
Cory Jefferson, 6'9", Junior, PF/C, Baylor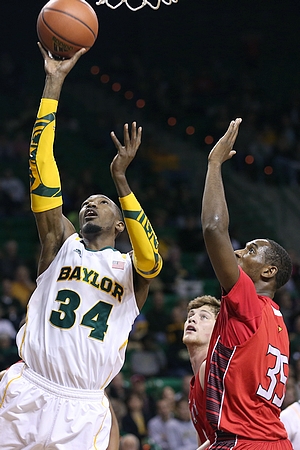 Derek Bodner
With the loss of
Perry Jones
,
Quincy Acy
and
Quincy Miller
,
Cory Jefferson
, who had been a bit player during his first two-plus seasons at Baylor, had a big opportunity to finally step into a prominent role. More of an athlete than a basketball player until this year, Jefferson's sizable increase in both minutes and role has to this point been a nice surprise, albeit one met with guarded optimism. His scoring average has increased from 13.3 points per 40 minutes pace adjusted to 17.2, and he has been doing so at an efficient 63% true shooting percentage.
The majority of the intrigue around the 6'9" Jefferson remains his physical profile, as he's an excellent athlete with a very long wingspan. While his frame could still stand to add a fair amount of strength, he has reportedly bulked up to 215 pounds, a sizable increase from the reported 170 pounds he weighed in at as a freshman at Baylor. Continuing to show that he can add weight to his somewhat narrow frame will be important for him considering he's already 22-years old, despite being a junior.
Jefferson uses his athleticism on the offensive end mainly by contributing off the ball, with nearly 60% of his offense coming off cuts to the basket, offensive rebounds, and in transition, according to Synergy Sports Technology. Jefferson has excellent open court speed, able to beat his man down the floor with regularity. He also does a good job moving without the ball when his man goes to provide weakside help defense, which, when combined with his explosiveness, makes him a regular threat to finish plays emphatically around the rim. He's converting an excellent 61% of his 2-point attempts on the season, which ranks him
amongst the most efficient prospects
in our top-100 rankings.
Another area of Jefferson's game that is impressive is his ability to grab an offensive rebound and maintain control without bringing the ball down to his body. While not an overly dominant offensive rebounder – or rebounder overall, for that matter – Jefferson converts these looks at a good clip thanks to the aforementioned ability to keep the ball high and a quick second jump.
Jefferson has also tried to expand his post game, although with mixed returns. Nearly 24% of his offense has come in these sets, and overall he has converted at a solid rate against collegiate big men. That being said, his limited repertoire of moves and polish in this facet of the game still leaves quite a bit to be desired. He is beginning to show some comfort with a turnaround jump shot over his left shoulder and a little bit of a hook over his right, but he has virtually nothing in the way of counter moves and is extremely limited with his left hand. He's overall fairly methodical in the post and doesn't appear all that natural in this regard, and how much of it will translate to the next level is very much in question considering his narrow frame and average skill-level.
Away from the basket, Jefferson doesn't show much comfort. In the pick and roll game Jefferson is limited to hard dives to the basket, which if he meets a defender and is forced to put the ball on the floor or stop short of the paint he is largely stifled, as handling the ball beyond one or two power dribbles in the post is something Jefferson doesn't appear comfortable with yet.
Jefferson has also accumulated a grand total of 5 assists in 539 minutes so far this season, generating an assist on just 3% of his possessions. To his credit, he also doesn't turn the ball over very much, just 14 times all year.
His jumper is neither fluid nor consistent at this stage, although he has shown some limited ability to hit a mid-range shot from 15 feet and in. His bump in free throw percentage to 76% this season is very notable, particularly since he has already attempted more free throws this year (71) than his previous two seasons combined (58). It will be interesting if he can continue to translate this part of his game to finding a consistent mid-range jumper, something that would likely be beneficial to him long-term playing the power forward position full time.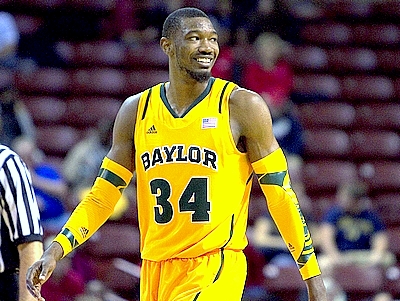 Jefferson is somewhat of a mixed bag defensively as well, although his potential on this end of the court is undeniable. With an increase in minutes, his blocked shots have fallen off from the incredible 4.6 blocks per 40 minutes pace adjusted to a more modest 2.9, but his combination of length, explosiveness, and timing still make him an overall formidable weakside help defender, and he impacts quite a bit of attempts in the lane. He has also done a much better job of limiting his foul trouble this year, dropping from 5.0 fouls per 40 minutes pace adjusted to 3.0, doing a better job of staying on the ground and not biting on pump fakes.
While Jefferson has slowly but consistently added muscle to his wiry frame, his lower body strength still gives him some difficulties defending the post. He does a fair job of denying position early, and his length helps him mostly overcome his lack of strength, but he can at times give up ground to skilled low post players, something that could become a more pronounced issue at the next level.
On the perimeter, Jefferson can struggle moving his feet laterally for somebody who is otherwise a stellar athlete, and as a result he tends to give a substantial amount of room to ball handlers on pick and rolls.
On the glass, Jefferson is solid, but not incredible, grabbing 7.3 defensive rebounds per-40, which ranks just around average for his position
amongst top-100 prospects
. Jefferson doesn't do a particularly good job of boxing out, instead relying on his length and athleticism to track down balls. He also doesn't appear to be all that instinctive of a rebounder. With added bulk and better focus, it's possible that Jefferson could still improve in this area, something he'd likely need to considering his limitations offensively.
Cory Jefferson
's overall level of production in his first season of regular playing time certainly presents some intrigue for a player with his physical attributes. However, for a player who redshirted after his freshman season and will already be 22 years old at draft time should he elect to declare this spring, the overall lack of polish and the fact that he's somewhat stuck between the 4 and the 5 positions presents some questions when projecting him to the next level.
With that said, players with his combination of size, length and athleticism are not that easy to come by, so it's certainly not difficult to see him ending up on a NBA roster. Whether he's able to stick long-term will likely depend on his ability to continue to add weight to his frame and polish up his skill-set offensively, as well as showing he's willing to do what it takes to maximize himself as a rebounder and defender.