Updated scouting reports on
Spencer Dinwiddie
,
Seth Curry
and
Rodney Williams
.
Spencer Dinwiddie, 6-6, PG/SG, Sophomore, Colorado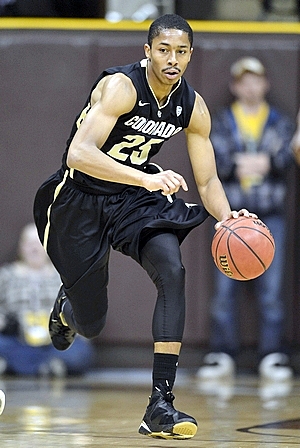 Joe Treutlein
After a promising freshman season where he made solid contributions for Pac 12 tournament champions Colorado,
Spencer Dinwiddie
has taken his game to the next level as a sophomore, increasing his scoring and assists considerably without a great increase in minutes, while also seeing his field-goal percentage rise.
Standing 6-6 with decent length and a below average frame and build, Dinwiddie is a good athlete overall, possessing a fast first step and very good quickness. He isn't the most explosive vertical athlete, however, being a decidedly below-the-rim player in the half court.
On the offensive end, Dinwiddie is capable of scoring the ball from all over the floor, and he creates most of his attempts on his own out of pick-and-roll or isolation situations. Possessing very good ball-handling skills with both hands, good control, and a solid arsenal of crafty moves along with the wherewithal to use them, Dinwiddie often has no problem breaking his man down off the dribble to get where he wants to go.
Dinwiddie's weapon of choice is most often a pull-up jumper, as he relies heavily on his shot-making ability from the perimeter to contribute offensively. He possesses very strong mechanics with a high and quick release, and is especially impressive with his ability to hit shots on the move, doing a good job stepping into his shots and maintaining balance. Dinwiddie is equally dangerous spotting up for threes, showing range to the NBA three-point line, though he tends to settle for excessively long three-pointers too often and his mechanics are prone to breaking down when he's closely contested on spot-ups.
The mid-range is where Dinwiddie appears most comfortable, as he uses a variety of pull-up jumpers, floaters, and runners to get the job done, all of which he shows little struggles getting separation for. He actually may rely on these skills a bit too much, as he doesn't frequently take the ball all the way to the basket, and isn't a great finisher when he does, especially when dealing with weak side help or having to score through contact.
Dinwiddie only converted 38% of his 2-point attempts as a freshman in large part due to his struggles around the basket, and while he started off the season looking much improved in that area, he's fallen off a bit in conference action.
To his credit, he does do an excellent job or drawing contact and getting to the free-throw line when he does take the ball to the basket, and also draws a good number of fouls on the perimeter by getting defenders to bite on his shot attempts, but still could stand to become a better finisher at the rim to round out his scoring game, as its unlikely that he'll be able to draw fouls at quite the same rate in the pros.
Dinwiddie serves as one of the primary ball-handlers in Colorado's attack, often splitting the duties with teammate Askia Booker. Dinwiddie is usually the one to bring the ball up the floor and does a good share of initiating the team's offense, but doesn't serve the role of traditional point guard, not often creating for others. He shows good vision and passing ability in transition, operating pick-and-rolls, and making post-entry passes, but doesn't appear to be a true point guard by any stretch, mostly using his ball-handling responsibilities to create his own offense.
On the negative side, Dinwiddie shows some problems with turning the ball over, which is somewhat expected given how often he creates his own shot, though he also can struggle with inconsistency, having already three games this year with five or less points.
On the defensive end, Dinwiddie shows solid fundamentals and effort level, along with enough lateral quickness to stay in front of pretty much everyone he's matched up against, but can be prone to just go through the motions at times, not always closing out and contesting as hard as he could.
Looking forward, Dinwiddie is still only 19 years old and coming into his own on a well-balanced team, though he shows a nice foundation of skills already, along with good physical tools for a shooting guard or combo guard. Filling out his frame and maximizing his strength could help him on both ends of the floor, while becoming a better finisher at the basket and a higher level defender should be his priorities from a skills perspective. It's still early to make any concrete projections down the road, especially given how much he's improved in the past year, but Dinwiddie is certainly someone to keep an eye on.
Seth Curry, 6'2, Guard, Duke, Senior
Kyle Nelson
Seth Curry
has been on NBA scouts' radars since his outstanding freshman season at Liberty. Since transferring to Duke, scouts have had the opportunity to see Curry play in a variety of roles – on and off of the ball—with mixed results.
Finally able to play his natural position at shooting guard, Curry has emerged as a deadly perimeter scorer for the Blue Devils during his senior season, averaging 16 points per game in a role that will only expand following
Ryan Kelly
's foot injury. While he's undoubtedly an outstanding college player, the jury is still out on just how good of a NBA prospect he is at this stage.
He certainly does not look the part, standing only 6'2 with a decent 185-pound frame, well undersized for an NBA shooting guard and without much in the way of length to compensate. He is not particularly quick or explosive either, as he possesses a below average athletic profile even at this level. That being said, he does maximize his ability due to his instincts, skill-level, and savvy, which allow him to overcome many of his physical deficiencies at this level.
On the offensive end, it is easy to see how much Curry's role has changed from his junior to senior season. After being utilized as more of a
Jon Scheyer
type lead ball-handler and facilitator earlier on in his junior year, he's now no longer asked to bring the ball up the floor and initiate Duke's offense thanks to the emergence of
Quinn Cook
. In the half-court, he finds most of his offensive touches in isolation sets and as the ball handler out of the pick-and-roll.
He still sees nearly a quarter of his possessions in spot-up settings, but he has found his shooting stroke once again, after falling off in that area last year. According to Synergy Sports Tech, 72.2% of his half-court shots are jumpers (as opposed to 90% during his junior season), with 10% coming off of runners with 18% around the basket.
Curry is making 41.3% of his three point attempts and ranks once again as one of the best shooters in our database. Though his shooting motion is slightly unorthodox – as he gets a lot of elevation on his jumper – his mechanics are outstanding, both fluid and quick. Furthermore, he can get his shot off against just about anybody at this level, being equally adept at shooting off of the dribble, guarded or unguarded, and from a standstill.
Most improved, however, is his ability to create off of the dribble, as he shows very solid ball-handling skills and increased aggressiveness to accompany his already stellar instincts. While his first step is just average, he is able to use a variety of hesitation moves, jukes, and fakes to get by his man. Though his lack of explosiveness limits him around the basket and he still favors his right hand, he shows good touch around the rim while showing flashes of mastering a floater.
While Curry likely lacks the strength and athleticism to finish consistently around the basket in the NBA, it is worth noting that he is averaging a career high 5.3 free throw attempts per 40 minutes pace adjusted this season, a testament to his improved aggressiveness and ability to draw contact in the lane. He also has a very well-developed mid-range game, with the all-around skills to find offense – at 53.1% 2FG – at any spot inside of, in addition to beyond the arc.
His improvement as a scorer has come at the expense of his development as a point guard, however, as
Quinn Cook
has taken control of the point for the foreseeable future, and it's generally accepted at this stage that he's more comfortable playing off the ball. While Curry is adept at creating out of the pick-and-roll, it is primarily in a scoring capacity and though he still shows solid vision at times (and rarely turns the ball over), his role (and strengths) dictates that he prioritizes his own offense over his teammates'.
Another significant question mark comes on the defensive end. Curry plays with excellent focus, effort, and intensity, but lacks the lateral quickness, length, and size to consistently stay in front of NBA caliber athletes at this level. While he usually defends opposing team's shooting guards, it's safe to say that with his average physical tools that won't be anywhere near as easy at the NBA level.
Ultimately, Curry's prospects at the next level are mixed. On the one hand, sharpshooting undersized collegiate combo-guards such as
Brian Roberts
and
Daniel Gibson
carved out niches in the NBA despite their lack of ideal size and athleticism. These players are the exception to the rule, however, and it will be up to Curry to prove that he can overcome his physical deficiencies. He is very much a tweener without standout strength, length, or athleticism and with legitimate questions about how he'll transition on both offensive and defensive ends at the next level.
Scouts will consider Curry's weaknesses alongside some very intriguing strengths, however, as he is a lights out shooter, a top notch scorer, and a winner with excellent intangibles and work ethic. Furthermore, he has played whatever role Duke has required him to, suggesting that he could possibly transition into a player capable of handling backup minutes in specific lineups in the NBA. For these reasons, teams drafting in the second round will have to take a long look at Curry, especially if he ramps up his production in the wake of
Ryan Kelly
's injury. Even if the NBA is not ultimately in the cards, Curry looks to have a long and fruitful career playing at a high level overseas.
Rodney Williams, 6'7", Senior, Small Forward/Power Forward, Minnesota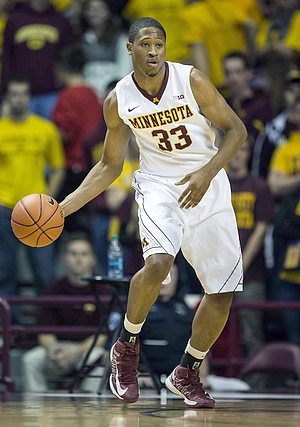 Derek Bodner
Now in his senior season at Minnesota,
Rodney Williams
has long been a tantalizing prospect. However, despite Minnesota's strong 15-2 start to the season, which
Rodney Williams
has been a key contributor in, Williams' deficiencies in his game and questions about it translating to the next level have yet to be resolved.
Playing both forward positions, but more at power forward this season, Williams is second on a deep Golden Gophers squad in both scoring (12.5 points per game) and rebounds (5.9). His 17.4 points per 40 minutes pace adjusted is an improvement over the 15.3 he averaged last year, and he's seeing similar incremental increases in rebounding (8.2 per 40 minutes pace adjusted, from 7.2) an free throw rate (5.6 free throw attempts per-40).
With Williams' incredible physical profile, such incremental improvements in his productivity may come as a disappointment to some. Standing 6'7" with a great wingspan and a lanky frame that looks capable of adding additional weight, Williams has few physical equals. Williams is an incredible run and jump athlete, with a lightning quick first step and arguably the most explosive leaping ability in college basketball.
Unfortunately, Williams has yet to develop his skill set to the point where he can come close to maximizing his physical potential. Williams stated in the preseason that improving his ball-handling ability and three point range were his primary focal points during the offseason, but so far this season he has yet to answer any of the abundant questions about those facets of his game.
Williams has made just 33% of his jump-shots this season, exactly the same rate as last year, and still in the bottom half of all college basketball players. His three point percentage (31.6% on 1.1 attempts per game) and free throw percentage (64.7%), while both career bests, are still well below average and troubling for a player who will be 22 years old when he suits up in the NBA and will likely need to see most of his time at the small forward position.
From a technical standpoint, Williams gets excellent elevation on his jump shot and appears to have solid follow through, but he struggles with consistency in both his footwork and balance. He also tends to take a lot of attempts out of rhythm, so improving his consistency and limiting his role in an offense might yield some improvement. Still, he doesn't appear all that natural even in simple catch and shoot situations, and his overall touch on jumpers is below average.
As a ball-handler, Williams still struggles to keep his dribble low, and shows very little ability as a shot creator, struggling to change direction when he meets resistance. Williams has an excellent first step and incredible explosion around the rim, but due to his mediocre ball-handling he is largely unable to use those physical gifts to create much offense, either for himself or his teammates, with the exception of when he is matched up against a slow footed big man when Tubby Smith goes to a small lineup.
Williams continues to get a solid portion of his offense in the post. His good length, solid touch, and excellent elevation and body control allow him to finish down there despite a relatively slender frame. While it's unlikely he will see much time in the post at the next level, the ability to take advantage of a size advantage when defended by a smaller wing would be a good trait to have for a player who otherwise might have struggle to score enough in the half-court to justify playing time.
Where Williams continues to provide sizable value for the Golden Gophers is off the ball. Williams does an excellent job using his immense physical gifts to provide scoring in transition, off of cuts, and off offensive rebounds. Williams moves very well without the ball and is one of the quickest leapers you'll find, making him a threat to convert anything around the rim. He has done a much better job attacking the offensive glass this season, pulling down 3.9 offensive rebounds per 40 minutes when adjusted for pace, a nice bump from the 2.1 per 40 pace adjusted he grabbed last season and one of the best numbers for a small forward prospect in our database this season. Thanks in large part to his insanely quick second jump, Williams does a good job on converting these offensive rebounds.
On the defensive side of the ball, Williams' length, lateral quickness, and overall athleticism has always provided a tantalizing defensive prospect, and he has started to put that package together this season. He has maintained better balance and consistency in his defensive stance, and makes good use of his length, generating 1.5 steals per 40 minutes pace adjusted to go along with 2.1 blocks. He still gets lost off the ball at times, but he has overall been an impact defender and should continue to be a plus defender at the next level.
While many would view
Rodney Williams
' college career to this point as somewhat of a disappointment, his combination of physical gifts and defensive potential are something that not many prospects can offer. Williams may not have improved his perimeter game to the point where he can fully take advantage of his unique physical talents, but he has improved enough to where he has consistently made an impact at the collegiate level.
With length and defensive versatility ever a premium in the NBA, he should continue to be on the radar come draft night, as there is certainly a role for energetic and bouncy combo forwards in the
Shawn Marion
or
Dominic McGuire
mold. The key for him will be to continue to maximize his intensity level on a nightly basis and show he's willing to do the little things to make up for his limited skill-set and help his team win games. There's always the possibility he could continue to improve his outside shot at some stage, as he's still only 21 years old, making him one of the youngest seniors in this class.