One of the best scorers in all of college basketball,
Isaiah Canaan
elected to return for his final year of eligibility after a dream junior season with Murray State. Have his NBA prospects changed at all?
-Trending Prospects: Jahii Carson
-Trending Prospects: Chris Obekpa
-Trending Prospects: Jordan Bachynski
-Trending Prospects: Arsalan Kazemi
-Trending Prospects: Cory Jefferson
-Trending Prospects: Anthony Marshall
-Trending Prospects: Carrick Felix
-Trending Prospects: Solomon Hill
-Trending Prospects: Spencer Dinwiddie, Seth Curry, Rodney Williams
-Trending Prospects: Kelly Olynyk, Laurence Bowers, Elias Harris, Juvonte Reddic
Isaiah Canaan, 6'1", Senior, Point Guard, Murray State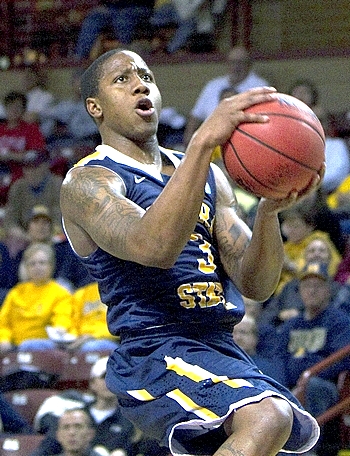 Derek Bodner
Returning for his senior season at Murray State,
Isaiah Canaan
and the Racers had a hard act to follow after going 28-1 in the regular season and 15-1 in the Ohio Valley Conference last year. While the team initially struggled somewhat during their out of conference schedule, the Racers have gone 8-2 since conference play began, including a big win over previously undefeated Belmont last night.
Standing 6'1" in shoes with a solid 6-4 wingspan, Canaan is the offensive focal point for Murray State, accounting for nearly a third of the team's offense, third highest amongst top-100 prospects.
While playing the point guard position, true mainly in the sense that he is the team's primarily ball handler and initiator in the half court. Canaan is clearly a shoot first guard, a role that he has been asked to play his entire career at Murray State.
Canaan is a natural scorer, with his primary weapon being his jump shot. While his three point percentage has taken a dive this year (down to 38.9% from 45.6% last year), the shot forms the majority of Canaan's offense, and his overall excellent form indicates that his percentages should likely rise if he is able (and willing) to be a little more selective with his attempts.
Canaan is extremely comfortable shooting off the dribble, ranking #1 in this category amongst college basketball players (minimum 80 possessions) according to Synergy Sports Technology at 1.1 points per possession. The only draft prospect who can compete with him in this area is
Trey Burke
, who makes a slightly higher percentage of his pull-up jumpers (45% as opposed to 43%) but makes fewer off the dribble 3-pointers, which gives Canaan the edge. Canaan is able to steady himself and get good elevation and balance on his jump shot coming off the pick and roll, with a quick release that is hard for opponents to defend. This ability to shoot off the dribble and coming off of picks provides the primary intrigue in Canaan at the next level.
He's equally as proficient in catch and shoot situations (44%, 1.3 PPP), although he gets far less of these (two per game as opposed to six pull-ups) due to his role as the dominant focal point of Murray State's offense. Canaan does a good of being in position to receive the pass and has an extremely quick release with good follow through, and is deadly with even the slightest bit of separation, something that he isn't afforded with regularity due to opposing teams game planning against him. As a freshman, carrying a much lighter offensive load, Canaan made 48% of his 3-pointers on a healthy amount of attempts.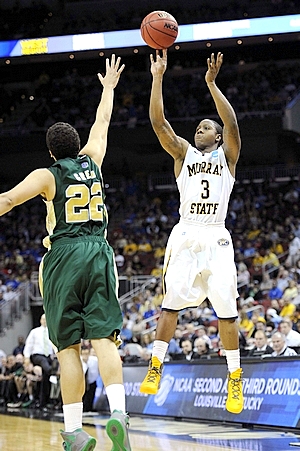 Canaan doesn't possess an incredible first step, and isn't a tremendous athlete in general, but he is very quick with his dribble and maintains excellent control, allowing him to play faster with the ball in his hands than his overall athleticism would indicate. He does a good job changing direction with his dribble, and has improved changing pace this year, something he didn't always do much of in previous years, but will be key if he hopes to have success at the next level. He's very comfortable splitting the pick, presenting another tough move in his arsenal that defenders have to game plan against, and likes to create contact in the lane with his strong, 200 pound frame, often just overpowering weaker OVC guards, drawing plenty of fouls in the process.
Once he gets into the lane he's not always able to capitalize on the attention he receives, however. Canaan isn't incredibly explosive, which presents problems finishing at the rim over length. He is shooting only 49.4% on his two point attempts this season and just 49% at the rim overall according to Synergy Sports Technology, both well below average, especially relative to the level of competition he plays against. He has an array of floaters in the lane which help offset this, and despite his diminutive size, Canaan has a well-developed upper body and does not shy away from contact, allowing him to draw fouls at a fairly impressive rate considering his small stature.
As a passer, Canaan gets the majority of his assists off simple drive and kicks from pick and roll sets, although he's not particularly comfortable in these settings and doesn't have the greatest of court vision or awareness. On the season, Canaan is averaging only 4.3 assists per 40 minutes pace adjusted compared to 3.4 turnovers, giving him a -1.43 pure passer rating, one of the worst amongst point guards in our top-100 rankings. Besides vision, he very much has a shoot first mentality, something that may be needed on the Racers squad, but presents a question mark about how he may respond when asked to play a smaller role at the NBA level.
On the defensive side of the ball, Canaan's physical profile presents some obvious hurdles to overcome. Beyond his lack of size, his lateral quickness appears to be just average, and his attention isn't always there, although this could largely be a byproduct of the amount of energy he has to expend on the other end of the court.
With Canaan's scoring prowess, perimeter shooting ability and comfort operating in a pick and roll offense, he is firmly on the NBA draft radar, despite his shortcomings. With Murray State poised to earn a NCAA tournament bid through the Ohio Valley Conference, some additional opportunities to show himself against legitimate NBA caliber point guards could certainly help Canaan's chances on draft night.