Jahii Carson is making up for lost time after being ruled ineligible his freshman year, putting together a very strong season for Arizona State thus far. What type of NBA prospect is he at the moment?
-Trending Prospects: Chris Obekpa
-Trending Prospects: Jordan Bachynski
-Trending Prospects: Arsalan Kazemi
-Trending Prospects: Cory Jefferson
-Trending Prospects: Anthony Marshall
-Trending Prospects: Carrick Felix
-Trending Prospects: Solomon Hill
-Trending Prospects: Spencer Dinwiddie, Seth Curry, Rodney Williams
-Trending Prospects: Kelly Olynyk, Laurence Bowers, Elias Harris, Juvonte Reddic
Jahii Carson, 5-11, Point Guard, Freshman, Arizona State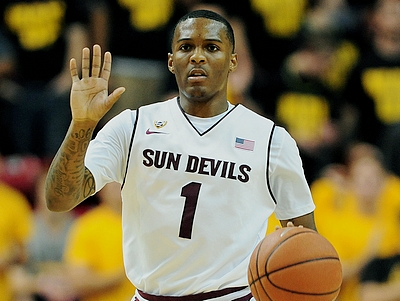 Joe Treutlein
After sitting out what would've been his freshman season at Arizona State last year due to academic eligibility issues,
Jahii Carson
has been doing a great job making up for lost time this season, leading the Sun Devils in points, assists, and minutes while playing effective, high energy basketball on both sides of the court.
Standing 5'11 with an excellent first step to go along with great explosiveness and quickness for a point guard, Carson is an outstanding athlete, albeit an undersized one both in terms of height and stature. His frame doesn't appear like it could add much more bulk comfortably, but to Carson's credit, he plays with a mean streak in the half court and is stronger than he appears at first glance.
Carson plays a relentless, attacking style in the half court, utilizing a terrific first step combined with his tight, advanced ball-handling to get wherever he wants on the court with ease. He operates with the ball in his hands very often, while seeing the bulk of his plays coming out of pick-and-roll or isolation opportunities. Carson shows an exceptional feel for finding ways to get open off the dribble, especially within 15 feet of the basket, where he shows a strong degree of craftiness and excellent footwork, which he uses to frequently get his man off guard.
Carson sees most of his scoring attempts driving into the paint, where he's equally capable of going strong to the rim or pulling up for a floater, runner, or pull-up jumper. His mid-range game is highly advanced, as he shows excellent touch and finishing ability on his scoring attempts in the lane, while showing little problems getting shots off against any level of competition.
Carson's ability to finish directly at the rim is more of a mixed bag, as his diminutive size is certainly a disadvantage, but he makes up for it by drawing contact at a high rate (his 0.45 FTA/FGA is excellent for a point guard) and almost always taking the most direct line to the basket from wherever he is on the floor. He shows a very fearless nature with the ball in his hands and rarely takes wide angles trying to get around defenders, which is how he manages to frequently knife through defenses when openings didn't even appear to be there.
The area of Carson's offensive game that is lacking the most right now is his perimeter jump shot, especially of the catch-and-shoot variety. Carson is not reliable shooting the ball from deep (he's shooting just 30% from three on 3.2 attempts per game thus far), showing inconsistent mechanics and not frequently seeing the ball in spot-up situations. He does show some ability to hit pull-up jumpers coming around screens in pick-and-rolls, but is still very inconsistent there, and this is probably the area he could stand to improve the most on going forward. Given his size and the question marks about how his ability to finish inside the paint and draw fouls could translate to higher levels of competition, this is something he should make a priority.
As a point guard, Carson falls into the ball-dominant variety, creating almost all of his own shots and spending a lot of time dribbling the ball on the perimeter, but he's not a selfish player by any means, and he shows good court vision and ability to set up teammates, mostly through pick-and-rolls, drive-and-dishes, and by getting out in transition. He does a good job of finding open shooters on the perimeter, and always has his head up with the ball in every situation, while he's posting a solid 5.1 assists per game in 36 minutes. His 3.2 turnovers per game may be alarming at first glance, but his 0.18 turnovers per possession are actually not that bad considering the amount of offensive responsibility he shoulders in the Sun Devils' offense.
On the defensive end, Carson plays with a high level of energy, getting into an aggressive stances early and fighting hard to stick with his man off the ball. He shows a very good level of lateral quickness and a solid fundamental base, sticking with his man in isolation situations the majority of the time. He can lose focus at times if possessions tend to drag on for too long, but not any more than your average freshman. Carson's size can get him into trouble at times defending the pick-and-roll, as he can get caught on screens against bigger opponents, but he is very good about fighting through and chasing his man from behind even after he's lost a step.
Another thing worth noting is despite being a freshman, Carson is playing a sky-high 36.4 minutes per game while being his team's clear-cut first option on offense who has the ball in his hands constantly, and he's also expending a nearly equal amount of energy on the other end of the floor every game, so it's safe to say his conditioning and work ethic are both superb.
Looking forward, Carson brings an intriguing package of skills to the table with his athleticism, shot-creating, and shot-making abilities on offense, while he also shows promise as a distributor and defender. His size will always be a concern, but its effect is lessened due to his aggressive style of play, and players in his mold have done a good job finding niches in the NBA in recent years since the relaxing of perimeter defense rules. Carson could definitely help himself greatly by rounding out his offense with a more potent perimeter jumper, as doing so would both ease concerns about how his game could translate to the pros, while also further opening up his dribble-drive game at this level, as teams would have to pay more respect to his shot. How that area of his game develops will likely be critical in determining just what level of prospect Carson is, something we'll probably need another year to fully decipher. Turning 21 in August, Carson is quite a bit older than your typical freshman, but he's still somewhat under the radar of many NBA scouts due to his lack of size and experience.