On the second day of our West coast swing, we stopped into the gym at Cal Lutheran University in Los Angeles, where Wake Forest's
Al-Farouq Aminu
and
Ishmael Smith
have been working with Dave Leitao and David Hopla to prepare for the draft.
Hopla, a highly renowned shooting coach who has worked with the Wizards and Raptors, was spear-heading the sessions this week, which placed a heavy emphasis on shooting. They players will transition to more diverse workouts next week. Al-Farouq's brother, Alade, who spent most of last season in the D-League, also flew in to get in some work.
Jerome Dyson
and
Daniel Orton
have also been working out here, but both were out of town for workouts on the day we stopped by.
When we checked in, Aminu and Smith had both only been working with coach Hopla for three days, but the amount of work they put in daily is staggering, as the schedule consists of two three-hour basketball sessions each day, with some light strength workouts also mixed in. The workouts are geared primarily towards shooting at this stage, though the drills are done in a very dynamic method, mixing in a lot of cardio work as well in an effort to emulate game situations. Not afraid of some hard work himself, Hopla frequently runs laps when the players shoot the ball well or successfully complete a difficult drill, and he clearly does a great job connecting with the players and earning their respect.
As mentioned, the drills we saw focused primarily on shooting, but they also incorporated a lot of shots coming out of pick-and-rolls, coming off screens, catching and shooting the ball in rhythm at full speed, and some transition work. Hopla frequently drilled the importance of staying low with the ball coming around picks on the pick-and-roll, and also offered various shooting tips throughout the workout.
Player Evaluations
Al-Farouq Aminu
Joseph Treutlein
The fifth-ranked player on our latest mock draft,
Al-Farouq Aminu
's biggest selling points have always been his elite physical tools, his strong work ethic, his versatility on both ends of the floor, and his massive upside. Shooting ability is not something many would list among his strengths, which is why the work he's putting in here is so important. While it's hard to take away anything definitively from a single workout only three days into his pre-draft training, what we saw here was very impressive, and a great sign for the likelihood he reaches his tremendous potential down the road.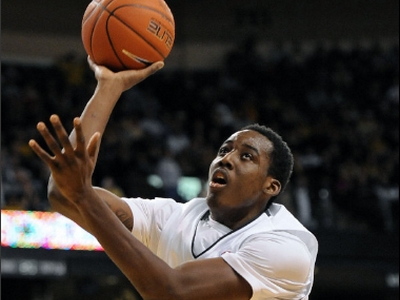 An inconsistent shooter in college (18/66 beyond the arc on the season and 0.610 points per jump shot according to Synergy Sports Technology), Aminu always showed flashes of ability with his shot, but definitely lacked some polish, which showed in the results. Here, Aminu has tweaked a few things with his shot, focusing on getting more consistent mechanics, the biggest emphasis being the balance he gets his base for his shooting motion, something he did a great job displaying here. Keeping his elbow in and maintaining full extension have also been points of emphasis, both of which he also did well here. Time was spent working on both mid-range jumpers from the 15-20 foot range and from behind the arc, with pull-up and spot-up jumpers both being used from the mid-range.
For the shots we tracked, Aminu shot a solid 16-for-31 from NBA three-point range, and 69-for-99 on spot-up jumpers from 15-20 feet, showing impressive mechanics and touch throughout, having a high and consistent release with a good base and excellent elevation. It was easy to notice how well Aminu responds to coaching, with his eyes always dead set on Hopla and Leitao when they spoke, absorbing everything while giving 100% for the entire three hours.
Aside from his shooting, Aminu impressed in other ways as well, namely by showing off his excellent athleticism in transition drills. Catching a rebound on one end, Aminu looked completely natural putting the ball on the floor and taking it for a lay-up on the other end, doing it in just three dribbles every time, giving you an idea how much ground he is capable of quickly covering. Aminu's body in general was also impressive as expected, and not something he needs much work on, with core training being the primary emphasis of his strength work at this stage as his body continues to naturally fill out.
Aminu's work here is geared primarily toward making him a more complete player, with the specific work he's doing likely to ease the transition to the small forward position should a team want to play him there. He certainly has the versatility to play either the 3 or the 4 with his outstanding defensive tools, but if he can really step up his shooting as he did here today while also continuing to refine his ball-handling skills, his best long-term potential likely lies at the small forward spot.
Aminu isn't scheduling workouts until after the lottery drawing next week, and will continue to stay in Los Angeles working on his game in between workouts up until the draft. At only 19 years old, despite being a sophomore, Aminu is just 15 days older than
John Wall
and 38 days older than
DeMarcus Cousins
, which is another reason why many consider his upside to be so high. Unlikely to fall out of the top 10, Aminu should get plenty of looks early in the lottery and could definitely help himself with some good team workouts, especially if he keeps on improving during his training.
Interview with Al-Farouq Aminu
Jim Hlavac:
How are the workouts going so far?
Al-Farouq Aminu:
They've been going good. I've really been able to work on my shot and my handle and things like that.
JH:
What has it been like working with the legendary shooting coach, Dave Hopla? What he has worked on with you?
AA:
He's been working on my technique. Making sure I get my arm up, getting my elbow at my eyebrow. And he's really been helping me with my jump shot.
JH:
Overall, how are the workouts different here then they were in college?
AA:
It's just more attention to detail. It's not just "get the shot up", its make sure you stay low, make sure you get your hand up, make sure you finish.
JH:
We just saw you work out for three hours. What's your average day like here at workouts?
AA:
We go three hours in the morning and then we come back and do another three.
JH:
Any strength training or weight room stuff?
AA:
Yeah we do that at night. We do our core workout and a little bit of resistance, just some pushups and things like that.
JH:
You could have been a top-10 pick last year. What made you come back to Wake Forest?
AA:
I really wanted to play another year with my point guard and also I wanted to get another year of school in, get closer to graduating and become a better player.
JH:
Do you feel that you accomplished those goals at Wake Forest?
AA:
Yeah, I feel I did.
JH:
Are you planning on going back to school to get your degree?
AA:
Yeah that's something that Mom and Dad want and I want to make sure that I can have a diploma up in my office.
JH:
You played some three and some four in college. What do you see yourself playing in the NBA?
AA:
I just want to be a complete basketball player wherever they put me. I just want to excel.
JH:
We saw you work mostly as a three today. Do you think you will be able to play some four in the NBA?
AA:
I think I have to gain a little weight but yeah I think I could do both.
JH:
What are you looking to improve on in the next week here?
AA:
Ball-handling and shooting.
JH:
Your shooting looked much improved from what I saw.
AA:
Yeah I've really been working on it. Hopla has made a big improvement to it.
JH:
What's the biggest adjustment you think you will have to make going from college to the pros.
AA:
I think shooting.
JH:
Do you see yourself as somebody who is ready to start in the NBA?
AA:
I think I could start on some teams.
JH:
Which player in the NBA do you think that you resemble?
AA:
I've heard I play like
Luol Deng
JH:
Who do you watch in the NBA to pattern your game after and try to get better?
AA:
I watch everybody. I watch guards, big men, slashers, everybody.
JH:
Have you scheduled any workouts with NBA teams yet?
AA:
No not yet.
JH:
Well, we will conclude it with that and say good luck to you and we'll see you in the Green Room.
AA:
Thanks.
Ishmael Smith
Joseph Treutlein
One of the quickest players in college basketball, the thorn in
Ishmael Smith
's side has always been his shooting ability, converting a very poor 49% from the free-throw line this past season, a number nearly unheard of for a point guard. He likewise shot poorly from the field, at 22% from the three-point line with just a 44% True Shooting percentage. Coming into pre-draft training, Smith was well aware that he needed to fix his shot to have a chance in the NBA, and he's come here humbled and hard working, doing everything he can to improve.
Smith's shot required a lot more tweaking than Aminu's, unsurprising given his previous results. Coach Hopla had multiple points of emphasis for Smith, namely keeping his elbow in, setting a consistent release point, and most of all, putting in a lot of repetition with the new mechanics in order to start overriding muscle memory. Even after the three-hour session completed, Smith spent more time working one-on-one with Hopla, fine-tuning his mechanics from the free-throw line.
In drills, things looked good for Smith early on, with him hitting 15-for-20 spot-up jumpers from the 15 foot range at one point, but as fatigue set in later in the workout, the results weren't as good, and he struggled to maintain consistency. Reading too much into these results just three days into the training probably won't yield many useful insights, as it's incredibly difficult to make so many changes in such a short period of time. The important thing to note is Smith is clearly putting in the work and understands what he needs to do to improve, even if it could be a very long process. A long-shot to be drafted at this stage, Smith should have chances at finding a way into the NBA this summer or down the road, and how he improves as a shooter will be critical in increasing those chances.