Joseph Treutlein
DeMarcus Cousins, 6-11, Center, Sacramento Kings, 1990
13.5 points, 7.7 rebounds, 1.8 assists, 0.8 blocks, 2.7 turnovers, 43% FG, 67% FT, 27% 3PT
One of the most divisive prospects in the NBA draft last season,
DeMarcus Cousins
has had a very rocky start to his NBA career. Playing on one of the worst teams in the league, the #5 pick has undergone a drastic change in environment coming from a Kentucky Wildcats team that was ranked #1 in the nation for a good portion of last season. While Cousins has at times looked outstanding, his game-to-game production and efficiency are massively inconsistent, he's had multiple publicized problems with his coaching staff, and he's one of the most foul-prone big men in the league. Still, it's what he's been doing on the court that is most interesting.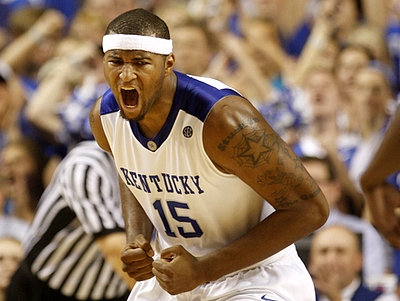 Part One: Offensive Role
Then:
"#1 in PER (actually
ranking #1 in the last 8 years
in that category), Points per-40 minutes pace adjusted, rebounds per-40p, field goals made and second in free throw attempts, Cousins has answered his many critics by going out and producing in unbelievable fashion.
A man amongst boys at the college level, Cousins' combination of size, length and strength is simply unparalleled at this level of competition. There are only a handful of players that can even match up with him from a physical standpoint, and outside of a couple of ho-hum performances against the strongest big men he's faced (UConn and North Carolina), he's completely destroyed the slew of largely mediocre post players he's been forced to deal with.
Watching him on film, it's not difficult to see why. Cousins can establish position deep in the post pretty much whenever he wants at the college level with his strong frame, huge and extremely soft hands, and incredible wingspan-- making him the perfect target to lob the ball inside the paint to. He's the type of guy who wants the ball in his hands and shows a real hunger to score as much as possible, which is a big part of the reason why he's currently ranked as the #1 per-minute scorer in college basketball."
-NCAA Weekly Performers, January 29, 2010
Now:
To say Cousins has undergone a dramatic role change in the NBA would be somewhat of an understatement. At the college level, Cousins was a dominant player in a variety of ways, utilizing his massive size, strength, and length to punish the opposition on the glass and finishing around the basket, the primary reason why he was able to be so productive. In the NBA, he's reverted to many of the habits
he showed in high school
, trying to be more of a finesse player than a dominating post presence.
Looking at Synergy Sports Technology's quantified statistics paints an accurate picture of the story. At the college level, Cousins took just 24 jump shots on the entire season, whereas in the NBA he's already taken 156. As a percentage of all his field goal attempts, Cousins is shooting jumpers four times more frequently in the pros, and it's coming at the expense of post-up moves and shots around the basket. This is problematic not only because shots around the basket are usually much more efficient than mid-range jumpers for all players, but also because Cousins is an extremely poor jump shooter at this stage, scoring an abysmal 0.724 points per shot according to Synergy.
While Cousins' drastic change in shot selection is incredibly harmful to his efficiency, with his eFG% dropping from 56% to 44% this year (the NBA league average is 49.7%), it's equally if not more harmful to other areas of his game. Playing more of a finesse game, moving away from the basket, and taking his man off the dribble more often, Cousins' pace adjusted turnovers per 40 minutes are up from 3.3 to 4.0, and his free-throw attempts and offensive rebounds are nearly cut in half. All things said, Cousins has gone from a player who dominated in a handful of areas at the collegiate level to a player who struggles to be above average at anything in the pros.
Part Two: Interior Offense
Then:
"Once he gets the ball where he wants it, Cousins is more than skilled enough to know what to do with it, showing quick feet, terrific footwork, excellent body control and fantastic touch to finish off plays. Often-times you'll see him creating his own shot by spinning off his man abruptly in impressive fashion, and then just using his terrific length to convert easily at the basket. Although he isn't the most explosive guy you'll find in terms of his ability to play above the rim, this aspect of his game can probably be improved as well (although only to a degree) by shedding the 10-15 pounds of baby fat he's still sporting."
-NCAA Weekly Performers, January 29, 2010
Now:
Cousins' skill level operating with his back to the basket is still as impressive as ever. He boasts extremely high levels of coordination, mobility, and footwork, a dangerous combination when paired with his physical attributes. His spin moves and dropsteps are more than strong enough to get separation against most NBA defenders, and he's capable of consistently getting off both finesse and power moves when he wants to.
Somewhat expected given his below average explosiveness, Cousins' post scoring efficiency has dropped some in the pros, with his points per shot on post-ups going from 1.06 to 0.85 according to Synergy. While some of the drop was inevitable due to the tougher defense at this level, part of it is his own doing, as Cousins has relied much more on finesse than power moves thus far.
Fighting less actively for post position, and playing with an inferior point guard this season, Cousins is often content to catch the ball in the mid-to-high post rather than backing his man down deep on the block either before or after he gets the ball. His size and strength are almost unmatchable even at this level, and when he's putting in the effort he shows the ability to pin the opposition at will and establish dominant position frequently. Unfortunately too often he simply goes through the motions, settling for a fade-away turnaround jumper rather than attempting a power drop-step move.
Cousins' free throw rate (FTA per FGA) has declined massively from 0.73 to 0.36 this season, and favoring more of a finesse post game is as big a reason as any. While Cousins' finesse repertoire is impressive, and he's capable of scoring on some high difficulty shots, he's much better with his power game, which made him one of the best players in the NCAA last season.
In terms of finishing off the ball around the basket, Cousins has been slightly less utilized on cuts and slightly less productive on the offensive glass, though this is still where the majority of his offense comes. His lack of explosiveness hurts him severely here, but he's still an average finisher in this regard, and his ability to outmuscle anyone in the league to get to the rim allows him to get more attempts in this regard than most other players in the league. Still, he's nowhere near as dominant here as he was in college, and it has as much to do with the higher level of defense as it does with his less efficient style of play.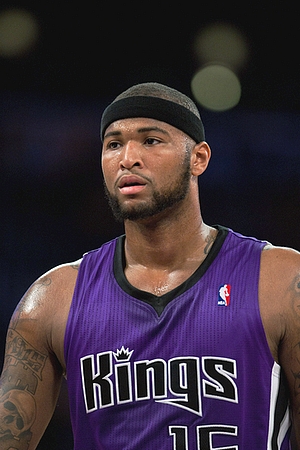 Part Three: Perimeter Offense
Then:
"More than just a brute force in the lane, Cousins sports some intriguing perimeter skills as well, showing better ball-handling skills and jump-shooting ability than you would typically expect from a player his size. The problem is that he tends to over-do this aspect of his game from time to time, forcing up bad shots and making a couple of questionable decisions pretty much every game. To his credit, he's gotten much better about this as his freshman season moves along."
-NCAA Weekly Performers, January 29, 2010
Now:
Going from taking less than one jumper per game at the collegiate level to over three per game in the pros according to Synergy, Cousins has clearly put more of an emphasis on his perimeter game in the pros, though the returns haven't been good. Cousins shows little conscience putting up shots, taking nearly as many guarded as unguarded jumpers on the perimeter, and frequently will throw up a contested 20 footer with plenty of time remaining on the shot clock for no reason at all.
Cousins isn't a bad shooter in terms of pure ability, as he's boasting a respectable 67% from the free-throw line, but his discipline and decision-making in shot selection are just downright awful, especially given the other strengths of his offensive game. The fact that almost all of his shots come from a few feet inside the three-point line doesn't help matters, with those being the least efficient shots in basketball before you factor in his own unique issues.
In terms of face-up offense, Cousins has some very intriguing skills operating out of the pinch post, boasting a solid first step, incredibly long strides with the ball, decent control on his handle, and an array of impressive spin moves in his arsenal. The problem, though, is Cousins tends to over-rely on this area of his game, and it leads to a lot of turnovers. His tendency to settle for fade-away turnaround jumpers rather than going all the way to the basket doesn't help matters much either.
While Cousins has the tools to be respectable both as a spot-up jump shooter and face-up driver, he's doing himself and his team a massive disservice by making these things the centerpiece of his offensive game rather than spending more time around the basket. The drastic decline in his offensive efficiency is due more to this than anything else.
Part Four: Defense and Rebounding
Then:
"Defensively, Cousins is mostly a mixed bag at this point. On one hand he provides an incredible presence in the post with his terrific size, length and bulk, often not needing to do much more than just stand in the paint with his arms outstretched in order to help his team come up with a stop. He's pretty physical on top of that and appears to be putting in a solid effort in for the most part, making it extremely difficult for opposing big men to get shots off over the top of him, and coming up with a solid 3.4 blocks per-40 minutes pace adjusted in turn.
On the other hand, Cousins is not the most fundamentally sound player you'll find, which combined with his below average lateral quickness causes him to get exposed from time to time when being attacked off the dribble by quicker players he's forced to switch onto. He looks a bit lazy and/or not focused getting back on defense sometimes, something that caused him and Kentucky coach John Calipari to butt heads over on occasion early on in the season."
Now:
Somewhat surprisingly, Cousins has actually been more impressive defensively than offensively thus far in the pros.
While Cousins' fundamentals are still pretty raw in all areas, his coordination, mobility, size, and length make him a pretty unique player at his position, and it's showed up in a variety of ways. Defending the pick-and-roll, for example, despite showing just average levels of activity and focus, Cousins is very impressive in shutting down passing lanes, hedging screens, and contesting jumpers, as he just moves so effortlessly and covers so much ground with his size and wingspan.
In the post, Cousins does a pretty good job defending against power moves despite showing little understanding of leverage and fundamentals, with his brute strength and outstretched arms being good enough to deter most players. He doesn't move his feet especially well laterally, making him prone to being beat by quick spin moves, while he's also vulnerable against the rare center who can take him off the dribble.
In terms of general awareness, rotations, and closing out on shooters, Cousins does an adequate job, giving up on plays and just going through the motions at times, but for the most part at least holding his own in this regard. His lack of explosiveness hurts his ability to block shots from the weak side, however, with him blocking just 0.8 per game despite his size and wingspan.
The biggest problem Cousins is having defensively is in the personal fouls department, as he's averaging 4.0 per game in just 26.5 minutes. Despite his low minutes, his 4.0 per game ranks
tops in the entire league
, and adjusting to making less careless fouls is something he definitely will need to do in the future.
On the glass, Cousins has gone from an unbelievably dominant college rebounder to a slightly above average rebounder in the pros, with his rebounds per 40 pace adjusted dropping from 15.9 to 11.3, something that rarely happens with rebounding even when accounting for the change in competition level. Like the rest of his game, this is mostly evidence of Cousins playing much softer in the pros and not putting in the effort consistently, as he's capable of ranking amongst the top of the league if he wants to, rather than his meager
current ranking of 33rd
.
Part Five: Maturity
Then:
"While Cousins is without a doubt a precocious talent with the type of physical tools and scoring instincts that you rarely see at the college level, there are many question marks revolving around whether he has the intangibles needed to reach his extremely high potential. His body language and overall temperament on the floor is often very poor, looking somewhat lazy and disinterested and at times downright selfish. He's clearly not the smartest guy you'll find on or off the court, and he already tends to react very poorly to different situations on the floor and lose his temper in concerning fashion.
A few articles have already been written about
his extremely unpredictable nature
and whether that might come back to haunt Kentucky at some point in a big game, and these same concerns may give NBA executives room for pause when thinking about drafting him extremely high in the lottery and making him the face of their franchise."
Now:
Cousins' maturity issues are certainly not yet behind him, as there have been multiple publicized reports of him quarreling with coaches this season, much more so than was reported at Kentucky. His body language on the floor is frequently poor and the softening of his offensive game combined with his decreased effort with physicality and attacking the glass are more evidence of the problems many suspected.
Cousins' game-to-game performance is also extremely erratic. It's common for him to score in the high 20's one game followed by the low single digits the next, as it's completely unexpected what you'll get from him on a nightly basis.
Sacramento's somewhat weak coaching staff and overall organizational structure, combined with the poor talent level on the team certainly don't help matters. Going from one of the top programs in college basketball to one of the worst teams in the NBA has to be discouraging for a player, but ultimately this is on Cousins' shoulders more than anyone. He hasn't had any major off-the-court issues in a while now, but his unpredictable nature and overall reputation means these things will always be somewhat of a concern.
Outlook:
Looking forward, Cousins remains one of the most enigmatic prospects in basketball even now that he's in the NBA. On one hand, he has extremely strong physical attributes and is capable of being one of the most uniquely dominant centers in the NBA, something that does show up every few games. On the other, he's basically done everything every doubter from the draft process expected him to do, and he has been one of the most inefficient, turnover prone players on one of the worst teams in the league.
There's still plenty of time for Cousins to turn things around at just 20 years old, and while it may be unfair to put such high expectations on a player this young, it's somewhat deserving given where he was taken in the draft combined with how productive a player he was at the collegiate level.
Unlike many prospects who fail transitioning to the NBA, Cousins' issues aren't due to his skills not translating, but more so of him abandoning everything that made him a great prospect and collegiate player in order to try being a completely different type of player.
While Cousins may significantly improve his perimeter and finesse offensive games in his time in the NBA, it's unlikely he'd be as successful as if he went back to what made him a great prospect in the first place. Fortunately, he still has plenty of time to do so.
It's possible that with added maturity and an organization and coaching staff more competent of getting him to play to his potential, the light bulb will eventually come on for Cousins.