After taking in workouts in Carson and Santa Monica, California, our next stop on the road was the Valley, specifically the 360 Health Club in Reseda, where
Nick Young
,
Bobby Brown
and
Danny Granger
were working out with a Division II guard by the name of
Jason Smith
.
The workout atmosphere was fairly laid back by nature, as early on
Danny Granger
had to quit due to some minor soreness caused by the excessive time he's taken off since the end of the season. The three guards went through plenty of shooting drills, conditioning, two on two and one on one pick up games, mixed in with a plethora of personal instruction from trainer and former UCLA legend
Don MacLean
.
Player Evaluations
Nick Young, 6-7, Shooting Guard, USC, Junior
This wasn't Young's best shooting day from what we were told, even though from our perspective the 3-ball still went in for him at a pretty nice rate. In the 79 3-pointers (NBA and college) that we charted him on, he hit 56, which is a very solid 71% clip. His mechanics and touch are very good, and his release point is consistent, leading us to believe that he will develop into a solid NBA 3-point shooter down the road, even if his bread and butter will probably be in the mid-range area.
It's here that his true colors as a scorer really come out, showing outstanding footwork to create space for himself, an excellent assortment of jabs, fakes and pivots (it's obvious here that he emulates
Kobe Bryant
), and multiple release points to get his shot off in many different ways. He's an instinctive scorer, a self-made player who takes what the defense gives him. He has a great little wiggle he uses to keep his man off balance and constantly guessing as to what his next move will be, as well as the shooting stroke and quick release needed to give his jab-steps from the triple-threat position all the credibility in the world. He loves going to the turnaround jumper, getting his man to commit to his shot-fake and then pivoting fluidly right into a gorgeous fade-away.
If his defender guards him too close, he has the athleticism (particularly the first step) and ball-handling skills to shake his man and blow right by him. His size (a hair under 6-6, w/out shoes, from what we were told separately by both his agent Aaron Mintz and strength and conditioning trainer Shawn Dassie), fantastic wingspan (6'11 ½") and absolutely massive hands help him greatly in this area, as does his explosive vertical leap, measured at an impressive 44 inches with a running start. He's still a pretty skinny guy, but he's added 9 pounds to his frame according to Dassie since he began working out, bringing him to 209 pounds on the day we were there.
He definitely could use another 5-6 pounds to help him fight through screens and finish stronger around the basket, two areas that he was just OK in from what we saw. He didn't seem to be taking things all that seriously for the most part, though, laughing and joking around plenty once Granger decided to sit down. This was a pretty impressive workout regardless, though, even if there are only so many conclusions you can draw from here regarding his ability to fit in on an NBA team in a 5 on 5 setting. There is no doubt that teams are going to be impressed from what they see in the next few weeks, though.
In a bit of a change from years past, the NBA has decided to only invite 11 players to the "physical-only" part of the pre-draft camp (instead of 18 or 20 like in years past), meaning that players like
Nick Young
ended up getting squeezed out. His measurements and combine scores could have surely helped him.
---
Bobby Brown, 6-1, Point Guard, Cal State Fullerton, Senior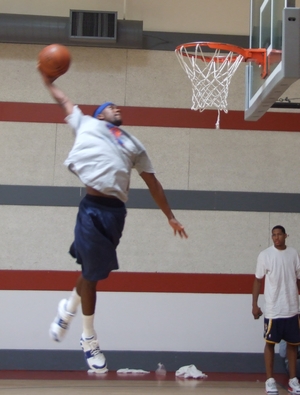 We had the pleasure of watching
Bobby Brown
both at the workout here in Reseda as well as in a couple of five on five pickup games together with the Abunassar Impact Basketball clients at the Home Depot Center in Carson, where Brown was easily the most impressive player playing, and not by a small margin.
Brown's team consisted of David Bluthenthal, Keoni Watson,
Marcel Jones
and Nate Funk. That's not exactly a lineup that would strike fear in the hearts of most opponents, but they beat the slightly more imposing team of
Brandon Heath
,
Danny Granger
,
DaShaun Wood
,
Adam Haluska
and Quinton Hosely more times than they lost, mostly thanks to the terrific job Brown did for them at the point.
The Cal State Fullerton grad ran the team unselfishly, showing great athleticism pushing the ball up in transition and either finishing above the rim himself or finding people himself with flashy court vision. Playing for a fairly awful team for the past four years where he still finished up with over 5 assists a game and a solid assist to turnover ratio his senior year, we've never really had a chance to evaluate his point guard skills alongside decent talent until these pick up games. And even though it wasn't an incredibly competitive setting, there was a lot to be impressed by.
Brown scored a good amount of points in this game, either knocking down contested threes with a sweet stroke and a super quick release, finishing at the rim with superb leaping ability (sometimes in highlight reel fashion), or stopping on a dime creating separation from mid-range with fantastic elevation on his pull-up jumper. He has a great crossover he uses to keep his man off balance, a full arsenal of hesitation moves at his disposal, and all the quickness and shiftiness needed in the world to get into the paint. He showed some great vision finding teammates off the bounce, but also overdid it a bit at times with some careless passes.
Being a West Coast guard with an up and down mentality, it's no shock to see him look fantastic in this type of setting. Put him on the right team in the NBA (he's the 367th player in this draft who would look great in a Suns uniform…) and he would be able to find similar success, but he's also going to have to show the ability to run an offense legitimately in a half-court as well. That's not saying he can't, but we haven't really seen that at this point. As a change of pace guard off the bench he will probably be fine, but NBA teams will want to see him play excellent half-court defense at the pre-draft camp as well to compensate for his lack of size and length. He measured out at the pre-draft camp at 6-1 in shoes with a 6-2 wingspan.
In the workout we saw against
Nick Young
, it was even more of the same. Brown put on a shooting display reminiscent of the workout from the previous day featuring
Martell Webster
and
J.J. Redick
, absolutely lighting up the net to the tune of 62/76 from the 3-point line (half college, half NBA), a ridiculous 82%. He gets up so high on his jump-shot and does it so quickly thanks to his terrific 42 inch running vertical leap, allowing him to get his shot off almost whenever he pleases, despite his lack of size. From mid-range he looked absolutely deadly off the dribble, knocking down 15 straight jumpers from this range (18 feet out) consecutively. It looks like this could be a very nice go-to move for him in the NBA, particularly when he decides to add in a slight fade-away. Although he seems to like
Nick Young
as well, it's
Bobby Brown
that got
Danny Granger
the most excited, causing him to say things like "he can definitely play in our league" and "he's got the entire package offensively."
There is a caveat, though. Last year we saw him work out in this very gym and he put on a similar show shooting the ball. We went as far as to call him our sleeper pick for MVP of the Orlando pre-draft camp. He went onto have a terrible camp. This year he's one year smarter, and coming off a much better season in college. He's currently watching footage of last year's Orlando pre-draft camp in order to recognize the mistakes he made and figure out how to maximize himself this time around. If he can translate even half of the ability he showed at the 360 Health Club in Reseda to the Milk House in Orlando, he's got a legit shot at landing himself in the late first round. DraftExpress will be there in full force to see how he looks.
---
Jason Smith, 6-1, Point Guard, University of Alabama-Huntsville, Senior
No, not that
Jason Smith
(the athletic 7-footer from Colorado State), but rather another one, a Division II All-American from Alabama-Huntsville, the brother of
Joe Smith
, a 6-4 guard who lit up the 2nd division of Italy and helped his team get promoted to Lega A.
Jason is a strong and fairly quick guard with a very nice shooting stroke. He's not an NBA draft prospect, but his numbers coming out of college exceed those of his brother, who played at the same school. He looks like a nice rookie prospect for Europe, since he is strong, smart and can play both the 1 and the 2 spots thanks to his shooting ability. This was just the first time we watched him play, but he definitely didn't look out of place.