Kyle Nelson
Notre Dame center
Zach Auguste
began his senior year as a legitimate NBA prospect. While scouts took notice of his breakout junior campaign, Auguste remained a player with quite a bit left to prove during his senior season. He delivered in many regards,
emerging as a leader for Notre Dame
, earning All-ACC-Third Team honors, and powering the Irish to the Elite Eight in the NCAA Tournament for the second straight season.
While Auguste improved considerably during his time in South Bend, his NBA prospects remain unclear. While improved in some areas, namely as a rebounder, Auguste's production dropped off considerably when matching up against elite-level frontcourt competition.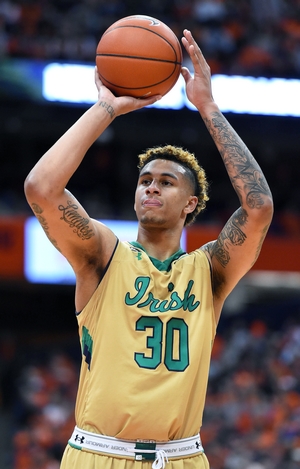 At 6'10 in shoes with an average wingspan and a solid 245-pound frame, Auguste has an ideal physical profile for an NBA power forward. The issue is that he is more of a center in a power forward's body, getting most of his offense directly around the basket and being very limited defensively. He is a good athlete, however, possessing impressive mobility and quickness in the open floor, as well as solid explosiveness around the basket. This allows him to maximize his athletic abilities, even if his struggles against NBA-caliber athletes suggest that he will likely have to show scouts more in pre-draft settings and beyond to prove worthy of earning a NBA roster spot.
By the numbers, Auguste was one of the most productive post players in our
database
as a senior, averaging 20.5 points per 40 minutes pace adjusted. Yet, despite his productivity, he experienced modest declines in his efficiency, making 55.8% of his field goals, down from 61.9% as a junior. More importantly, he remains limited on the offensive end of the floor, seeing nearly 95% of his looks in the immediate vicinity of the basket.
While Auguste does not have the most versatile post game, he has little trouble getting to the basket due to his combination of excellent hands and nimble footwork. He also improved considerably as a finisher, making 52% of his post up attempts, nearly 20% higher than his junior year mark while seeing more touches in this capacity as a senior. Yet, even here, Auguste's general instincts have yet to catch up with his athleticism and footwork. He remained turnover prone – coughing the ball up over 3.5 times per 40 minutes pace adjusted – and exhibited questionable decision making at times. Games against capable post defenders further exposed his limitations and it remains to be seen whether he has the ability to score with his back to the basket against NBA-caliber defenders on a nightly basis.
While Auguste is a mixed bag in the post, he did a great job of putting himself in positions to score off the ball. He was particularly impressive as a scorer in pick-and-roll situations, where he made 73.5% of his overall attempts. On film, it is easy to see why, as he is able to seamlessly roll to the basket, corral passes, and finish aggressively. Auguste was also able to score in transition (69% FG) and while cleaning up his teammate's misses (4.8 offensive rebounds per 40 minutes pace adjusted), even if he finished an unimpressive 46.3% FG% in these situations.
He continued to do a great job of drawing contact and getting to the foul line, as well. In fact, his 7.7 free throw attempts per 40 minutes pace adjusted ranked tenth among prospects in our
top-100
.
Yet, the foul line presents another issue, as he made just 62.6% FT and never developed as a perimeter shooter in his four years in South Bend. He attempted just 16 jump shots as a senior and made only one of his seven attempts from outside of 17 feet. For the second straight year, Auguste did not attempt a shot from beyond the arc.
Thus, while Auguste proved himself to be a capable post scorer at the collegiate level, his skill set does not look likely to translate into the power forward position in the modern NBA. Furthermore, his lack of productivity against NBA caliber athletes more generally is a cause for a concern with an eye towards the next level.
He remained limited on the defensive end of the floor, as well, for many of the same reasons that we have
observed before
. First, Auguste has never been much of a rim protector and blocked just 1.4 shots per 40 minutes pace adjusted as a senior. Furthermore whether it is a matter of fundamentals, effort, or awareness, Auguste is just not a very focused defender in the post, curiously struggling to step out and guard the pick-and-roll despite his quickness and agility. At this point, the question is whether Auguste can refine his feel for the game, while playing more aggressively at the same time. His physical profile has never been in question and, despite his disappointing defensive resume thus far, he still has the potential to be a capable defender at the next level.
One area where Auguste differentiated himself, however, was on the boards. In fact, his 15.6 rebounds per 40 minutes pace adjusted actually rank him as the second best rebounder in our
top-100
. He went from being a fairly average rebounder for the first three years of his career to one of the best in this draft class in terms of pure production, which is certainly notable.
Thus, while
Zach Auguste
improved considerably during his four years at Notre Dame, his NBA prospects remain unclear. Without a jump shot and inconsistent on the defensive end of the floor, Auguste is a center in a power forward's body, without the scrappiness and rim-protection prowess to compensate. After an impressive senior season, however, Auguste will have plenty of opportunities to distinguish himself in private workout settings. While his career at Notre Dame left scouts with more questions than answers, his physical profile alone suggests that he could still develop into a NBA player down the road, possibly after some refinement in the D-League or overseas.