We continue our coverage on the top NBA draft prospects in the ACC with part eight, players ranked 16-20:
Xavier Rathan-Mayes
,
Dwayne Bacon
,
Marcus Paige
,
Zach Auguste
and
Mike Tobey
.
---
More DX Conference Preseason Previews:
-The Top 20 NBA Draft Prospects in the Pac-12
-The Top 20 NBA Draft Prospects in the Big East
-The Top 15 NBA Draft Prospects in the Big 12
-The Top 20 NBA Draft Prospects in the SEC
-The Top 10 NBA Draft Prospects in the AAC
---
Top NBA Draft Prospects in the ACC
-
Top NBA Prospects in the ACC, Part One
(#1) Brandon Ingram (Scouting Video)
Top NBA Prospects in the ACC, Part Two
(#2) Demetrius Jackson (Scouting Video)
Top NBA Prospects in the ACC, Part Three
(#3) Justin Jackson (Scouting Video)
Top NBA Prospects in the ACC, Part Four
(#4) Chinanu Onuaku (Scouting Video)
Top NBA Prospects in the ACC, Part Five
(#5) Grayson Allen (Scouting Video)
Top NBA Prospects in the ACC, Part Six
(#6) Derryck Thornton
(#7) Kennedy Meeks
(#8) Theo Pinson
(#9) Chase Jeter
(#10) Luke Kennard
Top NBA Prospects in the ACC, Part Seven
(#11) Malcolm Brogdon
(#12) Donovan Mitchell
(#13) Brice Johnson
(#14) Michael Gbinije
(#15) Tyler Lydon
---
#16, Xavier Rathan-Mayes, 6-4, RS Sophomore, PG/SG, Florida State
Josh Riddell
The 40th ranked recruit by RSCI in 2013, Xavier Rathan-Mayes choose to follow in his father's footsteps and attend Florida State University. Unfortunately, he was ruled ineligible for his freshman season
due to issues with his high school courses
which put his collegiate career on hold.
After receiving a redshirt in his first year, Rathan-Mayes burst back onto the scene in 2014-15, becoming the ninth leading scorer in the ACC at 14.9 points per game, and earning a place on the ACC All-Freshman team. He scored points in bunches, including a 30 point outburst in the last four and a half minutes in a loss to Miami. A strong second season should put him strongly in draft conversations, as he has several skills that NBA teams will covet.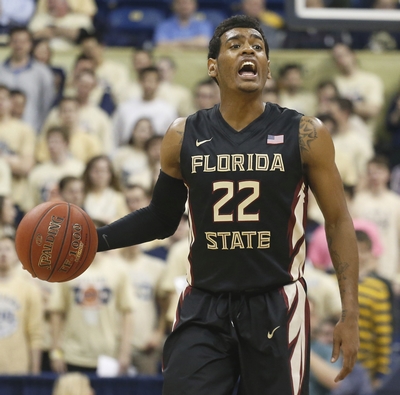 Entering FSU as a shooting guard, he has transitioned to more of a point guard role for the Seminoles. He has still taken on a big scoring role, but also improved over the year as the initiator of the offense. Almost 39% of his offensive possessions come off pick and rolls, according to Synergy Sports Technology, and he has become adept at using the screen to get into the lane and create offense. He isn't always able to shake his defender off the dribble and get into the lane using purely his first step, so he needs that screen to get separation from his defender.
He uses ball screens well, setting up his opponent with some misdirection to run him into the screen and then using changes of speeds to beat the help defense once he gets into the paint. He has solid size for a combo guard, listed at 6'4", which helps him around the rim, as he converts 55% of his half-court shots attempts inside the paint according to Synergy Sports Technology. He doesn't have high-level explosiveness, but he is able to find open shots at the rim either through his change of pace or avoiding the defender when they try to block his shot.
He gets to the line at a decent clip, averaging 5.0 free throw attempts per 40 minutes pace adjusted and his aggressiveness around the rim to absorb contact will help him score if he can't convert over NBA centers. He may need to develop a floater to become a better paint scorer at the next level which will give him several weapons to choose from when he is around the rim as a pro.
This ability to run the pick and roll will catch the eye of NBA scouts and he has shown he can pass well out the action, with 4.8 assists per 40 minutes pace adjusted. He has good vision and can deliver clean passes to his teammates. He does need to cut down on turnovers, as he gets into trouble when he dribbles into traffic or tries to make highlight-reel passes. His 3.8 turnovers per 40 minutes pace adjusted was the
most of any ACC point guard
. Showing improvement in his decision making out of the point guard role in his second season will help boost his draft stock, as his -1.48 pure point rating as a freshman left a lot to be desired.
His best skill coming into the season was considered to be his outside shooting, but he struggled last season, connecting on just 28% of three pointers and 33.6% of all jump shots according to Synergy Sports Technology. His stroke is pure, though, and with better shot-selection and more help around him, it appears he can rebound from a down year. He looks more comfortable in catch and shoot situations, either from a stand-still position or running off screens, but more than twice as many of his attempts came off the dribble, a cause of the ball being in his hands so often. He isn't afraid to shoot, as shown from his 6.0 three point attempts per 40 minutes pace adjusted, and he has deep range.
Despite his low percentages last season, he still has potential to be a good shooter at the next level, although a second straight below average shooting season may see more serious questions begin to arise.
Rathan-Mayes doesn't project to be a great defender at this time, but won't detract defensively. He'll be able to match-up with most players size wise, but he doesn't have great length, last measured at 6'5" in 2012. On the ball, he moves laterally well but struggles with his footwork, as he can get either get caught flat-footed or over-commit into an off-balance position, allowing his opponent to drive by him.
Off the ball, he is still learning proper defensive principles, as he doesn't always make the right read or rotation. However, he does display consistent energy, even if it hasn't yet translated to great decision making yet. Although he may never become a top of the line individual defender, improving as a team defender will support his offensive skill set and raise his profile.
Rathan-Mayes will turn 22 in April and is the same age as many seniors, despite only going into his second season of college basketball, so there is some added pressure to add to his draft stock this year. He's already shown he can put up points in a hurry, so a better shooting performance over the full year along with stronger decision making with the ball in his hands should demonstrate he can be a more complete player. He isn't a high-level athlete, so showing improvement as a passer and shooter is crucial to demonstrate to scouts he can be a versatile threat at the next level.
A strong incoming recruiting class should give him more ammunition to work with, which will help him exhibit his playmaking skills. In his second full season, scouts will be expecting a big leap out of him as he becomes more comfortable in his point guard role. If he makes that jump, his name could move up draft boards quickly.
#17, Dwayne Bacon, 6-7, Freshman, Small Forward, Florida State
Without the benefit of extensive high school footage, we prefer to wait and see how Bacon performs as a freshman before adding to his
DraftExpress profile
.
#18, Marcus Paige, 6-2, Senior, PG/SG, North Carolina
Josh Riddell
On the surface, it seems like Marcus Paige took a step back in his junior season, seeing his point production decrease by three points per 40 minutes pace adjusted while also seeing a two point drop in his true shooting percentage to 57%. However, he was hampered by injuries all season, including plantar fasciitis in his right foot, and a right ankle injury that required surgery after the season.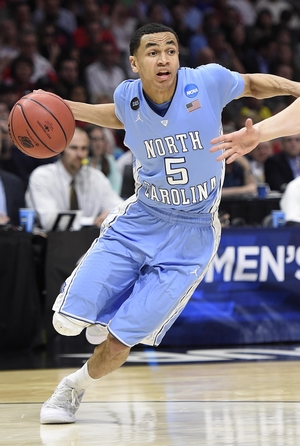 Paige returns to Chapel Hill for his senior season, hoping to lead North Carolina back to the Final Four, while also cementing his name in the NBA Draft conversation.
Primarily a point guard throughout his collegiate career, Paige has begun to play more off the ball over the past season, as he was UNC's only reliable perimeter shooter, so it's worth monitoring his usage this season. Although he doesn't always bring the ball up the court, much of the offense runs through him and he is charged with creating plays for the offense. He can also play off the ball by spotting up on the wing, running off screens or moving to get a step on his man to lead into a pick and roll.
As a point guard, he has excellent vision and can make every pass necessary to an open teammate. He has the court awareness to drive and kick or make wraparound passes, behind the head passes, and cross-court passes on target to his open teammates. His pure point rating of 3.10 is fourth among
point guards in our top 100
and he has done a nice job of cutting down on his turnovers, from 3.1 per 40 minutes pace adjusted his freshman year to just 2.2 last season. His decision making has improved and he doesn't try to do too much on offense any more, playing within his limits.
This also showed up in his shot selection, highlighted by his 57% true shooting percentage. He's an excellent three point shooter, with such attempts accounting for 57% of his field goal attempts, where he converted 39.5% of his attempts. He is a deadly catch and shoot player and is comfortable ball faking and taking one dribble step sideways before launching his jump shot to beat the closeout. He's turned many of his long two's from prior years into threes that way, which NBA teams will enjoy.
He can attack a closeout by dribbling into the paint, but seems more likely to try to find an open teammate rather than his own shot. He already has a nice touch on his floater, which he will need as he doesn't have the size, explosiveness or body frame to absorb contact around the rim. He isn't a great finisher at the basket and he doesn't attempt many free throws (3.3 per-40) despite converting on 86.5% of his attempts. His 6'2, 175 pound frame isn't built to withstand constant contact from NBA big men, but he already shows different ways to beat the defense when he gets into the paint.
NBA teams may question his athleticism and whether his skills will be translatable against the athletic NBA point guards. He's undersized by all measures and none of his athletic tools leap off the page. His frame is especially concerning, considering he is already 22 and he'll have to answer whether he can add enough strength to withstand the rigors of a NBA season. His overall speed and explosiveness are also below average, which may cause him to struggle off the dribble and finishing at the rim. He already struggles to turn the corner which forces the offense into tough jump shots or a full reset on the play. His 44% 2P% ranks very poorly compared to other prospects, and he doesn't compensate for that by getting to the line at a high rate.
Paige's average tools will also hurt him on the other end of the floor, and it's difficult to project him as an above average defensive player. He's already at a disadvantage due to his lack of size and smaller frame and his poor length doesn't help. He is susceptible to getting beat off the dribble by smaller, quicker guards and can be outmatched physically by bigger guards. He'll have to do his best to fully grasp the concepts of a NBA defense, funneling his opponent to his teammates and make the right rotations to slow down the offense. To his credit, he is highly intelligent and competitive, and shows good instincts off the ball, averaging nearly two steals per-40 minutes.
Paige's flexibility to be either molded into a point guard or play as a scoring guard makes him an attractive draft prospect for NBA teams. He'll have to answer questions as to how he will hold his own against NBA players athletically on a nightly basis, but he has enough skills, savvy and smarts that should get him a chance to prove whether he can do so.
#19, Zach Auguste, 6-10, PF/C, Senior, Notre Dame
Jacob Eisenberg
Zach Auguste came to Notre Dame as a moderately heralded recruit out of New Hampshire in 2012, and while his first two seasons in South Bend were encouraging based on per-minute production levels, it wasn't until last season that he finally emerged as a legitimate NBA prospect. Auguste was the only post-threat on Notre Dame's ACC championship team and eventually helped guide the Fighting Irish to the Elite Eight in the NCAA Tournament.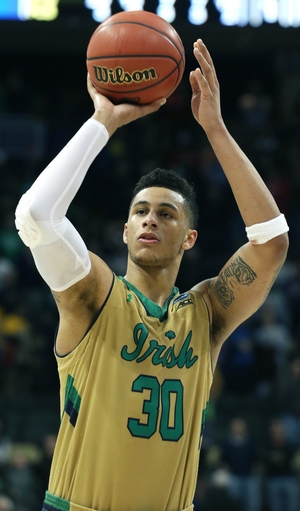 At 6'10, 240 pounds, Auguste is big for ACC standards, but projects as a bit of a tweener between the four and the five at the next level. He has average length, which will work against him on the defensive end for his entire career. Still, he's strong, mobile and physical and can get to his spots on the floor effectively. At Notre Dame last season, Auguste used his size to gain advantage against opponents in the paint, leading to a gaudy 21.1 points and 10.6 rebounds per-40 minute rate.
Auguste had free reins on offense when he got the ball in the paint last season. He had the highest usage rate on Notre Dame, and posted a sparkling 63% true shooting percentage. More impressively, Auguste was as close to automatic as they come around the basket. He converted on 120-of-165 (72.7%) field goal attempts around the hoop in the half court – per Synergy Sports Technology – due to his soft touch and strong finishes.
Auguste's best attribute as an NBA prospect is his nimble footwork. It makes sense that Auguste moves well, considering his father was a semi professional soccer player in Haiti. While Auguste doesn't take particularly long strides, he gets up and down the court at an impressive speed for a player his size. He also has good hands and manages to catch tough passes in motion – all while stopping his feet on a dime with ease – to finish transition opportunities before travelling. With Notre Dame's desire to spread the floor and play quickly, Auguste's efficiency on the interior is an ideal complement for the Irish's shooters. In transition, Auguste converted on 36-of-45 field goal attempts (80%) and rarely turned it over.
While Auguste has a reputation for being Notre Dame's only post threat, the truth is Auguste isn't actually all that effective working with his back to the basket. Auguste made just 30 of his 85 post attempts last year and couldn't seem to find consistency with either hand shooting over either shoulder. To make matters worse, 20.7% of Auguste's post attempts resulted in turnovers – an absolute stain on Mike Brey's otherwise hyper-efficient offense.
Auguste does make up for his turnover rate with an impressive ability to get to free throw line. Last season, Auguste averaged 6.7 free throw attempts per-40 minutes and .39 free-throw attempts per possession – both ranking among the best in DX's top-100 prospect database. He has tremendous balance, which allows him to battle for positioning in the low post without getting pushed off his spots. The balance also allows him to grab offensive rebounds and finish through contact with consistency, a skill that accounts for a healthy portion of his scoring diet. Auguste grabbed 12.5% of all available offensive rebounds last season, ranking eighth among all NCAA prospects last season.
Auguste is still a work in progress at the line, converting on just 63.6% of his free throws last season. To his credit, the 63.6% as a junior was a massive upgrade from the 48.3% he shot as a sophomore. There are signs that he can be good at the line, as he gets a nice rotation on the ball.
Auguste isn't particularly dynamic offensively. He attempted just a handful of jump shots outside of the paint last year and has yet to make a three pointer in college. His jump shots have a flat arc and seemingly always hit the back rim. While he's able to use his size to create scoring opportunities at the college level, it's unlikely those same opportunities will be available against professionals, which will require him to expand his range, particularly if asked to operate at the power forward spot.
Defensively, Auguste is quite limited: Though he moves well for a big man, he takes bad angles when defending on the perimeter and offers minimal rim protection around the basket. Auguste averaged just 1.1 blocks per-40 minutes last season, and was consistently eaten alive when pitted against a skilled offensive big man. Jahlil Okafor and Karl Towns converted on 42-of-60 shots (70%) in four games against Notre Dame last season and Auguste was the tasked defender in both of those matchups.
Though he fights on the interior, Auguste is slightly undersized and allows deep positioning without much resistance against bigger and stronger opponents. At 240 pounds, Auguste is not weak, but he will still need to get significantly tougher and more physical to defend comfortably at the next level to compensate for his lack of length. Currently, he's a bit of a turnstile in the paint.
Still, to his credit, Auguste hedges well and shows a nice mobility on the defensive end, leading to the possibility that he can defend power forwards in the NBA if he learns how to angle himself better. The physical tools are there for him to develop into a better defender should he ever learn to curb penetration through better positioning.
Overall, Auguste's big junior season made him a legitimate NBA prospect. While his role figures to expand with the departures of Jerian Grant and Pat Connaughton, Auguste will need to show more versatility on both ends of the floor to impress scouts in his senior season.
#20, Mike Tobey, 7'0, Senior, Center, Virginia
Derek Bodner
Despite playing in a reserve role, Mike Tobey has been a key contributor on one of the most successful eras in Virginia basketball history, providing the Cavaliers with the size and interior presence that the otherwise small Virginia front court would be lacking.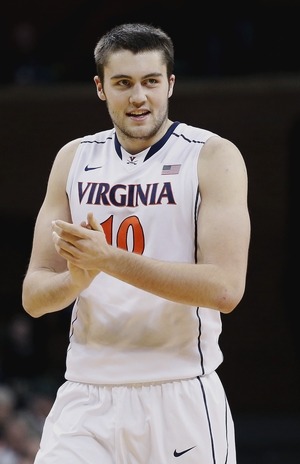 Standing a legitimate 7-feet tall, with a short 7'0.5" wingspan but 9'1.5" standing reach that helps make up for it, Tobey has the physical tools to be a factor inside. Tobey has added some much-needed strength to his frame over the years, making him better suited to physically compete in the paint than he was when he arrived at Virginia.
Tobey's biggest contributions are on the glass, particularly offensively. Tobey has always been strong on the offensive glass, and last year was no exception, as his 14.8% offensive rebounding rate was among the best in the nation, and his 5.0 offensive rebounds per 40 minutes pace adjusted the second best figure in our top-100 database. Tobey does a job fighting for position, with good box-out technique and excellent pursuit. Tobey also does a good job keeping the ball high after gaining possession, and converts these opportunities at a high rate, despite not having the quickest or most explosive second jump.
Where Tobey has grown is as a defensive rebounder, turning what used to be a weakness into a legitimate strength. As we noted in our write-up of Tobey last fall, his defensive rebounding numbers as a sophomore – 4.5 defensive rebounds per 40 minutes, pace adjusted, and at a 12.4% defensive rebounding rate – were likely held back because of the presence of senior Akil Mitchell. With Virginia losing Mitchell to graduation, Tobey stepped in and filled that role admirably, nearly doubling his defensive rebounding output from 4.5 per 40 minutes pace adjusted to 8.0. The change in output skyrocketed Tobey from the second worst ranking among centers in our top-100 database to the second best.
The change isn't necessarily a surprise, as Tobey always had strong technique as a defensive rebounder. He positions himself well and has excellent box-out technique. That, combined with his high standing reach, improved strength, and consistent effort has turned Tobey into a strong defensive rebounder.
On the offensive side of the court Tobey's major contributions, besides on the offensive glass, is in the post. Tobey has a high skill level in the post, with good footwork, solid touch with either hand, and a nice turnaround jump shot.
There are a couple of things holding him back in this regard which puts into question how much of this will translate to the next level. While Tobey has clearly made improving his body a priority over the years, he could still stand to improve his lower body strength, and that, combined with a high center of gravity, can cause him to still get pushed around at times. Second, Tobey tends to be more of a finesse player in the post, including as a finisher around the rim, a problem which is compounded by below-average explosive ability.
Tobey did make progress in this regard as a junior, with his field goal percentage around the rim a much more respectable 56.4% than the 49.5% he shot as a sophomore, according to Synergy Sports Technology. Still, continuing to fill out his body would help Tobey in the future. Finally. Tobey struggles to recognize and react to double teams in the post, and has never had more than 13 assists in a season for Virginia. This is likely to be less of a concern in the NBA, where he'll face less double teams, but improving his recognition in these situations would be a welcomed addition to his game.
Tobey shows some potential as a jump shooter, even if the overall sample size is small. According to Synergy Sports Technology, Tobey's overall effectiveness as a jump shooter was poor, connecting on only 33.3% of his jump shots, with all of his makes coming from two point range. Still, the sample size is so low that the percentages aren't all that relevant, and his 74.6% free throw shooting, and 73.2% for his college career, is probably a better indication of his potential in this regard, and he shows decent touch out to 17' in game situations.
On the defensive side of the court, Tobey makes good use of his size in the post. Tobey will fight for position down low, and uses his size, reach, positioning, and verticality to challenge shots in the paint despite not having the explosiveness you would typically associate with a shot blocker. As previously mentioned, Tobey's improved his strength, which allows him to better hold his position in the paint, although he can still struggle at times with more polished post scorers.
The biggest question for Tobey will come on the perimeter, as he doesn't change speed or direction all that well. Virginia was able to keep Tobey out of many pick and roll situations, but opponents at the next level will be able to exploit his lack of adequate foot speed better, and it will be an obvious concern for decision makers at the next level.
Tobey doesn't project as a major offensive contributor at the next level, but 7-footers with his size and skill level will always get a look, especially ones who can contribute on the glass like Tobey can. Further improvement, whether that be continued improvement of his frame, a more reliable and projectable jump shot, or as a scorer in the post, would cement his status as a prospect for the 2016 draft.
Tobey is the youngest senior in our rankings, only turning 21 a few days ago, making him younger than a handful of players in our sophomore rankings. Considering his age, size and his late-blooming status, it's reasonable to expect that Tobey will continue to improve significantly over the coming years, which will likely give his stock an added boost.