A.J. Oliver, 6-5 SG/SF, D.W. Daniel High School, SC, 2017 Class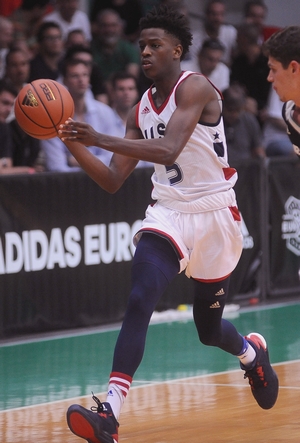 Strengths
-Good athlete who can play above the rim in space.
-Excellent shooter who makes shots with range. Shoots it with a lot of confidence. Catches on the hop, gets good rotation, not bothered by a hand contest.
-Shows potential as an off the dribble shooter by way of basic one or two dribble pull ups.
-Has the fluidity to attack a closeout. Showed very brief glimpses of potential playing out of pick and roll.
- Able to make plays off the ball defensively thanks to his fluidity and solid leaping ability.
Weaknesses
-Good not great tools for a wing prospect. – 6' 5" with a wiry frame and what appeared to be average length. Very thin lower body.
-Wasn't able to show all that much more than spot shooting at Eurocamp. Not the most advanced ball handler. Can continue to add more off the dribble moves to get to his jumper. Average finisher in traffic. Struggles to make plays versus pressure.
-Feel for the game is average at this stage. Not afraid to hoist up contested jumpers early in the clock. Looking to score more than playmake.
-Can be a bit hunched over defending the perimeter
-Loses his cool at times when the game gets physical
Outlook
Oliver proved to be one of the best shooters at Eurocamp, regardless of age and that readymade skill should translate to the college level as he's headed to Clemson for the 2017-18 season. The South Carolina native has some polishing to do on both ends of the floor to become more than a shooter, but he shows potential in several areas and is certainly worth keeping an eye on as he continues to develop.