Aaric Murray
Recent Tweets
All Tweets
DraftExpress: Good for LaSalle. Losing Aaric Murray was definitely addition by subtraction. He sure didn't do West Virginia any good.
2013-03-20 23:14:38
DraftExpress: RT @jeffborzello: West Virginia's Aaric Murray arrested Thursday morning on possession of narcotics: http://t.co/NhqsAdTr
2011-12-22 01:26:49
DraftExpress: Scathing stuff from Dick Jerardi of the Philadelphia Daily News on Aaric Murray: http://bit.ly/hUGt6j Says Murray "does not like basketball"
2011-03-25 11:52:09
DraftExpress: Devestating news indeed. RT @TheHoopsReport: I'm sure the NBA is pissed they'll have to wait at least two more years for Aaric Murray.
2011-03-24 06:59:36
DraftExpress: Transfer to the NBA? RT @TheHoopsReport: La Salle sophomore Aaric Murray has decided to transfer. No word yet on where he is headed.
2011-03-24 06:30:07
Top 25s - Full List
Team: Panelefsiniakos
Physicals
Positions
Rankings
Salary
Misc
H: 6' 11"
W: 250 lbs
Bday: 07/03/1989
(26 Years Old)

Current: C
NBA: C
Possible: C

RSCI: 35

Agent: Stephen Pina

High School: Glen Mills
Hometown: Philadelphia, PA

Predraft Measurements
| Year | Source | Height w/o Shoes | Height w/shoes | Weight | Wingspan | Standing Reach | Body Fat | No Step Vert | Max Vert |
| --- | --- | --- | --- | --- | --- | --- | --- | --- | --- |
| 2014 | Portsmouth | 6' 9" | NA | 250 | 7' 2.5" | 9' 3.5" | NA | 25.5 | NA |
| 2011 | LeBron James Camp | NA | 6' 10.75" | 249 | 7' 3" | NA | NA | NA | NA |
| 2011 | Amare Stoudemire Camp | NA | 6' 10.75" | 249 | 7' 3" | NA | NA | NA | NA |



Basic Per Game Statistics

- Comprehensive Stats - Statistical Top 25s
| Year | League | Name | GP | Min | Pts | FG | FGA | FG% | 2Pt | 2PtA | 2P% | 3Pt | 3PtA | 3P% | FTM | FTA | FT% | Off | Def | TOT | Asts | Stls | Blks | TOs | PFs |
| --- | --- | --- | --- | --- | --- | --- | --- | --- | --- | --- | --- | --- | --- | --- | --- | --- | --- | --- | --- | --- | --- | --- | --- | --- | --- |
| 2014/15 | Greek | Aaric Murray | 7 | 21.6 | 10.0 | 3.9 | 6.9 | 56.3 | 3.9 | 6.3 | 61.4 | 0.0 | 0.6 | 0.0 | 2.3 | 3.1 | 72.7 | 1.9 | 4.0 | 5.9 | 0.7 | 0.9 | 1.7 | 1.3 | 3.0 |

Player Page&nbsp&nbsp| Player Stats | Mock Draft History | Related Articles&nbsp&nbsp| Add to My Draft Express&nbsp
&nbsp
Trending Prospects (2/10/2011)
February 10, 2011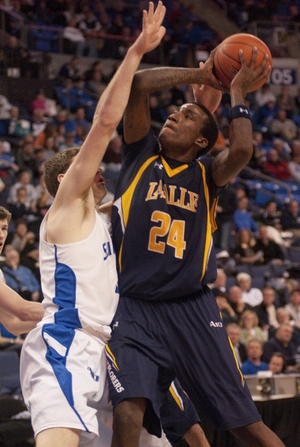 Icon SMI



Joseph Treutlein

Coming off a solid freshman season, after which he toyed with entering the NBA draft, Aaric Murray has come back to make some modest improvements as a sophomore. While Murray has slightly increased his production and efficiency this year, there are also some things he's still struggling with, namely consistently playing with high effort and focus.

On the offensive end, Murray has the makings of a versatile inside-out game, being serviceable scoring the ball in variety of ways but not great in any one area. The majority of his possessions come off cuts, offensive rebounds, and pick-and-rolls, with him being pretty active getting open and looking for ways to score off the ball. He has good hands, coordination, and mobility, which enable him to get a lot of opportunities, but his lack of noteworthy explosiveness or reactiveness hurts his ability to finish around the basket, specifically when contested.

On the perimeter, Murray showed great potential as a shooter last season, having a great knack for putting the ball in the basket despite unrefined and inconsistent shooting mechanics. He shot 36% from behind the arc last year, and is hitting at the same clip this season, but his attempts are down from 2.9 to 1.2 per game, with him placing more of an emphasis on mid-range shots instead.

At his size with his natural ability, Murray has the potential to be a very potent weapon as a three-pointer shooter, but he too often settles for ill-advised, contested shots and doesn't show much effort in keeping his mechanics consistent. At times he looks excellent knocking down spot-up shots, and he's shooting a very strong 80% from the free-throw line, but his lack of discipline and unpolished mechanics are severely holding him back.

The one area where Murray has probably improved the most this season is with his back-to-the-basket, as he shows a decent developing array of moves in the post, having excellent touch on his right-handed hook shot and the ability to pull up some rangy dropsteps and spin moves. His lack of explosiveness and power hold him back in this area, and it's questionable how his game at this point would translate against higher caliber defenders, though he shows potential here and is still developing.

Murray also improved the rate at which he gets to the free throw line this season, averaging 3.9 FTA per game compared to 2.0 last season, but he still doesn't get to the line as much as you'd like for a player with his tools who shoots free throws as well as he does.

On the defensive end is where Murray is having the most trouble this season, as his effort and focus are continual causes for concern, which led to him playing just 11 minutes in a game against Dayton earlier this week. Murray frequently just goes through the motions on this end, most notably in the way he easily gives up position on the low block, while he's also prone to giving up on plays and letting out of his stance. His fundamentals in the post are not good, though he does do a good job using his length and mobility to block shots at a solid rate both on and off the ball. To his credit, he actually shows some potential defending the perimeter, occasionally showing a solid stance and having the mobility to move around well, but he too often lets out of his stance and just doesn't put in the effort moving his feet.

On the glass, Murray is likewise not very impressive, doing a good job on the offensive glass, but not being especially active on the defensive boards, pulling in just 6.1 defensive boards per 40 minutes pace adjusted. His lack of consistent energy doing the little things is concerning, as his offensive skill level probably isn't at the point where he can make it in the long term unless he's making consistent contributions on defense and the boards.

Looking forward, Murray is an intriguing player with his size, skill-level, and potential as a three-point shooter, while he makes solid contributions in a few other areas as well. As a 21-year-old sophomore who doesn't always show great energy on the floor, however, it's fair to question how likely he is to reach his potential. The fact that he rates as a below average athlete at best for the NBA level doesn't help matters either.

Murray's size and scoring instincts could put him in second round discussions come June, even if he's not a lock to get drafted considering his advanced age, the red flags surrounding him and the underwhelming progress he's made this season.

[Read Full Article]

---
adidas Nations Experience Dunking Drills
September 9, 2010
[Read Full Article]

---
NCAA Weekly Performers, 1/29/10
January 28, 2010
Matthew Kamalsky

A late-bloomer who took up the game just a few seasons ago at Glen Mills School, an institution for court-referred students, Murray emerged as a prep in late-2007 before surprising many by committing to play for La Salle a year later. Despite offers from better programs, Murray opted to stay close to home, where he matured from a young man in trouble with the law to one of the top center prospects in the 2009 recruiting class and a notably better student. Now a freshman, Murray has been quite a pick up for the Explorers, leading the team in rebounding, providing a defensive presence, showing an extremely unique skill set for his position offensively, and emerging as a potential NBA prospect in the process.

From a physical standpoint, Murray doesn't have great tools, but is at least adequate considering the position he'll play. Standing 6-10 and possessing a solid, albeit lanky frame that he's shed some weight from since his high school days, the young center lacks much in the way of quick explosiveness, but is a long strider who compensates with his big wingspan and can play above the rim when he has a chance to gather himself. In the long-term, it would be nice to see Murray continue developing his lower body strength and pack on some bulk to his upper body to allow him to be more effective operating near the rim.

Additional explosiveness and strength would certainly add to the things Murray already does well offensively. Despite his lack of experience, Murray possesses outstanding natural touch on his shot, as evidenced by his 47.8% shooting from beyond the arc –a mark that ranks him amongst the top shooters in our database. Though he doesn't have the most fundamentally sound release, and shifts his form from shot-to-shot, the Philadelphia native shows excellent shot making ability –an unusual quality for a player his size. Synergy Sports Technology indicates that nearly half of Murray's shots are jumpers, and he even flashes the ability to put the ball on the floor for one dribble to take advantage of opportunities from the midrange.

When Murray isn't hoisting shots from the perimeter, he proves to be a capable finisher at the rim, taking advantage of the shots his teammates create for him and seldom backing down from contact at the rim. Though he isn't tentative with a head of steam going to the basket, he definitely favors his turnaround jumper when operating in the post and will need to become more aggressive as time goes on to take advantage of his size –his 1.7 FTA average certainly could use a boost, as could the 66% he shoots from the line. As he matures as a player, Murray will need to develop some crafty counter-moves in the paint to compensate for his lack of elite athleticism and exploit his turnaround jumper.

Defensively, Murray doesn't possess great lateral quickness, but his length and tendency to give a cushion allows him to contest shots extremely well. Ranking in the top-15 players in our database in blocks per-40 minutes pace adjusted, Murray already shows a knack for using his big wingspan, but appears to be learning the game defensively at the moment. He gets in a good stance and does a solid job defending off the ball, but he's still developing the ability to make crisp rotations to block shots from the weakside and will need to improve his fundamentals in terms of closing out and defending one-on-one in the post.

While clearly not possessing the same upside as some of his counterparts in this freshman class, Murray is the type of intriguing talent that will draw interest whenever he declares. His ability to hit shots is really impressive, and while he's still very early in his learning curve in terms of court awareness, passing, post offense, and defense, he displays some rather impressive tools for a player with only a couple of seasons under his belt. Though he's a bit old for his class at 20, Murray is definitely a player to keep tabs on in the future as he continues to make a name for himself in the A-10.

[Read Full Article]

---