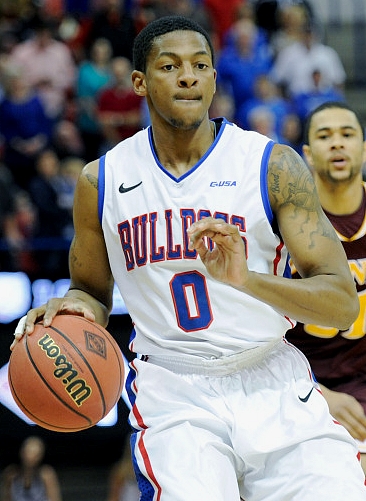 Matt Williams
A largely unheralded recruit coming out of Chipley high school in the rural Florida panhandle, Louisiana Tech junior Alex Hamilton has blossomed into one of the most intriguing guards at the mid-major level over the first two years of his collegiate career. Averaging 7.8 points, and 2.5 assists per-game as a freshman in 2013, Hamilton made an instant impact for Michael White's Bulldogs, but really blossomed as a sophomore, leading Tech in scoring at 14.6 points per-game as the team finished with 29 wins.
Standing 6'4 with a long and wiry, but fairly strong frame, Hamilton has nice size for a shooting guard to go along with terrific quickness, an attribute that has served him extremely well in White's aggressive, press-heavy defensive system and fast paced offense.
Hamilton's offensive role a year ago reflected White's style of play, as nearly a quarter of his possessions came in transition according to Synergy Sports Technology, to go along with significant usage creating one-on-one, on the pick and roll, and in spot up situations off the ball. Hamilton's ability to use his athleticism to create and score around the rim is easily his best offensive attribute at the moment.
Hamilton is a capable ball-handler who uses hesitation moves effectively, which coupled with his speed, make him a tremendous slasher at the collegiate level. His aggressiveness pays off, as his 8 free throw attempts per-40 minutes pace adjusted would ranks second among shooting guards in our Top-100 prospect rankings. Though Hamilton gets a bit out of control at times when in attack mode and needs to continue improving his right hand, he still finished at a 64% clip around the rim a year ago, a terrific mark for a guard.
Part of the reason Hamilton gets out of control is systematic—White gives his players significant freedom offensively as he wants to speed the game up, so the Bulldogs often take a lot of bad shots as a team—but the junior guard is also just an average jump shooter at this stage of his career, so his lack of tremendous confidence from the outside results in some amount of tunnel vision when he looks to score. Making just 29% of his pull-up jumpers a year ago, but 36% of his open catch and shoot attempts, Hamilton's mechanics waver and look rigid at times at times, but the lefty has enough range to force defenders to respect him from the perimeter and the building-blocks to continue improving as a shooter over time.
Playing alongside one of the most unique lead guards in the NCAA in Speedy Smith, Hamilton is not Louisiana Tech's point guard per se, but he is a good passer and secondary ball-handler who seemingly has the vision and ability to handle pressure to make it seem as though he could handle some minutes at the position down the road. Averaging 3.6 assists and 2.8 turnovers per-40 minutes pace adjusted, it will be interesting to see how Hamilton fares as a passer and shot creator as a senior when Smith, who ranks among the top passers in the college game in the past decade, has graduated.
Defensively, Hamilton's length and athleticism allow him to make some positive contributions for Louisiana Tech, which applies full court pressure as frequently as almost any team in the country and plays the passing lanes very aggressively as a team in the half court. Showing impressive quickness and conditioning picking up the length of the floor, Hamilton can be a factor in the passing lanes in the half court, but can also get a bit lackadaisical at times defending the ball. A stout individual defender when he wants to be, Hamilton has nice potential on this end of the floor, even if he gives up dribble penetration more frequently than he should from time to time.
Though he still has room to improve as a shooter, Alex Hamilton shows the type of athleticism and shot creating ability that NBA teams like to see in shooting guard prospects. He'll have to improve his jump-shot to make it eventually, as that would take his offensive game to another level, and would benefit from improving his decision-making and right hand, but Hamilton is a player worth keeping tabs on over the next couple years.