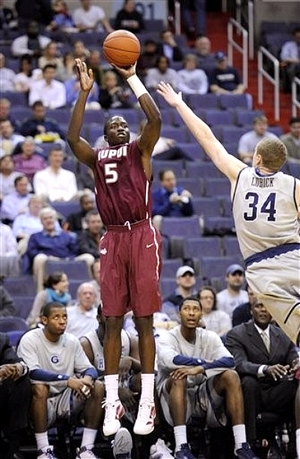 Jonathan Givony
One of the
top-10 scorers
in college basketball,
Alex Young
's senior season and career at IUPUI came to a disappointing end this week after losing in the quarterfinals of the Summit league conference tournament.
Young increased his scoring productivity on both a per-game and per-minute basis this season, but did so on a high-volume, low-efficiency basis, ranking 3rd amongst collegiate prospects in field goal attempts per-minute pace adjusted, while shooting a career low 42% from the field. He was able to offset that somewhat by getting to the free throw line more often and turning the ball over much less frequently, but did so mostly in a losing cause on a team that went 14-18 on the season and finished seventh in the weak Summit League, with a 7-11 record.
Young is a very impressive player to take in on first glance, as he has terrific size for a wing player at 6-6 to go along with a NBA-ready frame. He's an instinctive scorer who can create his own shot at will and makes jumpers from all over the floor, sometimes in extremely impressive fashion.
A solid ball-handler in the open floor, Young is occasionally asked to initiate his team's offense from the perimeter, using his superior size, strong frame and aggressive nature to bully his way to the rim, drawing plenty of fouls in turn. Not particularly explosive around the rim, he struggles to finish everything he creates for himself, but is such a force driving down the lane at the Summit league level that he can often get himself to the free throw line instead. Young is talented enough to put the ball in the net from almost anywhere on the floor, albeit not in an efficient manner, as evidenced by his poor shooting percentages (47% from 2-point range).
Also a capable perimeter shooter, Young can get very hot at times and bury some very tough jumpers from well beyond the 3-point line. His shot-selection is exceptionally poor unfortunately, as he has a difficult time distinguishing between good and bad looks, as has a tendency to settle for deep, contested pull-up jumpers early in the shot clock, which makes it very difficult for him or his team to play efficient, winning basketball. Young attempted nearly five and a half 3-pointers per game this season, but converted just 34% of them, struggling in particular to make shots with his feet set.
Defensively, when dialed in, Young can make a major impact with his combination of size, strength and length at the Summit league level, as he moves his feet well and has good anticipation skills, getting a good amount of steals jumping in the passing lanes. Young's fundamentals and awareness can waver at times, though, and his team ranked as one of the worst defenses in the NCAA this season, giving up 110 points per 100 possessions according to
Kenpom.com
.
The type of player who could have some strong workouts thanks to his impressive physique and solid one on one scoring instincts, Young will have a chance to display his merits as a NBA-level scorer at the Portsmouth Invitational tournament in April.