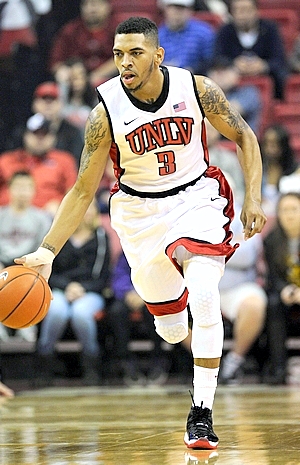 Walker Beeken
After playing mostly off the ball in a combo guard role for first three seasons,
Anthony Marshall
has taken over the ball-handling responsibilities at UNLV as a senior, and he's shown some positive developments in his game so far.
The Las Vegas native was a top-100 recruit coming out of high school (RSCI #74), whose minutes and production gradually increased during his first three seasons at UNLV. As a senior, Marshall has made some adjustments in his game in order to best help his team, shooting a career-low in field goal attempts per-40 and dishing a career-high number of assists, as he's focused more on being a distributor on a talented team loaded with players who aren't at all bashful about shooting.
From a physical standpoint, Marshall stacks up very well as an NBA point guard prospect, as he has good size for his position at 6'3, to go along with a chiseled frame and strong athletic ability. The left-hander also has solid versatility for a college guard, showing the ability to create offense for himself or others, while also being a good defender.
Perhaps the biggest improvement Marshall has made this season has been as a perimeter shooter. After shooting a miserable 20% from 3-point range as a sophomore and 26% as a junior, Marshall is connecting on 44% of his shots from behind the arc so far this season on a career-high 2.6 attempts per game. He looks comfortable making shots with his feet set, and he's done a much better job of punishing his defender for going underneath the pick-and-roll, complicating the opposing scouting report.
With that said, Marshall still has work to do in this area, as the 64% he shoots from the free throw line likely hints at. With his long, slow release and average touch, as he does not look like a natural shooter still, particularly with his ability to pull up off the dribble. Marshall has made just over one 3-pointer per game on the season thus far, which is a very limited sample size. Teams will likely want to evaluate the extent of his improvement in private workout settings, in order to put his improvement into proper context and gauge how likely he is to be able to extend his range out to the much further out NBA 3-point line.
Where Marshall is still at his best attacking the basket. He shows the ability to drive in either direction and does an excellent job of using hesitation dribbles and crossovers to keep his man on his heels. Marshall has a powerful first step and is not deterred even when unable to beat his opponent off the bounce initially, as he is wide and strong enough to simply bully his way to the rim and make a play inside the paint.
Once he gets in the paint, Marshall is a very good finisher--converting 66% of his attempts around the basket in the half-court on the season according to Synergy Sports Technology, tops amongst all collegiate point guard prospects with at least 40 attempts. He's crafty around the basket, does an excellent job of utilizing his size to create space, and has a knack for using his body to shield the ball and finish through contact.
On occasion, he'll also back down smaller guards or post them up, using his size to his advantage and going up strong to the rim or finding the open man if the defenses collapses.
With that said, Marshall doesn't get to the rim in the half-court all that often, and it would likely be much more difficult for him to have the same success as a finisher at the NBA level against longer, more athletic defenders. With that in mind, he'd be best served to develop a more consistent floater and pull-up mid-range jumper, as well as working on his off-hand, all of which he hasn't shown much of this season.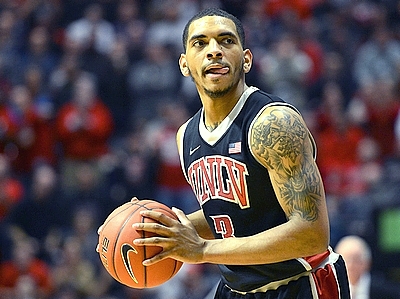 While Marshall has always been a solid passer and shown a good feel for the game, he's also always been an aggressive offensive player with more of a scorer's mentality, so his willingness to focus more on running the team and distributing has been a pleasant surprise. He's still extremely turnover-prone, though, coughing the ball up on 28% of his possessions thus far, and looks somewhat mechanical with his decision making, often telegraphing his passes before he makes them. The fact that he leads the Mountain West Conference in assists despite not playing the position full time up until this season should not be ignored though, as it's safe to say he should continue to get a feel for the position with more repetition at the professional level.
Marshall was selected as an All Mountain West defender as a junior and does a nice job on that end of the floor, showing good toughness and competing hard for the most part. He moves pretty well laterally, and he's able to use his size and length to help recover and compensate whenever he gets beat.
Overall, Marshall has had a solid first half to his senior season, and he should have plenty of time to showcase his game in front of NBA teams if his extremely talented UNLV team can perform to their potential in the postseason, and then later at the Portsmouth Invitational Tournament, which he should strongly consider attending.
Proving that his early season shooting isn't a fluke will be very important for him as he begins his professional career, but he's shown enough that he should at least have himself on the radar for NBA scouts as they search for point guards who could be potential second round picks or summer league invites. Guards with size, athleticism and competitiveness are difficult to come by, so it's safe to say Marshall is someone who will be on the radar for a while even if he doesn't make it in his first go-around.