Austin Rivers
Recent Tweets
All Tweets
DraftExpress: Austin Rivers started very slow at Duke too. Average athlete plus a very dominant ball-handler. His style of play takes time to transition.
2012-10-31 22:13:34
DraftExpress: Austin Rivers will be taken right here by Toronto I'm told.
2012-06-28 08:12:28
DraftExpress: RT @WojYahooNBA: The top of New Orleans' wish list at No. 10 leads with Duke guard Austin Rivers, league sources tell Y!
2012-06-28 05:17:26
DraftExpress: RT @AlexKennedyNBA: Hornets would love Andre Drummond at #10. If he's gone, they'll look at Austin Rivers, Tyler Zeller and Meyers Leona ...
2012-06-28 05:08:51
DraftExpress: Austin Rivers: "I shouldn't be about how high you go, it should be about where you go." http://t.co/1t3igGm7
2012-06-16 11:02:08
Team: Clippers
Physicals
Positions
Rankings
Salary
Misc
H: 6' 5"
W: 203 lbs
Bday: 08/01/1992
(23 Years Old)

Current: SG
NBA: SG
Possible: SG

RSCI: 2

Agent: David Falk

High School: Winter Park
Hometown: Winter Park, FL
Drafted: Pick 10 in 2012 by Hornets
Best Case: O.J. Mayo
Worst Case: Jerryd Bayless

Predraft Measurements
| Year | Source | Height w/o Shoes | Height w/shoes | Weight | Wingspan | Standing Reach | Body Fat | No Step Vert | Max Vert |
| --- | --- | --- | --- | --- | --- | --- | --- | --- | --- |
| 2012 | NBA Draft Combine | 6' 3.5" | 6' 5" | 203 | 6' 7.25" | 8' 0.5" | 6.2 | 32.5 | 37.5 |
| 2011 | Kevin Durant Camp | NA | 6' 5" | 203 | 6' 7" | NA | NA | NA | NA |
| 2009 | LeBron James Camp | NA | 6' 4" | 189 | 6' 7" | NA | NA | NA | NA |
| 2009 | Deron Williams Camp | NA | 6' 4" | 189 | 6' 7" | NA | NA | NA | NA |



Basic Per Game Statistics

- Comprehensive Stats - Statistical Top 25s
| Year | League | Name | GP | Min | Pts | FG | FGA | FG% | 2Pt | 2PtA | 2P% | 3Pt | 3PtA | 3P% | FTM | FTA | FT% | Off | Def | TOT | Asts | Stls | Blks | TOs | PFs |
| --- | --- | --- | --- | --- | --- | --- | --- | --- | --- | --- | --- | --- | --- | --- | --- | --- | --- | --- | --- | --- | --- | --- | --- | --- | --- |
| 2015/16 | NBA | Austin Rivers | 16 | 24.3 | 8.7 | 3.4 | 7.7 | 43.9 | 2.7 | 4.9 | 55.1 | 0.7 | 2.8 | 24.4 | 1.3 | 2.1 | 58.8 | 0.4 | 1.4 | 1.8 | 1.2 | 1.0 | 0.2 | 0.8 | 2.0 |

Player Page&nbsp&nbsp| Player Stats | Mock Draft History | Related Articles&nbsp&nbsp| Add to My Draft Express&nbsp
&nbsp
2012 NBA Draft Media Day Interviews Part One
June 27, 2012
[Read Full Article]

---
Austin Rivers Video Scouting Report
June 15, 2012
Mike Schmitz takes a look at the strengths and weaknesses of Austin Rivers with the help of Duke game film, Jay Bilas, Duke assistant Chris Collins, and Rivers himself.






---




More DraftExpress Video Breakdowns:


-Perry Jones Video Scouting Report
-Thomas Robinson Video Scouting Report
-Andre Drummond Video Scouting Report
-Quincy Miller Video Scouting Report
-Tony Wroten Video Scouting Report
-Terrence Ross Video Scouting Report
-Tyshawn Taylor Video Scouting Report
-Damian Lillard Video Scouting Report
-Jeremy Lamb Video Scouting Report
-Bradley Beal Video Scouting Report
-Dion Waiters Video Scouting Report
-Kendall Marshall Video Scouting Report
-Moe Harkless Video Scouting Report
-Meyers Leonard Video Scouting Reports
-Michael Kidd-Gilchrist Video Scouting Reports
-Harrison Barnes Video Scouting Report


---


Mike Schmitz is a writer for ValleyoftheSuns, a member of the TrueHoop Network. Follow him on twitter and subscribe to his YouTube page.

[Read Full Article]

---
NBA Combine Interviews: Rivers, Marshall, Wroten
June 9, 2012
[Read Full Article]

---
Trending Prospects (3/22/2012)
March 22, 2012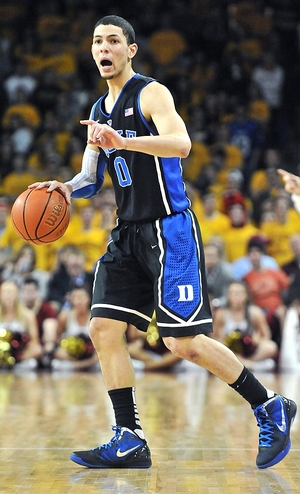 Icon SMI



Matt Kamalsky

The second ranked recruit in the 2011 high school class according to the RSCI, Austin Rivers entered his freshman season facing lofty expectations. Though he struggled with inconsistency and could not led his team past Lehigh in the first-round of the NCAA tournament, he showed improvement late in the year, led the Blue Devils in scoring, and gave scouts a clear picture of his strengths and weaknesses in a polarizing role for one of the nation's top programs.

Standing 6-4 with a wiry frame that he's added some bulk to since his days at Winter Park High School, Rivers is a bit undersized for a NBA shooting guard, but compensates with a 6'7 wingspan. Athletically, the 19 year-old guard lacks elite strength and explosiveness as a leaper in traffic, but has very good quickness and fluidity, which he maximizes with the timing of his first step and ball-handling skills.

It was Rivers' athleticism and scoring instincts that made him the catalyst for the Blue Devils offense and defined his role as freshman. According to Synergy Sports Technology, Rivers's total number of pick and rolls and isolations used this season (356 over 34 games) ranks in the top-5 in the NCAA. Perhaps the only player on Duke's roster dynamic enough to consistently distort defenses with his dribble penetration and generate his own shot in a pinch, Rivers may not have been his team's primary ball-handler, but he was the creative force behind his team's offense all year long, for better or worse.

A crafty ball-handler with no shortage of shifty hesitation moves or blistering cross-overs, Rivers showed the ability to create separation from his defender in one-on-one situations and turn the corner to get into the paint on the pick and roll, even splitting the defense in impressive fashion on occasion. Extremely confident and aggressive, River's decision-making once he got into the paint and drew additional defenders quickly became a point of interest for scouts, as the young guard struggled with aspects of his dribble-drive game throughout the season.

When attacking the basket early in the year, Rivers often seemed to get tunnel vision, heading straight into the teeth of the defense and attempting to either finish over or around opposing big men regardless of whether or not he had a shooter open in the corner or an open 15-footer after his initial move. Though Rivers managed to convert some difficult shots around the rim in impressive fashion with his floater, he shot a dismal 49% at the rim through the first 19 games of the season.

As Rivers began to adjust to the pressures of being his team's go-to creator, he seemed to become appreciably better about pulling up when he had space, seeking out contact, and not driving directly into help defense as frequently, even if he still has room to improve on this part of his game. Thanks to those adjustments, Rivers shot 63% at the rim over Duke's last 15 games and was able to cut down on his turnover rate as well.

While those improvements were certainly significant, they paint an imperfect picture of Rivers' continued bout with the burden he carried offensively. Though he became more discerning with his own shot selection in the mid-paint area when he beat his man, he continued to press as he looked for his own, often contested, shot, even with open teammates with better shots often waiting on the wing. Posting an even 1.0 assist-to-turnover ratio in half court situations, Rivers was at his best when his pull-up jumper was falling and in the games where he was able to balance his scoring with savvy passing.

Notorious for his ability to score from the outside at the high school level, Rivers was very streaky this season, but lived up to his reputation in that regard for the most part. Shooting the ball with somewhat unorthodox mechanics that appear to be smoother off the bounce than in spot-up situations, Rivers gets great elevation on his jumper and has the footwork and quick dribble moves to get his shot off in virtually any situation.

Knocking down a solid 36.2% of his pull-ups and mediocre 33.3% of his catch and shoot jumpers, Rivers showed the ability to take and make difficult shots from everywhere on the floor, displaying his range and unabashed confidence in his jump shot on a number of notable occasions this season, such as his game-winning buzzer beater to defeat North Carolina. That confidence sometimes played against him, as he clearly struggled with his shot selection at times, a difficulty only compounded by the significant offensive role he was asked to play for Duke.

Rivers' efficiency, decision-making, and ability to make an impact without the ball in his hands remain areas for improvement. Playing a role geared towards the things he'll be asked to do in the NBA, the freshman's ability to take his terrific skill level and become a better passer, more controlled shot creator, and better shooter off the catch are all areas worth keeping an eye on moving forward, especially as he attempts to re-adjust to a different level of competition.

On the defensive end, Rivers was not an impact player. Playing with an inconsistent energy level, Rivers did a respectable job staying in front of his man when dialed in, but sometimes gave up penetration to more explosive players or was too aggressive stepping up to meet a ball-handler with a head of steam. Fairly assertive with his positioning, Rivers is a bit of a gambler, but on the whole, was fairly average defensively. Lacking great size and length for his position from a NBA perspective, Rivers could stand to add some muscle to his frame to prepare him for the rigors of the pro-game, as he'll need to make the most of his tools considering he does not stand out in any one area on this end of the floor.

One of the top freshman scorers in the country, Rivers had an up-and-down season relative to expectations that ended prematurely just as he appeared to be getting things rolling. His swagger, skill level, and scoring ability were unmistakable, even early on, but scouts also got an eyeful of his average decision-making, poor body language in the face of adversity and bouts with inefficiency from the perimeter.

Although he's a year older than many of the players in his class, Rivers is still an extremely young prospect who will have plenty of opportunities to continue developing his game, and some of the areas he struggles in are certainly correctable. A likely early entrant candidate, Rivers has the potential to be a terrific scoring threat in the NBA, even if the rest of his game still needs to be rounded out.

[Read Full Article]

---
Boost Mobile Elite 24: Duke-UNC Smackdown, Part Five
August 29, 2011
[Read Full Article]

---
McDonald's All-American Game Video Profile: Austin Rivers
April 26, 2011
[Read Full Article]

---
2011 Nike Hoop Summit: USA Team Measurements
April 12, 2011
Austin Rivers
Height (with shoes): 6-4
Weight: 198.6
Wingspan: 6-8

[Read Full Article]

---
Nike Hoop Summit Interviews
April 9, 2011
[Read Full Article]

---
2011 McDonald's High School All-American Dunk Contest Videos
April 1, 2011
Plumlee was joined by fellow Duke commit Austin Rivers in the contest.





Austin Rivers tosses the ball to himself from the corner of the court and behind the backboard and then catches it off the bounce before going around-the-world with it in his hands and slamming it with his right hand.





Austin Rivers wears his Dad's Atlanta Hawks jersey for some showmanship points and then shoots the ball from behind the 3-point line, catches it off of the bounce and does a windmill dunk.





Austin Rivers starts from behind the backboard and only takes a few quick steps before jumping two-footed and windmill slamming it home.

[Read Full Article]

---
FIBA Americas U-18 Championships: Top American Prospects
July 5, 2010
The leading scorer (with an astounding 101 points in 115 minutes) and MVP of this tournament, Austin Rivers was an absolutely devastating presence on the offensive end for this USA basketball squad.

Rivers has average size for a shooting guard, at around 6-4, and will need to continue to work on his frame down the road. He's an exceptionally fluid athlete, though. He has a great first step, terrific shiftiness off the dribble and amazing scoring instincts for a player his age.

Rivers is a multi-faceted offensive threat who is capable of creating his own shot in the half-court and being a deadly shooter from beyond the arc. He's equally adept at making shots with his feet set or off the dribble, showing interesting mechanics that are extremely consistent but also slow down the speed of his release somewhat. He's capable of absolutely exploding at any given moment, though, as he showed in the semifinals when he made an unbelievable nine 3-pointers in a row (a USA Basketball record), five of which came in the first quarter alone.

Rivers is more than just a shooter. He has an excellent crossover and is extremely creative when finishing around the basket, using pretty floaters and reverse moves to score with the greatest of ease. He puts tremendous pressure on the defense and is as aggressive and confident a scorer as you'll find at the high school level.

He's billed as being something of a point guard, but we've yet to see much of that from Rivers in the half dozen times we've evaluated him thus far. He thinks shoot first and is clearly most comfortable in a go-to scoring role, preferably one where he can take any shot he wants.

Rivers' shot selection can be poor at times, and his body language often leaves something to be desired. He noticeably pouts at the first sign of adversity—whether it's the referee making a call against him, a few missed shots in a row or a teammate refusing to pass him the ball—and he doesn't appear to be the easiest guy to play with. Part of this can likely be chalked up to immaturity—as you often see in 17-year-old star players–but his case seems to be a bit more extreme than usual.

Defensively, Rivers' talent level and feel for the game translate well, even if he doesn't always feel inclined to show it. He makes good reads rotating in the half-court and seems to have strong anticipation skills coming up with steals and rebounds, although he does tend to gamble.

Rivers' scoring instincts and athleticism have elevated him to the top of his class amongst the high school recruiting services and there is no question that his talent level warrants that spot. Having already committed to Florida (and then recently reneging), he's one of the most coveted prospects in his class, with Duke rumored to be the favorites.

[Read Full Article]

---