Bernard James
Recent Tweets
All Tweets
DraftExpress: (super early) Top performers from the 2014 Vegas Summer league (PER) Josh Davis Tim Hardaway Bernard James Nemanja Nedovic Russ Smith
2014-07-12 22:42:15
DraftExpress: Looks like we're going to be more accurate in the 2nd round with our mock than the first (not). Had Bernard James at 33 pegged. Sweet!
2012-06-28 10:42:12
DraftExpress: Cleveland takes Bernard James at #33. Pick goes to Mavs in Zeller trade. Air Force vet James gets a standing ovation and "USA USA" chants.
2012-06-28 09:40:59
DraftExpress: Bernard James was probably the best interview I did at the NBA Combine out of the 50+ guys: http://t.co/ghby5ser - Tough not to root for him
2012-06-26 04:14:59
DraftExpress: I enjoyed this article by @ESPNAndyKatz about 27-year old Bernard James, maybe the best story of this draft: http://t.co/ckQtQZ6q
2012-06-26 04:12:33
Team: Shanghai
Physicals
Positions
Salary
Misc
H: 6' 10"
W: 230 lbs
Bday: 02/07/1985
(30 Years Old)

Current: C
NBA: C
Possible: C

Agent: Travis King

High School: Windsor Forest
Hometown: Savannah, GA
Drafted: Pick 33 in 2012 by Mavericks
Best Case: Joel Anthony
Worst Case: Brian Skinner

Predraft Measurements
| Year | Source | Height w/o Shoes | Height w/shoes | Weight | Wingspan | Standing Reach | Body Fat | No Step Vert | Max Vert |
| --- | --- | --- | --- | --- | --- | --- | --- | --- | --- |
| 2012 | NBA Draft Combine | 6' 8.75" | 6' 10" | 230 | 7' 3" | 9' 0.5" | 5.0 | 30.0 | 32.5 |



Basic Per Game Statistics

- Comprehensive Stats - Statistical Top 25s

Player Page&nbsp&nbsp| Player Stats | Mock Draft History | Related Articles&nbsp&nbsp| Add to My Draft Express&nbsp
&nbsp
NBA Combine Interviews: Henson, Moultrie, James
June 24, 2012
[Read Full Article]

---
Trending Prospects 2/27/2012
February 27, 2012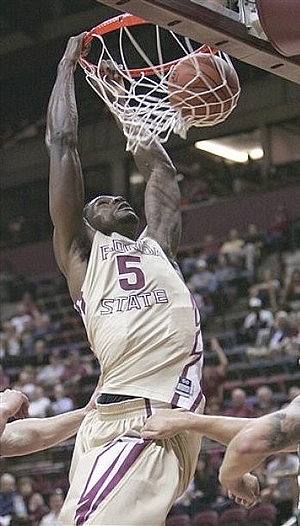 AP



Joe Treutlein

Coming off a solid junior season where he established himself as an interesting NBA prospect despite his very advanced age, Bernard James is having a similar season as a senior. James has seen a slightly expanded role due to the departure of Florida State's two leading scorers from last year, but his pace adjusted production and efficiency numbers are all the same or slightly down, as he hasn't grown much from a skills perspective.

Looking at James' game, his strengths and weaknesses remain largely the same, and he's being utilized in a similar fashion to last season. His defense and rebounding remain his most attractive assets from an NBA perspective, unsurprising due to his central role on the country's 5th best defense according to kenpom.com.

In the post, James does an excellent job utilizing his high motor and physical tools to disrupt the opposition, playing a rangy, aggressive style that fits well into his team's scheme. He's a tremendously instinctive shot-blocker, doing an excellent job rotating from the weak-side and being a major factor for opposing slashers to deal with inside the paint.

This is likely his most appealing attribute as a NBA prospect, as it's not difficult to envision this part of his game translating to playing against better competition.

James is prone to overplaying the ball on fronts, but it's done within a team concept and the rewards far outweigh the risks. His best chance to make an impact in the pros initially would be with a creative, defensive-oriented coach who could take advantage of his tools, and it will be interesting to see if James can find ways to be similarly effective if he plays in a more vanilla scheme.

In terms of his straight man-to-man defense, James is still a bit rough around the edges, being prone to being beat laterally both in the post and on the perimeter. He doesn't move laterally especially well, likely due to fundamentals (he rarely bends his knees) more than athleticism, and it's something that also shows up in the pick-and-roll game, where he doesn't always play with nearly the same aggressiveness as in the other areas of his defense.

This could be by design, but is something that would be much more important for him in the highly pick-and-roll oriented NBA, and teams will probably want to study this more in pre-draft workouts.

On the offensive end, James hasn't shown much new with his slightly expanded role, as he's seeing a similar possession distribution to last season while his FG% is down slightly from 65.7% to 60.7%. His post game remains extremely raw, and he is absolutely reliant on his dominant left hand, while he's still lacking in touch and balance on his finesse moves more than a few feet from the basket.

He shows good ability to finish with power, but struggles when he doesn't have great position or is tightly defended, where he just doesn't have the coordination or polish to consistently finish on hook shots and contested lay-ups.

James does a good job finishing on off-ball plays such as cuts, pick-and-rolls, and offensive rebounds, but this aspect of his game isn't emphasized highly in Florida State's offense, which isn't the prettiest or most effective you'd find in the NCAA.

This area of his game could certainly benefit from playing with a better cast of offensive talent and more open system, especially when he wouldn't be relied on to have the second most field goal attempts on his team, a tough burden for a player with his very limited skill set.

Because his post game likely won't translate very effectively to the NBA and there's only so much he can do to improve as an off-ball finisher, the most significant improvement James could make on the offensive end would be developing a respectable 15-foot jump shot, something he's shown no sign of in his two seasons in college.

His shooting mechanics, on the rare chance he takes a shot once in a blue moon, are not pretty to say the least, and he's shooting a very poor 52% from the free-throw line this season (up slightly from 50% last year).

Even with his limited basketball experience, he's fighting an uphill battle on this front, as it's tough to see him developing a respectable NBA jump shot from nothing given that he's already 27 years old.

Looking forward, James' size, athletic tools, defensive abilities, and intangibles give him a nice package that will make him attractive to many NBA teams. His value as a practice player and teammate could certainly help endear him to some coaches, especially ones who have creative defensive schemes they believe they could effectively utilize him in.

His advanced age will be a significant issue for many teams, but some playoff teams could actually view it as an asset, especially in combination with his off-court experience in the military. Given the historically awful success rate of late second round picks in the draft, James could be seen as an attractive choice to the right team, for the intangibles he brings to the table and the chance he could still continue developing despite his age.

[Read Full Article]

---
Top NBA Draft Prospects in the ACC, Part Two (#6-10)
September 19, 2011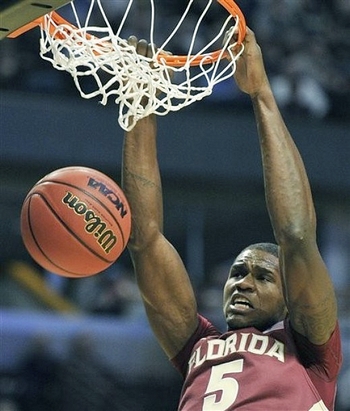 AP



Derek Bodner

Florida State's Bernard James took a fairly unique route to establishing himself as one of the best big men in the ACC last season. James dropped out of high school at 16, instead earning his GED and pursuing a career with the Air Force. James served 6 years in the Air Force, in volatile destinations such as Iraq, Qatar, and Kuwait.

This leads to a very composed and physically mature player, but also one that will be 27 years old by the time the 2012 draft rolls around.

James physical profile is where the intrigue begins, as he stands a legitimate 6'10", with good length and a developed upper body. He used that length to be a contributor on the top defensive team in the country, and it's where his biggest contributions would come at the next level.

James combines his wingspan with quick leaping ability and excellent timing to create one of the better shot blocking threats in college basketball last season, as his 4.4 blocks per 40 minutes pace adjusted ranked fourth in our database last year.

James also uses his length well as a post defender, having had considerable success against a number of NBA caliber big men last year. He does a solid job of denying position, although he could still stand to improve his lower body strength even further. Overall, he does a good job of not biting on pump fakes or leaving his feet early, and keeps himself out of foul trouble well for a shot blocker of his caliber.

Defending the pick and roll could be a little bit of a question mark, as James' lateral mobility is only average. He uses his length well denying the ball handler on picks, but struggles at times to recover and get back to his man, as he's not the quickest at changing direction.

Despite James' advanced age, he is relatively young in terms of basketball development. James was only 6'5" when he entered the Air Force and had never played organized basketball before that. On the offensive side is where this shows the most.

The lefty has a decent hook shot over his right shoulder, but other than that virtually all of his offense comes from cuts, offensive rebounds, and in transition. His post moves are methodical and predictable, and he struggles to finish through contact. He lacks any sort of advanced counter move, his footwork is a work in progress, and he struggles to finish with his right hand.

James sets solid picks and can cover ground quickly on pick and hard rolls to the basket, but his hands and touch are only average, and it's hard to envision him making a living at the next level in this role.

His offensive game outside of the paint is non-existent, as he attempted virtually no jump shots last year, and was not utilized in pick and pop or isolation situations at all, probably for good reason. While it's a good trait that he plays within himself offensively (he topped our entire database in FG% last season), his glaring weaknesses will make him an easy cover defensively.

Showing year to year progression is crucial for any draft prospect, but perhaps none more-so than Bernard James. The skill sets he does have are ones typically valued highly, and he does a good job of playing within himself. Despite his advanced age, it's easy to forget how early he is in his basketball development process. That being said, with a player who may very well be in his physical prime by the time he enters the draft, it's crucial James shows substantial progression in shoring up his many deficiencies.

[Read Full Article]

---