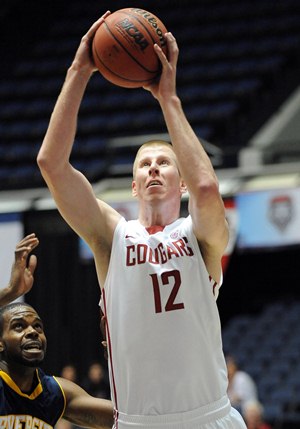 Derek Bodner
After losing
Klay Thompson
to the NBA draft, the Washington State Cougars needed somebody to step up on the offensive side of the court. This need became even more pressing of a need when Faisal Aden suffered a torn ACL in late January.
Motum had largely been a role player during his first two years at Washington State, playing only 19 minutes per game as a sophomore and providing an efficient 7.6 points per game off the bench, scoring a large majority of his points off of cuts and spot-up opportunities.
That all changed for Motum this season, and he responded perhaps as well as anybody could have reasonably expected him to. Motum upped his per-game scoring average from 7.6 to 18, his per-40 minute pace adjusted average from 15.2 to 23.7, while suffering hardly any drop in efficiency, as his true shooting percentage dropped only slightly from 64% to 63%. After Aden went down with an injury late in the season, Motum stepped up even further, averaging 23 points per game over the his final 13 games before his season was ended by an ankle injury, proving to be one of the most prolific scoring big men in the country. Motum doesn't look the part of your typical NBA power forward, running a bit awkwardly and not showing much quickness or explosiveness, but his scoring instincts are extremely impressive, and will give him a chance to make a significant living in professional basketball, be it in Europe or the NBA.
Cuts and spot-up opportunities still represent a good portion of Motum's offense, as he and fellow senior
Reggie Moore
have developed good two-man game between them. He gets a far higher percentage of his half-court game in post-up situations, now at 16% of his total offense, which is up from 8.7% his sophomore year, according to Synergy Sports Technology. The lefty likes to come across the lane and shoot a hook over his right shoulder, which he has very good touch on and does a good job getting off. He is still a little weak with his off hand, and can become a little bit predictable because of that. While not an explosive leaper, Motum has great body control, excellent touch around the basket and does a good job of getting his shot off despite playing largely below the rim.
Motum's perimeter skills have also taken a step forward this past season, extending his range out to collegiate three point range and improving off the dribble. Making 40% of his 3-point attempts on the season, Motum's shot looks more consistent, and while a little bit long to develop he has a consistent, repeatable motion with good follow through. As a ball-handler, he once again largely prefers going to his left, where he has a deceptive first step and nice touch when going towards the basket. He doesn't show very many counter moves, and his right hand isn't useful for much more than simple straight line drives, but Motum does a good job of using the threat of his jump shot and ball fakes to get his way into the paint with regularity, drawing fouls at a very nice clip.
One area where Motum has struggled with his transition to a high usage offensive player has been in the turnover department, where his 3.8 turnovers per 40 minutes is among the top for power forwards in our database. This should improve as he becomes less of a focal point offensively, as he's simply not all that comfortable as a passer and his recognition leaves a lot to be desired in this facet of the game.
Perhaps the biggest improvement in his game has been on the defensive glass. At 2.8 and 3.6 defensive rebounds per 40 minutes pace adjusted during his first two seasons at Washington State, Motum consistently rated towards the bottom of our database for power forwards. While the 6.0 per 40 pace adjusted isn't particularly outstanding, it's far closer towards respectability than he has previously been able to haul in.
The defensive side of the ball still represents the biggest problem in trying to project him to the next level. While Motum appears to have added some strength to his frame, he still struggles to hold position in the post, and overall does a poor job of contesting shots. He also struggles to change direction, which could present problems defending the pick and roll at the next level. Motum tends to show hard on the ball handler, and struggles to rotate back to his man. He doesn't present much in the form of weak side help defense, not being much of a shot blocker and being slow on rotations.
Brock Motum
performed about as well as anybody could have reasonably hoped this season, improving in many areas of his game as he became the top scoring option on an undermanned Washington State team. Although Motum still has flaws in his game that he'll have to work to correct, his big improvement between his sophomore and junior seasons has placed him on the map as a prospect. While Motum's athletic deficiencies may make it difficult for him to improve his rebounding and defensive ability as much as some scouts may hope, his offensive versatility as a 6-9 power forward who can put the ball in the net efficiently from anywhere on the floor will certainly draw him some interest over the course of his senior year. It's difficult to find players his size who can score as naturally as he can, which gives him at least a fighting chance to prove he won't be a liability in other areas.