C.J. Fair
Recent Tweets
All Tweets
DraftExpress: Notable undrafted Patric Young Jabari Brown Khem Birch LaQuinton Ross Jahii Carson James McAdoo C.J. Fair DeAndre Kane Melvin Ejim
2014-06-27 00:10:11
DraftExpress: Top NBA Prospects in the ACC Prospects #10-14 C.J. Fair DaJuan Coleman Brice Johnson Robert Carter Jerian Grant http://t.co/ZjATYj0WSm
2013-09-11 18:03:49
DraftExpress: Top NBA Prospects in the ACC Prospects #10-14 http://t.co/ZjATYj0WSm C.J. Fair DaJuan Coleman Brice Johnson Robert Carter Jerian Grant
2013-09-11 11:22:03
DraftExpress: C.J. Fair will also return for his senior season Syracuse announces http://t.co/rZ0mIQgbIF
2013-04-24 14:51:56
DraftExpress: C.J. Fair iso'd one on one vs Georgetown's best defender is the shot you want in that situation? Fair shooting 34% in iso sits. this year.
2013-03-15 21:04:07
Team: Fort Wayne
Physicals
Positions
Rankings
Salary
Misc
H: 6' 8"
W: 218 lbs
Bday: 09/13/1991
(24 Years Old)

Current: SF/PF
NBA: SF/PF
Possible: SF/PF

RSCI: 84

Agent: Torrel Harris

High School: Brewster Academy
Hometown: Baltimore, MD

Predraft Measurements
| Year | Source | Height w/o Shoes | Height w/shoes | Weight | Wingspan | Standing Reach | Body Fat | No Step Vert | Max Vert |
| --- | --- | --- | --- | --- | --- | --- | --- | --- | --- |
| 2014 | NBA Draft Combine | 6' 6.5" | 6' 8" | 218 | 6' 9.5" | 8' 8" | 5.1 | 27.0 | 35.0 |
| 2012 | LeBron James Camp | NA | 6' 7.5" | 216 | 6' 9" | NA | NA | NA | NA |
| 2012 | Kevin Durant Camp | NA | 6' 7.5" | 216 | 6' 9" | NA | NA | NA | NA |



Basic Per Game Statistics

- Comprehensive Stats - Statistical Top 25s
| Year | League | Name | GP | Min | Pts | FG | FGA | FG% | 2Pt | 2PtA | 2P% | 3Pt | 3PtA | 3P% | FTM | FTA | FT% | Off | Def | TOT | Asts | Stls | Blks | TOs | PFs |
| --- | --- | --- | --- | --- | --- | --- | --- | --- | --- | --- | --- | --- | --- | --- | --- | --- | --- | --- | --- | --- | --- | --- | --- | --- | --- |
| 2015/16 | DLEAGUE | C.J. Fair | 7 | 33.9 | 13.6 | 4.4 | 10.6 | 41.9 | 3.7 | 8.0 | 46.4 | 0.7 | 2.6 | 27.8 | 4.0 | 4.6 | 87.5 | 1.0 | 6.9 | 7.9 | 3.0 | 1.4 | 0.7 | 3.1 | 2.0 |

Player Page&nbsp&nbsp| Player Stats | Mock Draft History | Related Articles&nbsp&nbsp| Add to My Draft Express&nbsp
&nbsp
2014 NBA Combine Interviews: Smart, Fair, Clarkson
May 20, 2014
[Read Full Article]

---
Top NBA Draft Prospects in the ACC, Part Six (#10-14)
September 11, 2013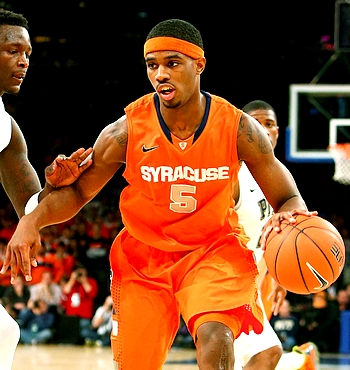 US Presswire



Derek Bodner

The last time we profiled Syracuse's C.J. Fair, we noted his increased effectiveness from the foul line and the development of good touch on runners in the lane, and speculated that he may be able to extend that out to jump shots in game situations.

That success came in a big way during the 6'7 ½ forward's junior season, as he maintained his free throw percentage at 75.5%, but increased his three point shooting substantially, from 25% at 0.6 attempts per game up to a lofty 46.9% on 1.6 attempts per game. According to Synergy Sports Technology, his efficiency on jump shots increased from a below-average 0.793 points per possession to a much more respectable 0.97 points per possession, turning one of his weaknesses into a staple of his game and allowing him to go from a role player to one of the focal points of the Syracuse team. The net result was Fair was able to increase his scoring from 13.0 points per 40 minutes pace adjusted to 16.7 points per 40 minutes pace adjusted.

The major area of improvement came with his feet set. Fair struggled in catch and shoot situations during his first two seasons at Syracuse, shooting just 18.2% and 31.4% during his freshman and sophomore seasons, respectively. That jumped all the way up to 48.6% during his junior year, ranking in the 90th percentile in terms of points per possession according to Synergy Sports Technology, and he was virtually automatic when left unguarded, connecting on an astounding 58.1% of those attempts. Unfortunately the sample size of just 74 possessions (1.9 attempts per game) leaves a lot to be desired, so Fair will have to continue to shoot the ball effectively and possibly more frequently to convince NBA scouts that this significant improvement wasn't just a fluke.

Fair has clearly worked on his release, and has turned it into a technically sound, repeatable, and effective release. He does a good job squaring up to the basket in anticipation of the pass, has excellent balance, gets good elevation, and follows through well. There's a little bit of extra motion in the release, which causes it to not be the quickest release in the world, but it's overall a very effective and consistent weapon for the forward, and a huge step forward from where it was in previous years.

The results are not quite as consistent when Fair is on the move, as he isn't nearly as effective either coming off of screens or shooting off the dribble. Fair's effectiveness off the dribble fell from 0.933 points per possession his sophomore season to a well below-average 0.633 last year. Part of this is due to a change in role, as he attempted to create more of his offense this past season and thus took shots with a higher degree of difficulty. The form on his pull-up jump shots doesn't seem to be broken, and it may be something he can improve upon with enough repetition as he becomes more comfortable with the shot, particularly when forced to go to his right.

The rest of Fair's offensive game remains relatively the same as the last time we profiled him. His two point field goal percentage of 47% continues the disappointing trend from his sophomore season, both of which were well below the 54.7% he shot inside of the arc during his freshman year and well below average for somebody who plays a majority of his time at the power forward position.

While not a prolific shot creator, Fair did create more for himself off the dribble than he did in year's past. This was largely due to the increased attention he received shooting from the elbow and foul line extended areas of the court, as opposing power forwards were forced to defend his improved jump shot, and Fair used that attention along with an effective pump fake to get around his man. That being said, Fair could definitely stand to improve his ball handling, especially if he hopes to make the transition to small forward at the next level, as he's fairly limited in terms of advanced ball handling moves and struggles to get all the way to the rim when driving to his weak right hand.

Another thing contributing to his relative lack of efficiency inside the arc is that Fair doesn't get much offense in the post, despite playing most of his time at power forward. Fair has decent footwork, but his lack of lower body strength and inability to establish post position limits this aspect of his game. He does do a good job of finding seams in a defense and moving without the ball, something which should be useful when he makes the transition to the next level.

Defensively, Fair has many of the same question marks when trying to project to the next level that many Syracuse players face, particularly when trying to determine whether he could effectively guard small forwards on the perimeter. Standing under 6'8" without the wingspan to make up for it, Fair may struggle to see extended time at the power forward position. As we noted during our previous write-up, Fair maintains consistent focus and a high energy level on this side of the court. An overall athletic player, how well he can move his feet laterally and defend the perimeter will be one of the major factors to keep an eye on when he gets to individual workouts.

Always on the radar as a high energy, athletic role player, the development of a more consistent jump shot (albeit on just 64 3-point attempts in 40 games) was a noteworthy development in C.J. Fair's status as a prospect. Continuing to develop his perimeter skills, ball handling, and shot creating abilities will be a key for Fair going forward as he looks to show decision makers that he could make the transition to the perimeter at the next level, as long as his outside shooting percentages don't revert back to where they were his first two seasons.

[Read Full Article]

---
Top NBA Prospects in the Big East, Part Four
October 18, 2012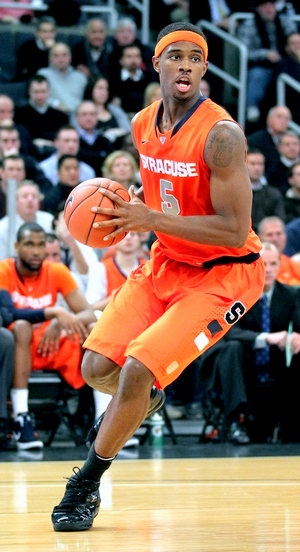 US Presswire



Joe Treutlein

After a solid freshman season, C.J. Fair took a small step forward as a sophomore, slightly expanding his role, seeing his playing time rise from 19 to 26 minutes per game, but not increasing any of his per 40 minute numbers noticeably.

On the floor, the story is much the same, as Fair hasn't developed much with his individual skills in any particular area. Fair still sees almost all of his possessions operating off the ball, mostly on cuts to the basket, and does very little in terms of creating his own shot from the perimeter or in the post. His two-point percentage actually declined significantly this season from 55% to 49%, but given his relatively low usage, that might just be statistical noise. Still, for a player specializing in off-ball scoring around the basket, he'll have to do a better job in the future.

Fair's perimeter shot didn't improve noticeably either, as he made just six 3-pointers on the season, though his improvement from 61% to 74% from the free-throw line was a welcome sign. It's possible this could translate to in-game situations next season, and definitely would be a boon to Fair's stock if it did. To his credit, he has developed a very formidable runner in the lane over the past two seasons, and appears to be capable of translating that touch to the perimeter. That's something he will likely have to do by the time he leaves college, considering he measured just 6-7 ½ and 216 pounds at the Nike Skills Academy, even though he sees plenty of minutes at power forward.

Defensively, Fair had another solid season putting in the consistent focus and energy necessary to succeed in Jim Boeheim's zone scheme, but as is always the case, it doesn't show us much of how he'd fare in more consistent man-to-man situations. At his size, and with his average length (6-9 wingspan), he'll surely have to spend most of his time guarding small forwards at the professional, something he isn't gaining a great deal of experience at in Syracuse's zone.

Looking forward, Fair's lack of noticeable improvement in any significant area is concerning, but he did manage to expand his role without setback and should have opportunities to continue doing so over the next two years. Getting his inside scoring efficiency back to where it was as a freshman and making noticeable strides with his perimeter shot should be his two biggest short-term priorities, but further honing his skills in all areas of the game couldn't hurt either. It's still too early assess Fair's NBA potential, but high energy players with his size and athleticism always deserve looks, and he has time to continue improving.

[Read Full Article]

---
Top NBA Draft Prospects in the Big East: Part Three (#11-15)
October 17, 2011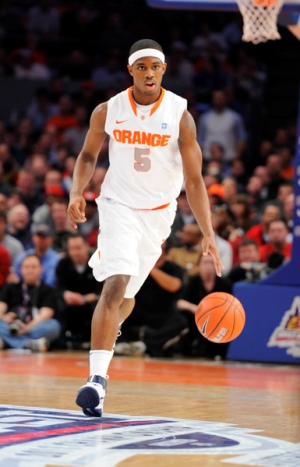 Icon SMI



Joseph Treutlein

A top-100 recruit out of high school, C.J. Fair had a modest debut season for Syracuse last year, averaging 6.4 points in 18.6 minutes per game.

Standing 6'8 with a solid frame and very good length, Fair is a good overall athlete for a combo forward, being fast in the open floor and showing nice vertical explosiveness when he builds momentum. He's still raw with most of his skills and has a certain awkwardness to some of his movements, but likely can improve on that with time.

On the offensive end, Fair does the vast majority of his work operating off the ball, with just 19 of his 218 possessions logged by Synergy being of the isolation variety. He sees most of his possessions on cuts, offensive rebounds, and spot-up opportunities, doing very little to create his own shot and not showing much in terms of a perimeter jumper yet.

Working off the ball, Fair shows a very active motor and solid awareness of spacing, constantly moving around in Syracuse's offense and doing a nice job finishing on cuts in the lane. He shows nice creativity and touch at the rim, finishing well on the move. His athletic abilities also show up much better in transition, where he does a better job harnessing his leaping ability when relatively unimpeded to the basket and not having to worry about putting the ball on the floor.

Fair also sees a lot of opportunities on spot-up, straight line drives, something he shows varying success with depending on the situation. Fair's ball-handling skills are still underdeveloped, not showing much in terms of change of direction ability or control in tight spaces, while he also struggles getting to top speed with the ball in his hands. In well spaced situations, he's able to utilize his long strides to overcome these shortcomings and excel, but when the lanes are crowded he struggles to consistently produce. He does occasionally flash an impressive spin move and shows solid instincts when he has space to operate, but is still very raw overall.

The biggest area Fair is lacking in right now is with his perimeter shooting ability, something he shows very little of on a consistent basis. He took just 32 jumpers on the season according to Synergy, while scoring a poor 0.72 points per shot on those attempts. His FT% was a similarly disappointing 61%. Fair's form is not particularly refined or consistent and his touch is problematic the farther he gets from the rim, something he will definitely need to work on given his lack of shot creation abilities.

Defensively, as is the case with most Syracuse players, Fair is mostly untested as a one-on-one perimeter or post defender, playing almost exclusively the forward spots in Syracuse's 3-2 zone. Like most Boeheim players, Fair shows a good level of focus and activity on defense, constantly keeping his eyes on the ball and moving well off the ball to stay with his man and contest shots, but he appears very raw in the few instances he's tested on isolations. Fair has a high center of gravity and doesn't look very comfortable moving laterally, something he'll definitely need to improve on despite the lack of opportunities to do so at his school.

Looking forward, Fair is still a very raw player who shows flashes in a lot of areas, and he will probably need more time and opportunities to fully developed. While he looks like he'd be ready to expand his game some this season, that may be tough to do given Syracuse's situation, as they're returning the vast majority of their rotation and have a strong recruiting class incoming with two ESPN Top-25 recruits. Continuing to improve his ball-handling, perimeter shooting, and defense should be among Fair's priorities, but he still has plenty of time left to add some polish to his game as he's still just 20 years old with three years left on campus.

[Read Full Article]

---