Josh Riddell
Not highly recruited out of high school,
Cady Lalanne
had a solid, but not eye-catching, four year career at UMass, finishing his senior season averaging 15.0 points per 40 minutes pace adjusted with a 58% true shooting percentage. The
Atlantic-10 All-Conference 3rd team
player improved his production each year of his collegiate career and also contributed 12.3 rebounds and 2.5 blocks per 30 minutes pace adjusted for the Minutemen this past season.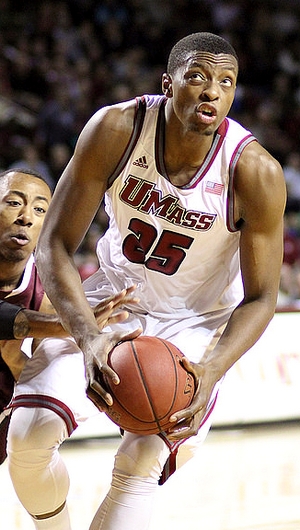 Lalanne grabbed the attention of NBA scouts with a solid performance at the Portsmouth Invitational Tournament, both on the court and with his off court measurements. Named to the All-Tournament team, the senior averaged 18.6 points, 17.2 rebounds and 3.3 blocks per 40 minutes pace adjusted in the three games of the tournament.
Measured at 6'8.25" without shoes at PIT, Lalanne also checked in with the longest wingspan at 7'5", an exceptional mark for his size and measurables that will allow him to match up size-wise with almost any NBA big man. He moves up and down the court fairly well for a player his size, but can get out of control when he reaches his top speed. He currently weighs 241 pounds but still has room to add strength, especially by filling out his lower body to help him compete with interior players at the next level.
Primarily a post player while in college, Lalanne displays decent hands for a big man although he needed to be stronger with the ball at times as he had a tendency to have the ball stripped either by his man or a secondary defender. Lalanne was able to use his unique combination of size and length to score on the block, regularly falling back to a jump hook that defenders couldn't challenge. He didn't show advanced footwork for a post player, but was able to carve out strong position on the block, leading to either an easy drop step finish or putting him in close position to try the hook. To score consistently on the block at the next level, he'll need to develop some counter moves, but he has a nice foundation to give his team production on the block from time to time.
Not a jump shooter in college, attempting just twenty jumpers according to Synergy Sports Technology, Lalanne started showing an ability to stretch the defense while at PIT. If he can knock these perimeter jump shots down, he will be able to round out his offensive game and provide his team options in using him offensively. He was a career 66% free throw shooter in college, but didn't show significant progress with this part of his game, hitting 72% of his attempts as a sophomore before dropping to 66% as a junior and then 64% as a senior.
Lalanne is already a strong finisher around the rim and could find similar success at the next level with his physical attributes. He averaged 65.5% on shots around the rim according to Synergy Sports Technology, which would place him in the top ten of players in our top-100 with many of these shots coming off dump-off passes or offensive rebounds. He doesn't create many shots for himself but when given the ball around the rim, he converts these opportunities at a high clip.
Lalanne will also be able to contribute rebounding on both ends and playing with a relentless motor in attacking the glass will be key for him to find a niche at the next level.
Tied for first
in our top 100 in offensive rebounding at 4.5 per 40 minutes pace adjusted, Lalanne uses his length and athleticism to track down loose balls, even those outside his area. He provides similar value on the defensive end,
averaging 7.9 defensive rebounds per 40 minutes pace adjusted
. Rebounding will be a major selling point for him and keeping a constant energy level and dominating the glass will help him show his potential role to teams.
Defensively, Lalanne is an intriguing prospect as his length and good instincts allowed him to be a formidable shotblocker as he displayed good timing and reads of the offensive players to deny attempts around the rim. He does need to add strength to defend the post, as he could be backed down by stronger players, and didn't always play with the same intensity level, looking somewhat laid back with his approach to the game. Also, he'll need to show whether he can defend perimeter players to give him some defensive versatility as he moves his feet decently well but may not be agile enough to stay in front of dribble penetration from perimeter oriented bigs. He could become a rim protector off the bench with his length but he will need to show he can provide consistent value defensively and be able to guard in individual matchups.
The fifth oldest player in our top 100, Lalanne has been a late bloomer and showed better than expected potential with a strong performance at PIT. Although he couldn't parlay this into a NBA Combine invite, he should get plenty of pre-draft workouts and more chances in summer leagues to show he can play at the NBA level.
The big man isn't particularly skilled, so he will need to use his athletic and physical tool sets while playing at an extremely high energy level to fill a role with the right team. If he can show that he can fill such a role, he could hear his name called on draft night before moving into the summer league and preseason process to stick onto a roster. He has definitely given scouts a reason to monitor him leading up to the season and we could definitely see him on an NBA roster at some point.