Cameron Payne
Recent Tweets
All Tweets
DraftExpress: Cameron Payne is a fantastic story. Was a twig in high school. Had no real interest from any major schools. After two years a lottery pick!
2015-06-25 21:12:56
DraftExpress2: Cameron Payne at this point could be an ideal long-term solution in the backcourt for OKC.
2015-06-25 21:10:51
DraftExpress: Cameron Payne Fractures Finger in Denver Nuggets Workout http://t.co/7AG7Sa8ktq http://t.co/OFwSjX54dI
2015-06-19 13:12:02
Team: Thunder
Physicals
Positions
Salary
Misc
H: 6' 2"
W: 183 lbs
Bday: 08/08/1994
(21 Years Old)

Current: PG
NBA: PG
Possible: PG

Agent: Travis King

High School: Lausanne Collegiate
Hometown: Bartlett, TN
Drafted: Pick 14 in 2015 by Thunder

Predraft Measurements
| Year | Source | Height w/o Shoes | Height w/shoes | Weight | Wingspan | Standing Reach | Body Fat | No Step Vert | Max Vert |
| --- | --- | --- | --- | --- | --- | --- | --- | --- | --- |
| 2015 | NBA Draft Combine | 6' 0.75" | 6' 1.5" | 183 | 6' 7.25" | 8' 1.5" | 6.3 | 30.0 | 35.5 |



Basic Per Game Statistics

- Comprehensive Stats - Statistical Top 25s
| Year | League | Name | GP | Min | Pts | FG | FGA | FG% | 2Pt | 2PtA | 2P% | 3Pt | 3PtA | 3P% | FTM | FTA | FT% | Off | Def | TOT | Asts | Stls | Blks | TOs | PFs |
| --- | --- | --- | --- | --- | --- | --- | --- | --- | --- | --- | --- | --- | --- | --- | --- | --- | --- | --- | --- | --- | --- | --- | --- | --- | --- |
| 2015/16 | NBA | Cameron Payne | 8 | 4.0 | 0.9 | 0.4 | 1.5 | 25.0 | 0.3 | 0.9 | 28.6 | 0.1 | 0.6 | 20.0 | 0.0 | 0.0 | &nbsp | 0.0 | 0.4 | 0.4 | 0.9 | 0.1 | 0.0 | 0.4 | 0.8 |

Player Page&nbsp&nbsp| Player Stats | Mock Draft History | Related Articles&nbsp&nbsp| Add to My Draft Express&nbsp
&nbsp
2015 NBA Draft Combine Measurements Analysis
May 13, 2015
-Cameron Payne: Payne measured 6'0.75 with a 6'7.25 wingspan and a 182.6 pound frame. He's slightly bigger than Jeff Teague who measured 6'0.25 with a 6'7.5 wingspan and a 175-pound frame.

[Read Full Article]

---
Cameron Payne NBA Draft Scouting Report and Video Breakdown
May 4, 2015
Scouting Report by Jonathan Givony. Video Analysis by Mike Schmitz

A very skinny lefty from a small private school in suburban Memphis, Cameron Payne wasn't on the radar of any recruiting services back in high school. He came off the bench for the Bluff City Legends AAU team alongside six eventual high major players, shooting just 39% for 2 and 32% for 3 while playing just 15 minutes per game. That didn't stop him from becoming one of the most productive freshmen in college basketball, though, earning First-Team All-Ohio Valley Conference honors as well as Freshman of the Year. As a sophomore, he started to draw attention from the national media as well, as Murray State won 25 straight games while Payne was named OVC Player of the Year.

Murray lost in heartbreaking fashion in the conference tournament final to Belmont, and thus was relegated to the NIT, where they again lost on a buzzer beater (to Old Dominion) that prevented them from playing in the semifinals at Madison Square Garden. Payne elected not too long after to capitalize on his increasingly hot stock and enter the 2015 NBA Draft, where he is likely be anywhere from the third to fifth point guard selected depending on how private workouts shake out.



Payne has decent size for a NBA point guard at 6-2, although his 183 pound frame still needs to continue to fill out, which it will as he reaches physical maturity. Payne also has big hands and a very long wingspan (6-7) which helps him particularly on defense.

Payne biggest appeal as a NBA prospect is the terrific blend he displays between scoring and passing. He shouldered a huge amount of offense for Murray State (32% Usage, second highest in the DX Top-100), but still managed to remain relatively efficient (57% TS%) and dished out passes at a terrific rate (39.5% assist percentage, #1 in DX Top-100, 7.1 assists per-40, #4 DX-100).

He's an extremely unselfish player who passes with great creativity and loves to move the ball ahead in transition, either utilizing his excellent ball-handling skills or by finding the open man running the floor.

In the half-court, he changes speeds nicely and has a few different gears he can get to, which helps him in particular on the pick and roll, an area that made up nearly half of his overall offense. Payne sees the floor very well and utilizes all kinds of different types of passes, using both hands and sides of the court with outstanding timing and confidence. He stays very low on his drives, which, along with his ball-handling ability and variety of hesitation moves, helps compensate for the fact that he's not blessed with incredible blow-by speed or great strength.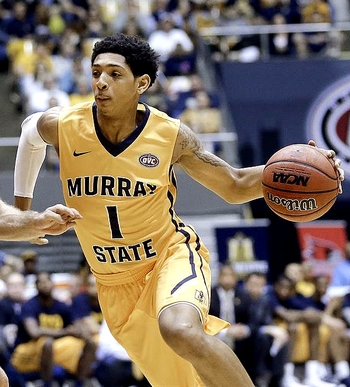 US Presswire



Unlike many outstanding passers, Payne is also a capable outside shooter as well, hitting 2.5 threes per game as a sophomore and a similar number as a freshman. He doesn't have the most conventional mechanics, as his release point is somewhat low and he tends to contort his body sideways somewhat, but he shoots it the way same every time and gets his jumper off very quickly, which helps quite a bit.

While not a pure shooter, more than anything, Payne can be described as a shot-maker, as he often just wills the ball into the basket with tremendous touch and deep range, and is capable of getting very hot and knocking down a barrage of jumpers in a short span. When he's on-balance and shooting with good rhythm, he's very difficult to contain, which is a good sign for his future development, as many of his flaws as a jump-shooter can certainly be tweaked.

Payne can make shots in a variety of different ways, be it with his feet set, or off the dribble. He can come off screens, which Murray State asked him to do quite a bit of, and has a lot of options at his disposal once he catches the ball coming off a curl, as he'll often quickly find the open man to punish the help defense, can attack an aggressive closeout off the dribble, or will not hesitate to simply fire away if left open. He's also good at creating space with his terrific handle and pulling up in the mid-range area, which benefits him in the pick and roll game, and will help ease his transition to the NBA.

Payne's shooting touch really shines through with his ability to utilize floaters inside, and even outside the paint. He shot three floaters per game, more than any player in this draft class, and nevertheless hit them at a very good rate (47%). With that said, the volume of floaters he attempted tells us a little bit about his inability to drive all the way to the basket, which is somewhat of a red flag considering the level of competition he played at. This is not the most high percentage shot (0.962 PPP) because of how infrequently players get fouled in the act of releasing a floater, and shooting less than two shots per game at the rim in the half-court is certainly not ideal.



Payne is not a great finisher inside the paint overall, hitting just 49% of his attempts in both the half-court and in transition—fairly mediocre rates. While he handles the ball on a string, gets low to the ground and operates at many different speeds, he's not blessed with great pure explosiveness like many point guards in today's NBA, which makes it difficult for him to shed his man at times and find a clean path to the rim. His lack of strength surely didn't help in this area, as did his propensity for avoiding his off hand, but he has a difficult time finishing through contact and didn't get to the free throw line at a great rate. These were all issues for him playing at Ohio Valley Conference level, with nothing resembling the type of long and athletic rim-protecting big men he'll see in the NBA, so the question NBA teams will ask is how he will fare when the competition stiffens and he's forced to adjust his game.

Defensively, Payne is somewhat of a mixed bag. On one hand, his long arms, big hands and tremendous anticipation skills make him a terror in the passing lanes (2.1 steals per-40), and he even comes up with a good amount of steals (0.6 per-40, 2nd best among DX-100 PGs), showing just how advanced his timing and feel for the game is. He moves his feet well with nice lateral quickness, and can put good pressure on the ball when he's fully engaged, which gives him a great framework of skills on this end of the floor to improve on as he makes the transition to the NBA.

That didn't always translate to great results at the college level, though. While Murray State was an offensive juggernaut with Payne at the helm (#13 in efficiency according to KenPom), they were equally bad defensively, ranking #174 in that category. Payne certainly played a role in that, as he often lost his focus on that end of the floor and didn't display the highest intensity level, which makes sense to a degree considering how much he was counted on offensively.

Payne was often caught standing straight up on defense, or hunched over in his stance. He got posted up a fair amount due to his slight frame, and had a difficult time not getting pushed around, particularly when trying to go over the top of screens. He'll need to get stronger and much more physical to hold his own here in the NBA, as he won't be allowed to gamble off the ball trying to get in the passing lanes nearly as much as he was in college.

All in all, Payne is a very interesting prospect, showing an excellent blend of ball-handling, court vision and perimeter shooting to compliment his strong feel for the game and reportedly outstanding off-court intangibles. His ability to space the floor from the perimeter should give him the opportunity to see minutes alongside another ball-handler early on in his career, and as his frame continues to mature, he'll have a chance to take on a bigger role.

[Read Full Article]

---
Cameron Payne Interview
May 4, 2015
Discussing a variety of topics with Murray State's Cameron Payne at IMG Academy, including what he's working on during the pre-draft process, his outside shooting and pick and roll game, why his notoriety has increased, and how things have changed over the last few months.


---
More From IMG Academy
Cam Payne Workout Footage
[Read Full Article]

---
Cameron Payne Workout Video
May 4, 2015
An interview with Cameron Payne featuring footage from his pre-draft workouts with Kenny Natt and Dan Barto in Bradenton, Florida at IMG Academy.


---
More From IMG Academy
Full 7-minute Cam Payne Interview
[Read Full Article]

---
Top NBA Prospects in the Non-BCS Conferences, Part 9: Prospects 18-21
November 7, 2014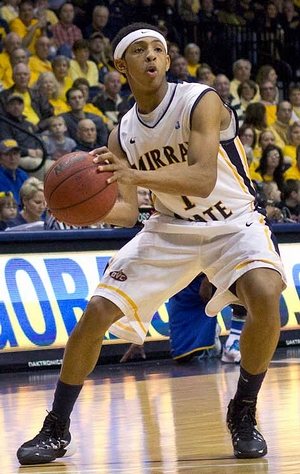 Fumi Nakamura/The News



Kyle Nelson

Isaiah Canaan's graduation left Murray State in a lurch and many expected Steve Prohm's program to enter a prolonged rebuilding phase. Yet, by the end of the 2013-2014 season, the Racers sat atop the OVC West standings again with a 23-11 record and won the postseason CIT after narrowly losing the OVC's automatic NCAA Tournament bid to Eastern Kentucky. None of that would have been possible without the efforts of freshman point guard Cameron Payne. Payne not only transitioned seamlessly into Canaan's large role in Murray State's offense, but he also earned both OVC Freshman of the Year and All-OVC First Team honors in the process, and was recently named to the 2015 Cousy Watch List. Now, with Murray State favored to win the OVC and without the element of surprise working in his favor, the Payne must build on his stellar freshman campaign and prove to scouts that he is worthy of consideration as an NBA prospect.

At 6'2, with a skinny and long 175-pound frame, Payne has decent height for the point guard position, but he must get considerably stronger before he is able to hold his own against NBA caliber athletes. This is because while he is a good athlete and very quick in the open floor, he is neither exceptionally explosive off the dribble from a stand-still, nor a high flyer around the basket.

Payne is able to compensate for his lack of elite athleticism through his advanced instincts on the offensive end of the floor. He commanded 30% of Murray State's overall possessions, which ranked second behind Jabari Parker among all freshmen prospects, while posting a solid 54% TS%. His 20.4 points per 40 minutes pace adjusted situated him among the most prolific scoring point guards in our database last season.

Nearly a third of Payne's possessions came in pick-and-roll situations, where he established himself as a dangerous threat from day one. As a scorer in these situations, Payne showed the ability to take his man off of the dribble or pull up into a jump shot, utilizing his solid quickness and ball-handling ability, as well as his advanced scoring instincts and tremendous aggressiveness. His proficiency operating out of the pick-and-roll is complemented by his mid-range game, as he looked comfortable pulling up for a jump shot or a runner in the lane, making a solid 37% of his off the dribble jumpers on the season.

While Payne's overall shooting percentages aren't much to write home about, his consistent shooting mechanics combined with his extremely quick release and solid elevation leaves room for optimism regarding how he'll develop in this area down the road. Payne made 34.5% of his 3-pointers last season, likely more due to his questionable shot selection than a lack of skill. That's partly a function of the huge role he played in Murray State's offense, as well as his own overconfidence and tendencies for taking extremely high difficulty jumpers early in the offense, sometimes from well beyond the college line. Regardless, scouts will be expecting Payne to become a more efficient offensive option as his college career progresses.

Payne does not have an extraordinary first step, and he can be somewhat turnover prone due to his often overly ambitious forays to the rim and preference for driving right. With that said, he shows savvy operating off the dribble at times, and does a decent job of getting inside the paint and using his creativity to generate shots, even if he can't always manufacture a great deal of space to get them off cleanly. As he continues to mature physically, and learns how to operate at different speeds and read the court better, he certainly has room to grow as a shot-creator in the half-court.

Payne converted only 44% of his shots inside the paint last season, due to his tendency for settling for difficult floaters rather than driving all the way to the rim and finishing strong. This also shows up in transition, where he converted just 42% of his field goal attempts, a very poor rate. He struggles to finish over big men and through contact as a result of his lack of strength and standout explosiveness, and doesn't have a great feel for knowing his limitations yet. Getting stronger will help him here, as will developing his ability to finish with both hands.

Payne did a nice job of mixing up his scoring with his passing last season, as his 6.3 assists per 40 minutes pace adjusted ranked favorably among point guards in our database even if he proved to be fairly turnover prone, as well. Payne shows solid vision off of the dribble, even if he tended to be a bit ambitious and loose with his passes at times. Notably, however, he did a great job of throwing entry passes into the post and getting his big men involved in the offense, more generally. As mentioned above, he tends to look for his own shot out of the pick-and-roll, but he does show promise as a distributor in this capacity, as well, doing a particularly good job of finding open shooters on the perimeter.

On the defensive end, Payne shows solid lateral quickness and overall intensity, even if his instincts and fundamentals fall well short at this stage in his career. Nowhere in this clearer than his struggles guarding the pick-and-roll, as he tends to get lost if he cannot run over the screen and loses track of his man. This is mainly because he simply lacks the strength to fight through screens. That being said, he is a solid man defender and does a good job of staying in front of opposing guards off of the dribble. He has a nose for the ball, as well, doing a good job of using his length and timing to his advantage to interrupt passing lanes and strip opposing players, nabbing 1.9 steals per 40 minutes pace adjusted.

Though he is just a freshman, Payne came out of relative obscurity to emerge as one of the more intriguing point guard prospects outside of the BCS Conferences. To take the next step in his development as an NBA prospect, he must become a more efficient shooter and develop his shot selection, cut down on turnovers, and add some bulk to his skinny frame. Furthermore, he has few opportunities to prove himself against NBA-caliber athletes, making early season matchups against Xavier and Houston, which will make getting to postseason play all the more important. It is still early, but Payne has a nice foundation to build on moving forward and should have plenty of opportunities to distinguish himself as a prospect during his time at Murray State. If he continues to improve as a sophomore, then expect to his name to be much higher on this list at this time next year.

[Read Full Article]

---