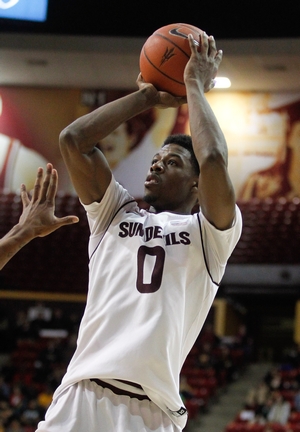 Joe Treutlein
Unable to get academically eligible to play Division I basketball out of high school,
Carrick Felix
spent two years at the College of Southern Idaho improving his transcript. Because he was forced to redshirt his first season due to a wrist injury, Felix had three seasons of eligibility after completing his two year JUCO stint. He initially committed to Duke but was denied admission by the school, reportedly due to a missing math class. Felix eventually decided to stay close to home and enrolled at Arizona State, but wasn't a major factor his first two seasons there. That certainly hasn't been the case as a senior, though, as he's emerged as one of the most productive players in the Pac-12 and has begun to catch the eyes of NBA scouts with his intriguing profile.
Standing 6'6 with good length and a wiry strong frame, Felix is an excellent athlete overall, being both quick on the move and very explosive and reactive getting off his feet around the basket. He possesses ideal physical attributes for the shooting guard position at the next level and could fare well as a small forward as well, which is probably the position his skill set is currently best suited for.
On the offensive end, Felix is a very high energy player who does most of his damage operating off the ball, primarily through off-ball cuts, crashing the offensive glass, and spot-up opportunities leading to catch-and-shoot jumpers or straight-line drives. He has a good feel for getting open in the flow of the offense and sets himself up frequently for powerful dunks near the basket, both on simple catches under the rim or with one or two-dribble baseline drives. He can utilize touch when he needs to, and is solid with his finesse finishes, but prefers to rely on power more often, which is a big reason his 2P% has skyrocketed to 62.4% thus far this season.
He also does a good job utilizing his athletic and finishing skills in transition, seeing similar success there as in the half court. Felix has made this part of his game a major emphasis this season, as he gets out in transition 3.5 times per game and converts 70% of his attempts once there, amongst the best rates in all of college basketball.
Outside of his finishing around the rim, Felix's spot-up jumper, with range to the college three-point line, is probably his next best offensive skill at this point. Possessing solid mechanics and a good understanding of his strengths, Felix sticks mostly to simple catch-and-shoot attempts, hitting at a respectable 37% clip on 3.7 attempts per game this season from behind the arc, seeing his three-point percentage improve considerably each season. Further improvements in this area would definitely help his stock, and it is something he should focus on in the pre-draft process and beyond. He's only making 63% of his free throw attempts on the season thus far, which is something NBA scouts would surely like to see him improve on.
In terms of creating his own offense, Felix is very limited at this point, but he has a pretty good feel for his skill set and doesn't force the issue much. Not showing much in the line of advanced ball-handling or dribbling skills with his off hand, Felix is restricted mostly to straight-line drives in non-crowded situations, where he takes advantage of his good first step and effortless ability to get off the floor and explode towards the rim. He shows some flashes of finishing ability with floaters and runners in the lane when the situation calls for it, but otherwise doesn't show much in terms of a mid-range game or creating jump shots for himself off the dribble.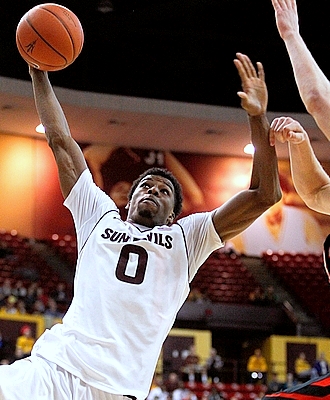 Felix also does a very good job contributing to his team's offense aside from scoring, being a good passer and offensive rebounder for a wing. He does a good job making simple, flow-of-the-offense passes from the perimeter, posting a solid 1.9 assists per game this year. His rebounding is more impressive, as he crashes the boards relentlessly for a player usually slotted at the small forward position in his team's lineup, pulling in 7.9 rebounds per game (2.1 offensive) in 34 minutes per game.
On the defensive end, Felix possesses excellent tools, having ample lateral quickness to defend either wing position along with good length and enough strength to get the job done, though his fundamentals are still a work in progress. He shows a pretty high effort level and gets into a good initial stance most of the time, but is prone to playing too upright or letting out of his stance early in possessions, still looking relatively raw overall with the finer aspects on this side of the court. Still, he uses his length to disrupt plays from the weak side often and doesn't appear to show any issues in the work ethic department, so this is an area where he may have some untapped potential down the road.
Looking forward, Felix is an intriguing prospect due to his physical tools and groundwork of two-way skills, but he's definitely a late bloomer who still is rough around the edges in most areas despite turning 22 before his senior season. Still, he's shown a very steep learning curve in the past three years and that, combined with his high motor and athletic abilities make him a player a team could be willing to invest development in.
Even if no team decides to spend a draft pick on him, scouts will certainly want to keep an eye on him down the road to see if he continues developing his skills once he's out of college.