Julian Applebome
Los Angeles native Chance Comanche was part of a strong 2015 recruiting class for Sean Miller and an Arizona program which lost in the first round of the NCAA Tournament after reaching the Elite Eight in back to back seasons.
Arizona went into last season with a deep frontcourt, which included Comanche, along with the likes of Kaleb Tarczewski, Ryan Anderson, Dusan Ristic, and fellow freshmen Ray Smith. There was discussion of a possible redshirt season for Comanche, but shortly after Ray Smith went down with a torn ACL that ended his season, Sean Miller announced Comanche would not be redshirting. Despite limited opportunities in his freshmen season (he saw the floor in just 23 games and played slightly over 6 minutes per game) Comanche flashed some serious potential that could very well earn him a larger role in his sophomore campaign. He had the opportunity this summer to compete with the Pac-12 All-Star team coached by Mike Montgomery, and traveled to Australia to play exhibition games against the Australian National team, where he played a limited role.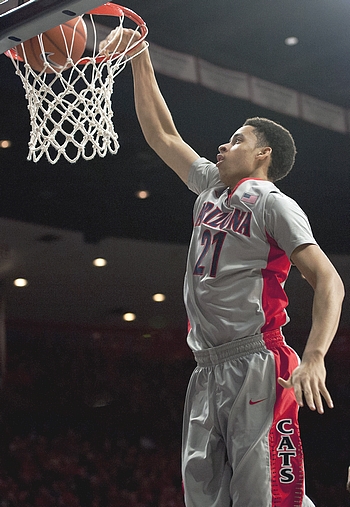 Listed at 6'11" with a wingspan that stretches over 7 feet, Comanche has size and length that is easily projectable at the professional level. Despite his plus length, one of the biggest knocks on Comanche, and perhaps the only negative of his physical profile is his lack of strength. Weighing in at just 215 pounds, Comanche's lack of strength was evident last season and was definitely a point of emphasis for him this summer. While there were questions surrounding his lack of bulk last season, the same cannot be said for his mobility and overall athleticism. Comanche moves very fluidly for a guy his size, gets up and down the floor well, and has the explosiveness to finish above the rim in space with ease.
At times last season the game appeared to move too fast for Comanche on both ends of the floor, appearing like somewhat of a deer in the headlights when thrown onto the court in big moments. This is likely one of the main reasons he saw such limited playing time. Besides his length and athletic ability he doesn't yet have a go to skill yet offensively, but showed some potential in various areas. He only finished 48.5% of his field goals attempts, and given that the majority of those were around the basket, Comanche definitely has room for improvement inside the paint. His lack of strength was a factor in his inability to finish consistently around the rim, as he often struggled in traffic when he didn't have the time or space to load up. He flashed a smooth first step out of the mid post, and has the length to get to the rim and finish with either hand. He wasn't featured often in ball screens or post ups, but it seems he has the mobility and footwork to find ways to contribute there, however he isn't always able to corral everything thrown his way. He also definitely has some potential as a rim running threat given his size and mobility. As a freshman the majority of his scoring came on cuts and dump offs, so it would be an encouraging sign to see him find others way to contribute as an offensive factor. He showed glimpses of being able to operate from the high post, but at times forced entry passes that just weren't there, as his basketball IQ is still seemingly a work in progress.
Throughout high school Comanche was heralded as having a mid-range game, but its likely Sean Miller preferred to bring him along slowly in terms of shooting jump shots, an aspect of his game that would be huge if he could implement it at a consistent level in his sophomore season. He missed the only three jumpers he took last season, but hit 11 of his 16 free throws, a solid percentage for a freshman his size. He has a fluid release with soft touch, and expanding his game to the perimeter should allow him to play both the power forward and center position, which would be ideal considering his lanky frame. If he can improve his mid-range jumper and his passing ability, he'll be an excellent threat to flash to the middle when opposing defenses line up in a zone.
A great deal of Comanche's potential lies in how he can influence the game on the defensive end. While he definitely has things to learn in terms of defending ball screens, guarding the post, and being in proper rotations, his raw physical tools really allow him to effect the game as both an on and off ball defender. He posted a per-40 average of two blocks per game, and a block percentage of 4.9. He shined in the second half of a game against Utah in which he came off the bench and picked up two huge blocks vs. Jakob Poetl. Comanche moves his feet well and has excellent lateral quickness, which allows him to defend players on the perimeter, a unique skill for a 6'11" freshmen. He can be a bit over aggressive at times defending closeouts, but he has the length to recover and effect shots at the rim even after he has been beat off the dribble. He is able to cover a ton of ground with his size and length, and is effective flying out to shooters that on the catch look like they have a wide open look. His biggest weakness as a defender is getting bullied on the interior and on straight line drives, something that can definitely be improved with some added strength. As he continues to develop and understand the nuances of high level defenses, and learns how to play a more physical brand of basketball, he will be able to cause havoc across the floor.
While Comanche's per 40 rebounding average of 10.9 might suggest he is a solid rebounder, he is not quite there yet. His lack of strength is definitely a hindrance in terms of boxing out bigger guys on the interior, and he at times can let balls fly over his head due to his just-decent awareness. He is quick off his feet, and has the length and bounce to go up and grab rebounds out of his area, but he is going to need to be consistent in terms of boxing guys out if he is going to spend more time on the floor. He also has the opportunity to be effective on the offensive glass, especially finding easy baskets. He has the size and athletic ability to attack the ball off the rim, and is a quick jumper who can go after multiple tips around the basket.
Playing behind Seniors Kaleb Tarczewski and Ryan Anderson, last season was understandably a learning process for Comanche, but based on his physical tools and what he showed in limited action on the floor, he clearly has a great deal of potential. While he might take him some time to continue to make incremental strides, the next few seasons will be important for him in terms of showing added strength, a more refined offensive skill set, a better feel for the game, a stronger work ethic, and a continued impact as a versatile defensive player. Arizona will trot out another strong frontcourt that will include Dusan Ristic, Ray Smith, and incoming freshmen Lauri Markkanen, but Comanche will presumably assume a larger role than he had last season. Comanche is a little more raw than your average 20-year old, but he possesses some unique characteristics that can't be taught, so it will be interesting to see if his production can begin to catch up to his potential.