Roundup: Gallinari Dominates
January 29, 2008
The super quick Chinese guard is delivering his best offensive efforts of the season these days in the CBA playoffs, officiating as a spark off the bench for Guangdong. Indeed, the former team of Yi Jianlian is just on the verge of reaching the Finals, with a perfect record in the playoffs.

"Spark." There's no better way of describing Chen. In his best version, he's a game changer, a guy who ignites the game's tempo with his quickness, outrunning every opponent while he makes his way towards the basket. In his worst version, he can be a terrible playmaker, incapable of getting anything done in the set offense. If he can't run, he's pretty much lost out.

The semifinal series last week precisely brought us both extremes of Chen. He looked awful in the first game, with no confidence, tentative, uncomfortable in a relatively slow-paced game. He came back strong in the second one, with 23 points, coming mostly off transition plays that were crucial to build a big lead for Guangdong.

For a small point guard like Chen –he looks shorter than the 6-2 he's usually listed at- running is a good option to get things done, to unbalance the opposing team and find easy baskets. His phenomenal quickness and solid ball-handling skills, even pretty consistent with his left, are perfect tools to start moving, while he shows nice ability to sneak between rivals relying on his solid footwork. Even in the set offense, he usually needs to get by his match-up off the dribble to be able to operate, either looking for the basket or feeding a teammate (often with kick-out passes). If he doesn't find a way to get rid of his opponent, he tends to over-dribble, while a pressing defense puts him in trouble when it comes to passing the ball. He's a small guard, not strong, at all and his wingspan nothing out of this world, so he often struggles to find passing angles.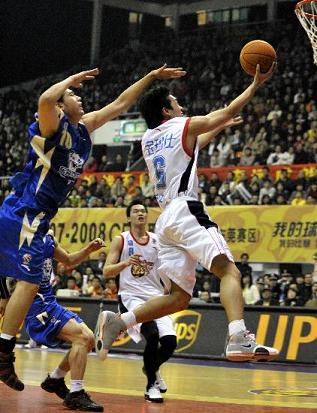 Photo: Sina.com


His limited physical profile also hurts his defense. First of all, his great quickness doesn't completely translate to his lateral movement. Besides, he's not always equally intense, not putting enough pressure on the ball, and too often allowing his opponent to think and start moving too easily. With limited length and strength to contain his attacking match-ups, Chen finds himself forced to give up his lateral efforts in order to run after them, therefore not being able to actually stop their advance.

On a positive note, when he does put some pressure on the ball, besides providing a more reliable defense for his team, he can come up with some steals, just as when he's active attacking his opponents' dribble on defensive rotations. These efforts just fuel his hunger for the fast-break, making his game style more effective.

Back to the offensive end, we shouldn't forget his ability to shoot the ball. Chen can be a nicely effective shooter out to the international three-point line, particularly in catch-and-shoot fashion, if he's open. He has off-the-dribble skills in this department, even being capable of hanging in the air and releasing the shot after reaching the apex of his jump. However, given his lack of size, he often struggles to find enough space to comfortably release his pull-up jumper.

It's obvious that Chen is not particularly impressing us with his play as of late. The thing is, he doesn't look improved at all when it comes to his main weaknesses, which are pretty serious. Despite enjoying some nice potential, it's becoming increasingly questionable if he will ever be able to transcend a (likely) star role in the up-tempo and carefree Chinese CBA in order to succeed in a more demanding competition.

[Read Full Article]

---
Nike Hoop Summit World Team Player Recap (Part Two)
April 13, 2007
After the New York Times featured him in an article back in 2003, much has been written about Chinese guard Chen Jianghua. Expectations were high for him entering the Hoop Summit, but he struggled to adjust to his teammates and the style of play, and ended up spending most of the game sitting on the bench.

Physically, Chen possesses good quickness and well developed leg muscles, though his upper body is physically weak. The quickness off the dribble allows him to get to the basket with success, but his lack of strength limits his ability to finish inside. In the practices, he displayed very nice shooting form, though he usually only shoots when he's open. To become an effective shooter when contested, the Chinese guard must learn to elevate higher.

Jianghua appears to be more of a scoring guard than a point guard right now, and he lacks the point guard instincts that would compliment his quickness so well. During the practices, he did make a few nice dump-off passes on the way to the basket, but these were few and far between over the course of the week.

During his 9 minutes of playing time, Chen really struggled with the speed of the game. The two passes he attempted were both intercepted by the more athletic defenders on Team USA. Offensively, he took a baseline jumper that nearly went in, and a reverse lay-up from under the basket that rolled off the front of the rim.

Though Chen Jianghua struggled throughout his entire week in Memphis, he arrived from China without any rest after the conclusion of his season, and the attempted adjustment to a new language, lifestyle, and style of play must have been difficult. Chen has the quickness and shooting ability to become a good player down the road, but further development of point guard abilities will need to be a key area of emphasis.

[Read Full Article]

---
Nike Hoop Summit Practices-- World Team (Day 4)
April 7, 2007
Chen Jianghua played well today, though he hasn't exactly lived up to expectations this week. After arriving late and missing the practice where the players were measured, the officials in charge decided to list Chen at 6'2." Despite his listed height, the Chinese guard appears to be an inch or two shorter. He has a nice shooting stroke, and can penetrate to the basket from time to time, but he will need to vastly improve his point guard skills before he can run a team at this level. From a standstill, he struggles to penetrate to the hoop, and usually scores when he can receive a pass and give a shot-fake. Physically, his lower body seems to be well developed, but upper body strength is an area that will need improvement. The language barrier could be a big factor here though, and it has to be a tough adjustment for Chen to developing chemistry with people he can't talk to without a translator.

[Read Full Article]

---
Roundup: Teodosic Takes the Relay
April 4, 2007
Chen Jianghua was part of the point guard debacle that precipitated Guangdong's loss in the CBA Finals against Bayi. Wang Zhongguang completely owned all three of the Chinese Tigers playmakers. Bigger, stronger, more experienced and mature than his rivals, he dominated the series, particularly in the last three games. It became ridiculous in the last one, as Wang netted 15 points while his three opponents went scoreless.

Chen certainly picked the worst possible time to struggle. Still, to his credit, we have to question how his coach has handled him. Chen didn't play at all in the first game; he was on the bench dressed and, as far as we know, available to play. In the second game, the only victory by Guangdong, he excelled coming off the bench in the second half, imposing a very high pace that lead the Tigers to outrun Bayi for a blowout victory. Actually it was pretty obvious that a fast tempo usually played in Guangdong's favor, while a slow tempo helped Bayi.

For the last three games Chen played sparingly, without any continuity on the court. His coach was helplessly rotating point guards whenever they enchained too many mistakes, which obviously was not the solution, while certainly Chen wasn't the playmaker receiving the most credit. Therefore he played without any confidence; he would sometimes rush things, take bad decisions and force shots, trying to have an immediate impact, to make a quick impression; other times he would not be aggressive enough while using his quickness to create offense, trying to stay cool—likely in order to please his coach-- but severely hurting his effectiveness in the half-court offense (where he still struggles distributing the ball). He also always suffered greatly on defense against the aforementioned Wang Zhongguang, also due to a deficient team defense on the pick and roll.

Anyway, it's not a big deal for a very young player like him being in such a difficult situation. If anything, it should serve him as a learning lesson.

[Read Full Article]

---
Chinese CBA Update: Yi Jianlian and Co.
February 22, 2007

Besides Yi Jianlian, there doesn't seem to be a better NBA prospect currently playing in the CBA than his teammate Chen Jianghua. Right now, he seems to be the only guy who displays the necessary goods to enjoy a fair shot to achieve that goal. His terrific quickness and natural talent, properly used, should take him far.

Before even making his debut in the CBA, Chen was already a sort of junior celebrity in China, and was even capable of making the National Team roster for the last World Championship before playing even a single minute in the Chinese League. Chen was often criticized because of his selfish playing style (true, up to a certain extent), while some reports indicated that he was a bit of a head case, having troubles with coaches and things of that nature.

Thrown into the CBA, enjoying starting status for the most part of the regular season, Chen has showed a certain inconsistency, particularly early in the season, but has eventually emerged as a relatively solid point guard for Guangdong, although he still combines flashes of brilliance with some forgettable moments. Obviously, for a rookie playing on a champion caliber squad next to some of the best national players (like Yi Jianlian, Wang Shipeng or Zhu Fangyu), the logical choice is not to force things, and actually Chen has looked good whenever he has stuck to the basics, letting the vets assume the main offensive responsibilities.

And what does "stick to the basics" mean?

It means to take the ball up-court and start moving it fluidly. It means to share the ball in the best possible conditions. It means to drive and dish if there's a very clear option or if the shot clock is running down. It means to hit the open shot. It means to take care of the ball. It means to play serious defense.





Chen has been able to provide those ingredients as the season advanced. He only averages 7.5 points per game, which is a moderate amount for a well-known scorer like him that has played over 22 minutes per game, but he also credits an excellent 53% from the field, which well reflects his good shot selection. Actually, he surprises with the relative consistency of his long-range stroke. Despite suffering a couple of bad streaks, he achieves a nice 40.3% average from behind the arc. Now, it's very rare to see him delivering those complicated contested shots off the dribble while hanging in the air that he used to perform at the junior category.

Still, the most intriguing part of his game is related, naturally, to his quickness, particularly which concerns his ability to create offense while beating his match-ups off the dribble. The weak CBA defenses grant many spaces that help Chen's purposes, but he clearly displays the potential to become a serious threat against much tougher opponents. Right now he's happy enough penetrating to attract defensive rotations in order to feed the open man (he averages a respectful 3.2 assists per game), while he can eventually finish himself, displaying nice ability to drop his layups in off the glass. Anyway, Chen is not a selfish player, which means that he's not obsessively looking for his slashing options; usually letting those options come to him. Besides, he's willing to free the ball up whenever he sees a nice passing option. Take the fastbreak for example: his quickness enables him to become an extremely dangerous player in these situations, and still he loves to pass the ball ahead as soon as possible, encouraging other players to run the court. All this doesn't mean that he never commits mistakes, like forcing plays, rushing the offense too much, taking too many risks in punctual situations or turning the ball over from time to time, but considering the position he plays and his youth, it's all quite natural.

On defense, Chen is again benefited by his remarkable quickness, being able to stay in front of his man and exercise good pressure on the ball, while he's aware of the passing lanes and eventually tries to come up with steals in defensive rotations, looking for the ball as it bounces off the floor. However, from time to time his effort seems to get a bit diluted, something he will have to work on. Gaining physical strength will surely help him in this department. He's still a skinny kid, although he rarely suffers from that circumstance in the CBA.

Anyway, we're not talking about a top prospect like his teammate Yi Jianlian. Chen is a bit of a small point guard who, among other things, needs to make strides with his distributing game. But with maturity, hard work and as he slowly but steadily gains importance in his team's offense, his talent should provide the rest for him to become a very intriguing playmaker.

[Read Full Article]

---
Summer to Fall: Jianghua to Splitter
September 24, 2006
In this context, it was Chen Jianghua that won the MVP award. Actually, he didn't hoard the spotlight as much as expected for a guy that was just coming off the World Championship. Most of the core players in China got a fair share of prominence on the court and points in the stat sheets. At least, that's what we managed to deduct from the last three China games, the ones that we were able to watch; as FIBA Asia doesn't provide any kind of box-scores, which we can't find anything but embarrassing. Others shining for China probably had a lot to do with to the fact that Chen barely played point guard during the tournament and that the level of competition didn't force him to assume bigger responsibilities.

Anyway, even if he didn't abuse his skills, Chen operated at will on the court, as virtually no defender could keep up with his incredible quickness, excellent ball-handling skills and footwork. Creative finding his teammates off the dribble, he also looked in love with his one-handed layups (he removes his left hand sooner than usual) that he delivers attacking relentlessly the basket. He's also in love with his off-the-dribble jumpers, executed with nice quickness coming off the drive (particularly in terms or elevating off the floor) or after a pump-fake and a dribble. Still a bit of a streaky guy, he looked fairly reliable shooting the ball, indeed more reliable than in past occasions, showing better shot selection.

He did often take over the point guard role in transition, either going all the way for the layup or distributing the ball, many times early in the fast-break with long full-court passes. He has a knack for pushing the ball up the floor quickly.

Despite playing as off-guard, Chen is a playmaker all the way when we think about his future. Fortunately his team Guangdong Tigers seems to think the same, as that's the position he played full-time the few times we saw him last season with the junior squad. In the National Teams, it's usual to see players evolve off their ideal positions, as the talent pools are usually limited, and while some positions lack good players others suffer overload, so a positional redistribution is needed in order to keep a highly talented squad on the court.

[Read Full Article]

---
NBA Draft Intrigue at the 2006 World Championship
September 6, 2006
Chen Jianghua's precociousness. Being (officially) only 17 years old, the young Chinese point guard has been given some eventual playing time, with promising albeit inconsistent results. Quickness, a fearless attitude, incisive game on one hand, questionable decision making, turnovers, immaturity on the other. Regardless, he didn't look out of place too often on the court, quite remarkable considering his youth and the competitive level stage.

[Read Full Article]

---