Team: Le Mans
Physicals
Positions
Salary
Misc
H: 6' 2"
W: 200 lbs
Bday: 03/27/1986
(29 Years Old)

Current: SG
NBA: SG
Possible: SG

Agent: Jared Karnes

High School: Mason County
Hometown: Maysville, KY
Best Case: David Wesley
Worst Case: Anthony Roberson

Predraft Measurements
| Year | Source | Height w/o Shoes | Height w/shoes | Weight | Wingspan | Standing Reach | Body Fat | No Step Vert | Max Vert |
| --- | --- | --- | --- | --- | --- | --- | --- | --- | --- |
| 2008 | Portsmouth | 6' 1" | 6' 2.25" | 195 | 6' 3" | NA | NA | NA | NA |



Basic Per Game Statistics

- Comprehensive Stats - Statistical Top 25s
| Year | League | Name | GP | Min | Pts | FG | FGA | FG% | 2Pt | 2PtA | 2P% | 3Pt | 3PtA | 3P% | FTM | FTA | FT% | Off | Def | TOT | Asts | Stls | Blks | TOs | PFs |
| --- | --- | --- | --- | --- | --- | --- | --- | --- | --- | --- | --- | --- | --- | --- | --- | --- | --- | --- | --- | --- | --- | --- | --- | --- | --- |
| 2015/16 | French | Chris Lofton | 6 | 22.7 | 12.3 | 4.2 | 10.2 | 41.0 | 1.3 | 3.3 | 40.0 | 2.8 | 6.8 | 41.5 | 1.2 | 1.3 | 87.5 | 0.7 | 1.0 | 1.7 | 1.2 | 1.7 | 0.0 | 0.8 | 1.3 |
| 2015/16 | Eurocup | Chris Lofton | 6 | 25.5 | 11.3 | 3.8 | 9.0 | 42.6 | 1.7 | 3.2 | 52.6 | 2.2 | 5.8 | 37.1 | 1.5 | 1.5 | 100.0 | 0.0 | 1.0 | 1.0 | 2.0 | 0.8 | 0.0 | 1.3 | 1.7 |

Player Page&nbsp&nbsp| Player Stats | Mock Draft History | Related Articles&nbsp&nbsp| Add to My Draft Express&nbsp
&nbsp
D-League Showcase Profiles: Call-Up Candidates (Part Two)
January 18, 2011
Joseph Treutlein

One of the best shooters in the D-League at 42% from behind the arc on 6.6 attempts per game, Chris Lofton has made some subtle improvements to his game since his time in college, starting with his improved frame, as he's in the best shape of his career at the moment.

Offensively, Lofton is very much a role player with more than half his field goal attempts coming from behind the three-point arc and doing little of his own shot creation. He does a great job knocking down both open spot-up shots and coming off screens, moving well off the ball and showing great discipline with his decision-making as evidenced by his extremely low turnover numbers.

Lofton does little in terms of creating shots for himself or others, not really possessing the speed off the dribble to consistently take his man, something that limits his production and leads to some drastic swings in his game-to-game point totals. He needs plays run for him to get his points, though he does a good job moving off the ball and spacing the floor even when the ball isn't coming his way.

While Lofton's always been able to make contributions offensively, he's also been known as somewhat of a liability defensively. He's now playing the best defense of his career, putting in a ton of effort and showing great awareness off the ball, picking off passes and doing as good a job he can in man defense. While his size will always be problematic if matched against opposing shooting guards, his toughness and instincts are making up for his lack of lateral quickness and length to a certain extent.

Looking forward, Lofton could be a call-up candidate for a ten day contract in the right situation, as his spot shooting, hustle, and basketball IQ are appealing, especially for wide open offenses or teams with oversized point guards who can cross match in the backcourt defensively. His long term potential is certainly limited, but it wouldn't be surprising if he gets a chance to make a roster at some point.

[Read Full Article]

---
All-Portsmouth Invitational Tournament, Third-Team
April 22, 2008
A player who has seen his stock fall off as much as anyone over the past year, Chris Lofton definitely came to Portsmouth with something to prove, as his play level fell off considerably in his final year at Tennessee. Regarded as a possible late-first rounder a year ago, Lofton chose to return to school, only to see his points per game fall off by about 5 points, his FG% drop from 48% to 40%, his three-point percentage drop from 42% to 38%, and his TS% drop from 64% to 58%.

After a very shaky first game, Lofton got into good form in his second and third games, hitting an array of incredibly difficult shots in both, including a game winning three-pointer in the second game, one of the best plays of the entire tournament. Lofton's shooting form still looks as good as ever, with completely textbook form and a beautiful stroke; the only thing you can criticize him for is shot selection, as he doesn't seem to differentiate much between what good and bad shots are. He's capable of hitting incredible, off-balanced, step-back, contested jumpers from NBA three-point range, but he relies on them too much, and he didn't adjust his game at all here at Portsmouth, where shots shouldn't have been as hard to come by.

To highlight just how much Lofton's shot selection hurts him, we will cite some stats from Synergy Sports Technology, which has logged almost every game Lofton's played this year. On spot-up jumpers where he's unguarded, Lofton scores 1.58 points per possession. On spot-up jumpers where he's guarded, Lofton scores 1.17 PPP. On jumpers off the dribble, he scores 0.84 PPP. But of all his jump shots, only approximately 21% of them are unguarded spot-up jumpers. Looking at these numbers, its clear Lofton could be a much more efficient player with better shot selection.

As for the rest of Lofton's offense, not much has changed from what we observed in our preseason preview of the SEC. While he shows nice craftiness and the ability to change speeds to get to the basket, along with good creativity and touch with his array of finger rolls, scoop shots, and floaters at the basket, Lofton doesn't really blow you away with his athleticism and he doesn't get much elevation in the lane, which doesn't bode well for this area of his game translating to the next level.

Much is still the same on the defensive end as well, as while Lofton shows a good fundamental stance and puts in the effort, he just doesn't really have the lateral quickness to consistently stay in front of opponents, and his size will be a definite concern at the shooting guard position at the next level. He doesn't really have any length to speak of either, which pretty much means that he's bound to be a defensive liability any way you spell it.

One of the most recognizable players at Portsmouth, being an All-American on a top team in the nation, along with his strong performance here and his previously high stock as early as six months ago, Lofton should be a virtual lock to be invited to the Orlando pre-draft camp, where he can try to continue showing that he can still be as good a player as he was as a Junior. If he can adjust his scoring game by improving his shot selection, he could find a niche in the NBA, and potentially make a roster his first year, similarly to the way Allan Ray did for the Celtics last season. That said, it might be tough for him to stick around, as there are plenty of undersized scoring guards trying to make it in the league. More than possibly any player in this draft, it's pretty obvious that he's entering the available player pool a year too late.

[Read Full Article]

---
Top NBA Draft Prospects in the SEC (Part One: #1-#5)
October 3, 2007
Chris Lofton has plenty of odds against him. After all, he is a severely undersized NCAA shooting guard. But considering the recent NBA success of Daniel Gibson type combo guards, combined with Lofton's advanced scoring ability, the window in the draft for undersized shooting guards has temporarily widened.

Chris Lofton is a sniper. He possesses infinite range and an absolutely beautiful jump shot. His mechanics are textbook: lightning quick release with a high release point and good elevation. Perhaps just as impressive is his ability to create his shot. Whether it is creating separation off the dribble or navigating his way around screens, when Lofton wants to shoot from the perimeter, he usually gets his way. He shot 253 three-pointers last season and made a solid 41.7% of them. He took a little more than 8 three-point shots a game last year and though he will probably be a perimeter specialist in the NBA, it is important that he figures out other ways to help his team win next season.

Lofton is at times on the streaky side from the perimeter, but, as his 28.1 points/per 40 minutes scoring average (ranked first amongst players on our mock draft) and his 64% true shooting percentage represent, he knows how to put the ball in the basket.

But Lofton's not just a shooter. He is also a good slasher at the NCAA level. He's not particularly fast, but he is quick enough to get into the lane and smart enough to compensate for his lack of size and athleticism, sometimes showing a nice floater on some of his drives. He is also a tough player and last season, more than doubled his trips to the foul line to just over five a game. For a guy that is considered to be a jump-shooter, these are encouraging numbers. The fact that he shoots 81% from the line is not bad either. His sophomore year, he shot nearly 92% from the line, further supporting his foul shooting ability. He also expanded his offensive game to the midrange, where is in the process of becoming a good pull up shooter. This is an area in which he could stand to improve on even more before the end of next season.

Defense is an area in which Lofton might never be a star, but he puts in more effort than most players in his situation. He is a good man defender with quick hands and relatively quick feet, but is clearly a step slower than he should be. He is not large enough to fight through screens and because of this, he is often caught running behind them or simply getting stuck. He'll likely be guarding point guards in the NBA (hopefully alongside a bigger playmaking guard), and he is far too slow at this juncture. These defensive concerns are a major drawback as far as scouts are concerned, and could realistically be enough to eradicate his chances at making it.

Another question in terms of his NBA potential is his point guard abilities. Basically, while he is an incredibly mature, intelligent, and clutch player, he is not a point guard. Though he has a good handle and moves well leading the break, he is a step slower with the ball in his hands and does not show the vision or anticipation to be an effective playmaker. However, in an NBA that has seen everybody from David Wesley to Daniel Gibson as pseudo point guards in recent years, it is not far-fetched to imagine Lofton playing effectively alongside a big guard. After all, he takes care of the ball very well and ranks near the bottom of current draft prospects in terms of turnovers. Whether or not he can make the transition is unknown, but a good season along with a deep tourney run should answer a few questions.

[Read Full Article]

---
NCAA Tournament: Stock Watch (Sweet 16, Thursday games)--Stock Up
March 23, 2007
For the third (and final) time in the 2007 NCAA tournament, Chris Lofton broke the 20-point barrier, giving his team a game-changing offensive presence on the wing that not only produced in timely moments, but also did so in a way that opened up things tremendously for his teammates to make their presence felt.

Lofton started off this game in his typical fashion, knocking down two deep 3-pointers that forced Thad Matta to immediately adjust his defense to account for him. The first was a one-dribble pull-up with a hand in his face, while the second came in catch and shoot fashion after utilizing a screen, squaring his shoulders and releasing the ball simultaneously in the blink of an eye. Lofton reminded us numerous times throughout this tournament (and his career of that matter) that he's just as good of a shooter at the college level as J.J. Redick was at Duke. But unlike the 6-4 lottery pick, his production doesn't fall off once he reaches the month of March.

Lofton went a bit quiet for the rest of the half—partially due to the traps and double-teams he drew--not scoring for the next 15 minutes until he converted another 3-pointer with two minutes to go in the first, only to follow that up with a nice finish in transition and another layup off an offensive rebound. It was a fairly quiet 13 points, but everything he did (besides the offensive rebound) looked similar to the type of role he could end up playing in the NBA.

In the second half, Lofton continued to draw considerable attention from Ohio State's defense, and for a short span seemed to get a bit frustrated throwing up tough shots that looked to be a bit early in the offense. You can only really say that when he's momentarily not in his groove, though, since he regularly converts deep 25 foot 3-point attempts with multiple hands in his face, and makes it look quite easy. Even when he misses these bombs, he still looks pretty good shooting them, and you end up being surprised if he misses more than two in a row.

He got back on track over the last 8 minutes of the game, never losing confidence in himself and taking on his fair share of responsibility when Tennessee's offense got quite stagnant in the midst of another terrific Ohio State run. He even created nicely for himself off the dribble in the half-court on one occasion, taking advantage of being overplayed by getting into the lane and finishing smoothly high off the glass. His last basket and shot attempt of the night came with around 2 minutes left in the game, unsurprisingly a 3-pointer from about 24 feet out. From that point on, Tennessee was unable to get him a good look, particularly on the last play of the game, which meant that his team is out of the tournament with plenty to look forward to next year.

Lofton is expected to test the waters this spring, and in our estimation, could be the type of player a good playoff team drafting late in the first round or early in the second falls in love with.

[Read Full Article]

---
NCAA Tournament: Stock Watch (round of 32, Sunday)--Stock Down/Neutral
March 19, 2007
Given Tennessee's early-conference swoon when Lofton was sidelined due to injury, it is probably safe to say that as goes Chris Lofton, so go the Volunteers. But today was a somewhat surprising reversal of such conventional wisdom, as Lofton found himself blanketed by the kind of defender that he will always tend to struggle with.

Everything appeared to be going as planned in the early stages of the first half, with Lofton able to break away from J.R. Reynolds to knock down a pair of sweet-looking, contested 3-pointers. He also converted on a beautiful baseline runner midway through the first half. But Lofton would score just one field goal the rest of the way, having to work quite hard just to touch the ball against the suffocating ball denial of the physically superior Mamadi Diane. He forced several low percentage shots, including a rushed 3-point attempt with under a minute left in the first half that gave Virginia the final crack before the break.

To his credit, Lofton did a better job of not forcing the issue in the second half and instead focused on getting to the basket against defenders that were overplaying his shot no matter the consequences. But Lofton's lack of athleticism and body strength was readily apparent here, as the handful of times he was able to get the ball and get around his defender, Virginia was able to recover in time to block or successfully alter the shot.

This game certainly gave everyone watching a glimpse of what Lofton faces in attempting to make the jump to the next level – Virginia's stable of athletic perimeter defenders is quite imposing on the NCAA level, but nothing Lofton won't see on a nightly basis in the NBA. But at the same time, it is hard to criticize the soon-to-be All-American very severely, considering the way he accepted his role as a decoy and the fact that his teammates were able to pick up the slack and eventually take control of the game. And Lofton did end up playing a significant role in the win, calmly swishing six consecutive free throws to just stave off a Sean Singletary scoring wave and seal the deal on a trip to the Sweet 16 for the Volunteers.

[Read Full Article]

---
NCAA Tournament: Stock Watch (round of 64, Friday games)--Stock Up
March 17, 2007
Tennessee did their best Phoenix Suns imitation by racking up 121 points against an overmatched Long Beach State team, and the player who was clearly their catalyst in the victory was again their star Chris Lofton. He scored 25 points in 24 minutes today, and did so while barely breaking a sweat in the process.

Lofton actually started off the game slowly by his standards, not scoring a single point until 7 minutes into the game. He then went onto score 7 points in the next 42 seconds, though, making up for lost time quite easily thanks to his incredible knack for putting the ball in the basket.

Long Beach clearly made it their #1 priority to keep the ball out of his hands. They face-guarded him for almost the entire game, playing a sort of box and one defense that opened things up tremendously for his teammates. The gimmick defense didn't seem to bother him in the least bit, though, as despite his scoring ways he's anything but a selfish player. Once he did get going, though, there wasn't a player in the entire country who was going to be able to keep him from putting the ball in the basket nearly whenever he pleased.

Lofton's entire arsenal of tricks was on display in the 17 minutes that he racked up 24 points. He utilized screens beautifully and was constantly moving off the ball, catching and shooting in the blink of an eye thanks to his incredibly quick release. If crowded excessively, as he often was, he showed no problem putting the ball on the floor and either making his way all the way to the basket to finish craftily with his left hand, or pull up sharply off the dribble from long-range, all while maintaining his phenomenal shooting mechanics despite being pressured and on the move.

Defensively he actually did an excellent job almost throughout the game, putting terrific pressure on the ball and playing extremely hard even when the outcome was never in dispute. He came up with 4 steals in the process, and was outstanding in transition as he typically is, taking the ball strong all the way to the basket and either dishing off if a teammate was in better position, or finishing the play himself. He even went into the post on one occasion to beat the pesky defender that was glued to him exclusively almost the entire game, throwing a quick pump-fake at him and then spinning to the other side of the rim to finish with a reverse layup off the glass.

For Lofton there really is no such thing as a bad shot. Things got so ridiculous at one point that he just pulled up off the dribble from nearly 40 feet out, and considering the fact that we've seen him hit shots like this in the past (against Auburn if I'm not mistaken), the only real surprising thing was that he just barely missed.

Although he is anything but your prototypical NBA 2-guard, there is a certain feeling Lofton transmits while watching him play that makes you feel like he will find success in the NBA, much like David Wesley did for 13 very solid seasons. There will always be players out there with better size, athleticism and upside competing with him for a position in the draft, but some smart NBA team is going to identify him as a player that they can use in their system and end up being extremely happy for years to come. If he keeps playing like he did today, that could happen as early as this June.

[Read Full Article]

---
DraftExpress 2006-2007 SEC Postseason Awards
March 5, 2007


Player of the Year:

Chris Lofton, 6-2, Junior, Shooting Guard, Tennessee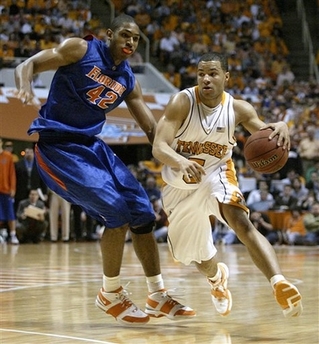 AP



Besides being the conference's top scorer, Chris Lofton's value to his team became undisputable in the four games he sat out, all losses except for a home win over a weak Georgia squad. With him in the lineup, Tennessee went 21-6 against the fourth toughest schedule in college basketball, behind Lofton's nearly 21 points a game average on 48% shooting from the field and 42% from behind the arc. Lofton is now expected to test the waters this April in order to gauge his draft stock. Advancing a few rounds in the NCAA Tournament could really help his cause. He's certainly can no longer be considered just a one-dimensional spot-up shooter.

[Read Full Article]

---
Weekly Top Performers (12/12): Part 1
December 13, 2006
Lofton started off the game showing a slightly new wrinkle—creating off the dribble and then pulling up sharply and effortlessly from about 16 feet out…swish. He then went back to the basics and knocked down a spot-up 3-pointer in transition, complete with a super quick release. He then began showing off his ball-handling skills, first with his left hand, taking the ball strong to the basket and either drawing contact or finishing high off the glass. When his defender tried to take that away, he promptly went to his right, only to finish with the opposite hand if need be. When Tennessee's offense bogged down, they threw him the ball and drove his defender crazy by mixing up his 3-point shot with his new-found penetration skills. Lofton creates vertical separation from his defender on the perimeter as well as any guard you'll find in the country, showing outstanding shooting mechanics, excellent footwork and terrific elevation on his jumper to load up and get his shot off in the blink of an eye. Memphis threw everything they had in their arsenal at him, whether it was their quicker point guards, longer swingmen or bigger forwards, to no avail. He was 9-11 from the field in the first half, and finished the game with 34 points.

In terms of his pro prospects, he's not the easiest guy in the world to project, even if there is a lot of things to like about him. He's still very much on the small side for a shooting guard at 6-2, and really does not possess great athleticism to make up for it. The way he moves off the ball, diversified his offense and impacts the game very much reminds of J.J. Redick, but he's at least 2-3 inches shorter and of a similar caliber athletically. Like Redick, Lofton is a gym rat who clearly has a chip on his shoulder, so you most certainly cannot rule him out. Salim Stoudamire is another name that can certainly be brought up, but Lofton clearly has a better attitude even if he hasn't quite yet developed the same reputation as a shooter. Lofton is right now on track to exceed Stoudamire's amazing senior season total of 120 made 3-pointers, on similar percentages, as he's averaging 4 made 3-pointers per game on an amazing 49.3%. Stoudamire hit an even more incredible 50.4% from behind the arc before being drafted with the first pick of the 2nd round in 2005. Lofton is doing it without the benefit of having a big man like Channing Frye or an athlete like Hassan Adams to draw attention as well.

[Read Full Article]

---
NCAA Tournament: Washington Bracket NBA Draft Prospects
March 12, 2006
Despite the fact that few outside of the SEC know his name, Lofton has made a great case for himself all year long to be considered the best perimeter shooter in the country. At over 45% from behind the arc on over 8 attempts per game, not to mention shooting 48% from the field and 92% from the free throw line, Lofton's numbers compare favorably with anyone in the country. When you consider his 17 points per game and the fact that his team earned a shocking #2 overall seed, it's shocking that he isn't garnering more national attention than he has this year. The scary part is, Lofton is only a sophomore, and is considered a likely 4-year player at Tennessee.

Lofton is exactly the type of player who can take over an NCAA tournament game and win it by himself with his deadly stroke, so look for Tennessee to be in any game they play in until the very last minute. Next year Lofton will probably have to learn how to play the point, at least in spurts, as the Vols will have no true playmaker on their roster, so it's possible that he might develop into a better NBA prospect if he can show that he is more of a combo guard than a shooting guard.

[Read Full Article]

---