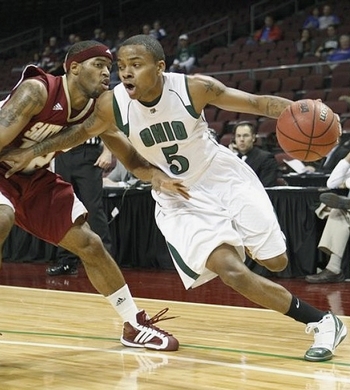 Walker Beeken
Chicago native
D.J. Cooper
came out of the gates quickly in his college career at Ohio, earning MAC Freshman of the Year honors in 2009-2010 and coming up big in the NCAA tournament in a first round upset over Georgetown. He continued his strong play last season, averaging 15.8 points, 7.5 assists, and 2.3 steals per game and earning a spot on the MAC all-conference team. The dynamic guard will look to expand on his production as a junior, while shoring up some of his weaknesses, in order to get himself on the radar of NBA scouts.
Standing at only 5'11 and 165 pounds, Cooper's small stature puts him at a disadvantage when evaluating his NBA prospects. He does, however, possess very good athleticism, with great speed, quickness, and explosiveness.
He's an absolute jet with the ball in his hands, and he has plenty of freedom to create, with the ability to get into the paint off the dribble regularly. He used an extremely high rate of his possessions (37%) as the pick and roll ball-handler last season, but was largely inefficient (.69 points per possession), struggling with decision-making, taking difficult shots off the dribble, and having trouble finishing at the rim.
This is the case with Cooper's game in general, as he's an excellent creator, thanks to his quick burst and great change of speed and direction dribbles, but he has trouble at this stage reigning himself in and picking his spots.
This is evident when looking at his shooting numbers. Cooper, a lefty, has a decent stroke, as shown by the fact that he made a solid 76% of his free throws and 35% of his catch-and-shoot jumpers last season. His efficiency dropped dramatically off the dribble, however, connecting on an extremely poor 15% of his pull-up jumpers. He does a nice job of creating space to get his shot off, but he'll need to make big strides with his shot selection to become more efficient.
When attacking the basket, Cooper has a scorer's mentality but also has very good passing instincts, as shown by his 8 assists per-40 pace adjusted last season, ranking him
third in the country
. As a finisher, he's ultimately limited due to his lack of size, but he's very creative and able to make some difficult shots, including a nice tear drop floater, which he uses regularly.
Defensively, Cooper plays hard and is very quick laterally, but his size will always be a concern with bigger guards being able to shoot over the top of him and outmuscle him on dribble penetration. He does a good job utilizing his quick hands and good instincts to create turnovers, but he tends to gamble a bit too often and needs to focus on better positioning.
Overall, Cooper is a prospect worth keeping an eye on as his excellent speed and creativity off the bounce are coveted traits in today's NBA. His size is always going to be an obstacle, though, and the niche for players of his mold is a small one. In order to get the attention of more NBA scouts over his final two college seasons, Cooper will need to make some big improvements with his shot selection and learn how to better pick his spots to highlight his talents while becoming more efficient.