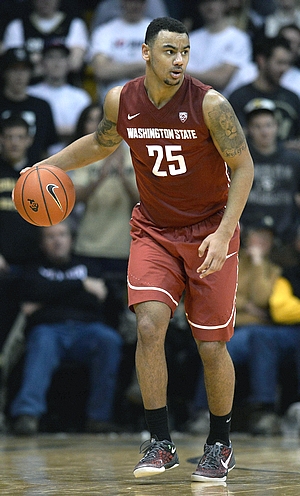 Josh Riddell
DaVonte Lacy earned Pac-12 All-Conference Honorable Mention in his junior season by scoring 19.3 points per game for Washington State,
second best in the Pac-12
. He returns for his senior season hoping to lead the Cougars back to the postseason for the first time since his freshman year, while making an impression on NBA scouts.
Lacy took a big leap offensively from his sophomore to junior season, filling a void left by graduating seniors. He saw his field goal attempts per 40 minutes pace adjusted jump from 11.2 to 16.2 but he also increased his efficiency at the same time, seeing a jump in effective field goal percentage from 52.8% to 54.5%. Most of this was derived from his three point shooting, as he shot 38.7% on 186 three point attempts, making more 3s than any player in the conference per-minute by a wide margin.
At 6'4", 206 pounds, Lacy has decent size and is built well for a shooting guard. While he isn't overly explosive, he has above average quickness and good speed in the open court. He could hold his own athletically against NBA players, but he won't have a distinct athletic advantage against most.
On offense, Lacy can be a one-trick pony at times, as he is almost exclusively a jump shooter, with 64% of his field goal attempts being three point shots and many of his other field goal attempts being mid-range jumpers. He is a dangerous shooter, as he made 38.7% on three point attempts and 39.8% on all jump shots, according to Synergy Sports. He moves well without the ball to find openings on the perimeter and has a quick, fluid release on his jump shot.
Lacy is great shooting off screens, as he sprints hard off screens to lose his defender before positioning himself for the pass. He then squares up quickly to the basket and has a quick release to get his attempt off before the defender recovers. While he will likely not be the focal point of a NBA offense, this will be a nice skill for him to have beside just being able to catch and shoot from a stand still position.
While Lacy showed the ability to get to the rim off dribble penetration at times, he rarely went this route and was more likely to look for a jump shot. He attempted only 50 shots at the rim last season, according to Synergy Sports. He also had the propensity to hold the ball or over dribble in isolation situations, which stalled the offense. When he did decide to attack through dribble penetration, he was not looking to pass the ball which allowed defenses to swarm him and put him in tough situations to execute. Being able to attack effectively off the dribble in the flow of the offense and being able to see his open teammates when defenses take away jump shots will help him become a more well-rounded offensive player.
Defensively, Lacy shows some potential to be a useful player, but doesn't look like he will be an impact player on that end. His combination of size and speed makes him an interesting prospect, but he doesn't quite have the length or lateral quickness to match up with bigger NBA players. He tends to drift defensively at times so he will need to show a more concerted effort to make up for his athletic deficiencies when facing top players to supplement his offensive skills.
As Lacy returns to Washington State for his senior season, he will be called upon once again to be the focal point of the offense. Lacy has some offensive skills a NBA team might be interested in, but he isn't well rounded enough on offense to make a big impact when defenses take away his shooting. Showing a more diversified skill set could have NBA teams take a longer look at him, as would demonstrating that his scoring can translate to his team winning more games.