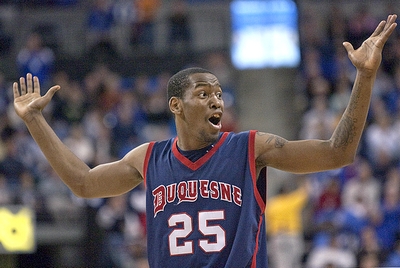 Derek Bodner
Combining a terrific defensive physical profile with consistent effort,
Damian Saunders
is one of the more intriguing players in this draft from a pure defensive standpoint. The reigning A-10 Defensive Player of the Year, Saunders needs to show a more consistent jump shot and better decision making on the offensive end to find a position in the NBA.
For Saunders, his senior year has been a mixed bag in that regard. Despite the transfer of Melquan Bolding, Saunders' usage offensively has declined, from 21% of the team's possessions last year to 16.4% this year, taking a back seat to fellow senior Bill Clark. Saunders' averages have fallen accordingly, down to 14.3 points per 40 minutes pace adjusted from 15.2 last year.
That being said, when projecting Saunders' game to the next level key areas have shown incremental improvements, even if he hasn't been more productive as a whole offensively. He's shooting significantly more jump shots this year than last, and at a much more efficient clip, making a respectable 35.2% from the collegiate three point line this year compared to 18.9% last year. On jumpers as a whole, his 1.080 points per shot is a drastic improvement over last year's 0.480 number. We're still not talking about a huge sample size (50 in 25 games), but the improvement is encouraging.
That's not to say his jump shot is picture perfect. There's still a considerable amount of wasted motion, which results in quite a bit of inconsistency. There's still a lot of work to do to improve in that regard, and it's going to be a question -- if not the main question -- about his game going forward.
The majority of the remaining portion of Saunders' half-court offense comes in the form of cuts and offensive rebounds, as he has a constant motor and uses his length well in both of those areas to finish around the hoop. He's not likely to be a major half-court offensive contributor, and has been very inefficient in isolation and post-up situations during the limited sample amount he has attempted.
Heavily favoring his left hand and appearing out of control at times, Saunders will have to improve his ball-handling skills significantly to use this part of his game with any regularity. His long strides and solid first step hints that he may have some untapped potential attacking the basket, but to this point he's hampered by his lack of an off hand and struggling to finish through contact. He has, however, done a much better job of drawing contact and getting to the line this year, mainly through his work in transition.
Defensively is where Saunders has made a name for himself, and why he may be an intriguing prospect for a team to look at in the second round. Saunders is an extremely versatile defender, using his length and great lateral quickness to effectively defend perimeter players. He's also a very good weak-side help defender, as evidenced by his 3.1 blocks per 40 minutes pace-adjusted, particularly impressive when combined with his 2.5 steals and only 2.5 fouls.
Duquesne plays a largely (albeit not entirely) man to man defensive scheme, switching on most screens and playing a lot of full court press. This allows us to take a look at Saunders on the perimeter, and he does a very good job for a player of his size moving his feet on the perimeter and playing smaller, quicker players off switches. According to Synergy Sports Tech, opposing players are averaging only 0.588 points per shot in isolation situations when he's defending, and he's in the top 97th percentile in defending the pick and roll. For a player who projects to be primarily a perimeter player at the next level (but has been playing primarily in the post in college), the versatility he's shown on the defensive side of the ball is a great asset.
When Duquesne does go zone it's usually in a 2-3 with Saunders probing the middle or as a 3-2, with Saunders coming up to use his length to disrupt the passing lanes. Saunders can struggle at times against stronger players in the post, and adding a few more pounds of muscle could do him well. While he will likely be playing primarily at the small forward position, the ability to defend both forward spots would help when trying to get court time and make a roster.
Strength can become an issue at times on the defensive glass as well. While Saunders isn't a bad defensive rebounder for a small forward, his productivity did drop a bit on the defensive glass, falling from 6.9 defensive rebounds per 40 minutes pace adjusted last year to 5.5 this year on a poor defensive rebounding Duquesne team which features no player in the regular rotation over 6'7". He shows good effort and technique on the defensive glass, and improving his lower body strength could again go a long way towards opening up minutes for him to play power forward in a small lineup.
Saunders has the defensive tools to be a very versatile defender in the NBA, and while his overall offensive productivity may have dipped this year, his slight improvement in certain facets of the game could be key in his ability to stick to a roster. There's a lot of work still left to be done, and clearly he can't be described as anything more than an offensive project, but if a team believes his jump shot can become consistent he has the defensive potential to hear his name called on draft night.