Roundup: Gallinari Dominates
January 29, 2008
An Englishman in Spain, Daniel Clark has been with Estudiantes for several years now. This season he was meant to make the first team in the ACB, which he did, but a series of bad results that have put this historic team in danger of being relegated to the second division required a few new signings. With the five Spanish players quota that teams are forced to meet, and considering that he wasn't getting that much action, the skilled but still inexperienced Clark was the perfect candidate to leave. Loaned to Leche Rio Breogan in the LEB Oro (Spanish second division), he now finds himself in an excellent situation to gain maturity in a competitive setting. Breogan is one of the strongest teams in the league, and its sole goal is to win the promotion back to the ACB.

This past weekend the Copa del Príncipe was held, a final-four tournament featuring the four top ranked teams midway through the LEB Oro's regular season-- a great opportunity for us to look at Clark. A guy capable of some pretty impressive offensive outbursts, the semifinal was a good example. He had 17 points in the first half, 12 of them in a very short time span. He showed great confidence in his abilities by knocking down consecutive three-pointers to close his run: the first one, receiving the ball a foot inside the arc, forcing him to take one dribble backwards to step outside and fire. The second one came after a pick-and-pop play. Just immediately before those shots, he had attempted another three-pointer that he missed, but followed the rebound and went up for a pretty nasty dunk. It was a bit of a surprise, because the Englishman is not particularly known for his aggressiveness.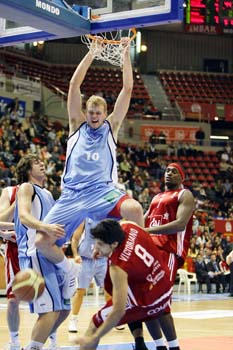 Photo: FEB


Clark is a fairly skilled and rather fundamentally sound player who seems to understand the game pretty well. He mostly lives off his shooting touch and the variety of attempts he can make, from a very short and one-handed shot, to the long-range bombs. Back to the semifinal, he showcased the extent of his range, connecting on three-pointers, an automatic mid-range jumper that he took pretty quickly, a fade-away turnaround jumper he took off the low block, and also a right-handed jump-hook. Estudiantes has been working on his low post game for a few years now, and although he still needs to significantly improve his footwork, along with his ability to finish with his left hand and his strength to operate more comfortably there, it's already paying some dividends. Indeed, he shouldn't have much trouble to become a productive post player as long as he's willing to mix it up inside--and it looks like he is.

At this point, he's a bit of a combo big man: Clark excels with some power forward skills, particularly anything related to shooting the ball, but his athleticism is more of a center's. He looks visibly more comfortable playing on the perimeter, even if he rarely attacks his opponents off the dribble (he's not that quick to become a consistent factor in this department anyway). But beyond his shooting touch, he moves pretty well around the arc and emerges as a pretty solid passer facing the basket, as he proved with a bunch of excellent passes in the semifinal. In terms of size, he also falls between those two positions, while he shows a nice frame to work with.

In the end, he's basically a prospect for international competitions, but a talented kid who should be able to establish himself amongst the elite of European basketball.

[Read Full Article]

---
2006 Nike Hoop Summit Game Recap
April 10, 2006
Clark is a big guy with nice shooting touch from the outside, though he seems to lack the ability to create for himself in the post. He understands how to position himself on the glass, which allowed him to collect 10 rebounds in the Hoop Summit game. He's only 17 right now, and may continue to grow, which would greatly help his NBA potential. For now, he seems to lack the quickness and athleticism needed to play in the NBA, though you can't exactly write off a kid who may or may not be done growing, and has a lot of developing to do physically.

[Read Full Article]

---
Nike Hoop Summit Preview: International Team
April 7, 2006
This Englishman might get lost somewhere in between "too young to be a factor" and "limited-potential player", but you never know; after all, Clark is a scorer, a big guy with a nice shooting touch who might get hot and deliver an offensive outburst at the right time. He fits European stereotype for bigs rather well: skilled, productive from the perimeter, not super athletic and not too intense. Daniel lives primarily off his jumper. He enjoys range all over the court, while he has the ability to create his own shots with spins and fadeaway moves in the low post or the mid-range area. He's even capable of shooting off the dribble, although his quickness limits his production when he puts the ball on the floor facing a rival. Naturally, he's still a streaky player, and he takes advantage of his superior size over less athletic competition at the junior level. Last time we checked, he needed to work on his footwork in the low post as well as his hook skills. But he might get particularly exposed at the defensive end and his lack of intensity doesn't fit well with the more physical American style. Daniel Clark is a bit of an immature player, but his body is not so underdeveloped that he can't present some physical competition if he delivers enough aggressiveness.

[Read Full Article]

---
2006 L'Hospitalet Tournament: the Top 5 prospects
January 11, 2006
It seems like L'Hospitalet is not Clark's favourite tournament. He already delivered a weak showing in the previous edition, and this time somehow disappointed again, despite his excellent statistical effort.

Besides his performance here, Daniel also left doubts about his potential beyond the international scene. In the end, he's a power forward with a center's athleticism to go along with a distinct lack of aggressiveness.

Clark's game continues to revolve around his shooting touch. He enjoys good quick mechanics delivering his high-arched shot, while enjoying three-point range. Particularly interesting is his ability to perform turnaround jumpers even while fading-away from the mid-range area and also from the low post. Here, Daniel still shows improvable footwork, setting mostly for these types of shots or quick spins going baseline, but his footspeed looks good. He could also benefit from refining his hook shot from the middle of the paint.

He can also put the ball on the floor with both hands, but he's not too much of a handler nor too prolific. When it comes to passing the ball, I guess we would have to settle for a 'decent' qualification. Clark mostly looked for scoring his points, which makes sense since he's the best player on his team by a very large margin.

The biggest signs of concern arise in his effort, which is rather poor in the defensive area. Despite his size and good frame (he was one of the strongest bigs at the tournament), he barely intimidated his rivals, lacking activity to the point that you could eventually see him defending his matchup in the low post with his arms down. At least he was effective in the rebounding department, grabbing most of the balls that came to his area using the size and strength we already mentioned.

Still, we can't forget about a 6-10 player as talented as the Englishman. He could make a very good international player in the long run.

[Read Full Article]

---
L'Hospitalet Tournament: Searching for New Talent
January 9, 2005
With Víctor Claver, Daniel Clark was the biggest attraction of the 1988 age group, but he didn't have a good tournament.

At 6-10, Clark is quite a fundamentally sound player whose main strength is his shooting. He can be deadly when he's hot, especially from the three-point line, but his temperature throughout the tournament kept pretty low. He can create his own shots with nice footwork and handles, using fakes and spins. And he uses the low post to deliver turnaround jumpers with good effectiveness. Being a skilled type of big man, it doesn't surprise that he isn't particulary agressive in the paint.

One of his biggest weaknesses may be his athleticism. He's not very quick, and his vertical is just one hair above average at this point. Clark looks rather physically underdeveloped, not strange being a 1988 kid, but I think there's room for significant improvement.

[Read Full Article]

---