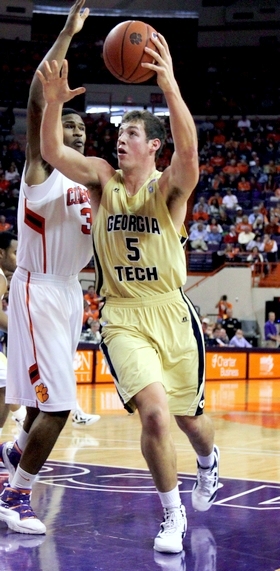 Jonathan Givony
After sitting out his first year as a redshirt,
Daniel Miller
started every game for Georgia Tech the past two seasons. Now a junior, Miller will attempt to make himself known as more than just the fourth best shot-blocker in the ACC.
Miller's biggest attraction as a NBA prospect, besides his defensive prowess, revolves around his excellent physical tools. Standing 6-11, with a good frame, a long wingspan, and very nice athleticism, he looks the part of a NBA center, and moves like one too-- running the floor well, and elevating off the ground quickly.
Unfortunately he still has a long ways to go to know how to take advantage of his strong physical tools, particularly on the offensive end, where he's very limited. Miller plays a fairly small role on a Georgia Tech team that struggled badly to put the ball in the basket last season. His skill-level is not very high, as he's the type of player who needs to have his offense created for him exclusively, and preferably around the basket. The only problem is his team suffered from some of the worst guard play in the ACC last year, not having anyone on their roster that can create offense efficiently on a consistent basis.
Miller is a very solid finisher, converting an impressive 67% of his field goal attempts around the basket last season. He has good hands, solid touch, and the ability to play above the rim with ease, sometimes elevating and finishing from impressive distances.
He also shows some flashes of being able to knock down a mid-range jump-shot, even if his shot-selection leaves something to be desired. He hit 76% of his free throws last season, showing solid potential in this area.
Desperate for offense, Georgia Tech tends to throw him the ball into the paint relatively often, but doesn't find much success doing so. Miller doesn't have the lower body strength or know-how of how to establish favorable post position. When he does catch the ball on the block, he shows poor footwork, limited coordination and no left hand, only converting on 38% of his field goal attempts in these situations, and very rarely drawing fouls.
While it's unlikely he'll ever develop into a polished low-post player, Miller's outlook defensively looks far more promising. As mentioned, he ranked as one of the best shot-blockers in the ACC last year, thanks to his terrific combination of size, length, mobility and instincts. He moves his feet very well on the perimeter for a player his size, being capable of stepping out and hedging screens and then quickly recovering. Even when beat by an opposing ball-handler, he's often mobile enough to recover and still make a play at the rim, using his length very well to alter shots around the basket.
While he's a capable help-side defender and gets a decent amount of blocks rotating to help his teammates out, he's also a very solid man to man defender, showing the size and strength to hold his ground in the post against most of the back to the basket targets he faces in the ACC. He's very patient here, rarely biting on pump-fakes, and committing an incredibly low number of fouls.
One area where Miller will have to improve in order to solidify his standing as a NBA prospect is on the glass, on both ends of the floor. He grabbed just 9.1 rebounds per-40 minutes pace adjusted last season, which is fairly poor. Considering the limitations he shows offensively, NBA teams will want to know that he can be counted on to at least contribute at an above average rate here.
Surely not a glamorous prospect by any stretch of the imagination, Miller's size, mobility, shot-blocking prowess and finishing ability give him at least a fighting chance of carving out a role at the NBA level. Players with his physical tools are not easy to come by, and if he can continue to improve on his weaknesses over the course of his final two seasons at Georgia Tech, he could certainly emerge as a prospect NBA teams will want to follow.