Darius Johnson-Odom
Recent Tweets
All Tweets
DraftExpress: Here's my Darius Johnson-Odom interview video: http://t.co/sH0qriDz
2012-06-28 10:47:41
DraftExpress: Dallas takes Darius Johnson-Odom at #55. Mavs stocking up on bulldogs from Marquette. Never a bad strategy. Dude will rip your head off.
2012-06-28 10:42:00
DraftExpress: 2nd session turning out much better than the 1st. Some good moments from Darius Johnson-Odom. Showing a real competitive streak #NetsCombine
2012-05-19 12:43:20
DraftExpress: 2nd session: Zack Rosen, Ashton Gibbs, Kyle Fogg, Darius Johnson-Odom, Kevin Murphy, Drew Gordon, Mitchell Watt, Renardo Sidney #NetsCombine
2012-05-19 11:22:47
DraftExpress: DX Trending Prospects: Updated scouting reports on Doron Lamb, C.J. Leslie, Darius Johnson-Odom and Bernard James http://t.co/9g00o2oi
2012-02-27 04:46:13
Team: Trabzonspor
Physicals
Positions
Salary
Misc
H: 6' 3"
W: 212 lbs
Bday: 09/28/1989
(26 Years Old)

Current: SG
NBA: SG
Possible: SG

Agent: Jeff Austin

High School: Wakefield
Hometown: Raleigh, NC
Drafted: Pick 55 in 2012 by Lakers
Best Case: Fred Jones
Worst Case: DeMarcus Nelson

Predraft Measurements
| Year | Source | Height w/o Shoes | Height w/shoes | Weight | Wingspan | Standing Reach | Body Fat | No Step Vert | Max Vert |
| --- | --- | --- | --- | --- | --- | --- | --- | --- | --- |
| 2012 | NBA Draft Combine | 6' 1.5" | 6' 3" | 212 | 6' 7" | 8' 0" | 7.0 | 33.5 | 41.5 |
| 2012 | Nets Workout | 6' 1" | 6' 2" | 214 | 6' 6.5" | 8' 2" | 10.2 | 32.5 | 40.0 |
| 2011 | LeBron James Camp | NA | 6' 0.5" | 214 | 6' 6" | NA | NA | NA | NA |
| 2011 | Kevin Durant Camp | NA | 6' 3" | 214 | 6' 6" | NA | NA | NA | NA |



Basic Per Game Statistics

- Comprehensive Stats - Statistical Top 25s
| Year | League | Name | GP | Min | Pts | FG | FGA | FG% | 2Pt | 2PtA | 2P% | 3Pt | 3PtA | 3P% | FTM | FTA | FT% | Off | Def | TOT | Asts | Stls | Blks | TOs | PFs |
| --- | --- | --- | --- | --- | --- | --- | --- | --- | --- | --- | --- | --- | --- | --- | --- | --- | --- | --- | --- | --- | --- | --- | --- | --- | --- |
| 2015/16 | Eurocup | Darius Johnson-Odom | 7 | 26.9 | 7.6 | 2.6 | 7.6 | 34.0 | 1.6 | 4.3 | 36.7 | 1.0 | 3.3 | 30.4 | 1.4 | 2.1 | 66.7 | 0.4 | 2.7 | 3.1 | 4.4 | 0.6 | 0.1 | 2.7 | 2.6 |

Player Page&nbsp&nbsp| Player Stats | Mock Draft History | Related Articles&nbsp&nbsp| Add to My Draft Express&nbsp
&nbsp
NBA Combine Interviews: Kidd-Gilchrist, Johnson-Odom, Murphy
June 15, 2012
[Read Full Article]

---
Trending Prospects 2/27/2012
February 27, 2012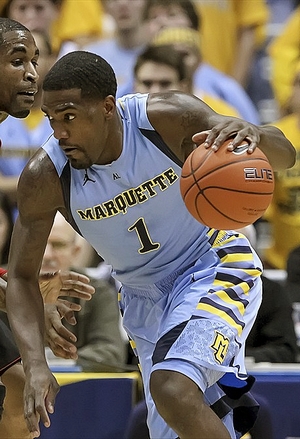 Icon SMI



Derek Bodner

A 6'3" shooting guard with a 6'6" wingspan and broad shoulders, Darius Johnson-Odom has had a productive senior season, ranking second in the Big East in scoring while leading Marquette to an impressive 24-5 record.

The deadeye perimeter shooting ability he showed as a sophomore has mostly returned after a relatively disappointing junior season. While Johnson-Odom hasn't quite replicated the virtually unsustainable levels of efficiency he had as a sophomore (47.4% from three point range and 1.627 points per possession on catch and shoot jumpers), his 40.4% three point percentage should reassure most talent evaluators that his sophomore season wasn't a fluke.

On the negative side, Johnson-Odom still has yet to show much in the way of point guard instincts or the ability to create for others, a concern for a player who measured just 6'3" at the Kevin Durant Skills Academy last summer. Beyond not showing point guard instincts, he also tends to put his head down when driving to the rim, limiting his ability to capitalize on the attention defenses give him.

Johnson-Odom has always been a good catch and shoot player, a skill that will be very valuable at the next level when he is asked to create less. While he doesn't get all that much elevation on his jump shot, his good balance and follow through creates a very repeatable motion which allows him consistent results.

He's also shown an increased ability to make jump shots off of screens, something that can be utilized as he moves to more of an off the ball role at the next level.

Where Johnson-Odom has made the most progress is as a shooter is off the dribble. His 0.93 points per shot off the dribble represents a solid improvement off the 0.688 number he posted last year, and he looks significantly more comfortable with pull up and step back jumpers, which he didn't consistently show earlier in his career.

While he's unlikely to create off the dribble at the next level quite as much as he currently is asked to, having that skill set in his arsenal represents an advantage over many of his contemporaries.

Off the dribble, Johnson-Odom has some definite positive attributes, although this is held back somewhat by his limitations finishing at the rim. Johnson-Odom has a good combination of quickness, ball-handling skills with either hand and an ability to change speeds and direction, along with an improved ability to use his physical strength to gain separation and good touch with both hands.

That being said, his combination of size and average touch makes him an overall inefficient finisher at the rim.

On the defensive side of the ball, Johnson-Odom gives good effort on this side of the ball and has the upper and lower body strength to defend strong NBA shooting guards. His average size, however, is an issue for someone who is at his best off the ball.

If Johnson-Odom were 6'5" there would be no questions about his ability to contribute at the next level. His ability to make shots from the perimeter and create off the dribble are coveted skills, especially considering his winning pedigree and the intensity he brings on the defensive end.

Johnson-Odom's size may give some teams room for pause, but fortunately for him there is a long list of undersized shooting guards currently seeing extensive playing time in the NBA today. As much as any prospect, the personnel around Darius Johnson-Odom could play a hand in whether a team is able to find a role he could be effective in at the next level.

[Read Full Article]

---
Top NBA Draft Prospects in the Big East, Part One (#1-5)
October 12, 2011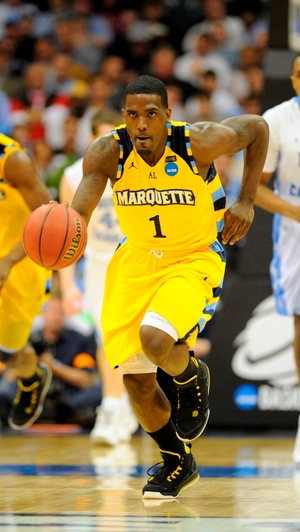 Icon SMI



Joseph Treutlein

After an impressive sophomore debut season with Marquette where he averaged 13.0 points per game, Darius Johnson-Odom saw a slight uptick as a junior, scoring 15.8 points per game even though his minutes didn't increase. Johnson-Odom made some slight strides in some areas, but also fell off in others, and how he responds in his senior year will have a significant impact on his stock.

Johnson-Odom's biggest selling point in his first year on campus was his deadeye shooting ability from behind the arc, but his percentages regressed severely last season, down from 47.4% to 36.4% from three-point range despite the fact that he didn't attempt too many more shots from distance. Given the small sample size in college seasons, combined with Johnson-Odom's lackluster free-throw shooting (70.8% last year), there is a decent chance Johnson-Odom's lights out shooting as a sophomore was a fluke, and is something evaluators will really key on this season.

Looking on the positive side, Johnson-Odom still possesses all of the attributes that allowed him to succeed as a sophomore. He has excellent ability to create separation through his advanced ball-handling and quickness along with the ability to knock down shots both spotting up and pulling up, having good shooting mechanics and clear cut NBA three-point range.

His success pulling up off the dribble took a bigger hit last year than did his spot-up shooting, as he still scored an impressive 1.2 points per shot on catch-and-shoot opportunities according to Synergy. Becoming more selective and more focused on quality attempts in off-the-dribble situations could improve his overall efficiency. In projecting him to the NBA where he'd likely play a more off-the-ball role, that problem may in part solve itself.

While Johnson-Odom's shooting ability took a step back as a junior, he did make some slight improvements to his ability to score inside the arc, upping his two-point FG% from 43.9% to 48.4% and increasing his free-throw attempts per game from 2.8 to 4.6 per game. Johnson-Odom has grown more comfortable throwing his broad-shouldered, well-built frame into contact in the lane as he's spent more time in the NCAA, and is also doing a slightly better job using his creativity to finish around the rim.

Despite Johnson-Odom's strides, his 0.99 points per shot on attempts around the basket in the halfcourt according to Synergy is still pretty poor, and may always be somewhat of an issue in the halfcourt given his diminutive size. That said, with his high levels of speed and bounciness, he may actually benefit in this area from the more spaced out NBA despite the higher quality defenders he'd face.

Johnson-Odom's excellent speed and highly refined and advanced ball-handling abilities are likewise skills better suited for the NBA style of play, and he possesses the strong feel and decision-making abilities to likely translate them to the next level. While his finishing ability in the lane is still developing, he has no problem consistently breaking down his man against collegiate competition, showing a great first step, rangy moves, and very strong change of direction ability with the ball.

In terms of his point guard skills, Johnson-Odom remains predominantly the same player he was as a sophomore, having a solid feel and good ability in the passing area, but still being clearly a shoot-first player and not one to consistently run any kind of team offense.

Johnson-Odom similarly remains mostly the same player on the defensive end, where his aggressive style, strong fundamentals, and excellent physical tools are all good points in his favor, but questions still remain about his size, something that shows up most occasionally in his ability to fight around screens.

Looking forward, Johnson-Odom has an intriguing set of abilities along with an aggressive mentality on both sides of the floor, but as an undersized pure shooting guard, rediscovering the deadeye shooting ability he lost as a junior will be very important for his stock. With teammate Jimmy Butler graduated and moving onto the pros this year, Johnson-Odom will likely see an even more expanded offensive role, and will have NBA decision-makers watching him all season long.

[Read Full Article]

---
Top NBA Draft Prospects in the Big East, Part Two (#6-10)
October 8, 2010
Jonathan Givony

Grades forced Darius Johnson-Odom to spend a year in prep school and then junior college before making his NCAA debut last season for Marquette, but clearly that was worth the wait from Buzz Williams' perspective. Johnson-Odom finished as the second leading per-minute scorer on Marquette's team, and was often the one with the ball in his hands down the stretch when the Golden Eagles needed a basket.

From a physical standpoint, Johnson-Odom has pretty much everything you could look for in a guard prospect, minus a couple of inches. He sports a chiseled frame, with long arms and very good athleticism, showing a terrific first step, very nice fluidity in the lane, and the mindset to take advantage of his very good physical tools.

Johnson-Odom's biggest strength revolves around his dead-eye shooting ability, as he ranked as one of the most efficient outside shooters in all of college basketball last season, both from a volume and accuracy standpoint. He made an outstanding 47.4% of his 3-pointers last season, on over 4.5 attempts per game, and knocked down an amazing 55% of his catch and shoot jumpers, rating him in the 99th percentile of college basketball. Capable of making shots both with his feet set or off the dribble, Johnson is extremely accurate even with a hand in his face, showing NBA range on his jumper.

Far more than just a one-dimensional spot-up shooter, Johnson-Odom is also a capable shot-creator, showing strong ball-handling skills with either hand and the athleticism to get by his defender fairly effectively.

At the moment he tends to prefer pulling up off the dribble for a mid-range jumper rather than taking the ball all the way to the rim, which is one of the reasons why he's not terribly efficient inside the arc, converting worse on his 2-point attempts than on 3-pointers, oddly enough.

He needs to do a better job finishing stronger at the rim, not settling for floaters and learning the nuances of how to take the ball all the way to the basket and draw contact. The fact that he's able to dribble and finish with either hand makes him somewhat unique at the NCAA level and is something he could continue to build on over the next few years as he develops his shot-creating ability even further.

Very undersized for a shooting guard at 6-2, Johnson-Odom would be well served to improve on his playmaking ability and passing skills. Despite clearly being a shoot-first type scorer, he appears to be an unselfish guy who is willing to make the extra pass, showing a good feel for the game and sporting a positive assist to turnover ratio. With that said, he still has a ways to go in this area, as his inexperience definitely showed at times last year.

Defensively, Johnson-Odom is pretty impressive, showing the length, strength, and lateral quickness to guard up to three positions at the NCAA level. He's a very tough, pesky defender who puts great effort in on this end of the floor, using his length extremely well to contest shots on the perimeter and just being too strong and tenacious for opposing guards to post up, despite his lack of height. If he can prove to NBA decision makers that he can defend the shooting guard position without too many problems he should be in pretty good shape moving forward.

Johnson-Odom is a unique prospect on the NCAA landscape due to his very complete game, as he's capable of creating his own shot, is a phenomenal shooter, and is also an outstanding defender. If his shooting percentages were not an aberration, he looks like a very interesting prospect that will surely draw plenty more attention in the future.

Right now he's not even a very well-known player at the Big East level, but with another strong year at Marquette, you can expect that to change quickly.

[Read Full Article]

---