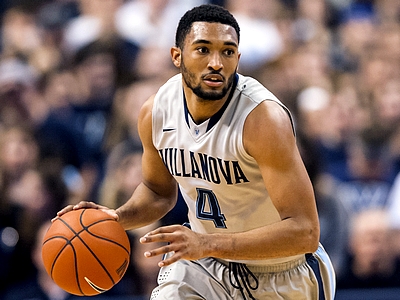 Jonathan Givony
Darrun Hilliard has slowly but surely turned himself into an important college basketball player, going from being a bit player as a freshman to an absolutely essential cog on a Villanova squad that went 29-5 before being upset by eventual National Champions UConn in the NCAA Tournament.
The lefty was named the Big East's most improved player last season after averaging 14 points per game on 57% shooting from 2-point range and 41% from beyond the arc.
Hilliard has good size for either wing position, measuring a solid 6-6 ½ in shoes at the Nike Skills Academy this past summer, to go along with a 6-8 wingspan and a sturdy 219 pound frame.
Hilliard is an efficient and opportunistic scorer who operates as a role-player in Villanova's offense, tasked with spacing the floor, running the court in transition, and picking his spots wisely with the ball in his hands.
Over half of Hilliard's field goal attempts came from beyond the arc last season, and he knocked them down at a very solid rate, hitting 41% of his 3-pointers. He is very reliable with his feet set, particularly when left open, but also showed some potential as an off the dribble shooter, converting 43% of his attempts in these situations, but doing so on a limited sample size (one per game).
Hilliard is not a prolific shot-creator, seeing only 22% of his offense in pick and roll and isolation situations, but is a willing passer who moves the ball unselfishly. His ball-handling skills are just average at this stage, as he lacks the explosive first step needed to get to the basket frequently, and struggles somewhat to finish once he does. Hilliard converted just 51% of his attempts around the basket last season, an average rate, as his lack of length and explosiveness makes it difficult for him to finish in traffic at times.
Hilliard does show some potential in this area, though, using his strong fundamentals and basketball IQ to find creases in the defense and attack his man off shot-fakes and close-outs. He uses crafty footwork, jump-stops and changes of speed to compensate for his average explosiveness, as well as his superior strength to bully weaker opponents and keep them off balance, and is not afraid to pass the ball if a teammate is in position to make a play. Still, he's going to need to continue to improve in this area to pull this off against higher level competition and not be rendered a one-dimensional player.
Defensively, Hilliard is a competitive and disciplined player who shows a lot of versatility in Jay Wright's aggressive system. He spent a lot of time defending both backcourt positions last season, as the team needed to hide their point guard Ryan Arcidiacono who is somewhat of a liability on that end of the floor. Hilliard was often the one tasked with guarding the opposing team's best perimeter player, and he usually proved to be up for the challenge.
Although not exceptionally long or athletic, Hilliard shows excellent fundamentals and a high intensity level to help him get the job done. He closes out intelligently, gets in a low stance, moves his feet well, and gets in the passing lanes frequently thanks to his strong timing and anticipation skills. This versatility Hilliard is showing will help him a lot down the road, as being able to defend shooting guards will go a long way in improving his stock at the professional level.
While far from a glamorous prospect, Hilliard is an interesting player nevertheless, as he shows many of the characteristics NBA coaches like to see from their role-players—with his propensity for playing efficient, low-mistake basketball offensively and showing nice versatility defensively.
It will be interesting to see if Hilliard can build off his strong junior campaign and continue to shoot the ball well from outside, as he was fairly streaky from the perimeter early on in his career. If he can string together another good season and continue to help Villanova win, he'll put himself in solid position to show he's deserving of a NBA roster spot.