David Lighty
Recent Tweets
All Tweets
DraftExpress2: Nanterre led by former Ohio State wing David Lighty wins the French League after sneaking into the playoffs as the 8 seed.
2013-06-08 21:17:32
DraftExpress: RT @MattKamalsky: David Lighty gets the rare distinction of being an American rookie on a Euroleague team. He fits well in Cantu's balan ...
2011-07-06 10:16:06
DraftExpress: David Lighty signed with Cantu, an Italian team who will play in the Euroleague next season. Great coach and great situation for him.
2011-07-06 08:27:59
DraftExpress: Players I thought would get drafted but didn't: Ben Hansbrough, Michael Dunigan, Greg Smith, David Lighty, Diante Garrett, Demetri McCamey.
2011-06-24 01:21:10
DraftExpress: Other prospects still available: Jon Leuer, E'Twaun Moore, David Lighty, Jereme Richmond, Charles Jenkins, Isaiah Thomas, Andrew Goudelock
2011-06-23 09:44:54
Top 25s - Full List
Team: Villeurbanne
Physicals
Positions
Rankings
Misc
H: 6' 6"
W: 216 lbs
Bday: 05/27/1988
(27 Years Old)

Current: SG/SF
NBA: SG
Possible: SG

RSCI: 32

High School: Villa Angela-St. Joseph
Hometown: Cleveland, OH

Predraft Measurements
| Year | Source | Height w/o Shoes | Height w/shoes | Weight | Wingspan | Standing Reach | Body Fat | No Step Vert | Max Vert |
| --- | --- | --- | --- | --- | --- | --- | --- | --- | --- |
| 2011 | NBA Draft Combine | 6' 4.75" | 6' 6.5" | 216 | 6' 8" | 8' 5" | 6.5 | 28.5 | 33.0 |



Basic Per Game Statistics

- Comprehensive Stats - Statistical Top 25s
| Year | League | Name | GP | Min | Pts | FG | FGA | FG% | 2Pt | 2PtA | 2P% | 3Pt | 3PtA | 3P% | FTM | FTA | FT% | Off | Def | TOT | Asts | Stls | Blks | TOs | PFs |
| --- | --- | --- | --- | --- | --- | --- | --- | --- | --- | --- | --- | --- | --- | --- | --- | --- | --- | --- | --- | --- | --- | --- | --- | --- | --- |
| 2015/16 | French | David Lighty | 9 | 21.9 | 9.6 | 3.4 | 7.1 | 48.4 | 2.6 | 4.6 | 56.1 | 0.9 | 2.6 | 34.8 | 1.8 | 2.1 | 84.2 | 0.6 | 2.6 | 3.1 | 2.2 | 1.2 | 0.1 | 2.0 | 1.3 |

Player Page&nbsp&nbsp| Player Stats | Mock Draft History | Related Articles&nbsp&nbsp| Add to My Draft Express&nbsp
&nbsp
NBA Combine Interviews: Chris Singleton, Jimmy Butler, Lighty, Hopson
May 23, 2011
[Read Full Article]

---
Trending Prospects (12/9/2010)
December 9, 2010
Matthew Kamalsky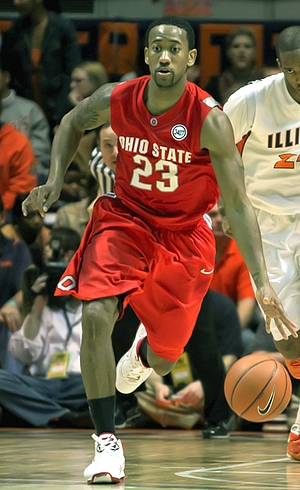 Icon SMI



A member of the Oden-Conley-Cook recruiting class that put Ohio State in the National Championship hunt in 2007, David Lighty has been a key reserve for the Buckeyes since his freshman year. Doing whatever Thad Matta asked of him through his first four seasons in Columbus, Lighty has done a little bit of everything in support of the likes of Greg Oden, Kosta Koufos, and Evan Turner. After missing the majority of his true junior year because of a season-ending foot injury, Lighty is back at Ohio State for a fifth year and has made a big impact for one of the nation's best teams early on.

Much of Lighty's success this season has stemmed from his comfort level with the speed of the college game. His torn ACL as a prep limited his explosiveness early in his college career, and while he seemed to get a little more bouncy each season, he has appeared noticeably quicker with the ball in his hands this year. Possessing solid speed, quickness, and strength, Lighty still looks a bit tentative jumping off of one leg, but has no trouble playing above the rim when he has time to gather himself and jump off of two. Despite re-fracturing the same foot that robbed him of his junior season early this off-season, the Cleveland native looks as close to 100% as we've seen him.

Lighty's health and quickness have been essential pieces to the puzzle for a young Ohio State team trying to replace a do-everything star in Evan Turner. An extremely versatile player in his own right, Lighty has taken on a bigger role on the offensive end, spending some pushing the ball up the floor at the point guard position and usually winding up with the ball in his hands when the shot-clock runs low. Often the best athlete on the floor for OSU, Lighty is asked to create for his team in crunch time, something he doesn't look to do normally and won't be asked to do on the NBA level.

Ohio State's nationally televised victory over Florida State provided an especially interesting snapshot of Lighty's role this season. FSU's defensive pressure forced the Buckeyes into numerous short shot-clock situations, most of which led to the ball winding up in David Lighty's hands. Finishing just 4-14 from the field, Lighty forced some tough shots from the perimeter and had the coast-to-coast plays he normally finishes erased by Chris Singleton.

Though he scored just 10 points, Lighty finished with 7 rebounds, 2 assists, 1 steal, and a pair of blocks in helping his team to victory. A consummate roleplayer even when he's leading the Buckeyes in scoring, Lighty proves to be a very savvy passer, makes good decisions with the ball, crashes the glass well for his size, and works tirelessly on the defensive end. Though those traits have defined his game in the past he has made some clear offensive improvements this season, even if they didn't help him against FSU.

A somewhat questionable perimeter shooter in the past, Lighty has looked more comfortable in catch-and-shoot situations this season. Getting better arc on the ball than he did early in his career, his shot still looks a bit mechanical, but the ball comes off his hand better. Never one to take a shot with a hand in his face unless he has to, Lighty's ability to knock down shots consistently from beyond the arc, improve his pull-up game, and cut back on his turnovers in traffic will be three areas of interest as we move through this season.

Around the rim, Lighty has found some success as a finisher, even if athletic shot blockers present a problem for him on occasion. Showing a quick first step and the ability to hang in the air for a short-range jumper or lay-in, Lighty is a solid finisher who is at his best when he can take what the defense gives him instead of being relied on to make plays under pressure.

Defensively, Lighty is an active, and fundamentally sound stopper. Capable of denying penetration out on the perimeter, contesting shots with his wingspan, and making an impact with his anticipation in passing lanes, Lighty is a very good defensive player at the NCAA level. Though he could stand to get a bit stronger, Lighty knows when to give a cushion and when to close out, is willing to mix it up on the glass, and plays within team concepts. Lighty may not have the lateral quickness to be considered a defensive specialist at the next level, but his willingness to work hard on both ends only adds to his versatility.

Flying under the radar next to Ohio State's parade of recent draftees, the name of the game for Lighty this season will be consistency. He's not going to be asked to fill the do-everything role he's currently playing in the NBA, but if he can continue to score at an efficient rate and do all the little things, he could rise up draft boards. As it stands, he has entrenched himself as a potential second round pick, and is a player to watch as OSU moves into conference play.

[Read Full Article]

---
Top NBA Draft Prospects in the Big Ten, Part Four (#16-20)
September 10, 2010
Joseph Treutlein

After breaking his foot early in the 2008-2009 season, David Lighty came back strong as a redshirt junior this past year, posting the best numbers of his career and playing an integral role on a very successful Buckeyes team. Lighty re-fractured that same foot early in this offseason, however, so he once again will need to return from injury come November, while he'll simultaneously have to adjust to playing a more prominent role in Ohio State's offense with playmaker Evan Turner now in the NBA.

Looking at this past season, Lighty made subtle improvements all across the board as a player, increasing his production and efficiency in nearly every category. As a scorer, he's become more accustomed to his strengths and weaknesses over time, while gradually improving his ball-handling and shooting to an extent along the way.

While Lighty still doesn't possess much in terms of advanced moves off the dribble, he's gotten better at attacking on straight-line drives in the half-court and in open space in transition, having a decently controlled handle with both hands, albeit one not especially low to the ground. He has a good first step and second gear, which he combines with good footwork in the lane, as he's often able to gain separation when not in a crowd. This isn't to say that Lighty doesn't possess problems in this area, as he turns the ball over fairly frequently and doesn't operate well when spaces close up, but he's capable of doing damage off the dribble at this level.

In terms of putting the ball in the basket, Lighty is a very good finisher around the basket, especially in transition, where he shows great body control and touch along with a willingness to draw contact when necessary. He's worked on his runners and right-handed floaters to complement this somewhat, but both of those areas are still a work in progress.

The biggest development as a scorer for Lighty this past season would have to be his spot-up shot, as he hit a respectable 38% from behind the arc on 3.1 attempts per game. Lighty has a deliberate shot that he likes to fade away on a bit with a very high shooting arc, but it's very effective in space when he has the time to get it off. Things break down a bit when he's closely contested and break down severely when he's pulling up off the dribble, while he also hasn't shown much NBA range yet. Projecting to the next level, and looking at the limited sample size and his poor free throw percentages (63%), this area of Lighty's game is still sub-par for a shooting guard, and is definitely something that would help his stock considerably if he continued improving.

Another area where Lighty has developed nicely is with his passing game, as he plays a very heady, team-oriented style of basketball, rarely showing tunnel vision on his drives, keeping his head up, and being capable of throwing passes on the move. He dished out three assists per game as the team's tertiary ball-handler this past year, doing so on a variety of drive-and-kicks and hitting cutters in the lane.

On the defensive end, Lighty continues to be a very effective and versatile weapon at this level, frequently matching up against point guards through power forwards on the perimeter and in the post. He plays with excellent fundamentals and awareness to go along with a very high motor, constantly moving his feet, keeping his hands up, and contesting shots all over the floor. Projecting to the pros, however, it's hard to see Lighty's positional versatility carrying over, as his lateral quickness won't be up to par against point guards and he will be overmatched in terms of size against power forwards and even many small forwards. His physical tools project to match up very well against shooting guards, however there are questions if he has the requisite ball-handling and shooting abilities to play the position offensively.

Looking forward, Lighty still appears to have work to do as a fifth-year senior to move himself into serious draft discussions, though the progress he showed this past season is a very nice starting point. The biggest things he has working in his favor are his high motor, strong work ethic, and commitment to playing hard and smart on both ends of the floor, something coaches certainly appreciate from their bench players. Ultimately, though, there may not be one specific thing Lighty does at an above average level for an NBA shooting guard just yet, and that is a big sticking point with many talent evaluators.

[Read Full Article]

---
Top NBA Draft Prospects in the Big 10 (Part One: #1-5)
September 10, 2008
Lighty followed up a promising freshman campaign with a relatively marginal second season. Although he put up respectable numbers, he did not quite live up to the expectations that many had for him after his strong performance at the U-19 Championships in the summer of Ď07. Regardless, the combination of size, strength, and defensive potential displayed by Lighty is enough to make him one of the top prospects that the fairly weak Big 10 has to offer.

Sporting the same muscular physique that he has in the past, Lighty has the total package physically for a power wing player. He is blessed with legit height, a nice wingspan, and appears to have reacquired the explosiveness that he had as a prep star before he suffered a serious knee injury.

On the offensive end, Lighty does the bulk of his damage slashing to the rim and scoring in transition. Using his exceptionally strong frame and nice first step, he is able to finish around the cup with either hand and shield off bigger, more athletic defenders in the process. When unable to find his way to the rim Lighty has shown nice potential as a passer, showing nice vision with his unselfish style of play.

Over his first two years in college Lighty, who was an accomplished scorer in high school, has struggled mightily in terms of getting in a scoring groove. His jumper (although improving) has lacked consistency, even though he displays nice form and release. David is not overly creative off of the dribble due to his weak ball-handling skills and wonít hit you with a variety of scoring moves either. His left hand needs work and his in-between game looks underdeveloped. The 11.6 points he scored per-40 minutes is one of the weaker rates youíll find amongst top prospects in any other conference weíll preview.

The defensive end is where Lighty offers the most intrigue as a prospect. His size and strength allow him to hold his ground against whomever heís guarding, enabling him to body up opposing guards who might be slightly quicker then him. This strength has also given him the versatility to guard players ranging from point guards to power forwards. The Cleveland native has shown the ability to get his hands on a ton of balls, especially in Ohio Stateís three quarter court press, making himself much more of a presence then his numbers reflect on the defensive end.

The Buckeyes will rely upon Lighty to step up on the offensive end in his junior season if they hope to achieve more success than they did last year. He will be counted upon as a team leader and catalyst, given the abundance of youth and inexperience that OSU will have this season. David is still not a sure fire NBA draftee at the moment by any means, although a strong junior season could easily solidify his status as an NBA prospect.

[Read Full Article]

---
Top NBA Draft Prospects in the Big 10 (Part One: #1-#5)
October 16, 2007
David Lighty didnít put up a very impressive stat-line in his freshman year on the very deep NCAA championship game bound Ohio State team, averaging just 3.7 points and 2.3 rebounds on 37.4% field-goal shooting in 16.3 minutes per game, but he showed flashes of nice things and should be poised to take on a larger role as a sophomore this season.

Lighty started off the season well against non-conference opponents, but failed to reach double-digit scoring at all once the conference season began, as he was relegated to being purely a role player for the Buckeyes. At this stage of his development, Lighty isnít quite ready to be more than that yet, primarily due to a very loose handle, an inability to create off the dribble, and a lack of a mid-range game.

Lightyís greatest strength on the offensive end is probably his ability to cut and score at the rim, doing most of his damage that way for the Buckeyes last season. Lighty does a good job of catching the ball on the perimeter and quickly getting to the rim with his long strides. Lighty looks very smooth going to the basket when not having to put the ball down for more than one or two dribbles, and he finishes very well at the basket with his athleticism and length. He has good touch around the rim, can score over opponents, and takes contact well also. He is very composed on his way to the basket, showing good footwork and making good use of hop-steps and ball fakes while doing a good job using his body to protect the ball from defenders. The biggest thing Lighty needs to work on with his slashing is developing a consistent floater or pull-up jumper to complement his ability to finish at the rim, something he didnít do a good job with last season.

Lighty also shows some potential as a spot-up shooter from outside, even though he shot an unimpressive 20% on 40 attempts from behind the arc last season. Lighty has decent form, though he occasionally lets his hand drift right on his shot release and he can be a bit too deliberate with his motion at times. Working on his accuracy and quickness getting his shot off should be among his priorities, but his shot should improve with time and practice regardless. Lighty also makes contributions on the offensive end attacking the offensive boards, using his exceptional leaping ability and body control to pull down boards in a crowd, and being aggressive in doing so.

On the defensive end, Lighty is a very good defender with the potential to be great, showing good poise, understanding, and pure ability. Lighty doesnít look like your typical freshman, sporting a chiseled frame that is reportedly up to around 220 pounds already. He shows good lateral quickness and fundamentals on the perimeter, moving his feet to stay in front of his man while being able to frustrate the opposition, forcing travels or drawing charges. He also doesnít lunge at the ball, playing composed and not trying too hard for the steal. Lighty does do a good job using his athleticism and length on the weak-side, though, disrupting the passing lanes in that manner. Lighty also shows good versatility on the defensive end, not being afraid to defend in the post when necessary.

This will be a very important season for Lighty, to see if he can make the transition from bench role player to somewhat of an offensive focal point. He has room to improve in virtually all areas of the game, though he has a long way to go if he ever wants to become the type of player to create his own offense. Even if he canít, Lighty still may find a place in the NBA as a role player sometime down the line, as his physical tools coupled with the ability to defend, score at the rim, and knock down the outside shot could find himself a niche in the league, assuming he can at the very least improve his outside shooting. NBA teams will take a good look at his knee, as he suffered an ACL tear in his junior year of high school.

[Read Full Article]

---
U-19 World Championship Review: Forwards
August 23, 2007
Amongst the number of players that eventually filled the small forward position on the US Team, Lighty was probably the most consistent one. Still, he's not a pure three, but more of a swingman, pretty smooth in his moves and rather effective in his efforts. Nicely athletic and strong as virtually all his teammates, he was a very reliable piece in a squad that successfully tried to play as a real team.

Even if his 6-5 size should point towards a shooting guard (he might be closer to 6-6, though), he's not your typical creative ball-handling perimeter player, but more of a guy who tries to take advantage of the opportunities created within the game flow. Not a great shot-creator, he can still consistently put the ball on the floor to attack his match-ups looking for his elegant lay-ups, effective even against opposition. Actually, his combination of athleticism and balance in the air provides some very esthetic moves. Lighty also emerged as a very solid shooter, particularly in spot-up fashion, sometimes coming off a cutter that he nicely transforms in a jumper move. He can remain decently effective out to the three point line, although his mechanics are slower here and he was not particularly prolific. Solid in the rebounding area, he was particularly active on the offensive glass, getting scoring production off put-backs. He also delivered on defense, being part of the excellent perimeter line of the US Team, where he could use his solid lateral quickness and strength.

Anyway, Lighty doesn't look like a big-time talent, but more of a nice role player that gets the job done on a regular basis. His ability to develop his guard skills will likely determine his future NBA draft stock.

[Read Full Article]

---
High School Allstar Games Recap: Player Interviews
April 25, 2006
DraftExpress: Youíre one of the few Ohio players to be selected to the Roundball Classic in recent years, although there will be many more to come in the next few years with the loaded classes we have. Can you tell me a little about how it feels to be selected for this game?

Lighty: Well there were older guys who played before us, led the way, and paved the path for us. Weíre just trying to do what they did, so kids younger then us can do the same thing.

DraftExpress: What are you looking to show scouts and fans during the Roundball?

Lighty: My versatility. My rebounding skills, the way I run the floor, the way I pass the ball. Then how I defend. I can guard anybody, from big men to point guards.

DraftExpress: As many know, you suffered a horrible knee injury that ended your junior season and kept you off of the AAU circuit last summer. How is the knee now?

Lighty: Itís doing pretty good. Itís not back to 100% yet, but itís getting there with time. By the time I get to Ohio State, Iíll be 100%.

DraftExpress: You led you high school (Cleveland Villa Angela-Saint Joseph) to the state championship game this past season, but unfortunately you ran into O.J. Mayo, Bill Walker, and Co. Can you tell me a little about what it was like to go up against O.J. and Bill?

Lighty: I played against them before in AAU and everything, but it was a great experience. They were the number three ranked team in the nation and we were the underdogs. We were trying to come out and make a statement, but things got out of control a little bit (laughs), but thatís just basketball.

DraftExpress: What do you see your role being next year at Ohio State?

Lighty: Iím going to pretty much do whatever the coach asks of me. If they want me to score, Iím going to try to score. If you want me to defend, Iím going to go defend. Pretty much whatever the coach wants me to do.

DraftExpress: You played point guard this past season for your high school team and did quite well. Will you be playing any point guard at Ohio State?

Lighty: Probably if I get it on the rebound, Iíll push it up on the fast break or something. No, not really though. I think playing point this past year helped me a lot with my dribbling and my decision making.

DraftExpress: Do you feel that playing in this game alongside Greg (Oden), Daequan (Cook), and Mike (Conley Jr.) gave you guys the opportunity to develop some early continuity that most recruits arenít able to?

Lighty: Yeah, we get to see how each other play, get a feel for what each other likes to do, and get a feel for each others tendencies. It will help us out a lot.

DraftExpress: Thanks David. Best of luck in the Roundball.

Lighty: Thank you.

[Read Full Article]

---
Roundball Classic: Game Recap
April 12, 2006
Lighty does not have the scoring ability or flare of Cook, but has all of the things that Cook lacks in terms of the mental side of the game. He is one of the smarter players you will see at the high school level, and is incredibly productive every time he steps out on the floor. While Davidís immediate upside is nowhere near that of Cookís, he is a safe bet to be a very productive college player and constantly develop throughout his career. The Cleveland native played point guard for his high school this past season, which greatly improved his decision making and now gives him the ability to play all three perimeter positions for the Buckeyes next season.

[Read Full Article]

---
Roundball Classic: Practice Reports
April 11, 2006
While Cook, Conley, and Oden get all of the media attention nationally, Mr. Lighty is no slouch himself. The Cleveland wing does not have the flare or overall talent of Cook, but has all of the intangibles that Cook is missing. Davidís crafty, smart play should immediately bolster the OSU backcourt. After playing point guard this season for his high school team and leading them to the state championship game, Lighty now has the versatility to play all three perimeter positions, which will help the Buckeyes immensely.

[Read Full Article]

---