Demetri McCamey
Recent Tweets
All Tweets
DraftExpress: Players I thought would get drafted but didn't: Ben Hansbrough, Michael Dunigan, Greg Smith, David Lighty, Diante Garrett, Demetri McCamey.
2011-06-24 01:21:10
DraftExpress: RT @PKlee_IlliniHQ: Former #Illini Demetri McCamey has signed with agent Roger Montgomery of the Montgomery Sports Group.
2011-03-29 11:47:51
DraftExpress: DX recent content. Updated scouting reports on Jamie Skeen, Demetri McCamey, Papa Dia: http://bit.ly/fhgHdI
2011-03-25 11:16:06
DraftExpress: DX Trending Prospects. Updated scouting reports on Jamie Skeen, Demetri McCamey, Papa Dia http://bit.ly/fhgHdI
2011-03-24 06:21:44
DraftExpress: With that said, Demetri McCamey's work ethic has been an issue his entire career, as evidenced by shoddy conditioning. Won't help NBA stock.
2011-02-12 06:15:22
Top 25s - Full List
Team: NON-NBA College Team: Austin
Physicals
Positions
Rankings
Salary
Misc
H: 6' 3"
W: 204 lbs
Bday: 02/21/1989
(26 Years Old)

Current: PG
NBA: PG
Possible: PG

RSCI: 66

Agent: Keith Kreiter

High School: St. Joseph
Hometown: Bellwood, IL

Predraft Measurements
| Year | Source | Height w/o Shoes | Height w/shoes | Weight | Wingspan | Standing Reach | Body Fat | No Step Vert | Max Vert |
| --- | --- | --- | --- | --- | --- | --- | --- | --- | --- |
| 2011 | NBA Draft Combine | 6' 1.75" | 6' 3.25" | 204 | 6' 6.25" | 8' 3.5" | 6.1 | 27.0 | 33.0 |
| 2011 | Deron Williams Camp | NA | 6' 3" | 203 | 6' 4.5" | NA | NA | NA | NA |
| 2010 | LeBron James Camp | NA | 6' 3" | 203 | 6' 4.5" | NA | NA | NA | NA |
| 2009 | Paul Pierce Camp | NA | 6' 2.5" | 201 | 6' 4.5" | NA | NA | NA | NA |



Basic Per Game Statistics

- Comprehensive Stats - Statistical Top 25s
| Year | League | Name | GP | Min | Pts | FG | FGA | FG% | 2Pt | 2PtA | 2P% | 3Pt | 3PtA | 3P% | FTM | FTA | FT% | Off | Def | TOT | Asts | Stls | Blks | TOs | PFs |
| --- | --- | --- | --- | --- | --- | --- | --- | --- | --- | --- | --- | --- | --- | --- | --- | --- | --- | --- | --- | --- | --- | --- | --- | --- | --- |
| 2015/16 | DLEAGUE | Demetri McCamey | 6 | 16.0 | 7.0 | 2.7 | 5.7 | 47.1 | 1.7 | 3.7 | 45.5 | 1.0 | 2.0 | 50.0 | 0.7 | 0.8 | 80.0 | 0.0 | 1.3 | 1.3 | 1.7 | 0.2 | 0.2 | 0.7 | 0.7 |

Player Page&nbsp&nbsp| Player Stats | Mock Draft History | Related Articles&nbsp&nbsp| Add to My Draft Express&nbsp
&nbsp
Trending Prospects (3/24/2011)
March 24, 2011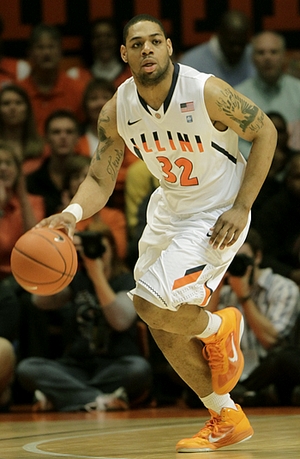 Icon SMI



Walker Beeken

When we last wrote about Demetri McCamey, he had Illinois off to what seemed to be a promising start to the 2010-2011 season, with wins over Maryland, Gonzaga, and North Carolina, and only one loss, to a talented Texas team in a close game at Madison Square Garden. McCamey was also at the top of our database in virtually all point guard metrics, including assists per-40, pure point rating, and assist-to-turnover ratio. His body looked improved, he was shooting the ball extremely well, he was playing with great confidence, and he looked like he was establishing himself as one of the premiere point guards in the country, and a player that would earn many fans amongst NBA scouts during his senior season.

Unfortunately for McCamey, the rest of his final season at Illinois didn't go so well, as the Illini went 11-13 in their last twenty-four games, his production dipped across the board, and he was publicly called out by Head Coach Bruce Weber regarding off-court distractions and lack of effort. This once again brought to light many some of the red flags scouts have had about him in the past regarding his work ethic, shot selection, decision-making, and conditioning level.

We noted earlier in the season that his conditioning level looked to be better and that he was playing with an extra burst, but as the season went it on, he struggled to get by his man off the dribble due to his lack of speed and explosiveness. This has always been an area of concern when projecting McCamey to the next level, especially considering how much NBA teams now covet jet-type point guards who can get into the lane at will off the dribble. McCamey will never be that type of player, so he'll need to make tightening up his body and maximizing his explosiveness one of his top priorities going forward.

Further illustrating McCamey's lack of athleticism is the trouble he had scoring inside the arc this season. He struggles to get all the way to basket off the bounce, and his lack of elevation and a reliable floater prevent him from finishing at the rim with great effectiveness, as evidenced by the 45% he shot on 2-pointers this season, a mediocre rate historically.

Outside the 3-point arc, McCamey demonstrated that he's a top notch shooter at the point guard position, connecting on an excellent 45% of his 3-pointers this season. He's comfortable shooting off the dribble or off the catch, and he has range well past the NBA 3-point line. This bodes well for him going forward, and should help to open up the floor for dribble penetration for himself and his teammates, especially if he needs to spend time playing off the ball, which is certainly a possibility at his size.

McCamey's defense also looked to drop off this season. We've noted before that he'll likely face questions about his lateral quickness, but he seemed to lack the focus and consistent energy level on the defensive end, leading to him getting caught out of position and beat off the dribble far too often.

These defensive struggles and lack of effort go hand-in-hand with the public feud between McCamey and Weber this season. McCamey's poor conditioning level and inconsistent shooting throughout his career at Illinois have always raised concerns to his commitment and work ethic, and his struggles this season only further backup those concerns.

Much of the evaluation that NBA teams will need to do with McCamey will center around gathering information on his character and commitment to the game. His size, feel for the game, and shooting ability are all very attractive to teams searching for point guards, but scouts will need to get a better feel for whether or not they believe that he'll ever fully dedicate himself to working on his game and getting his body into the type of condition to where he can maximize his talents.

He'll have opportunities to boost his stock with workouts and interviews with teams between now and this summer's draft, but his senior season will likely have NBA decision-makers using more caution in projecting his NBA future.

[Read Full Article]

---
Trending Prospects (12/9/2010)
December 9, 2010
Walker Beeken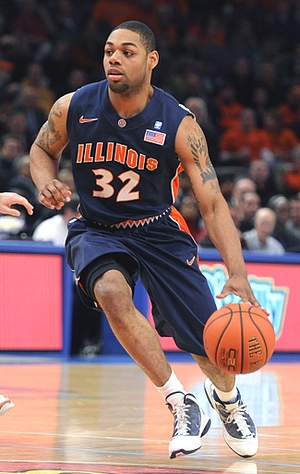 Icon SMI



Demetri McCamey has only played in nine college games since we last wrote about him in the preseason, but he's already managed to catch our attention with his stellar play. We previously noted that coming back trimmer for his senior season at Illinois could be a key for him to maximize his potential, and he seems to have done just that. His improved body has given him an extra burst with ball in his hands, and has him playing with a bounce in his step, and a swagger that we didn't see from him last season.

This newfound burst from McCamey has really opened up his whole game and made him much more effective in virtually all areas. As a floor general, he's been beaming with confidence, displaying a tight handle, great court vision, and solid decision-making. He currently tops all players in our database in assists per-40, pure point rating, and assist-to-turnover ratio. He has a very high basketball IQ, and while capable of making a large variety of passes, he also doesn't hesitate to make the simple pass, which is a great sign for a point guard.

McCamey's trimmer physique has really enhanced his ability as a penetrator. Already proficient at changing speeds and directions effectively to get his man off balance, he now has an extra gear to beat his man or utilize to create space. When attacking the basket, McCamey has shown signs of a nice pull up jumper, and he's crafty and strong enough to find ways to score in the lane, but this is still an area where he could use some work. He doesn't possess great elevation and he doesn't seem to have a reliable floater at this point, so that should be high on his priority list when evaluating where he can improve.

In addition to the burst we've seen from McCamey off the dribble, he's also been shooting the ball tremendously well so far this season. There was never really any doubt about his shooting ability, but he's done a great job this season of picking his spots, which has led to him shooting an outstanding 53% from 3-point range, up from 34% last season. Jump shots have still made up 68% up of his attempts from the field this season, but he seems to have cut down on some of the contested jumpers early in the shot clock that we saw from him in his first three seasons. He's also been able to utilize his threat as a penetrator to create more space and better free himself for his jumpers off the dribble.

So far this season, 26% of McCamey's used possessions have been in transition, and he seems extremely confident with the ball in his hands leading the break. He does a nice job of reading the situation and making the right play, whether it's a dumping it off to a teammate filling the lane, kicking it out to a trailer, pulling up for an uncontested 3-pointer off the dribble, or just taking it all the way to the rim himself.

Defensively, McCamey continues to display the awareness and understanding of positioning that we saw from him last season. And while his lateral quickness may still not be up to par to defend the most explosive NBA point guards on dribble penetration, his slimmed down physique should help in this area and make him less of a liability, as will his size and toughness.

Overall, McCamey's hot start to the season and obvious offseason improvements to his body have him looking like one of the premiere point guards in the college game this season. His outstanding shooting ability and size at the point guard position, combined with his excellent feel for the game and ability to run a team, have likely caught the eyes of NBA scouts and decision-makers.

The fact that he'll be 22 years old by the time of the 2011 draft, and that's he's still not a jet-quick point guard, will probably limit his upside in some of their eyes, but there's no doubt he'll earn some fans this season if he maintains his high level of play. And while he'll still have his detractors and will face some tough competition from other point guards in pre-draft workouts, he's put himself in the conversation for a chance to hear his name called as a first round draft pick this summer.

[Read Full Article]

---
Top NBA Draft Prospects in the Big Ten, Part Two (#6-10)
September 3, 2010
Joseph Treutlein

Undergoing one of the biggest role changes of any player in the country last season, transitioning from a combo-guard to full-time floor general, Demetri McCamey had a breakout junior season for the Fighting Illini, leading the entire NCAA in assists per game while also upping his production and efficiency across the board. Heading into his senior season, scouts will be much more focused on McCamey's game, specifically in terms of what adjustments he makes to prepare for translating his game to a higher level of competition.

In terms of actual skill set, not much changed for McCamey as a junior, but it was the application of those skills that saw a big turnaround, which was most evident in the area of shot selection. Despite being more of an offensive focal point, taking more shots per game, and taking on the burden of creating for others, McCamey still managed to increase his efficiency from the field and behind the arc. Looking deeper into the stats at Synergy Sports Technology, McCamey also increased his points per shot on both catch-and-shoot (1.00 to 1.04) and off-the-dribble jumpers (0.60 to 0.93).

As a shooter, McCamey possesses excellent form both in catch-and-shoot and pull-up situations, having a high release with pretty good speed and consistent mechanics, always showing good balance even when moving from side to side. He's still prone to forcing a contested jumper early in the shot clock, but has made immense improvements in this area as compared to his freshman and sophomore seasons, and could potentially take another step forward this year. McCamey does a good job using his craftiness and strength to make up for his lack of quickness in this area, using the former qualities in addition to the threat of his passing ability to create space to pull up for a shot.

As a shot creator in general, McCamey relies heavily on his jump shot, not having the quickness or explosiveness to consistently get past his man in isolation situations. According to Synergy, McCamey attempted 240 jumpers in the half court this season compared to just 84 shots around the basket. McCamey finished at a very high rate around the rim, scoring 1.26 points per shot, but that's more a testament to him picking his spots very well as opposed to him being an excellent finisher. While he does have a nice right-handed floater and makes good use of his strength, size, and touch in the lane, there are some major concerns projecting this area of his game to the next level, given his lack of vertical explosiveness and his troubles separating from his man in isolation situations.

In terms of penetrating with the ball, McCamey does an excellent job using misdirection and change of pace to get his man off balance, having very good ball-handling skills and a strong presence with the ball, while he also does a good job of keeping his head up and keeping his options open, rarely displaying tunnel vision off the dribble. He's somewhat limited in his ability to create in isolation due to his lack of a great second gear, but is dangerous once he has a half-step on his man and makes good use of high screens to do so.

As a floor general, McCamey shows very good awareness of what's going on around him and is capable of making a large variety of passes, including one-handed passes on the move with either hand (though the left is still noticeably behind the right in comfort level). He does a good job reading pick-and-roll situations, hitting teammates coming around screens, and finding cutters open in the lane, while he's capable of throwing strong precision passes over long distances when necessary. While he's prone to forcing the issue at times and is still clearly coming into his own as a full-time playmaker, McCamey exhibits a very good feel for the game and does a good job managing pace and getting the ball to teammates in positions where they can succeed.

Defensively, McCamey showed good effort and intensity levels as a junior, playing with good fundamentals and awareness while not taking plays off. In isolation situations, his lateral quickness is very much sub-par for a point guard, something that is prone to being exploited and certainly will be even more so in the NBA, but he does a good job trying to make up for it by being in the right position and putting in maximum effort to keep his feet moving. One area where McCamey does excel on defense, though, is playing the pick-and-roll, where he does a very good job using his strength to fight through screens and stick with the play, while also showing good awareness and understanding of positioning.

Looking forward, McCamey needs to continue to show the improved decision-making and consistency he exhibited as a junior, while he could further improve his draft stock if he comes back trimmer so he could better maximize his physical tools. Projecting to the next level, being at his physical peak will be of the utmost importance, as the holes in his game are certainly more apparent in college when matched with long, athletic defenders, who tend to make things very difficult for him. There is also concern about how he will adjust to a different role in the NBA, as he will likely have to cut back on the amount of time he spends with the ball in his hands, and as a freshman and sophomore he didn't always show the best decision-making in that position. Currently projected as a second round pick, McCamey's stock could improve with another strong season, especially if he alleviates some of the concerns about how his game will translate to the NBA.

[Read Full Article]

---
Top NBA Draft Prospects in the Big Ten, Part Two (#6-10)
August 31, 2009
Matt KamalskyAfter jumping out to an excellent start, the 2009 season ended bitterly for the Bruce Weber's Fighting Illini after the team was upset by Western Kentucky in the first round of the NCAA tournament. Despite the late collapse that saw the team lose four out of its last five games, the disappointment was still a major improvement over the team's record 19-loss season the year before. With defensive star Chester Frazier and shooting specialist Trent Meachum moving on, Bruce Weber will be relying on Demetri McCamey to build on the improvements he made when he led the team in scoring and garnered All-Big Ten Third Team honors.

Though McCamey showed major progress in some areas of the game, his weaknesses as a player were never more apparent than they were during his team's late season struggles. The name of the game for the stocky, 200+ pound guard has always been jump shooting. Given that McCamey averages more attempts from beyond the arc than he does inside of it, his 24% shooting from three in Illinois' five games in March certainly didn't help the team's cause, and are representative of the inconsistent scoring he offered from the backcourt all season (41.1% FG, 31.3% 3FG). Some of that inconsistency can be blamed on streaky shooting, but most of the blame falls on McCamey's aggressive approach to perimeter scoring.

Displaying the same deep range and solid form that he did during his first season in Champaign, McCamey is never shy about pulling the trigger when he feels like he has space. Unfortunately, he seems more confident in his ability to make tough shots than the average player. This is the root of McCamey's inconsistency, as he shoots 23% on catch and shoot jumpers with a hand in his face versus a very solid 43.7% when left open. Such a discrepancy isn't uncommon, especially for guards that don't have great height or get great elevation on their jump-shots. What makes this gap in efficiency an issue is the fact that nearly half of McCamey's jumpers are contested, a significantly higher ratio than the average player. Take into account that McCamey's productivity dips considerably when he's forced to pull up off the dribble, and his assertive shot selection becomes that much more of an issue.

When McCamey isn't hoisting shots, he has shown development in both his short-range game and passing ability. Not holding an advantage over most players he's matched up with in terms of quickness, McCamey relies on his above average ball-handling ability and touch to make an impact. Showing nice footspeed once he gets going, McCamey lacks a degree of quickness that will limit him on the next level, but he can create enough space to utilize his repertoire of floaters in the lane. He played significantly more in control as a sophomore than a freshman, leading to notable improvements in his efficiency inside the arc (51% as a sophomore compared with 39% as a freshman) and as a passer. McCamey still makes some mistakes with the ball when he's looking to push against pressure in transition, but he displays very solid court vision and timing when hitting the open man. The development of his point guard skills will be a selling point on his ability to help a team in the NBA and will definitely be worth re-evaluating given the departure of some of Illinois's other guards.

Defensively, McCamey continues to prove that he can use his physical strength effectively in some situations, but will need to show considerably more intensity to placate any concerns NBA decision-makers will inevitably have about his lateral quickness. Already showing decent fundamentals and playing with a solid effort level, McCamey lacks the length to force many turnovers. Without the ability to put a lot of pressure on his match up, McCamey's ability to stay in front of his man and play a team-oriented brand of defense will prove integral to his long-term success.

Coming back to a situation where he'll be looked to for scoring, playmaking, and leadership, McCamey is in position to raise his stock considerably heading into next draft season. Improvements in his shot selection, efficiency, and overall point guard skills would help compensate for his lack of standout athleticism in the eyes of scouts. If McCamey can show off his point guard skills and help his team into the postseason, he'll be a player worth keeping an eye on.

[Read Full Article]

---
Top NBA Draft Prospects in the Big 10 (Part Two: #6-10)
September 13, 2008
Demetri McCamey looks to build off of a freshman season that featured small glimpses of excellence sprinkled with heavy doses of inconsistency. This was shown by his averages of a sizzling 21.25 points, 5.25 rebounds, and 5 assists per game in contests against Purdue, Wisconsin, Indiana, and Minnesota late in the year, to go along with long stretches of unproductive games, a dismal 36% shooting percentage from the field, and many more losses than Illinois fans are accustomed to.

McCamey is a physically sturdy guard, weighing around 210 pounds. He uses his big frame to its advantage on both ends of the court with his physical style of play. For a point guard, he has nice size at 6'3, but surely needs to slim down a bit if he hopes to keep up with smaller, quicker guards at the next level. Athletically he can't be described as anything more than just average, particularly in terms of explosiveness.

The Illinois native's scoring game is primarily centered around his three point shot. Possessing deep range and nice form, it is no surprise that half of McCamey's made field goals came from the land of three. His willingness to shoot the ball from deep often hindered him at times though, settling for bad jumpers in less than ideal situations, as evidenced by the 36% he shot from the field.

When not shooting the ball from outside the three point line, the remainder of Demetri's scoring usually comes via floaters in the lane and buckets in transition. While he possesses a below average first step, he is able to pick it up when the tempo of the game increases and shows off very nice end to end speed. McCamey finished at the rim with contact much better on the fast break then he did in half court sets, from the games we observed, but he only managed to get to the free throw line 1.7 times in 27 minutes per game.

Scoring aside, McCamey showed off nice vision for a player who split the point guard duties and should enhance his assist numbers this season with increased time as a playmaker.

The main problem that centers around McCamey's offensive game is his lack of athleticism and problems with shot selection. He struggles very much to blow by defenders in slower tempo games, often looking visibly frustrated and opting to pull a deep jumper. This is why his shooting percentage is so inconsistent from game to game. The sophomore is a very confident player who thinks that every shot he takes is going in, which definitely hurt him at times last year.

Demetri has shown promise as a defender, even though he possesses average lateral quickness. He seems to understand how to defend by using his strength, allowing him to body up players and give them fits. The size that he owns has also enabled him to guard players at both the point and shooting guard positions.

Like most draft prospects in the Big 10, McCamey is not a sure thing by any stretch as far as the NBA is concerned. There are numerous flaws in his game and he must continue to improve upon his conditioning if he hopes to surely make it to the next level. The promise that he showed last season as a freshman may have put him on the broad radar of NBA scouts, and now he must use his second season in Champaign to back up the small glimpses of intrigue he showed as a freshman.

[Read Full Article]

---